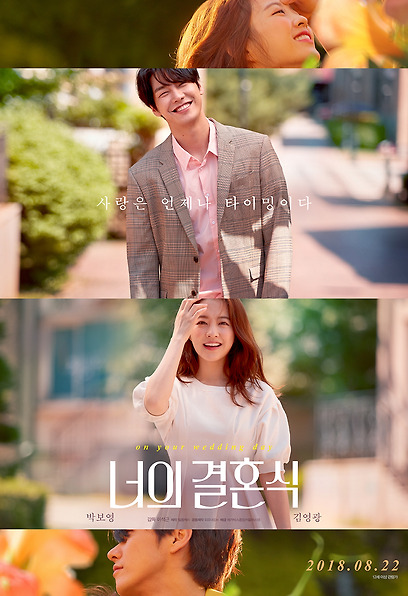 On Your Wedding Day, 2018
release

2018.08.22
genre

Romance/Melodrama
country

Korea
ranking

Audience over 12 years old
running time

110 minutes
grade

7.4
cumulative audience

2820685
Synopsis
Remember? your first love
In the summer of high school, he met a transfer student named Seung-hee (Park Bo-young) and fell in love at first sight with a coincidence (Kim Young-kwang).
After chasing after Seung-hee, finally, they were about to be reborn as an official couple!
Seunghee disappears, leaving only one phone call to say goodbye.
The first love by chance seemed to come to an end.
A year later, coincidentally, after pursuing Seung-hee's traces, he passed the same university through persistent efforts.
But what stood in his way… It's none other than her boyfriend, girl, friend!
In the timing that strays from art
The eventful chronology of their first love continues!
[ About Movie ]
First love movie in 6 years since <Introduction to Architecture>
Daejeon, the only romance in the summer of 2018
<Your Wedding> is a movie depicting the eventful chronology of first love, 'Seung-hee' who believes in the fate of three seconds, and 'coincidence', where only Seung-hee is fate. <Introduction to Architecture>, which captivated 4.1 million viewers by combining the consensus of first love with the unique subject matter of architecture, adds joy to the romance of first love that came after 6 years. It provides differentiated fun by drawing with a pleasant touch. The heart for Seung-hee is always the same, but the story of first love by chance, which flows in an unexpected direction according to the changes in the environment of high school, university, and society, fills the pole with events and dramas as colorful as the passage of time. tell the
<Your Wedding>, which contains the stories of happy, happy and good moments just thinking about it, the various emotions of first love, who were angry, sad, and frustrated because they don't have the same heart, and the stories of lovely characters who grow little by little through them, in a new frame called 'Chronicles', was released in 2018. Summer, the only romance genre movie, joins the theater district Daejeon, attracting more attention. There is only one movie, <Your Wedding>, that will give you a pleasant thrill in a masculine and intense movie rush such as fantasy, science fiction, espionage, and thriller. <Your Wedding>, which delightfully melts the fresh sensibility of first love, the deepening growth in the process of love, and the bright memories of youth that everyone will nod in their heads, is a differentiated genre and subject matter, providing very special fun to theaters and audiences in August. will present
'First Love Girl' Park Bo-young & 'Real Boyfriend' Kim Young-kwang's first lovers breathing
The birth of a lovely couple that awakens love cells!
Park Bo-young, the undisputed romance queen, and Kim Young-kwang, an up-and-coming actor, met their first lovers through <Your Wedding>. Park Bo-young, who received a cathode-ray tube with her unique lovely charm in the dramas [Oh My Ghostess] and [Strong Woman Do Bong-soon], returned to the screen with her major genre, romance, through <Your Wedding>. Park Bo-young, who has been loved as a character with fantasy charms such as 'Soon-i', a girl who falls in love with a feeling of pity for a werewolf boy, 'Na Bong-seon', a timid kitchen assistant possessed by a virgin ghost, and 'Do Bong-soon', who is born with incredible strength, is a coincidence. Through the role of 'Hwan Seung-hee,' her first love, she will draw the audience's sympathy with the most realistic character. Park Bo-young, who does not open her heart easily with a rough personality, but is waiting for a fateful love that falls in love in 3 seconds, is expected to continue the line of 'the nation's first love' with her plump charm and loveliness. . Kim Young-kwang, who worked with him, said, "He's a really good and really cool actor. He showed a character that perfectly matched the 'Seung-hee' I had in mind, so that I thought, 'Isn't that what Seung-hee looked like by chance?'" He said, raising expectations.
Kim Young-kwang, who proved his skills by digesting the mysterious prosecutor character with three-dimensional acting in the drama [The Watchman], announces the birth of a new life character through the role of 'Hwang Woo-yeon', a straight man looking at Seung-hee in <Your Wedding>. "Every moment was a coincidence. You created a character that is cuter, more lovable, and more sympathetic." As much as Park Bo-young praised it, Kim Young-kwang actively approaches Seung-hee to win Seung-hee's heart, but at times clumsy and sometimes not cool, he played the role of coincidence with a clever and pure charm. Kim Young-kwang, who captured the appearance of a realistic 'real boyfriend' who is lovely even in the gaps in a coincidence character, captures the viewers by radiating a lively charm that seems to exist around me. In this way, Park Bo-young and Kim Young-kwang, who have transformed into perfectly synchronized characters as if wearing clothes that fit their body, will stimulate the love cells of the audience with their lovely charms and ensembles that make people smile just by looking at them.
A woman who believes in the fate of three seconds and a man whose first love is the last love
Real men and women who have the most difficult time for love
100% real first love chronicle regardless of generation!
The movie <Your Wedding> draws differentiated fun and empathy with realistic male and female characters who show different attitudes to their first love, and vivid events and episodes resulting from them. A man whose first love is his last love is a pure man who went straight to his first love, Seunghee, for 10 years. After falling in love at first sight with Seung-hee, who transferred to school in high school, it was a coincidence that in a life that had no clear dreams, her first goal was to go to the same university as Seung-hee. With the sole intention of seeing Seunghee again, she manages to enter the same university with a bloody nosebleed, but is shocked by Seunghee's words that she already has a boyfriend. stimulate consensus on Nevertheless, he does not give up and hangs around Seunghee, becomes childish, jealous, and clumsily disturbs the relationship between her and her boyfriend. The episode falls in love and rushes without counting back and forth, but it overlaps with the real-life love story that had many regrets to the point of kicking the duvet while sleeping, causing a pleasant laugh.
On the other hand, 'Seung-hee', who believes that "the time it takes to feel like this person is 3 seconds" and that first love is only first love, is a character faithful to the current love and emotions. From the moment they first met, Seunghee did not hate the coincidence that she actively pursues courtship, but a sudden transfer cut off contact, and Seunghee met a fateful opponent who fell in love with her in just 3 seconds at university. However, the appearance of Seung-hee, who is confused between the two as a coincidence that has been watching her for a long time, is stepping on her eyes, reminds us of the time we spent together, shaking and contemplating what is true love. And the chronology of first love between high school students, college students, job-seekers, and first-timers, Seung-hee, who constantly strives to pursue her dreams, and the coincidences that grow to approach Seung-hee, and realistic episodes that can be experienced in each period, set the sympathy index at its peak. raise to <Your Wedding>, which depicts the story of two men and women who have different thoughts about love, with unique characters and vivid episodes, is a sympathy and fun that can make everyone laugh, smile, and sometimes feel sorry for, regardless of generation. will provide
More laughter and fun together!
A delightful ensemble of rising stars & scene stealers with acting skills and personality!
<Your Wedding> delivers unexpected fun with lively characters completed by high-end actors with acting skills and personality, from rising stars Ki-young Kang, Seong-beom Jang, Kyu-pil Ko, So-yul Shin, Jae-rim Song, and Eun-soo Seo to the new stealers Kim Hyun-sook and Lim Hyeong-jun of Chungmuro.
Actors Kang Ki-young, Jang Seong-beom, and Ko Kyu-pil join the three best friends of 'accidental', which disarms those who see them with even more immature and wacky synergy when they are together, exuding a pleasant chemistry. Kang Ki-young, who captivated viewers by slyly digesting the character 'Park Yoo-sik' in the drama [What's Wrong with Secretary Kim], disassembled into 'Keun-nam', who has been watching coincidentally first love for the longest time in <Your Wedding>, making a more serious and funny character. paid Kang Ki-young's storm dripping and life acting, which claims to be a coincidence love coach, but makes people laugh with outrageous advice, energize the play. Jang Seong-beom, who showed stable acting skills in the movie <Battleship Island> and the drama [Healer], disassembled into the role of 'Seo-pyo', a college classmate by chance, succeeded in getting a job, military service, and marriage as planned. He played the role of the central axis of laughter. Go Kyu-pil, who has been active in various works such as the movie <Remember Me> and the drama [Man and Woman of Justice], shows a special presence by digesting the character of 'Confucius' with pure charm through emotional and comical acting.
Here, Shin So-yul, who is actively working across the CRT and screen, plays the role of 'Seung-hee's college friend 'So-jeong', and the university senior 'Yoon-geun', whom Seung-hee falls in love with in 3 seconds, is the drama [Hae]. Song Jae-rim, who captivated viewers with [The Moon That Embraces] and [Our Gap-soon], delivers a warm charm that shoots at women's hearts. In addition, Seo Eun-soo, who made a mark through the dramas [Romantic Doctor, Teacher Kim] and [My Golden Life], joins the role of 'Min-kyung', a college junior by chance, adding freshness. Here, Kim Hyun-sook and Lim Hyeong-jun, who showed various charms through movies, dramas, and entertainment shows, appear as the boarding house owner 'Miss Min' and the rice house owner 'Bae', respectively, and create laughter that cannot be missed with their unique delicious acting.
A warm spectacle that captures the passage of time and the emotions of the characters
Meet the detailed touch that evokes memories and sympathy!
It was important for the production team of <Your Wedding> to capture the changes according to the passage of time due to the nature of the play, which contains the stories of 'coincidence' and 'Seung-hee' from 2005 to the present. However, in expressing the 2000s, which is not much different from the present, except for the change from foldable phones to smartphones, the production team tried to express the emotions and warmth of the times that change according to the emotions of the characters, rather than focusing on the historical or retrospective of the times. .
In the filming, the colors were changed according to the changes of the times leading to high school, university, job-seekers, and newcomers to society, and the aspect ratio of 1.85:1 was used to focus more on the emotions of the characters to capture the inner feelings and emotions of the characters in detail. . It was painful and difficult, but when I was young and innocent, I used the 'Hollywood Black Magic Filter' to comfort and care for the characters with warm and affectionate colors. And the space in the film, which changes with the passage of time, was also an important factor in capturing the emotions and emotions of the characters. The high school, a place where the two have long memories from their fresh first meeting, was filmed at a school in Cheongju after a long hunt. At the same time, in order to capture the emotions of the old boarding house where various characters come together in one place, the guesthouse in front of Hongik University was used instead of a set, and a new space was completed through the meticulous hand of the art team. From high school uniforms to campus looks, football uniforms, suits, and wedding dresses, the style of clothing that changes over time expresses the growth of each character, and realistic props such as MP3 players, payphones, and game consoles that evoke memories of school days are friendly. and evokes a pleasant fragrance. Here, along with Rumble Fish's 'Smile Again', sung by chance to comfort Seung-hee, along with the character's emotional lines, the music that flows sometimes lightly and sometimes lyrical fills <Your Wedding> richly and stimulates deeper emotions. will be.
Related Videos