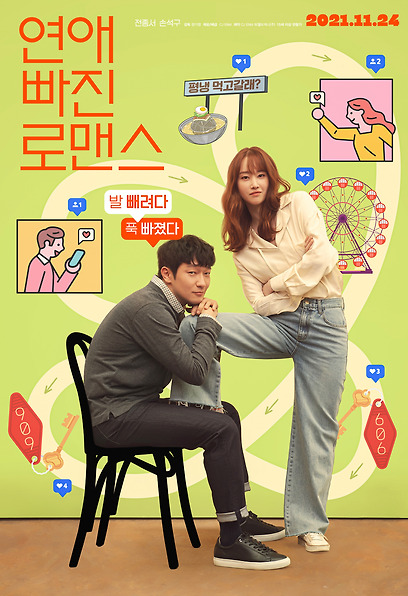 Nothing Serious, 2021
release

2021.11.24
genre

Romance/Melo/Comedy
country

Korea
ranking

Audience over 15
running time

95 minutes
grade

7.5
cumulative audience

606537 people
Synopsis
'Ja-yeong' (Jeon Jong-seo), a twenty-nine-year-old who cannot work and love at will.
After a violent breakup with his ex, he excitedly announced his retirement from dating.
Unable to overcome the unbearable loneliness, he searches for a partner with a dating app that is his last bastion.
Thirty-three 'we' (Son Seok-gu) who are often caught in both work and love.
The pain of a love affair that was hit in the back of the head was short-lived
From the editor-in-chief, he takes over the 19-karat gold column and is semi-forced to sign up for a dating app.
New Year's Eve morning like that!
'Jayoung' and 'we' met with the name, reason, and heart hidden.
I didn't expect one, but from the first day, the two quickly fell in love with each other.
In a subtle relationship that doesn't seem like a relationship, it's not easy to open up to anyone…
If this isn't love, what the hell is it?
I fell in love with my feet!
[ About Movie ]
Is there anyone here who isn't lonely?
They hate dating but hate loneliness more
Fall in love with a special romance that started in 2021
In 2021, a realistic romance that portrays the bitter, sweet, and spicy flavors of a lonely, painful romance when you do it in the most honest and witty way. <Romance Without Love> is a movie depicting a special romance between 'Jayoung' who hates dating but hates loneliness more and 'we', a magazine reporter who doesn't like work and love, who started hiding everything. The movie <Romance in Love>, which begins when two men and women who have tried enough to fail and suffered enough to be taken aback by hiding their names, reasons, and feelings, meet through an app. It provides differentiated fun by revealing the candid views of real men and women in love.
'Jayoung' and 'we' continue to meet with the expectation that this time may be different while declaring that there will be no more love affair in my life. The beginning was light, but as time goes by, the love story of two men and women who narrowly cross a subtle relationship as if they were lovers, as if they were not lovers, boldly expresses the love and desires of the 2030 generation through witty lines and vivid episodes, a special experience that has never been felt before. provide fun In particular, unlike other romances, <Romance in Love>, where the first meeting starts through the app, stimulates the consensus of the MZ generation who are familiar with the new love trend, while arousing curiosity and interest in everyone with an honest and fresh love story. The appearance of 'Self-Young' and 'We', who gradually mature through meeting with each other, pondering about common problems that anyone would have tried, such as work and the future, arouses realistic sympathy and adds to the immersion of the play. <Romance in Love>, which relentlessly depicts a vivid love story like my own story and the desires behind it, will completely captivate the audience with a colorful, fresh and fun reality sympathetic romance.
Retirement from love with only the heart 'Jayoung'
'We', both work and love
Fall in love with the attractive kite.po.ja couple in 2021!
<Romance Falling in Love> is a tiki-taka chemistry that shows strong personality and realistic male and female characters, providing pleasant fun without being bored. When I turned 30, I thought that I would lead a wonderful life as the protagonist of my life, but still suffer from a life like a supporting role. Despite repeated failures, she finally announces her retirement from dating, but unlike her determination, 'Ja-young' struggles with loneliness, which evokes sympathy with the after-effects of a breakup that everyone has experienced at least once. In particular, 'Ja-yeong' faithful to her emotions and instincts, from the duvet kick that is repeated every morning to the black history created by drinking only, to the conversation that crosses the water level with friends, is frank and bold, not easily seen in previous romance movies. It gives pleasure as a character. On the other hand, even though we are over 30, the 'we', who are still clumsy at work and in love, are still embracing fantasies and innocence in love behind the scenes that shake each time. In particular, the figure of 'we', who is well suited to a relationship with a company senior who was sincere by myself, but never gets angry and suffers alone, adds a smile to the human charm, like the one who has become smaller in front of love, with a cute sloppy beauty.
In this way, two men and women who do not have a single intersection meet through the app and talk about love and romance without any hesitation, giving away all manners and ignorance, and offers a sense of exhilaration beyond delight. The breathtaking meeting of 'Jayoung' and 'we', who are strongly attracted to each other but do not reveal their true feelings, saying that this is not a love affair, gives excitement and at the same time arouses curiosity about the future relationship between the two and doubles the fun of the movie. <Romance in Love>, which vividly and boldly depicts these living and breathing characters and the vivid episodes that come from them, will give you sympathy that closely touches reality as if you were reading my own story.
'Romance New Face' Jeon Jong-seo X 'Romance is constitution' Son Seok-gu
The first romantic breaths of popular actors
Fall in love with the freshest chemistry in 2021!
<Romance in Love> is the first romantic collaboration between Jeon Jong-seo, who has a unique presence, and Son Seok-gu, an actor with irreplaceable charm, raising expectations for the freshest chemistry in 2021. Jeon Jong-seo, who has recently advanced to Hollywood by captivating the audience in just two works with his intense acting in the movies <Burning> and <Call>, challenges his first romance through the role of 'Ja-yeong', a frank and lively charm, with the image of his previous work and 180 Another special transformation is also presented. In particular, Jeon Jong-seo draws the sympathy of the viewers by perfectly digesting "Ja-young," who is twenty-nine, who hates dating but hates loneliness more with life acting that has never been seen before. Jeon Jong-seo, who perfectly melts the straightforward personality that makes everyone bewildered, the plump charm and loveliness that does not know where to go, as well as the appearance of a 20-year-old thinking about work and the future, heralds the emergence of a new face in the romance genre.
From the dramas [60 Days, Designated Survivor] and [Melodrama] to the recent Netflix [DP], regardless of genre, Son Seok-gu, who received attention for his outstanding character digestibility, plays the role of 'we', full of nerdness and sloppy appearance, unlike his stylish appearance. He takes on the role and shows off the charm of the reversal. Son Seok-gu, who realistically portrays 'we', who are often caught because neither work nor love, reminds us of a love story that does not come to mind and stimulates the consensus of everyone. In particular, in the meeting with 'Ja-young', who was unexpectedly lit up, Son Seok-gu will fascinate the audience by exuding a clumsy but friendly charm unique to 'we', which is clumsy but has a cute innocence. Jeon Jong-seo, who will present a new acting transformation while challenging his first romance work, and Son Seok-goo, who returned as a perfectly synchronized character by adding a friendly charm that he had never seen before, their fresh synergy will be a special viewing point unique to the movie <Romance in Love>.
Vivid episodes and witty lines
Reality completed with detailed effort
In 2021, the height of consensus will fall into a real romance!
<Romance in Love> is the most important task above all to add reality to the freshness of the material as it depicts the real romance of two men and women who start dating through an app. To this end, director Jeong Ga-young concentrated on creating more vivid dialogues and episodes by collecting numerous love stories and experiences of those who actually used the app. In addition, I was able to add witty fun by using the episodes and ideas that I regularly recorded and stored while observing the surroundings in the right and small plays. The love stories and lines of 'Jayoung' and 'We', completed on the basis of real-life dating experiences and daily records, make people slap their knees as if they read my thoughts, but also lead to a completely unexpected change of thinking. presents a special moment.
In addition, the production team made an effort not to miss the reality in art and costumes. The house where 'Ja-young' lives alone tried to capture the emotions of the 20s by adding colorful colors and cute interior elements. My story revolves around familiar and everyday spaces around us, such as bars, naengmyeon shops, motels, amusement parks, subways, etc. It further doubles the sympathy of a love story like a story. In order to capture the ordinary and everyday look of the 2030s, it was possible to create a more vivid and realistic character by using the clothes that the actor usually wears. <Romance in Love>, with such detailed efforts, will captivate the audience with its realistic charm that you can't help but fall in love with once you see it.
Chungmuro's representative scene stealers gathered
From a fat best friend to a real boss
Fall in love with colorful characters in 2021!
<Romance Falling in Love> completed a variety of fun and sympathy with talented actors with both acting skills and charm. Gong Min-jung, who showed perfect character digestion based on solid acting skills in the recent drama [Gae Village Cha Cha Cha] following the movie <Kim Ji-Young Born in 1982>, takes on the role of 'Seon-Bin', a divorce attorney and a bone-breaking stone-ball in <Romance in Love>. It shows Jeon Jong-seo, who plays the role of 'Ja-young', and her friend's chemistry. In addition, Kim Seul-gi and Bae Yu-ram, who showed their colorful charms by going back and forth between the CRT and the screen, respectively, are 'Yumi', who is always worried about the love story of 'Ja-Young', and 'Woo-Sung', the boyfriend. do.
Following the top-grossing film of 2021 <Mogadishu>, Kim Jae-hwa, who is continuing the trend such as <Sinkhole>, appears as the editor-in-chief of a magazine, the boss of 'We', raising consensus on real work life. Kim Jae-hwa, who is the editor-in-chief who gives sudden work orders and puts pressure on performance from time to time, brings out a funny sympathy for everyone who has experienced work life by digesting a character that you might have seen at least once at work with delicious acting. In addition, as a friend who coaches 'our' love story in every case, character actor Lim Seong-jae added to the drama with a pleasant laugh. Here, Kim Young-ok with 64 years of acting experience as a family that supports 'Ja-yeong' and Kim Gwang-gyu, who plays the role of licorice by perfecting any character, make a special appearance. He plays the role of a grandmother who spares no effort and a father who shows the chemistry between real women and mothers, who are friends with 'Ja-young' and then quarrel with each other. The colorful characters completed by popular actors full of personality like this will be responsible for another laugh and empathy unique to <Romance in Love>.
Related Videos