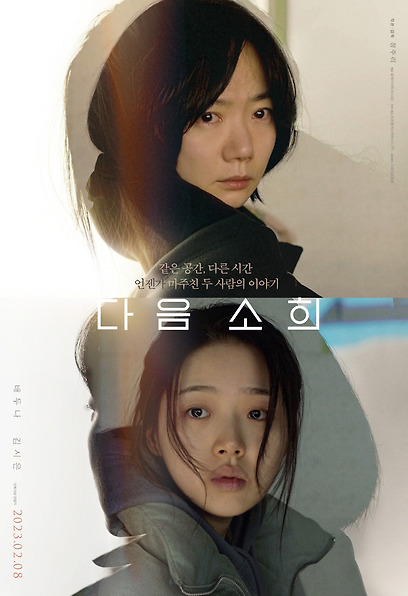 Next Sohee, 2022
release

2023.02.08
genre

drama
nation

korea
Rating

Ages 15+
running time

138 minutes
grade

9.7
cumulative audience

71811 people
box office

19th
Synopsis
"Am I now a female office worker?"
So-hee is an eighteen-year-old high school student who loves to dance.
Things start to change gradually as he goes on field training ahead of graduation.
"You could have stopped it. But why were you only watching?"
Detective Eugene, who has been reinstated after a long time.
While investigating the case, he discovers a new fact and follows the trail.
The same space, different time, the story of two people who met one day.
We've all met him.
[ PROLOGUE ]
"
Hope that if someone can approach it, maybe it will change.
I made this film with only that hope in mind.
"
-Director Jung Ju-ri-
[ ABOUT MOVIE ]
The first Korean film to be selected as the closing film of the Critics' Week at the Cannes Film Festival
A new achievement of Korean cinema that the world warmly sympathized with
Director Jung Joo-ri and actress Bae Doona reunited after <Doheeya>, and <The Next Sohee> was unveiled for the first time to the world in May of last year at the Critics' Week at the Cannes Film Festival. Not only did it achieve the feat of being selected as the closing film for the first time in a Korean film during the Critics Week, where the best critics from the French Critics Association carefully select novel and artistic films, and after the screening, the theater heated up with a 7-minute standing ovation. It drew rave reviews, saying, "A work that is shocking and makes you unable to take your eyes off it!"
Afterwards, it was selected as the closing film at the Canada Fantasia International Film Festival, the largest genre film festival in North America, and won two awards, including the Director Award and the Audience Award. Jules Verne – University of Picardy Jules Verne) It swept three crowns, including the Student Special Mention Award, and won the Special Jury Prize at the Tokyo Film Max Film Festival and the Roberto Rossellini Award for Best Picture at the Pingyao International Film Festival. In addition, <The Next Sohee>, which has received love calls from leading international film festivals such as the BFI London Film Festival, Ghent Film Festival, Hong Kong Asian Film Festival, Hawaii International Film Festival, Thessaloniki International Film Festival, and Red Sea Film Festival, is proving its solid cinematic quality even before its release. Of course, it also swept the Audience Award, which is awarded by the audience's choice, predicting the birth of a work that combines box-office success.
Regarding the birth of such an intense film that captivated the whole world, influential foreign media and critics praised "The Best Film" (La Presse), "Hidden Gem of the Cannes Film Festival!" It is!" (Movie Marker) and "Convincing acting, solid directing" (Screen International). In addition, <Sohee Next> has maintained a 92% freshness index on Rotten Tomatoes since its release through a film festival, raising the expectations of domestic audiences as a film that draws warm sympathy from all over the world, transcending gender, country, and age. .
World class star Bae Doo-na & Cannes rising star Kim Si-eun's passionate performance
Entered the Cannes Film Festival for the second consecutive year, director Jung Ju-ri's sharp script & solid directing
Director Jung Joo-ri, who is attracting attention from filmmakers around the world, has been honored to be invited to Cannes for two consecutive films, including her debut film <Doheeya>, which was invited to the Un Certain Regard section of the 67th Cannes Film Festival, and her next film, <Daeum Sohee>. Director Jung Joo-ri drew attention by being invited to Cannes Film Festival, Toronto International Film Festival, Chicago International Film Festival, and London International Film Festival, as well as the Notable Gaze section of Cannes Film Festival with <Doheeya>. It created a sensation by sweeping prestigious film festivals at home and abroad, including winning awards. Not only did she achieve the splendid feat of entering the Cannes Film Festival for the second consecutive time with her new film <Sohee Next>, which was released in 8 years, but also captivated the world once again by showing delicate yet powerful directing, clear storytelling, and intense and deep lingering lingering emotions. .
Meanwhile, actress Bae Doo-na, who is active globally beyond Korea and even Hollywood, collaborated with director Jung Joo-ri once again through <The Next So-hee>. Bae Doo-na, who has established herself as an actress who can be trusted and watched by showing trustworthy acting in each work, continues to take on challenges by performing borderless activities such as movies and dramas of various genres. Bae Doo-na, who has played a variety of roles with her unique aura and proven acting skills, transforms into 'Yujin', a detective who has been reinstated after a long time in 'Next So-hee', and once again gives a strong lingering impression with overwhelming acting that only Bae Doo-na can show. In addition, Kim Si-eun, a talented new actress who had a splendid debut ceremony in Cannes, joins the cast to perform a brilliant performance. Newcomer Kim Si-eun, who left a mark on viewers through the dramas [Mental Coach Jegal-gil] and [Run On] and held a ceremony to debut in a feature film in Cannes with <Next So-hee>, took on the role of 'So-hee', an ordinary high school student who went on field training ahead of graduation. Kim Si-eun, who showed delicate yet three-dimensional acting, from bright and snappy appearances to gradually losing vitality and dry facial expressions, drew explosive rave reviews from overseas critics and became a 'morning star in Cannes', arousing curiosity.
Like this, director Jung Ju-ri's excellent directing and world-class actress, who returned with strong works by entering the Cannes Film Festival for the second time in a row, and Kim Si-eun, a rookie who turned the world upside down, will make you unable to take your eyes off Daum So-hee.
The story of everyone who was around but didn't know
In 2023, the only name we should not miss
In January 2017, a high school student who went on a field trip to a call center for a large telecommunications company in Jeonju committed suicide after three months. This incident exposed the extreme emotional labor and poor work environment of the call center, and many people were angry. But even after that, we had to meet other young names at a mineral water factory in Jeju Island, a yacht company in Yeosu, and many other workplaces.
Based on the incident of a call center field trainee in Jeonju, <Next So-hee> is a movie about an incident that an 18-year-old high school student, So-hee, goes through while going on field training, and a detective, Yu-jin, who investigates it, faces each other in the same space but at a different time. Draw an intense story that will happen. The first thing 'Sohee', an ordinary student who can be seen everywhere, starts working ahead of graduation, and the first thing she encounters is the absurd reality of putting pressure on performance and not giving fair treatment even to on-the-job trainees. 'Sohee', who confidently speaks up anytime, anywhere, sometimes keeps her pride, and sometimes for her friends, gradually loses her words in a place where everyone says hello to someone they are facing over the phone by saying they love them, and ends up taking her own life without telling anyone. fold And one day, for a very short time, 'Yu-jin', a detective who passed by 'So-hee', cannot easily finish this case, which he took on as a warm-up shortly after his return. It was because this solitude, unspoken by anyone and discovered by no one, was not unfamiliar to me, so I couldn't bear to turn away from it.
'Yujin' starts retracing the places where 'Sohee' went. At the speed of 'Sohee', I carefully trace the sparkling glitter of the reservoir that I looked at last, and the sunlight through the crack in the door of the Gamaek house with my cold instep. The audience gradually realizes that they are sad and angry while sharing such a quiet journey with 'Eugene'. The death of 'Sohee', which we thought we did not know, actually belonged to the child we knew so well. The child next to us who laughed well, got angry easily, and was extremely happy.
Director Jung Joo-ri realistically depicts the death of 'So-hee' and the helplessness of 'Yu-jin' afterward through <So-hee's Next>. "The death of 'Sohee' was dealt with without a doubt, and the helplessness that 'Eugene' must have felt was dealt with with even greater darkness. At the same time, on the other hand, I thought that the existence of 'Eugene', who was worried about the children who would come next, would remain. I hoped that existence would become a hope that reminds us of the future without slumping here after losing 'Sohee'." Thus, the 'next' of <Sohee Next> becomes hope for the numerous 'Sohee's around us. We must never lose sight of that hope.
[ PRODUCTION NOTE ]
plan
It was at the end of 2020 that director Jung Joo-ri received a proposal from the production company, Twin Plus Partners, to take on the scenario and direction of a movie based on a real incident that took place in Jeonju in January 2017. Director Jung Joo-ri, who had only vague memories of this incident at the time, said in the SBS current affairs program [I want to know that], which aired in March 2017, that 'a female student who went on field training to a telecommunications company's call center and took her own life in 5 months' I heard the whole story of the incident. "What shocked me when I saw the program was, 'Why do high school students work in places like this?' I had to find out what the hell was going on. More than anything, I wanted to understand." The question 'why?' awakened the memory of other things that remained as doubts in the corner of director Jung Ju-ri's mind. Young souls who died while fixing subway screen doors, working at thermal power plants, and working at mineral water factories. Only the place and work changed, but the essence of the incident was the same, and all these things were connected. And still, it was going on. Director Jung Ju-ri could hardly find an answer to the question 'why?' "Perhaps the process of writing and completing the story of this film was a process of understanding things that I had never been able to understand and eventually figuring out the shape of our society as a whole. At the end of the full understanding reached through that painful process, the fact that I, who seemed to have nothing to do with it, was actually part of a whole that made these things happen over and over again."
That I, who I thought was close to a good and ordinary citizen, might have been a silent supporter of what made these incidents possible. This realization made director Jung Ju-ri have a firm mind that he must make this film and present it to the world. However, it could not be made with the tone of a typical commercial film. Holding in her hands a 40-page treatment containing the opening and ending, overall composition, major events, characters, and the title <The Next Sohee>, director Jung Ju-ri met with the production company again. And although the results of existing commercial films are different, I persuaded them to make a 'real story' with enough cinematic fun. "I believe in the power of cinema. Even if it is a fictional character or a fictional story, I believe in the fact that if a movie contains the truth, it will live on in the hearts of the audience. You know that they constantly make an impact and go their own way. Even though the child is gone, I hoped that she would survive as 'Sohee' in the movie and become a name that many people remember for a long time." It matched exquisitely, and this is how the journey of <The Next Sohee> began.
scenario
When writing a screenplay, director Jung Ju-ri needs specific and objective materials the most. From the SBS current affairs program [I want to know that], which informed many people of the incident, various investigative news articles dealing with the actual conditions of field practice, as well as videos of discussions dealing with the problems of the field practice labor field and education authorities, as well as the first to report this incident and steadily Reporter Heo Hwan-joo's book [Eighteen, Going to Work], [Wearing work clothes over school uniform] by Huh Tae-joon, a former field trainee, and Metaphor, which tells the story of meeting the bereaved family and friends of the field trainee's death. Books like [Death of an Unknown Child] provided ample soil for him. Clearly knowing and understanding the environment and work contents of call centers, schools, and education offices, as well as the facts coming and going from there, made director Jung Joo-ri able to imagine the kind of relationship and emotions the characters in that situation might have felt.
At the treatment stage, the main composition of the film, such as the two main characters, the two parts, the opening and the ending, was already confirmed, and the title was also set as <Sohee Next>. The death of 'So-hee' is the center of the composition, where the first protagonist dies and a detective appears to lead the remaining half of the story. But that alone wasn't enough. Some deaths are met with the next tragedy without being sufficiently mourned or spoken of. So director Jung Ju-ri definitely needed the story of 'Eugene'. 'Eugene' in the movie had to act on our behalf. "I wanted to continue asking questions with the audience about why the same thing happens over and over again as we, who lost 'Sohee', went on this painful journey together with 'Eujin'"
However, for director Jung Ju-ri, the two-part composition was also a burdensome decision in terms of cinematography. "I thought hard about how to complete this unfamiliar composition into an inevitable story within the film format. I tried to mobilize all cinematic elements to develop the incident without losing tension while adjusting the pacing of emotions." And for this, director Jung Ju-ri says that the most important thing in the scenario was objective and concrete facts. "I tried to make the emotions that occur there realistic without compromise by filling various elements and specific situations with realistic things as much as possible. Only then will there be room for cinematic moments to move." To speak calmly without any exaggeration or artificial emphasis. The cinematic moment that director Jung Ju-ri refers to is not magic derived from fantasy or a momentary miracle captured with hope, but 'reality' based on facts. Paradoxically, this reality creates a magic that allows the audience to accept the emotions of the main characters as they are without any explanation. "Despite the structure that is divided into two parts like this, I hoped that the audience would accept it as a whole film, no, as <The Next So-Hee>, which only becomes complete with this composition." He hung on day and night for five full months. And he presented the scenario of <Sohee Next> to the world.
casting
From the time he wrote the scenario, 'Eugene' was already firmly established as the image of actor Bae Doo-na in director Jung Joo-ri's mind. Above all, it was only natural for director Jung Ju-ri to think of Bae Doo-na for the role of 'Yu-jin' in that she should be able to captivate the audience with her own aura even if she appears in the middle of a movie after the death of the main character 'So-hee'. "Beyond the bond I had with the previous film and the ecstatic memories of that time, Bae Doona is the only actor I know who can complete this film with such a serious mission. Above all, there was expectation and trust in the detailed emotions of 'Eugene' that she would express uniquely." And the next day, I received a call from Bae Doona to meet me. It was the first reunion in 7 years after <Doheeya>.
"I really like the way director Jung Ju-ri tells the story in the scenario and the style. The subject or material covered is always touching. Even during <Doheeya>, when I didn't have a one-on-one meeting with the director, I said I would do it as soon as I read the scenario. It's true that there are very few movies that I love so much. I tend to think very carefully, think about it until the very end, and then make a careful decision. But director Jung Ju-ri's work always falls in love when I see the scenario. Bae Doo-na decided to hold the hand of director Jung Ju-ri once again. Bae Doo-na's choice without hesitation and reasoned confidence instilled courage and strength to push through to the end to director Jung Ju-ri, who was shaken by anxiety and worry. "I can assure you that Bae Doona is the person who recognizes my writing the best. Only by reading the script, this person figures out what kind of story I want to tell and how I want to tell it, and ultimately sees through the look and essence of the movie I want to make. During the preparation, filming, and completion of <So Hee Next>, Doona Bae was my strongest ally."
'Eugene', played by Doona Bae, is a police officer who returned to work after her mother passed away after a long illness. I am so exhausted that I have no time to be interested in other people's business. Even more so, I couldn't even unpack all my luggage in the house I had just moved into, and I wandered around between people. The 'Eugene' portrayed by Doona Bae was not originally that kind of person. "I think 'Eugene' is a person who has been very disappointed in society. She may have been lively like 'Sohee' in the past, but she may not be the same person as she is now. However, I was disappointed and gave up on many things in my life, so I am a person who has no expectations. Not a particularly cynical or particularly unmotivated person, but an ordinary person." Bae Doona's interpretation of 'Eugene' as a professional is very similar to what director Jung Ju-ri wanted to project into 'Eugene'. That's why Bae Doona says that 'Eugene's' gaze is also the audience's gaze. "I wasn't greedy at all for the character 'Eugene' itself to appeal to the audience, or to make the character's emotions and narrative stand out more. Rather, I was wary of giving a different meaning to the warrior of 'Eugene', and I think it would be closer to saying that we were angry together and uncovered the case as a representative of one of the audience."
A character who only reveals himself in the middle of the play and represents the emotions of the audience, and at the same time must lead the tension and emotions to the end. It would be a lie if Bae Doo-na did not feel burdened by this role of 'Eugene'. "In fact, 'Eugene' is not a character who leads the narrative of the play. In addition, it appears in the middle and retraces the story, but the audience already knows the whole story. As an actor, I started with a kind of handicap, so I thought that the other half of the movie might be boring if I didn't act properly. So, rather than calculating and acting, I thought that I should immerse myself in the raw anger and emotions that the audience would feel. I put the most emphasis on making it possible to feel naturally in the flow of the play, to be immersed, and to dig into the incident and follow the story." Director Jung Ju-ri, who trusted everything to the actor, asked for only one thing. Out of all the roles actor Bae Doona has played so far, I want her to be the darkest woman. Director Jung Joo-ri vividly remembers the moment when Bae Doo-na appeared as 'Eugene' on the first day of filming, as if she hadn't slept for a week. It was truly a breathtaking moment.
Unlike 'Eugene', director Jung Ju-ri, who wanted 'So-hee' to be a novel face that had never been seen in Korean films, was prepared to go through a huge number of auditions. By the way, the assistant director of <So Hee Next> introduced Kim Si-eun, a new actress who had a relationship with another work at the time. On the day of the first meeting with the intention of seeing each other, director Jung Joo-ri dropped Kim Si-eun as 'So-hee'. It was because of Kim Si-eun's answer, "I hope that 'So-hee' will come out to the world." "I was speechless for a moment. This answer, which seemed very ordinary, was saying that Kim Si-eun was already looking at the story extremely objectively. Instead of worrying about how I can take on this role and how to do it well, I could see that the wish that 'Sohee' would survive as a movie and meet the audience calmly overwhelms her. I felt it was extraordinary." Through the conversation that followed, director Jung Ju-ri gradually became convinced. I didn't meet the 'Sohee' I was looking for, but an actress named Kim Si-eun was showing 'Sohee' on the spot.
The first emotion Kim Si-eun felt after reading the scenario was pity. "It hurt my heart to see 'Sohee' becoming more and more isolated. In terms of cinema, the process of transition from 'Sohee' to 'Eugene' is fresh. I hoped that this movie would be released to the world and delivered to many people, and I wanted people to hear the story of 'Sohee'." 'Sohee', played by Kim Si-eun, is a character who undergoes the biggest change in the movie. 'So-hee', a bright high school student who likes to dance and talks, gradually loses her voice and color as she starts working. "'Sohee' is a person who is confident and has her own convictions. However, he is frustrated by what happens at the call center. While filming, I was able to relate more deeply to the emotions of 'Sohee', who constantly tries to overcome but eventually loses strength."
The burden of leading the first half alone came to newcomer Kim Si-eun. "When I felt uneasy about not being able to do well, I trusted the director completely and followed him. We talked about each scene one by one, and the director actively helped me to quickly change my thoughts as 'So-hee'." also worked hard "At first, I applied some base on my face and filmed. Then later, without makeup and without lip balm, I stepped out in front of the monitor. What I cared about the most was the way Sohee spoke at the call center. It's an awkward tone when you first answer the phone, but as time goes by, you get used to it and later become like a robot. For this purpose, I looked for videos or articles, but there were limitations. So, I practiced and learned hundreds of times so that it sticks to my mouth in everyday life, such as walking on the street, before sleeping, as soon as I wake up."
Even before filming began, director Jung Joo-ri guessed that it would take some time to get along with newcomer Kim Si-eun. However, Kim Si-eun not only knew the basics of understanding the scenario, but also perfectly understood the emotional waves that 'So-hee' went through. "The thorough control of detailed expressions was at a high level. In addition, I felt that I instinctively knew where I was and where I was in the scene, so that I couldn't feel that I was a friend who had just started acting. The extraordinary that I felt when we met on the first day was accurate."
Director Jung Joo-ri revealed that she made the film out of curiosity about 'So-hee' and a desire to get as close as possible. The mind of 'Sohee' that neither the director nor the audience who watch the movie could know. Kim Si-eun, who must have come closest to that heart, dreamed on behalf of 'So-hee'. "I thought that if 'Sohee' had made a different choice, she would have dreamed of becoming a police officer like 'Eugene'. I think he would have wanted to do such a righteous thing, and he would have become a person who can speak out for himself."
On the other hand, veteran actors who support Korean cinema, including Bae Doo-na and Kim Si-eun, and newly discovered faces who breathe fresh energy also shine in <Daum So-hee>. First of all, Choi Hee-jin, an acting actor who is very familiar to domestic audiences, played the role of 'Lee Bo-ram', a new call center manager, who was active in plays, dramas and movies. Director Jung Joo-ri revealed that 'Lee Bo-ram' was a character created with Choi Hee-jin in mind, and said, "This is a character that has never been shown in other works, and is perhaps the opposite of the role Choi Hee-jin usually plays. I had faith that I would do well unconditionally, and it exceeded my expectations. In particular, the scene where the new team leader and 'Sohee' collided with each other surprised everyone on the set."
As it was <Daum So-hee>, So-hee's friends and colleagues were also very important. At the same time as each individual being a person with a unique personality, it had to be open to expanding to many other children. Director Jung Joo-ri began to draw So-hee's friends through the information she obtained while preparing for the film. "Children are working without any protection in the most difficult labor field we can think of. I tried to capture this reality as much as possible in the film. On the other hand, I hoped that it would be revealed that it was a reality that was very close to normal life." So, So-hee's friends became parking lot attendants and courier drivers.
Among them, the newcomer Jeong Hoe-rin performed passionately in the role of 'Jjuni', the best friend of 'Sohee'. Actually born and raised in Jeonju, Jung Hoe-rin is a model-turned-actor. She began acting in earnest with <Sohee Next> and made an impression by appearing in the movie <Continuous Land>, which drew attention at the Seoul Independent Film Festival, and the popular TVING series [Ransom]. . "I met actor Jung Hoerin and read the live broadcast of 'Jjuni' together, but he was a novice BJ himself who was just starting out and excited. Above all, she was so lovely and pretty. It must have been unfamiliar and difficult as it was my first time acting, but I always came to the scene with real emotions and progressed at an astounding rate over and over again."
The role that had the most difficulty was 'Taejun', a senior of 'Sohee'. It was a demanding role that required not only high-level dance skills, but also deep emotional acting. I received the audition video and actually met many actors, but there was no 'Taejun' that director Jung Ju-ri wanted. Meanwhile, actor Kang Hyeon-oh, who had been excluded early after watching the audition video, sent the video again. "Because I prepared for my idol debut, I danced very well, and since I worked as a model for a long time, I was a friend who was suitable for the role of 'Taejun', but it was regrettable that I had never acted before. But when I saw the new video, I was surprised. His acting has improved a lot." Director Jeong Ju-ri, who saw the change, met him and cast Hyeon-oh Kang, who confessed that he had been practicing hard. And as if to repay this, Kang Hyeon-oh lost a lot of weight and shaved his head on set to match the role, showing painstaking efforts and becoming a complete 'Tae-joon' who conveys a big resonance in the final scene.
In addition, Shim Hee-seop, an actor who showed his presence in bold works such as <The Attorney>, <Assassination>, and <Lion>, played the role of 'Lee Jun-ho', the call center team leader. Bold veteran actor Hwang Jung-min performed passionately. In addition, Huh Jeong-do, a talented actor whose face is shining through numerous dramas, and actors Kwon Da-ham and Kim Woo-gyeom, who are attracting attention in Korean independent films, filled every part of the disassembly movie with large and small roles. Director Jung Ju-ri expressed her special gratitude and proud sincerity toward the actors who made the film shine through her testimony on the selection of the closing film for the Critics' Week at the Cannes Film Festival. "I am grateful to be able to release a movie that the entire staff and actors worked together last winter on a brilliant spring day. We confidently introduce these jewel-like actors to audiences around the world!"
Production
Prior to filming in earnest, director Jung Ju-ri prepared many things in advance, as tightly as possible. The entire length of the continuity was completed, and almost all locations were fixed. It was a thorough preparation to the extent that it was able to immediately cope with variables that inevitably arise. These preparations contained director Jung Ju-ri's desire to see the scenes filmed on-site with the naked eye in a relaxed manner. "On the set, we focused on allowing the actors to breathe and act through the entire scene with as much space as possible. There were many cases where the entire scene was filmed in one breath, depending on the actor's breathing and emotions, rather than ending in a set cut. All the staff, including the shooting team and lighting team, were prepared for this unexpectedly long shoot. The magical moments that arose in such places were captured on camera."
The principle that worked in all parts was 'the expression is as realistic as possible, and the emotion contained in it is as realistic as possible'. Together with cinematographer Kim Il-yeon, director Jung Ju-ri's classmate at Korea National University of Arts and who worked on <Exit>, <Memorial Night>, and <Jangsan Beom>, director Jung Ju-ri captured the two-part composition in the style of <Daum Sohee>. went through a lot of hard work for As a result, a big frame was set to follow 'Sohee' in part 1 with a handheld camera, and in part 2 to capture 'Eugene' moving in the screen with a static fix camera as much as possible. "The camera, which started from behind 'Sohee', gradually moves away from her as the play progresses and reaches its peak at the reservoir. And he doesn't follow 'Sohee' any more and stops to watch the end. It was configured so that 'Eugene' appeared on the screen that had gone the farthest and stopped. And after the camera started to capture 'Eugene' from afar, I gradually approached or followed her according to her inner changes. In the final scene, it is closest to 'Yujin', just like the camera that captured 'Sohee' in the first place. In this way, 'Sohee' and 'Eugene', who only met once in the movie, completed the composition and style of the entire film as if they were facing each other at different times."
Unlike filming that follows the emotions of the characters, the light in <Sohee Next> is closer to a cold achromatic color that seems to have distanced itself from the characters. "I tried to express the cold and desolate tone of monotone and the light of winter. In the movie, I wanted to show the process of 'Sohee' gradually losing light on the screen as much as possible. I thought this was the most realistic way to deal with emotions in this movie." The design of light, which puts emotions first, continues in Part 2. "When 'Eugene' first appears as a frozen reservoir because it is not cold, the screen is more intensified than in the first part. I hoped that the ray of light that 'Sohee' and 'Yujin' each face at the end would convey a unique emotion through the contrast."
The call center, which occupies a large part of the film, is not a real call center, but the result of the art team's unspeakable efforts. "We built a set in an empty factory building and filmed it. It was composed realistically based on countless references, but the art director expressed the details in a cinematic way. The density that dominates the entire call center, the overwhelming status board, text materials such as placards, and cramped expressions in the partitions are all achievements achieved by the art team with their bare hands over several days and several nights." I still can't forget the moment when I had mixed feelings when I was demolishing . In addition, many other indoor spaces, such as Sohee's house, Yujin's house, Gamaekjip, school, and education office, found the closest location and melted the art team's delicate touch. It provided a solid foundation on which to stand.
The most faithful representation of reality. Director Jung Ju-ri's obsessive and uncompromising attitude is also revealed in the music. "From the beginning, I talked with the music director about minimizing the music. Since music inevitably functions to arouse emotions, in order for the audience to see 'Sohee' at a certain distance, they had to avoid it as much as possible. As it is, I believed that emotions that arise on their own inside the audience can make them stay with the movie until the end. But in a few moments, as a director, I only used music when I wanted to comfort 'Sohee' and 'Yujin'."
The reservoir, the most important space, had an image that settled in director Jung Ju-ri's head from the scenario stage. A place where you have to go up for a while to a very high place isolated in the mountains to appear, and at night it becomes dark without a single light. Before entering the free stage, coach Jung Joo-ri came across a picture of a reservoir in Geochang, Gyeongsangnam-do on the Internet and went down that road to Geochang. The last moment of 'Sohee', which I only pictured in my head, was there. However, it was an unsuitable space for filming, and the production team visited numerous reservoirs. Most of the reservoirs were located on low ground because they had to contain the water that flowed down, and most of them were packed with spaces for citizens like amusement parks. There was one more fact overlooked. It was said that reservoirs located high up would inevitably freeze in the middle of winter. I didn't give up on finding a reservoir to contain the end of 'Sohee' by traveling all over the country, but it was nowhere to be found. In the end, director Jung Ju-ri and the production team took a risk and went back to the beginning. "We decided to shoot the reservoir scene on February 27th and 28th, and decided on the reservoir in Geochang. Data from previous years indicated that the reservoir would definitely be frozen at that time. By the time we got to the last shot, as expected, half of the reservoir was frozen. However, it was melting, and on the day of filming, it melted a little more to the point where it could be erased in the later stages with CG. I filmed the reservoir scene for 'Sohee' first, and then the reservoir scene for 'Eugene' the next day, but at that time it was a little more melted so I was able to shoot with each feeling."
Meanwhile, the two main characters facing a new challenge of dancing were in the practice room at that time. For the scene where the two pass each other through dance, Bae Doo-na and Kim Si-eun practiced with the choreography teacher twice a week from a couple of months before filming. "Director Jung Ju-ri said there was a practice room, so I went, and he told me to dance hip-hop. When asked if she should dance well, 'Eugene' said that since she likes dancing and has even learned to dance, it would be nice if she could dance to some extent. . Director Jung Ju-ri said that she wanted to reveal the complexity of the character of 'Eugene' through the ironic fact that 'Yu-jin', who rarely reveals herself and lives as an outsider, dances with people.
Kim Si-eun accepted the setting of 'So-hee' dancing very naturally. "Everybody has at least one thing they like. 'Sohee' thought it was a dance. So I practiced dancing two or three times a week. I practiced diligently, learned harder, and danced harder." But why did it have to be dance? Director Jung Ju-ri says dance is the most cinematic element. "The act of expressing oneself by moving the whole body over and over again. The image of expressing the present earnest desire through gestures without speaking. Just watching someone dancing on the screen conveys the fluctuating energy at once. I wanted to deeply imprint the image of practicing the wrong part over and over again, and the sadness that I couldn't seem to succeed in the end."
In fact, the dance of 'Sohee', which decorates the opening and ending of the film, embodies the lumpy anonymous identity of a high school student who went on field practice as an individual. That name no longer belongs to a failed child we don't know. It belongs to the child we already know, who will pass by us yesterday, today, and next time. "When I first conceived the movie, I started by repeating the wrong dance over and over again, and finally succeeded and thought of an opening and ending that made me happy. It's not something flashy, cool, or amazing, but to do the last one turn. I wanted to feel that sense of accomplishment. My heart hurts for the tragedy that befell her throughout the movie, but I hope she herself feels that kind of accomplishment one day. no matter when it was On the one hand, I hoped that it would be a gift from 'Sohee' to 'Yujin' who went through hardships throughout the movie without any fault. I hope that 'Sohee' comforts 'Yujin''s broken heart. I hope that the two of them will finally face each other in a way that only each other knows."
Instead of giving hasty intentions or political messages, director Jung Ju-ri continues to ask questions. Why are high school students working in a poor environment that is difficult for adults who are good at work to handle? Why do schools send their children there? Why does this happen over and over again? Why do we just grieve without knowing anything? Really, we, I don't care about all these things. The process of finding answers to all these questions was painful and still difficult to understand. However, director Jung Ju-ri says that if we are ordinary people, we will be heartbroken, angry, and frustrated together, just like 'Eugene'. And I believe that the feeling of powerlessness that comes to an end will be the hope that makes the promise of a 'next' different from today.
"<Sohee Next> is also a movie that thinks about how people in the most vulnerable state die alone. I've heard stories of firefighters stranded at the scene of a fire. Trapped in the flames and smoke, he cannot get out on his own unless a comrade comes and rescues him. Outside the fire and smoke, he is invisible, and no matter how much he shouts, he is not heard. "If no one else comes close to an isolated person, that person has no choice but to die" (Kim Hoon, excerpt from [boiling ramen]) It seems that many people who end their lives are in a similar situation. Hope that if someone can approach you, if there is someone who does not pass by the rescue signal that you would have been eagerly sending at some point, maybe it could be different. I made this film with only that hope in mind."
[EPILOGUE]
"
I believe in the power of cinema.
Even if it's a fictional character, a fictional story
I believe that if a movie contains the truth, it will live on in the hearts of the audience.
You know they constantly make an impact and go their own way.
Even though that child is gone, please survive as Sohee in the movie
I hoped that it would be a name that many people will remember for a long time.
"
-Director Jung Ju-ri-
Related Videos