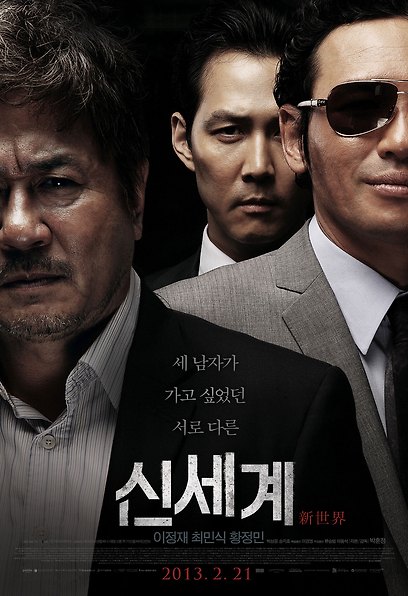 New World, 2012
release

2013.02.21
re-opening

2020.05.21
genre

crime/drama
country

Korea
ranking

Youth not allowed
running time

134 minutes
grade

8.6
cumulative audience

4689539 people
Synopsis
when they betrayed me,
He called me brother!
"You and me, let's do one thing together"
Kang (Choi Min-sik), the head of the investigation planning department at the National Police Agency, orders a new police officer, Ja-seong (Lee Jung-jae), to conduct an undercover investigation as the country's largest criminal organization, 'Goldmoon', gradually expands into a corporate-type organization. And 8 years later, Ja-seong became the right-hand man of Jeong-cheong (Hwang Jung-min), the second-in-command of Goldmoon and the group's leader.
"Our brother just needs to trust this hyung."
After Chairman Goldmoon's sudden death, Manager Kang (Min-sik Choi) designs the 'New World' operation to directly intervene in the decision of the successor. In the midst of a war of blood and tears, Jeong-cheong (Hwang Jung-min) first meets Ja-seong (Lee Jung-jae), who first met her in her hometown of Yeosu 8 years ago and has been with her in every moment like her real brother.
"You promised… This time it's really over."
Meanwhile, Manager Kang (Choi Min-sik), who only thinks about the success of the operation, continues to tighten Ja-seong (Lee Jung-jae)'s neck. Ja-seong (Lee Jung-jae), who is in danger of being exposed every moment, is in conflict between the police who do not know when they will betray him and Jeong-cheong (Hwang Jung-min), who treats him like his brother…
[ Preface ]
"Every character in the New World runs for the final scene in which they appear. The final image of the new world they each dreamed of was prepared with the utmost care from the beginning of the production."
– Director Park Hoon-jung <Irregular Transaction> <I Saw the Devil> Screenplay
"When I first started filming, I felt proud just looking at the chairs with the names of senior Lee Jung-jae, Choi Min-sik, and Hwang Jung-min. When will I be able to work with these actors again… The destructive power that looked like it would explode even on a monitor the size of the palm of your hand. I look forward to seeing it on screen."
– Producer Min-Jeong Park <Unfair Transactions> <War on Crime: The Golden Age of Bad Guys>
"The colors of the three actors are so different that even if they say the same lines, the feeling is different. Those things naturally created contrast. They are so clever actors that we didn't even talk to each other, so I hope you can feel how they coordinate and create contrast in the film."
– Cinematographer Jeong-Hoon Jeong <Stalker> <Illegal Deal> <Kind Venus> <Old Boy>
"Because black and white are not clear, they are on the same spot, but maybe the roles are at opposite points, so the 'organization' is urbanized and the 'police' is a little darker. It's an art concept that reverses the general feeling of thinking."
– Production Designer Ha Sung-seong <War on Crime: The Golden Age of Bad Guys> <Nom Nom Nom> <Kind Mr. Veumja>
"When I set the main color to gray, it became a situation where I had no choice but to make all the clothes. Up to Jordan Station, we made about 120 suits, about 4 times more than other movies. I needed a black suit for the funeral scene, so I asked a tailor in Busan and airlifted 40 more."
– Costume designer Jo Sang-kyung <Late Autumn> <Bat> <Monster> <Kind Venus> <Old Boy>
"When you think of tissue, you might think of things like angled hair, tattoos, and scars, but I didn't include any of those things. The concept was to look neat and smart as if in a pictorial."
– Make-up Kim Hyun-jung <The War on Crime: The Golden Age of Bad Guys> <I Saw the Devil>
[ Director's statement ]
It started with an attraction to gangster movies. I wanted to draw a world of men who cannot be divided by a simple dichotomy of good and evil, and a world of wonderful men who risk their lives for their goals and desires. The police, who believe in the justice of the goal of controlling an uncontrollably powerful criminal organization, and choose the evil means of conspiracy and manipulative manipulation, in contrast, carry out the desire to become the leader of the organization with the just means of brotherly love and loyalty. The second person in the organization you want to make. And the distinction between good and evil is blurred between a man who is on the dangerous border between them. There are no villains and no good people, only the different 'new world' the three men wanted to go to. There may be a sense of excitement in the game in which it depends on who will reach the 'new world', but before that, it shows men who are involved in a huge game of power that cannot be controlled by their own strength, yet throw everything toward what they believe is right. wanted to give And I wanted to say that the world of men dreaming of a different 'new world' will inevitably be repeated over and over again as long as there is a world ruled by power, organization, and the logic of great power, rather than personal ruin or success. I hope that the audience will enjoy watching the wonderful 'New World' unfolding by three men with different dreams.
Director Park Hoon-jung
[ About Movie ]
The best acting showdown! Tense tension! And the breathtaking charm of the actors!
A wonderful <New World> that Korean crime movies have never been to
The story of <The New World> does not allow room to breathe. From the scenario itself, the question of what the next scene would be was overwhelmingly a page turner. Director Park Hoon-jung's original story, as if he was a writer of films that were closely related to the story, such as <Illegal Transaction> and <I Saw the Devil>, and the characters themselves, captured the audience at once. The police are plotting plots and tactics like a villain, and the organization that should be a villain shows a brotherhood deeper than blood. Good and evil change their places, and the scent of betrayal lingers behind the mission to be just, while a deep camaraderie oozes from the villain who is meant to be mean. The characters' personalities that contradict each other's original positions and conflict with each other, and the narrative that deviates from the actor's existing image, goes beyond the basic premise of the crime drama that all are bad guys. It promises a new world of Korean crime films.
Lee Jung-jae – Choi Min-sik – Hwang Jung-min. See them for the first time on one screen!
A wonderful first meeting, never acting together! Casting's 'new world' declaration!
There has never been a casting that stimulates curiosity as much as this in a Korean movie. The meeting of actors that raises curiosity about their unpredictable paintings as well as their star characteristics, that is Lee Jung-jae, Choi Min-sik, and Hwang Jung-min. <New World> is literally the first 'New World' to be with these three actors who seem to have met in one work at least once. There was not even a meeting of three possible combinations between them: Choi Min-sik-Hwang Jung-min, Hwang Jung-min-Lee Jung-jae, and Choi Min-sik-Lee Jung-jae. Choi Min-sik, who claimed to be a strong background and background color, where juniors can play freely with Jung Jung-dong's charisma, leaving his explosive image, and Hwang Jung-min, who changes the flow by simultaneously injecting a pleasant laugh and a chilling tension in the middle of a play that can be heavy. And Lee Jung-jae, who is at the center of the story, between two intense men, maximizing the explosive power of the last with subtle changes in facial expressions and trembling that pass by for a moment in a restrained expressionless expression. The first meeting of the three men, who show a new transformation beyond their existing image, unfolds the 'New World' of Korean cinema in a splendid way in front of the audience.
<Illegal Deal> <War on Crime> <Berlin> Producer and Producer Jae-duk Han
<Oldboy> <Illegal Deal> <Bat> <Stalker> Cinematographer Jeong-Hoon Jeong
<Nom Nom Nom> <Kind Venus> <War on Crime> Production Designer Ha Sung-seong
<Concubine> <Late Autumn> <Monster> <Sweet Life> <Bat> Costume Designer Jo Sang-Kyung
<Access> <Oldboy> <Joint Security Area JSA> <Mean Street> Music Director Jo Young-wook
The present of Korean cinema, well-made itself, where the best talents are gathered!
If someone asks about the current state of Korean cinema, the top credits of <New World> are full of names that will be mentioned as talents representing Korean cinema first. Producer Han Jae-deok, who is making a new lineage for Korean male films as a producer of <Unfair Trade> and <War Against Crime> and <Berlin>, and cinematographer Jeong Jeong-hoon is He was responsible for the light, color, and angle of all chapters and short films directed by Park Chan-wook until now, and production designer Harmony Seong-seong has made films with different genres and colors, from <Mr. It gave them a unique visual style. Cho Sang-kyung, who designed the costumes for <Sweet Life>, which first showed the stylish side of a male actor in the noir genre, and <Monster>, a family film and a monster film, was the first of the noir genre after <Late Autumn>. , is a representative costume designer in the Korean film industry, whose style has told the character of her recent work <The Concubine>, a historical drama. In addition, the fact that music director Cho Young-wook, who has created impressive melodies that first come to mind when thinking of a movie, including 'Mido's Theme' in <Oldboy>, is responsible for the music that supports the emotions of <New World> It makes you believe that <New World> will reliably and solidly connect the genealogy of well-made Korean films. In addition, Lee Jung-jae, Choi Min-sik, and Hwang Jung-min, as well as these brilliant talents, are willing to join in, and it stimulates curiosity about <The New World>.
[ Production Note ]
A new world of Korean cinema opens!
Third, a new world of style!
120 suits made! This is the style of men who captivate women's hearts!
With angled hair, tattoos, scars, and a black suit and white shirt, he looks neat and smart, like in a pictorial, not like a ferocious thug. This is the style of the movie <New World>. The costume designer, who is in a situation where he has no choice but to produce all the clothes while setting the main color to gray, except for black, has to put in the effort to create a new world of style by directly producing 120 suits, which is four times that of other movies. did. In particular, for the funeral scene of the limestone in the movie, he needed a black suit, so he asked a tailor in Busan and airlifted 40 more. However, costume designer Jo Sang-kyung pointed out that the biggest difference of <The New World>, which is different from the existing movies, was Lee Jung-jae, Choi Min-sik, and Hwang Jung-min. From classic suits emphasizing Lee Jung-jae's masculinity, to casual everyday clothes that fit Choi Min-sik's typical detective role, and 'Jeong-cheong style' suits with Hwang Jung-min's unique character. The start of the style, "I thought that these actors would be able to show a new classic men's look, so I didn't need special packaging" started with the three actors who digest and express themselves differently even when wearing the same clothes. could be completed
Fourth, the new world of production!
A three-month journey in the spirit of a man in a summer full of heat and storms!
Last summer, when the weather was exceptionally fickle, the production team of <New World> waged a battle against the summer day by day. 'Come if you want!' He showed his masculine spirit with a heart that said that, even when a typhoon came and rained like a torrential rain, he pushed on. Among them, a typhoon was in full swing when filming the indoor fishing ground scene, which took an important part in the movie. Since it was not a set, but an outdoor location, when it rained, no one else would jump up onto the roof and put a plastic bag on it to block the rain. In the dialogue scene, if it rained due to the sound of rain, the roof had to be repaired, and if it stopped even for a while, we had to quickly continue filming. The war against the heat was not easy either. No matter how much sweat or makeup is changed, because of the sweat from the heat wave, the camera director and actors changed the concept in a way that makes use of the pores and wrinkles rather than making it look realistic. Because of this, the rough feelings of men were expressed more realistically, and they were able to receive a reward for their hard work. The passion and fighting spirit of the actors and staff of <New World> was passed down as a work, making it a truly well-made movie.
[ Special Contents ]
Lee Jung-jae
"I was surprised by Choi Min-sik's two faces and admired Jung-min's passion for acting."
"Senior Choi Min-sik is a very mischievous person on the set, but when he shoots, he is frighteningly sharp, and I can feel great energy that cannot be expressed in words. I met Jung Min-yi hyung when we were reading the script for the first time, but the script had already been separated. He constantly came up with ideas in the field and admired the enthusiasm."
"I thought Choi Min-sik was the producer!"
"I was originally preparing for another project, but Min-sik Choi called me after a long time. To be blunt – it's been a while. Let's do a work together. I'll send you the screenplay, so read it and give me your answer – but I thought it was a movie you were making because you were very active. It's a feeling I can't explain when I get a call like this from someone like you. I was really excited."
"I quit smoking again. The worse my complexion got, the more the director liked it."
"The original character in the movie was a smoker and then quit smoking. However, I quit smoking and started smoking again. I think it will be remembered as one of the most difficult works of an actor's 20 years because there are a lot of parts that need to be expressed psychologically rather than acting. Of course, now I quit smoking again."
Choi Min-sik
"I think the movie that deserves the most investment is <New World>."
"I made a relationship with director Park Hoon-jung as a screenwriter for the movie I Saw the Devil. I got a feeling there was something about this person, so I asked if there were any scenarios he had, and I got a few. Among them, I decided to appear in <New World> because it seems like a movie that can start filming right away and is a good investment."
"A scene without an actress, are you my nephew?"
"When was the last time you acted with an actress… Lots of complaints Still, there are two actresses in <New World>, but there aren't many scenes with me. just… I guess that's what my salesperson is."
"I wanted to play with Lee Jung-jae and Hwang Jung-min."
"I wanted to play with them. It's a bit of an expression like this, but I think it's important to play together through a work. I think that actors can connect more closely through their works. I wanted to go through such a process with the two of them, and I think I did meaningful work with good colleagues as an actor after leaving my seniors and juniors."
Hwang Jung-min
"It was a waste of time. It was heartbreaking work."
"After this movie is over, the three of us may not be able to work on another project together, so I think my heart fluttered. It was a pity that time passed, and I thought about whether there would be an opportunity to work with the two of them in my life, so I decided to appear on the show."
"Curly hair is originally my hair. In the meantime, this was a pretense."
"The hair style in the movie is unique, but it's not my perm, it's my original hair. It's curly hair, so if you wash your hair and leave it alone, that's it. This one is the most similar to mine. In the meantime, this was a pretense."
"I also did an ad-lib in Chinese."
"The character in the play is from overseas Chinese in Yeosu, so he also spoke Chinese. I struggled a bit because Chinese was too difficult than the Jeolla dialect. But later, I also did ad-libs in Chinese."
Related Videos