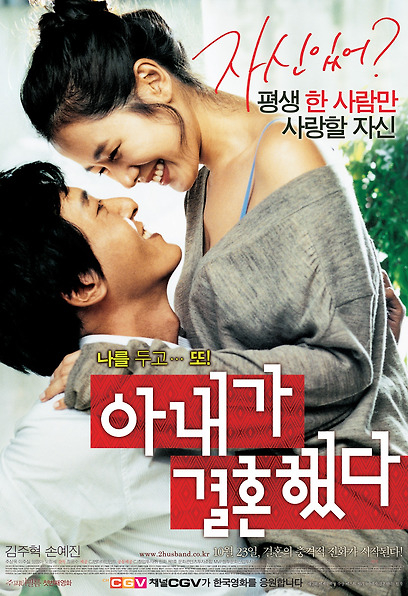 My Wife Got Married, 2008
release

2008.10.23
genre

drama
country

Korea
ranking

Youth not allowed
running time

119 minutes
grade

6.9
cumulative audience

1799501 people
Synopsis
How can you love only one person for the rest of your life?
In-ah has a cute appearance, overflowing aegyo, an intellectual side that loves used books, and has the knowledge and passion for soccer as much as a man. The more he meets her, who knows her well until the very end, the more Deok-hoon falls in love with her special charm, which is different from ordinary women. However, unlike Deok-hoon, who wants to love only her for the rest of his life, she loves Deok-hoon, but does not love only him. She is so free that she wants to live with the people she loves.
"But what matters now is that she loves me! As long as you love me, she is mine!"
I thought it would be the end of the game once we got married!
One day when her cell phone is turned off, In-ah makes a shocking confession that she slept with another man to Deok-hoon, who explodes with anxiety. Deok-hoon declares a breakup in a hurry, but he can't forget it even if he tries to forget it, and Deok-hoon's heart for her is getting bigger and bigger. A conclusion reached after much deliberation. Marriage is the only way she can monopolize her that she cannot love only one person for the rest of her life.
"To put an end to your free love, I will take you to the tomb of love 'Marriage'!"
I am not her friend. Not even my ex. He is my current husband.
However… My wife is married!
After persistent courtship, Deok-hoon succeeds in marrying In-ah. However, on condition that she accepts her free love.
Then one day, In-ah's shock declaration came to Deok-hoon. In-ah, who says she has a man she loves, makes an unimaginable proposal to marry him again.
Will you ever defeat him?
will you give up on her?
Or… will you have at least half of her?!
[ Prologue ]
There has never been a single true monogamy in the history of human evolution – A. Vronsky
Like I said I shouldn't love, but it didn't go my way
Even if you try to love forever, things don't go your way – J. Lavruiel
To assert that you can love one person for the rest of your life
It's like arguing that a candle can burn for a lifetime – Tolstoy
Love knows no rules – Montaigne
No one can say that I love you today and I will love you tomorrow – Rousseau
How can you live with only one person for the rest of your life? – <My Wife Got Married> Master, how do you share love? – <My Wife Got Married> Roh Deok-Hoon
Wait here!
What is the average lifespan of Koreans? Male 75.74 Female 82.36 Years Old (Korea National Statistical Office)
What is the average age of marriage in Korea? Male 31.1 years female 28.1 years old (Korea National Statistical Office)
If so, how long does a person in Korea have to meet, marry, and live with? About 44 to 54 years
But, what is the biological validity of love? 18-30 months (Institute of Human Behavior, Cornell University, USA)
In addition, 1.05 couples divorced per 100 couples in 2007 (National Statistical Office of the Republic of Korea)
Question here!
Are you confident? Will you love only one person for the rest of your life?
[ About Movie ]
The shocking evolution of marriage!
2008's most provocative problem film <My Wife Got Married>
In the process of social diversification, the gender roles and status of women and men changed, and amid changes in values, the 'marriage system', which was called the perfection of love, began to undergo rapid changes. The stereotype of 'monogamy' as the most civilized institution began to shake. The system of 'marriage', which has been with the ark for as long as the history of mankind, has evolved into the current 'monogamy', the most moral and civilized marriage system, and has been institutionalized, but at the same time, it does not disappear like extramarital affairs, infidelity, and the increasing divorce rate. It has also made history with the dark side. As a result, marriage, which had been regarded as the conclusion and end point of love, is now an 'option' rather than a 'essential', and now 'unmarried' rather than 'single (未婚)' has come to a crossroads.
Is monogamy really the completion of the marriage system? It is said that love is valid for three years, is it possible that a man and a woman can live through their entire lives? Is it right to stay married even if love changes? Are our myths 100% correct?
The movie <My Wife Got Married> uses the theme of 'polyamory', which means 'non-exclusive polygamy', and uses a provocative imagination against the conventional wisdom of marriage. Through the unexpected reversal of a woman who asks, "How can I love only one person in my life?" and a man who believed that "marriage is the grave of love" Rather, it raises concerns and objections as to whether it has been transformed into a system that makes love difficult. The movie <My Wife Got Married>, which pleasantly asks about the essence of true happiness that love and marriage give through the subversive imagination of 'double marriage', is a creative tackle on the myth of marriage, which we have been living with for granted. Nally is the most provocative and problematic film of 2008.
The birth of a new female character that provokes the screen!
The Evolved Love Story of a Woman and Two Men <My Wife Got Married>
In 2002, after 'Yeon-hee' in <Marriage Is Crazy>, which shocked her with the quirkyness of not getting caught while enjoying marriage and dating at the same time, in 2003, the cool wife 'Ho-jeong' of <Crazy Family> responds to her husband's hot wind. caused a sensation with
And in 2008, In-ah of <My Wife Got Married>, who declared that she would marry again after leaving a strict husband, shows a breakthrough and novelty that goes one step further from the existing female characters that provoked the screen. No secret affair, no wind, no lies! In-ah throws a shock with a dignified request to acknowledge her love. With the free idea that she can only love one person in her lifetime and the belief that love is not possession, she is a woman who wants to be faithful to her own love above all else, breaking away from other people's eyes or the framework of marriage. In-ah's overt provocation, which reflects the current changed image of women and changes in the values of love, fascinates the audience with her honesty and dignifiedness. And Deok-hoon, a husband who struggles and worries about In-ah's very different values, but gradually changes, acknowledges, and finds happiness. <My Wife Got Married> talks about 'what is the value that is more important than the form of marriage in the end' through the subversive relationship created by two men and women to meet and protect each other's love. <My Wife Got Married> is an evolved love story between a woman and two men who break the stereotyped frame to find true love and happiness rather than the rules set by society. With unconventional material, fresh characters, and new sympathy, it will be a film that stimulates the hearts of the audience in 2008.
The final version of Kim Joo-hyuk-pyo romanticist + Son Ye-jin-pyo's charm!
Fantastic couple that will captivate 2008
Kim Joo-hyuk, Korea's best romantic guy, and Son Ye-jin, a face of innocence and sexy, met as a couple. Joo-hyeok Kim and Ye-jin Son, who stimulated anticipation while meeting for the first time in <My Wife Got Married>, will show the best of their charm through this work. Kim Joo-hyuk, the representative actor in the romance genre, who has built his own character with special charms hidden in the ordinary such as <Singles>, [Pharaoh's Lover], and <Gwang-shik's younger brother Gwang-tae>, is an ordinary man 'Deok-hoon' in <My Wife Got Married>. It shows the culmination of "Kim Joo-hyuk-pyo romanticist". As a man with urban sophistication, Kim Joo-hyuk's acting, naive but not timid, masculine but never macho, completed Deok-hoon, who strives for love and conflicts, into a romantic yet realistic character. And Son Ye-jin, who has maintained a unique position in the Korean film industry with a new transformation that goes beyond predictions in each work, from an ordinary divorcee to a fatal femme fatale, from the pronoun of innocence to the queen of melodrama, a provocative and unconventional 'In-ah'. One time acting transformation. Son Ye-jin, who naturally portrays In-ah, who is free in love but faithful to her partner, and who is innocent but sometimes provocative to talk about her sexual fantasies with her unique eight-color acting, captivates the viewers with her charm that everyone can't help but fall in love with. Kim Joo-hyuk, the romantic guy that every woman has dreamed of at least once, and Son Ye-jin, a charming woman that every man wants to love. The two's perfect acting and fantastic breathing, as if they were wearing clothes that fit their body, will heat up the screen this fall as the best fun not to be missed.
The most talked-about bestseller 'My Wife Got Married', which won the World Literature Award!
Finally see you on the screen
A fresh novel that raises questions about today's marriage system by exquisitely combining the psychology of a wife who declares a double marriage and a husband who has no choice but to accept it, written by Park Hyun-wook, who won the 2nd World Literature Prize. A topical novel that has aroused many controversies and issues since its publication. Within three months of its publication, it surpassed 110,000 copies and emerged as the nucleus of the Korean literary world. At the time, it was selected as the 3rd best-selling domestic novel by Kyobo Books and 'Book of the Year by Netizens' hosted by Yes24, and has sold more than 400,000 copies so far. and continues to receive love. The novel 'Wife,' a novel that drew enthusiastic responses and support from critics and readers, especially young people, with its unconventional and provocative materials that question conventional wisdom, sophisticated humor that delightfully solves problematic messages, and lively freshness throughout the work. is married'. Based on the fun of the original film, <My Wife Got Married>, which was newly born through the screen in 2008, <Are You Living with the One You Love Now?> directed by Jung Yoon-soo's sophisticated visual beauty, delicate sensibility, and Kim Joo-hyuk, who will double the charm of the original character. With the addition of Son Ye-jin's acting ensemble, it will visit the audience with a new movie with cinematic fun and message.
Related Videos