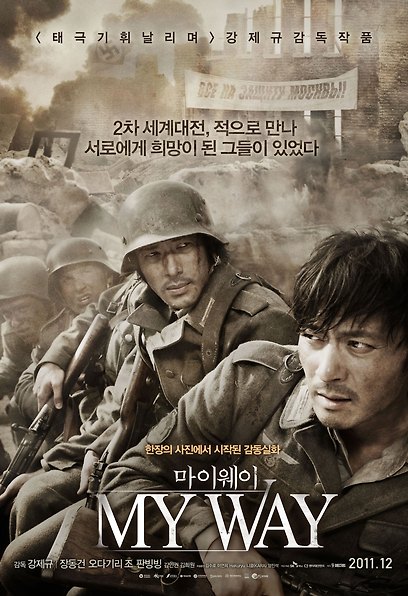 My Way, 2011
release

2011.12.21
genre

drama
country

Korea
ranking

Audience over 15
running time

137 minutes
grade

6.0
cumulative audience

2142670 people
Synopsis
What they couldn't give up was hope, not life.
Gyeongseong in 1938.
Jun-sik (Jang Dong-gun), a young Joseon youth who dreams of becoming the second Son Ki-jeong, and Tatsuo (Jo Odagiri), the best marathon runner in Japan.
The two young men, who have had a strong competitive spirit with each other since childhood, grow into rivals of the century representing Joseon and Japan, respectively.
Then one day, Jun-sik gets caught up in an unexpected incident and is forcibly conscripted into the Japanese army.
A year later, he meets Tatsuo, who has become a captain in the Japanese army, and has a fateful reunion.
Two young men thrown into the maelstrom of World War II gradually become each other's hope as they go through a 12,000km war that goes through China, the Soviet Union and Germany to Normandy…
Two young men from Joseon and Japan who met as enemies and became each other's hope
A drama of human love that transcends nationalities begins!
Related Videos