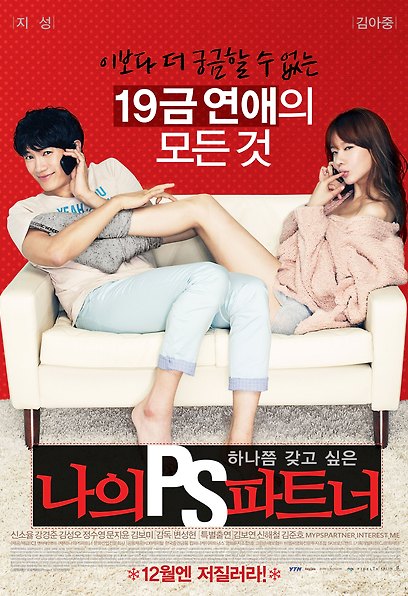 My PS Partner, 2012
release

2012.12.06
genre

Romance/Melo/Comedy
country

Korea
ranking

Youth not allowed
running time

114 minutes
grade

7.7
cumulative audience

1831741 people
cookie video

One
Synopsis
Hyeon-seung (Ji-seong), a pitiful love who has been ruined by an old love.
I heard the news that my ex-girlfriend has a wonderful new man
To him, who could not sleep and tossed and turned due to the explosion of inferiority and amplification of loneliness
One night, a strange phone call comes in!
Yoon-jeong (Kim Ah-joong), the boyfriend's lack of affection syndrome that can't be overcome even with flawless looks
He prepares for a secret event that will bring him back.
It causes a hot moment with a creepy voice and whimsical skill, but
The man beyond the handset, not the boyfriend?!
Without hesitation, be honest! Exciting without being shy!
The '19-gold romance' that can't be more curious than this is coming!
[ About PS ]
"This winter, the only romantic comedy! Hot Winter Coming Sun"
A 19-gold romantic comedy <My PS Partner> is coming for you who know something!
December is the peak season for movie theaters, when blockbuster films from home and abroad are released all at once and fierce competition. <Awkward Romance>, which presents a delightful love story between an adult cartoonist and a sex columnist, attracted 2 million viewers in 2010, and <Chilling Romance>, which showed an exquisite harmony of genres that seem incompatible with horror and romantic comedy, mobilized 3 million viewers in 2011. And while the romantic comedy genre has established itself as an absolute force in winter theaters, the only romantic comedy <My PS Partner> in December 2012 is set to follow the box office line. In particular, after works that added unique colors to romantic comedies received favorable reviews from the audience, <My PS Partner> also portrays the bold setting of a 19-gold phone scandal between two men and women connected through a wrong phone call with extremely realistic dating conditions. It is expected to catch the attention of the audience with a different attraction than a romantic comedy. Here, the fantastic casting of Ji Sung and Kim Ah-joong, who are experts in romantic comedy acting, will show cute and lovely couple acting, realistic and trendy love stories, and an honest and whimsical approach to sex. In winter, it is a perfect date movie for couples, and for singles, it will provide a venue for pleasant laughter and discourse about love.
"The unrelenting rebellion of a poor couple who were sacrificed in a power struggle in love!"
Check out the provocative acting transformation of Jisung♥Kim Ah-joong, a new concept couple of losers!
The two actors, who have gained wide public support by accumulating acting skills that cross romance and comedy through screens and CRTs, met properly in this work. Hyeon-seung, a man who is disarmed by a shocking (?) phone call while missing his lost love, and a woman who makes a hot phone call to the wrong man while trying to try an unusual event with a drug prescription to restore her relationship with her withered lover They are Ji Sung and Kim Ah-joong, who will show off their dizzying PS couple acting in the role of 'Yoon Jung'. Korea's representative romantic guy Ji-Sung shows off her sexy charms, such as revealing her unconventional love scenes in <My PS Partner> and her keypad abs, which she hid by undressing in a hot top, and shows off the side of a sleazy and lovely innocent man who can't forget her ex. . Kim Ah-joong, a roco-queen, is expected to capture the male audience's attention intensely by exuding a dizzying and sexy charm, not only in her unique cute and lovely acting, but also in a white shirt that stimulates men's romance and shows off a missing bottom fashion. In addition, Ji Sung and Kim Ah-joong will be responsible for the pleasant laughter and deep empathy of the audience with their excellent performances that flexibly cross between the comic instincts that cause laughter in this work and the serious emotions that make the viewers' hearts flutter.
"Whatever you imagine, you will 'hear' more than that"
Check out the 19-gold love talk that will stimulate the secret sympathy of Korean adult men and women!
<My PS Partner> is an honest and bold 19-gold love talk between two men and women who got entangled when 'Yoon-jeong', a woman who prepared a quirky event to restore her relationship with her withered lover, calls Hyun-seung, a stranger who is not her lover. works containing . As the subject matter is 'phone', auditory fun is an essential part of <My PS Partner>. The intense conversation between 'Hyunseung' and 'Yunjeong', which goes back and forth without stopping at any time and place through the handset, stimulates the peripheral nerves of the listeners, and the romance between 'Hyunseung' and 'Yunjung's friends' An in-depth discussion about sex (?) offers secret fun. In addition, the self-composed song of 'Hyunseung', who appears as an indie musician in the play, adds to the sensuous melody and bold lyrics, as well as Ji Sung and Kim Ah-joong's appealing voice, adding to the fun of listening. In particular, the so-called 'panty song' plays an important role in the story development of the movie. The "things to listen to" that <My PS Partner> will provide, including the unconventional material that stimulates the auditory sense, the candid and bubbly love talk that constantly pours out, and the self-composed song 'Hyunseung' in the play that will double the sound of the movie, is the second It will be another fun to watch the movie as a point of observation.
"'Show Me Your Panty' by Ji Sung and Ah Joong~"
Expect the OST of the sweet and thrilling couple as much as the gasping title!
In <My PS Partner>, men's unrealistic manners and women's obvious selfishness do not appear. 'Hyun-seung', a man who broke up with his girlfriend for 83 days, runs a curse on his friends' pink love stories and runs to the climax of silliness, while 'Yoon-jeong', who has been dating for 5 years, threw his whole body into the event of his boyfriend's withered heart. It looks like they are eager to light a fire. The appearance of 'Hyunseung' and 'Yunjeong' reveals the realistic love affair in Korea in 2012, and 'Hyunseung' and 'Yunjeong''s friends also use profanity to the audience with harsh swear words and advice faithful to their instincts. It creates the illusion of seeing conversations between me and my friends. In particular, the mysterious psychology and complex of men and women who are obsessed with size, anger at the number of sexual relations that decrease as they meet for a long time, and the inescapable instincts of men who are attracted to new things and women who are attracted to expensive things, create an unbearable laughter and a wonderful consensus that makes people nod their heads. to form As such, <My PS Partner> is a cool real love story that captures the 'real' psychology of a man and a woman who everyone knows but could not say out loud, and will provide a different kind of catharsis by giving exhilarating fun to 2035 men and women in Korea.
Related Videos