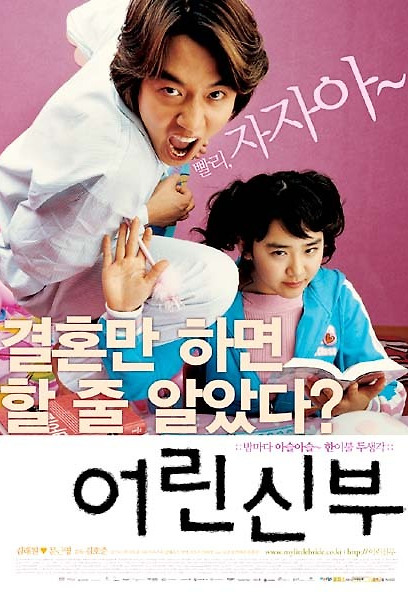 My Little Bride, 2004
release

2004.04.02
genre

Comedy/Romance/Melodrama
country

Korea
ranking

Audience over 12 years old
running time

115 minutes
grade

7.0
cumulative audience

991674 people
Synopsis
Sangmin, a successful working young man, marries a 16-year-old little bride!!
Is life really over?
Sang-min, a well-to-do college student, who was doing all kinds of work as if all the women in the world were hers, and Bo-eun, a fresh high school girl who likes to chat and gets excited when she sees her handsome face… The two receive an order like a lightning bolt from Grandpa Bo-eun. You two should get married!! As the condition of their grandfather, who had always wanted to get married, worsened, 24-year-old Sang-min and 16-year-old Bo-eun had no choice but to get married.
Innocent high school girl Bo-eun falls for the baseball team captain without knowing the 24-year-old Sang-min!!
Maybe it's windy?
Sangmin can't do anything about a 16-year-old bride who got married but never kissed her for the first time, and besides, it's a married man's stamp. It's a heartbreaking and regretful heart, but Sangmin is faithful to his married life and is determined to take care of Boeun as well! But what is this? Bo-eun runs away from the airport on her honeymoon. In the eyes of Sang-min, who spends a lonely night alone on Jeju Island, newlyweds are very annoying, but at the same time, Bo-eun goes on a dream date with Jung-woo, the baseball team captain, whom he has always liked.
Bo-eun, a young bride who cheated, Sang-min, a slightly younger groom!!
Finally getting married?
For those who get married unintentionally, the breathtaking day-to-day continues, but the dangerous marital relationship of those who cannot be found out about their marriage continues to become more acute as Sang-min goes to Bo-eun's school as a teacher. Sang-min wipes sweat with Bo-eun's panties in class, and Kim Sam, like a stalker, suddenly breaks into Sang-min's room… Besides, Bo-eun gets another drink and goes on a dangerous date with Jung-woo, but their marriage…
Can it really last long?
Related Videos