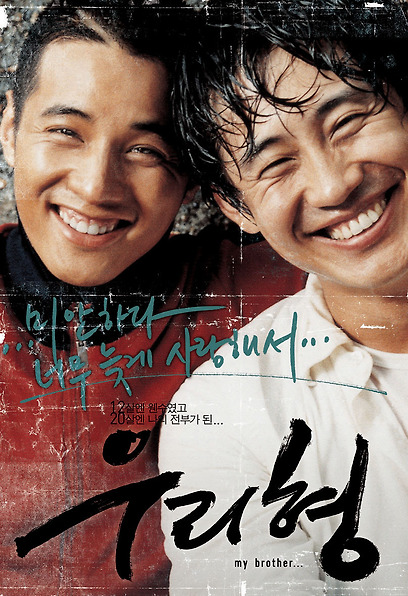 My Brother…, 2004
release

2004.10.08
genre

drama
country

Korea
ranking

Audience over 15
running time

112 minutes
grade

8.1
cumulative audience

1778607 people
Synopsis
Miuna Gouna
My younger brother is my hyung!
In the late 1990s, a high school…
A younger brother is attending the same class.
With a handsome face and a good fighting 'class 1' younger brother – Jonghyun (Wonbin)
The infinitely friendly and bright '1st grade in my body' Hyung-Sung-Hyun (Shin Ha-Kyun).
The brothers, who have been fighting for 17 years because of their mother (Kim Hae-sook), who has only favored the older brother since childhood,
One day, two brothers fall in love with the best queen in the area at the same time – Mi-ryeong (Lee Bo-young).
Go to round 2
The day when the emotions that had been endured between the brothers exploded and they fought a great deal,
Seong-hyeon says things that he has never been able to tell his younger brother.
"Jonghyun-ah! I have one wish…
Can you call me bro just once? I've never heard of…"
A younger brother who never called his older brother
As much as he was envious of his younger brother dating his first love,
As much as a mother's love for herself was burdensome…
…the older brother who felt sorry for his younger brother that much.
But in the end, Jonghyun doesn't call Sunghyun his brother…
<My Hyung>'s Success Sign – Lucky 10,000 won
At the time when he was working on <My Brother>, director Ahn Kwon-tae decided that Hwang Ki-seok was the right person as the cinematographer for this film. Director Ahn, who had made up his mind to be 'Three Go Choryeo' with a desire to work with a greedy cinematographer, went to Hwang to make a final decision. Director Ahn's passionate passion and confidence in the work moved Hwang, who looked at the new director with suspicion, and after 5 hours of persuasion, Director Ahn finally got the answer, "Let's do it." On the way out of the coffee shop where he was sitting with such a happy heart, Director Ahn saw a 10,000 won bill lying on the side of the road. Director Ahn picked up this bill and thought it was a symbol of good luck and cherished it. After that day, <My Hyung> was able to assemble the best staff in Korea without difficulty, and director Ahn still holds this bill as a lucky mascot to this day.
People who go to school only on holidays
At one time, a group of people who went to school only on holidays appeared in some middle and high schools in the Busan area. These are the producers of <My Hyung>. In <My Brother>, Shin Ha-kyun and Won Bin's high school episodes accounted for a lot of weight, so there were quite a lot of shootings in school. However, since we were filming during the semester, not on vacation, if we filmed on weekdays, the students' great (?) interest made it impossible to continue filming. In the end, the production team of <My Hyung> had to go to school every holiday and shoot. In addition, so that the fact that the filming was done at a specific school would not be known, they went to various schools and took a guerrilla-style surprise filming. However, some fans surprised the staff by finding out the filming location like a ghost with quick intelligence. At one time, there were rumors that the filming location of <My Brother> was classified as a 'Busan Top Secret'.
Shin Ha-kyun and Won Bin, I think there is going to be a scandal!
Shin Ha-kyun and Won Bin are famous for being silent and quiet on set. At first, the staff worried a lot because it seemed that the two people who should be close more than anyone else seemed to get along. But those worries soon turned out to be false. It turned out that the two continued to create a private space (?). After the filming was over, they went straight to the game room, strengthened their friendship through a 'friendly game', and secretly took care of each other. In particular, at the poster filming site, they were able to witness their affectionate side, and at the beach filming site, they splashed water on each other, joking around, and wiping the sand off their faces, creating a scene reminiscent of lovers. Also, in the filming location where they had a hard time wearing layers of clothes in the heat of three days, they took care of each other by applying ice packs and fans, so there was even a joke about whether the two were dating. Shin Ha-kyun and Won Bin, who looked alike during the filming period of about 4 months, showed their best chemistry and satisfied the staff.
[ Incinerator action scene full of smoky smoke ]
#action should be natural!
In an open set that reproduces the atmosphere of an incinerator that burns garbage on the hill behind the school, director Ahn Kwon-tae, actors, and martial arts director began 'training' a few days before filming the action scene. They laid mattresses all over the incinerator and composed the action scenes of Won Bin, Shin Ha-kyun, and Kim Tae-wook in an elaborate sum. But director Ahn Kwon-tae shook his head. Because it wasn't natural. What the director wanted in the action scene was not the unrealistic action in which the actors flew around, but the 'raw' with a sense of realism 'like a high school student' and fierceness itself. In the end, at the risk of injury, it was decided to match only the large part of the main link. The rest was up to the actors, and I had no choice but to trust them.
#"Bin! You're a natural action actor!"
Wonbin, who had a lot of action scenes because of the character 'Jonghyun', a brawler at Dongseong High School who handles gangs who challenge themselves every day. Martial arts director Shin Jae-myung's worries seemed like a mountain because he had shown a soft image of acting on the screen. In addition, the action scene Won Bin had to digest was a 'battle fight' in which the actors fight together. In such action scenes, the risk of injury was very high because the actors had to rely on the high motor nerves and innate senses of the actors. However, Won Bin blows away the martial arts director's worries at once. On the day of the action scene filming, Won Bin moved like a 'Biho'. The eyes that subdued the gang were alive and well. It turns out that Won Bin was a 'exercise maniac' who couldn't get up without exercising for even a day, and he was a 'prepared action actor' with natural athleticism, such as performing an amazing activity as a center forward in a celebrity soccer team. Even after treating the amazing action acting as 'perfect', he said, "Director, shall we go one more time?" Martial arts director Shin Jae-myung had only one thing to say to Won Bin. "Bin! You're a natural action actor!"
#Hyung-Shin Ha-Kyun, who is trying to save his younger brother, continues to fight for injuries…
Won Bin and Kim Tae-wook swung their fists with dragon and tiger head, and this time it was Shin Ha-kyun's turn. Shin Ha-kyun, who has to be beaten unilaterally by the 'bad guy' who beats his younger brother. He spared no effort and entrusted everything to Seong-hyeon's feelings in the play. In the play, Seong-hyeon, who has never even fought a fight, recklessly jumps into the jolbaji, a scene in the movie that shows Sung-hyun's affection for Jong-hyun. Prior to filming, Shin Ha-kyun showed a relaxed image of releasing tension from fellow actors and staff, saying that he is more accustomed to acting rather than hitting. As soon as filming started, Shin Ha-kyun, who rushed to Kim Tae-wook without hesitation, was hit in the stomach and face to the extent that he could not breathe properly. Shin Ha-kyun's acting on this day, as the director wanted it, was immersed in the naturalness of living 'reality' due to his fighting spirit that does not spare his body. He had a bruise on his stomach that no one knew until filming ended. When the filming was over, Shin Ha-kyun was so immersed in acting that he didn't even know he was sick, and showed a professional side and bought a role model for the staff.
#The highlight of <our hyung>! Brother's secret hideout, wisteria
A common shade of wisteria in any school. Sung-hyeon and Jong-hyeon, who were punished side by side after fighting, are resting in the shade for a while. At this time, Sung-hyun suddenly proposes to climb up the wisteria. Seonghyeon teaches his younger brother the feeling of being happy when lying on a wisteria spread like a green carpet, as if he had the whole world. To film this scene, all the staff took an emergency. In order to find a wisteria that makes you happy when you lie down, you searched not only for the main filming location in Busan, but also for wisteria, called wisteria, in nearby schools. However, in the end, the production team couldn't find a rattan they liked, so they decided to build it from scratch. The wisteria, completed by staying up for two full nights, was born as a hideout for the brothers, with abundant leaves spread like a bed. The rattan scene, which is considered the most beautiful scene in <My Hyung>, will be a masterpiece that will be deeply etched in the minds of the audience due to the stubborn professional spirit and hard work of the staff.
#Just like the thrill of first love! Won Bin and Lee Bo-young's fresh first kiss
A fingerprint of the kiss scene written in the scenario of <My Hyung> – When you see the sentence 'Jonghyun's protruding lips are approaching Miryung', the clumsy behavior of Jonghyun kissing for the first time in his life is pictured in his head and a smile is built on his lips. . The kiss scene challenged by Won Bin, the 'representative handsome man of Korea', who has never shown a kiss scene since appearing in the movie, drew public attention from an early age. The lucky woman who got to work with Won Bin is Lee Bo-young, who plays the role of Mi-ryeong, who appears as the best queen car in the area. It is said that the burden of kissing a big star Won Bin, who is loved not only in Korea but also in Asia, was considerable. Won Bin smiled a little at Lee Bo-young, who was very nervous, and created an atmosphere, and then the appearance of a man and woman in which trembling and shy emotions and intimate feelings intersect naturally appeared. After finishing the beautiful and fresh first kiss scene in the strict security and vigilance of the staff, the two actors were shy and couldn't even make eye contact.
#No, that kind of cursing from Wonbin's mouth?
In the movie, Jonghyun boasts a rough wit that starts with a swear word and ends with a swear word, except for the conjunction and the proposition. Wonbin constantly practiced and worked hard for Jonghyun's lines, such as swearing out of anger, cynical swearing at a group of bad students who challenged him, and swearing while playing pranks on his friends. In the end, when Won Bin, who changed his speech, behavior, and even his usual habits, into Jonghyun's, went into filming, all the staff who knew his usual appearance were surprised. Because I cursed him for leaving the filming set. Won Bin, who confesses that he seems to have poured out all the lusts he will have for the rest of his life in <My Brother>, has already been far away from the handsome boy. Wonbin, who fell in love with Jonghyun not only on his looks but also on the inside, was unstoppable and full of confidence throughout the filming, and he felt relaxed.
#Adriv Great Demon King Wonbin VS. Shin Ha-kyun, the myth of Jinji Gag
The new fun that Won Bin discovered while filming <My Hyung> is 'Adlib'. He often poured out a lot of ad-libs he had prepared for each shoot, turning the filming set into a crucible of laughter. Director Ahn Kwon-tae, who smiled satisfied that he did not know where such an idea came from, gave the utmost consideration to Won Bin so that he could play freely. There was a man who was inspired by this, and he was none other than Shin Ha-kyun. However, there was no room for an ad-lib in Seong-hyun's lines, who were serious and friendly in everything. The alternative that Shin Ha-kyun came up with is the 'serious gag'. Shin Ha-kyun's intention to provoke laughter naturally while reciting serious lines with a very serious expression was correct. The staff had to put up with the laughter that erupted from time to time at the 'spiritual' lines developed by Shin Ha-kyun (?). Won Bin and Shin Ha-kyun's efforts to create a pleasant film set not only added to the fun of the movie, but also contributed to the atmosphere of the film set.
#The cries of fans who are scarier than stalkers
Fans who always appear wherever <My Hyung> is being filmed. Although he is the strongest supporter of <My Hyung>, he is also the object of fear for the staff. This is because the reality of the filming set is that we cannot only consider the position of excited fans while watching handsome actors and filming locations. The staff came to organize a dedicated Markman after going through trial and error that had trouble controlling the site. Dedicated markmen, divided by gender and age, were able to intelligently cover from middle and high school fans to elderly grandpa fans at their respective locations. However, a movement that even the staff could not control took place online. Fans who even came to the staff's mini-hompy to get even a little information started to 'pull' the photos. A staff member said that he had made several films so far, but never had fans clamored like this.
Related Videos