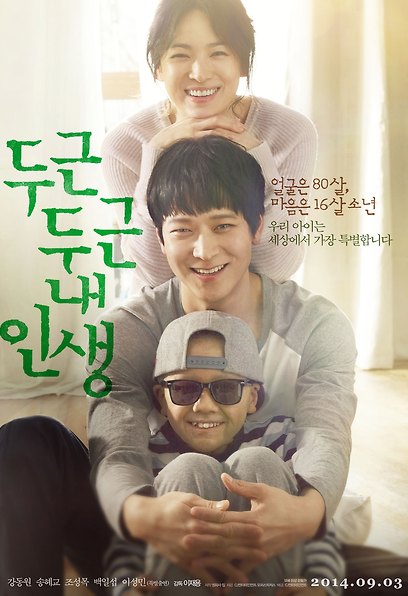 2014
release

2014.09.03
genre

drama
country

Korea
ranking

Audience over 12 years old
running time

117 minutes
grade

6.4
cumulative audience

1624601 people
Synopsis
An 80-year-old boy with a face and a 16-year-old heart
"My child is the most special in the world"
Tae-soo, a promising Taekwondo athlete who was once called a foolish prince, and Mira, a bold personality who dreamed of becoming an idol.
However, they had a child at the age of 17 and became the parents of their 16-year-old son 'Arum' at the age of only thirty-three.
Reumi, a congenital progeria who ages faster than others, is eighty years old.
Although they are young and immature parents, Dae-soo and Mira live a strong and bright life with Reum.
Then one day, their story became known to the world,
Day by day, things start to pound her, who used to just grow old…
[ Prologue ]
Is seventeen the right age to become a parent, or is it too early?
Is seventeen the right age to grow old, or is it too early?
Parents who gave birth to children at the age of seventeen
Son turned eighty years old before seventeen
the oldest son in the world
A special story from the youngest parents
my heart pounding life
[ About Movie ]
When is your 'my heart pounding life'?
World's oldest son and world's youngest parent
A very special impression they convey!
<My Palpitating Life> is a movie depicting the story of young parents who gave birth to a child at the age of 17 and the world's oldest son, who has reached the age of eighty years before he is 17. Reum-i, a 16-year-old boy who has reached the age of 80 due to congenital progeria, and her young parents, Dae-su and Mira, who have just turned thirty-three. <My Palpitating Life> depicts the story of a special family, where every single day of being together is so precious, with a heartwarming yet humorous gaze.
Dae-su and Mira, who had to give up the privileges of their dreamy youth by becoming parents of a child at a very young age, and a son who matured earlier than his peers due to symptoms of his body aging faster than others at a young age. Although it is an unusual family, the appearance of these people who care for each other more than anyone else and pour out their love unconditionally draws the sympathy of all of us, someone's parent and someone's child. In addition, <My Exciting Life> presents an opportunity to reflect on what true parents and family are through the appearance of young parents who are growing a step more mature because of their son who is aging faster than themselves. The brightest moment in life, youth, has never been experienced, but through the images of Reum who matured so quickly, those who never lose hope by her side, and those who do not lose their laughter to the end despite the tragic situation, the meaning of 'living' and 'family' <My Palpitating Life> awakens the importance of it. Through the appearance of parents and children who could not enjoy their youth, <My Palpitating Life>, which adds insightful perspectives on life such as old age and youth, life and time, conveys an emotion and message that creates a strong wave in the hearts of the viewers. In this way, <My Palpitating Life>, which captures the story of the most special child and parent in the world with deep sympathy, special emotion, emotion and laughter, will make everyone's hearts pound in the fall of 2014.
2014 Exciting Casting!
Immature father Kang Dong-won + confident mother Song Hye-kyo
A new transformation into young parents with 16 sons!
<My Palpitating Life> doubles the special fun and emotion with the meeting of Korea's best actors, Kang Dong-won and Song Hye-kyo, who do not need any formula, and the new acting transformation of those who are young parents with a 16-year-old son. First, Kang Dong-won, who has shown strong acting in various genres, from <Jeon Woo-chi>, <Sister Brother>, <Superpower>, to <Kundo: Age of Rampant>, an attractive villain character in <Kundo: Age of the Rampant>, which has captured the hearts of the audience with the recent explosive success. In <My Palpitating Life>, he takes on the role of Dae-soo, the father of an immature son, a fool, and presents a 180-degree different image from his previous work. Dae-soo was once a high school taekwondo prospect who was once called a vain prince, but now he is the head of a family. Kang Dong-won, who plays the role of Dae-su, who is a father who is immature than his son, but who loves his son more than anyone else without showing any expression even in difficult situations, will radiate a completely new charm that he has never seen before with his natural, easy-going, and sometimes cute appearance.
Actress Song Hye-kyo, who was well-received for her delicate emotional performance in the drama [That Winter, The Wind Blows] last year and has established herself as a world-class actress by appearing in films directed by Wong Kar-wai and Oh Woo-sam, gave up her idol dream and gave birth to a child at 17. She takes on the role of Mira, the proud mother who gave birth, showing a deeper performance. Through the role of Mira, who is a strong and deep but still one-tempered mother and a mother who shows a maternal love for her son, Song Hye-kyo takes off the existing goddess image and breathes deep emotions into the character with deeper eyes and warm acting. The new transformation and shining ensemble of Kang Dong-won and Song Hye-kyo, who will play the role of the parent of a child and show a more friendly and warm emotional performance, will give the audience an unforgettable impression.
Immature father, confident mother, son who is more mature than his parents, Mr. Jang next door, rude doctor
An ensemble of characters full of humanity and strong personality!
<My Palpitating Life> is based on the appearance of characters full of humanity and strong personality, from immature parents who gave birth to a child at 17, Mira and her son Reum-i, who is more mature than those parents, as well as the neighborhood grandfather Jang and the honest and blunt doctor. It creates a richer and newer fun. Dae-soo, who was once called a foolish prince, who is now a friend and a reliable father, and Mira who has grown from a girl who dreamed of becoming an idol to a single but deep, affectionate mother. Their unique and lovely appearances when they were 17, as well as the appearance of those who are too young to be parents of a 16-year-old son, but still have a heart that are comparable to parents, draws a different sympathy from the viewers. In addition to this, the image of a son who is more mature than his parents and an emotional boy, Arumi, is added, and the charm of the vivid characters, which adds a more affectionate family love, doubles the immersion of the play.
In addition, Jang and Reum's doctor, characters with personality and humanity that cannot be missed, bring warmth and rich fun to <My Palpitating Life>. Jang, who is the grandfather next door, is the only friend who listens to Reum's concerns and shares her friendship with her. Jang, who is also the son of an elderly father, sometimes makes people laugh with his innocent childlike appearance. On the other hand, Reumi's doctor is a blunt character who talks about Reumie's condition accurately enough to be cool, but she gives another impression as a person who cares for and cares for Reumie for a long time. In this way, the appearance of not only the family of Arum, but also the lively characters surrounding them and the special ensemble will become a point of observation that cannot be missed.
Il-seop Baek with warm charm, Seong-min Lee, who is trending in Chungmuro, Gap-su Kim with deep acting skills
Reliable presence and acting by talented actors with years of experience!
In <My Palpitating Life>, the best talented actors, including Il-seop Baek, who has a warm charm, Seong-min Lee, a popular actor with soft charisma, and Gap-soo Kim, who has deep acting skills, add to the richness of the play. Baek Il-seop, who recently captivated viewers with his human charm through [Grandpas Over Flowers], takes on the role of Jang, who is a friend of the grandfather and Reum next door, to energize the play.
Baek Il-seop, who plays Jang, who is the only friend who truly understands and shares her friendship with Reum, who is physically the same age despite her young age, evokes warm laughter and lingering emotions through his strong presence, acting skills, and witty lines that he has built up through his long acting career. Here, the role of Reumi's doctor is played by Lee Seong-min, who has become a popular actor in Chungmuro through the recent films <Wandering Blade> and <Kundo: Age of Rampant> following the drama [Golden Time]. Lee Seong-min, who has shown a strong presence and absorbing acting through various characters, leaves a deep impression as a doctor who cares for Reum more than anyone, even though he looks blunt in <My Palpitating Life>.
In addition, actor Kim Gap-soo, who has captivated the audience with his dramatic and dramatic performances by playing the role of a father suspected by his daughter in the movie <Accomplices>, appears as Dae-soo's father in <My Palpitating Life>, adding to the immersion in the play. In particular, Kim Gap-soo's acting, who silently takes care of his son Dae-su and grandson Reum-i, who became the father of a child, will leave a deep impression on the audience. In this way, the combination of two actors, Kang Dong-won, who plays Dae-su, the youngest parent in the world, and Song Hye-kyo, who plays Mira and expectations will increase.
Sharp lines and insight into life! 140,000 copies sold within 3 months of publication
Meet Kim Ae-ran's novel 'My Palpitating Life' on the screen!
As soon as it was published in 2011, it sold 140,000 copies within three months and was selected as the best literary book of the year in that year. , has been widely supported by paragraphs and readers by depicting it as a sentence that stabs the lungs. Kim Ae-ran's first feature-length novel, 'My Palpitating Life', received attention for its simple yet light style and deep insight into life through the short collections 'Run, Father', 'Spitting' and 'Flying Fortune'. This work, which captures the potentially heavy subject of congenital progeria, with a pleasant tone and a warm gaze, drew a deep sympathy with writer Kim Ae-ran's unique novel and heartbreaking sentence, and drew a hot response.
Regarding the movie <My Palpitating Life>, which was reborn as a screen in 2014 and is drawing the attention of both readers and movie fans, writer Kim Ae-ran said, "When I heard the news about the movie, the first thought that came to me was 'The characters in the novel have bodies. It was 'goo'. The horse meets the body. that I had a body once. I wonder if that alone would have been a gift to the three people who did not fully enjoy their youth. I wonder what it would be like to have another love affair and one more life by borrowing the actors' bodies." "Writer Ae-Ran Kim's sentences make you feel a lot about life without compulsion, and convey emotion and fun at the same time. I liked the sentences and emotions of the novel, and the calm gaze of Reum, who contrasts her young parents with her aging self, impressed me a lot." Delicate directing that brings the story back to life and the mature acting of the actors will add to the depth of emotion and laughter.
[ Production Note ]
Special makeup, CG and music
Until the story of a 16-year-old boy with an 80-year-old face is completed
"Benjamin Button's Time Goes Backwards" Academy Award-Winning Special Makeup Greg Kennom
The most important part of moving the novel 'My Palpitating Life' to the screen was to express Arumi, a boy with congenital progeria who is aging faster than others. And these concerns could be resolved with the participation of Greg Cannom, a world-renowned special makeup expert, who completely transformed Brad Pitt into an old man in his 80s through <Benjamin Button's Time Goes Backward>. The world's best performer in special makeup who participated in works such as <Mask> and <Titanic> and won the Academy Makeup Award three times for <Dracula> <Mrs. Doubt Fire> and <Benjamin Button's Time Goes Back> In Greg Kenom. According to the intention of the production team, who wanted a realistic and vivid expression that could elicit a variety of emotions such as liking and compassion, Greg Kenom made a mask as thin as possible with an independently developed silicone material. I was able to perfectly portray the figure of Arumi in the novel on the screen by passing it on and introducing it to the filming site. In particular, the mask used in <My Palpitating Life> is the same as the one first developed during the filming of <Benjamin Button's Time Goes Backward>. It draws attention because it has gone through the same process as As such, the appearance and acting of a 16-year-old boy with an 80-year-old face, completed through world-class special makeup, will draw the audience's immersion.
CG team's first attempt at 3D part of a Korean movie, such as <Winging Taegeukgi> and <Tower>
'DIGITAL IDEA', who has been in charge of visual effects in works such as <Winging Taegeukgi> <The Thieves> <Tower> <Contemplation>, participated in <My Palpitating Life>, adding a post-production process to Arumi's special makeup. perfection was sought. The work of retouching the makeup uniformly in each scene, as well as the increasingly lean figure of Reumie towards the end of the play, could be realized more perfectly through CG work. In particular, as facial expressions that reveal Arumi's emotions were important, partial 3D work was carried out for the first time in a Korean film in order to maximize the actor's performance. To this end, we first performed a face replacement work that scans the actor's real face and creates a 3D model. After creating a model like the actor's face through the 3D scanning work, the work of matching it with the actual actor's face was performed. took time and effort. And here, except for the eyes, nose, and mouth that contain emotional smoke, 3D CG work was done on the cheeks, chin, and neck to more dramatically embody the lean figure of Reumi, especially to create realistic skin. Even the texture expression was meticulously paid attention to. This is one of the most difficult CG work, and it was the first attempt to replace the face in 3D in a Korean movie. Here, with the participation of skilled professional staff, such as a worker from ILM, the highest level of visual effects company in Hollywood, she was able to naturally complete her emotional acting beyond the limit of special makeup.
Participated in music director Jung Jae-hyung with delicate sensibility
In addition, the work of adding warm and delicate sensibility to the special story of parents who want to protect their children and their sons who are preparing to say goodbye to the world was completed through the touch of music director Jeong Jae-hyeong. Jaehyeong Jeong, a musician who has been recognized for his music that crosses classical and popular music, has solidified his position as a film music director by participating in a number of works such as <Addiction> <Princess Aurora> and <Crazy Romance>. Music director Jeong Jae-hyung, who took on the film music for the first time in four years through <My Palpitating Life>, will elevate the sensibility of the play with high-quality performance music that he put his heart and soul into through piano and orchestra performances throughout the film.
[ Letter ]
"There were many 'firsts' for Mira and Dae-soo, who suddenly became parents at the age of 17.
I thought that their 'first' and the actors' 'first' would meet nicely.
Rather than playing a familiar role, the two actors have never experienced it.
It was also impressive that you tried something that might be difficult.
Kang Dong-won's innocent and innocent atmosphere and Song Hye-kyo's innocent and courageous look.
I think it will blend well into each role.
If someone immediately comes to mind for a role, it means that the actor already has the award.
It seems to be a casting that is free from the unavoidable feeling of dizziness caused by that.
I think that each book has its own destiny and its own destiny.
Hearing the news of the movie adaptation, <My Palpitating Life> is on an unexpectedly long journey.
In the process, I thought I would meet many people and go through many things.
Readers or spectators in this story
I think it's okay if you don't necessarily get any lessons or impressions.
However, when you close the bookshelf and leave the theater,
I would be happy if the faint friendship I had with them, or the grip of a handshake, outlived my sorrow."
– 'My Palpitating Life' writer Kim Ae-ran –
Related Videos