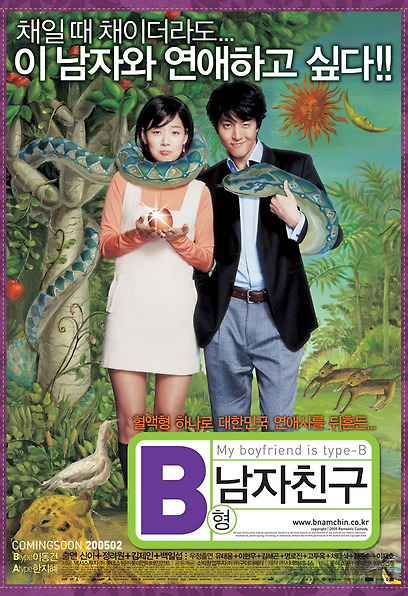 My boyfriend is type-B, 2004
release

2005.02.03
genre

Comedy/Romance/Melodrama
country

Korea
ranking

Audience over 12 years old
running time

96 minutes
grade

4.7
cumulative audience

1174581 people
Synopsis
"A breathtaking love story between a selfish B-type man and a timid A-type woman"
A handsome boy of fate has come to me!
Oh! But he's the infamous 'Type B'… !!
Ha-mi, a college student who believes in fateful love, falls in love with Young-bin, whom she meets by chance on the street. However, it turns out that Youngbin is a 'type B' man who is the number one target for women to avoid dating!
Despite her cousin's objection, who shudders when it comes to type B men, she believes in Youngbin's daring and active personality and believes that he is the opponent of 'destiny'.
Love is wonderful! Unless it's a type B boyfriend… !!
Youngbin, a university student venture entrepreneur, is a type B man who is a must-have car even if he doesn't have a home. At first, he captivated Hami with various events for a while, but he embarrasses her with the unique pity of Type B, such as taking back the roses he gave as a gift and reselling them, and buying clothes with gift vouchers from department stores. Besides, he enjoys dating!! It is unusual and bizarre, such as secretly playing hurdles in someone else's office or playing Superman in the elevator of a high-rise building.
Throw away the prejudice that type B is bad?
But, when we got to know each other, it was really annoying!
As time goes by, Ha-mi, who is hurt by Young-bin, who is selfish and selfish, decides to break up with Young-bin. Youngbin realizes that he truly loves Hami. However, Hami is a 'Type A' woman who, once she changes her mind, is hard to get back!! Then, one day, Youngbin responds to senior Kyungjun's absurd proposal, and the relationship between the two becomes irreversible…
Related Videos