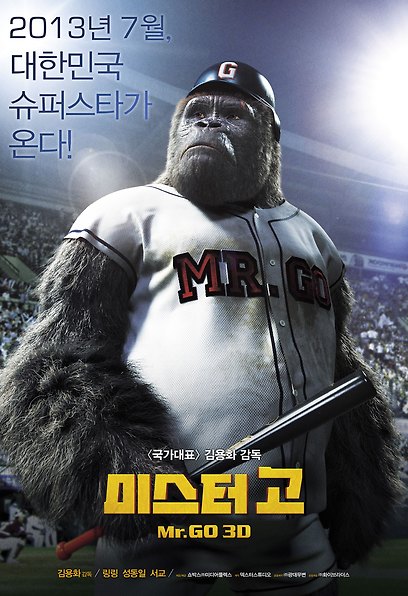 Mr. Go, 2013
release

2013.07.17
genre

Drama/Comedy/Action
country

Korea
ranking

Audience over 12 years old
running time

133 minutes
grade

7.5
cumulative audience

1329061 people
Awards
cookie video

One
Synopsis
A baseball gorilla 'Lingling' and a 15-year-old girl
The most special story that did not exist in the world begins!
After her grandfather passed away, 15-year-old Weiwei, a 15-year-old girl who leads a traditional dragon circus alone.
Her only friend and family is Lingling, a 45-year-old gorilla she has been with since birth.
It weighs 285 kg and has 20 times the strength of a human.
However, the story of Lingling and Weiwei, who are now better at baseball than the circus thanks to their grandfather, who used to be a baseball fanatic, is the story of Lingling, a gorilla who always stays by Weiwei's side like a family with a thoughtful personality unlike his rough appearance.
Crossing the border and reaching Korea, it has become a big topic of discussion.
Weiwei was struggling to pay off the debt her grandfather left behind.
He decides to go to Korea with Lingling at the suggestion of the infamous agent 'Sung Choong-soo' who will make him earn a lot of money.
Despite concerns about the dangerous idea of gorillas playing baseball,
Thanks to Sung Chung-soo who does anything for money, 'Lingling' officially debuted in Korean professional baseball.
'Ringling' with innate strength, speed, and precision honed through long training
You will soon be reborn as a national superstar…!
summer 2013
Korean dream movie
<Mr. Go>
Related Videos