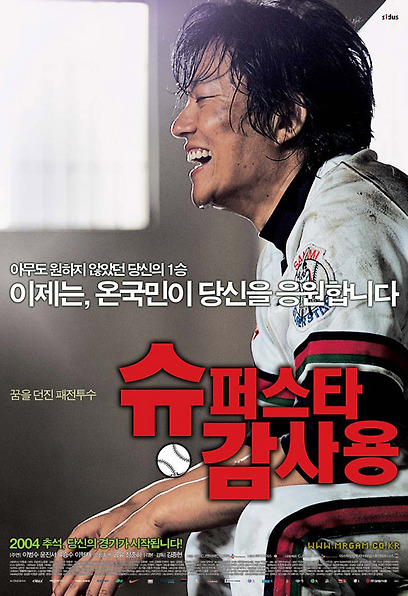 Mr. Gam's Victory, 2004
release

2004.09.17
genre

drama
country

Korea
ranking

all spectators
running time

115 minutes
grade

8.2
cumulative audience

627199 people
Synopsis
Dream comes true! superstar. Persimmon. Use.
170 cm tall. Weight 70 kg. small hands. Besides, he's left-handed.
A story to thank a baseball player who could not be a pitcher from the beginning.
1982 was the first year of professional baseball.
Gam Ga-yong becomes a pitcher for 'Sammi Superstars' for one reason that there is no left-handed pitcher on the team.
Contrary to the name, Sammi, without a single star player, was dishonored as the last team as soon as it started.
He is also branded as a 'professional pitcher for handling defeats' without even making a start.
A close pitcher who goes out without any attempts when the team loses.
The opposing team said thank you when it came out.
Meanwhile,
A once-in-a-lifetime opportunity also comes to you.
The match with the strongest team, the OB Bears, and OB's star, Cheol-soon Park, 20 straight wins in a row.
Sammi's pitching team postponed the start of a game that everyone could see and would lose.
In the end, the opportunity passes to thanks.
It was the first and last start of his career.
Just once… I wanted to win
Can the dream of gratitude come true?
Do you know the legendary last team, Sammi Superstars?
'Sammi Superstars' is a team that was launched in Incheon in 1982, the first year of professional baseball, when professional sports were introduced for the first time in Korea. That year, 10%, 8 pennies, 8 ri (15 wins and 65 losses), the worst record in history, still unbroken, was last among the six clubs. The pitchers offered to play each other if the opposing team said Sammi, and on a day when Sammi happened to win, people ridiculed that the sun would rise in the west tomorrow.
In 1983, with the signing of Jang Myung-bu, a Korean-Japanese pitcher, he jumped to third place, but his iron arm was cracked due to too many business trips, and Sammi fell to last place again. In the end, 'Sammi Superstars' was handed over to 'Cheongbo Pintos (late 1985-87)' at the end of the first half of 1985, and then 'Pacific Dolphins (88-95)' and 'Hyundai Unicorns (96-present)' has been followed by
Why not Park Chul-soon and thank you?
Who among baseball players could be made into a movie? Chul-soon Park, Dong-ryeol Seon, Seung-yeop Lee… There are many star players who will leave a lasting mark in the history of professional baseball. Among them, <For Superstar Appreciation> chose the losing pitcher of Sammi Superstars whom no one remembers.
The movie <Thank You Superstar> is a story based on a true story. Gam Ga-yong was actually a left-handed pitcher for the Sammi Superstars for 5 years from the first year of professional baseball (1982 ~ 1986), leaving a poor record of 1 win, 15 losses and 1 save. This is the reason why this movie paid attention to 'Sammi Superstars Thanksgiving'. This is because there are many 'Sammi Superstars' in life. This is because most of us are 'for losing pitchers thanks'.
The world only remembers number one. But first place is not the only value. Just as Korean professional baseball did not come this far with the strength of only heroes, it is the majority of ordinary people who have led this world. Thanksgiving, who did his best for a small dream and love, did not become the best in life, but he was more beautiful than anyone who did his best.
A true 'superstar'. This movie is for you, people who are living with all their might for their own first win.
Related Videos