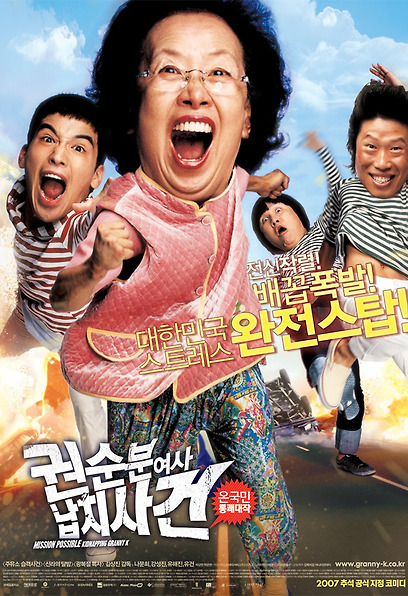 Mission Possible: kidnapping Granny K, 2007
release

2007.09.12
genre

comedy
country

Korea
ranking

Audience over 15
running time

118 minutes
grade

8.1
cumulative audience

1514708 people
Synopsis
Those who are destined for all the humiliation in the world,
You touched a huge hostage!
A weak thief whose beating is commonplace, a timid Geun-young who is often hurt like a wild mushroom but her heart is like a flower bud in a plastic house, and anencephaly who is in her mid-twenties, but has never done anything like studying or finding a job. This substandard humiliation trio was imprisoned in prison for the bail money of the thief's wife, who was about to give birth, for the price of Geun-young's mother's dentures, which was stolen by fraud against Uzbekistan, and for the maintenance of dignity as a white man (?). decides to blow
The target is Ms. Kwon Soon-bun, a soup conglomerate. Because she is a woman, she will be weaker than a thief, and because she is old, she will be younger than a timid Geun-young. The thief is beaten to death, and Geun-young never dies. and money??? He said he would personally accept the ransom… The amount was 50 billion!!!! touched a huge hostage. A huge dream team was formed.
Scoop, songpyeon is shaking!
2007 Chuseok, South Korea's attention will be monopolized by <Mrs. Kwon Soon-bun's kidnapping case>?
A super-large comedy created by those who possess the original technology of box office movies.
The 'All National Refreshment Project' begins!
In 2007, the stress in Korea reached its peak!
These days, when theater districts have been transformed into a solo stage for Hollywood blockbusters, the pride of Korean filmmakers has fallen to the bottom and the morale of the people has also plummeted. This is because there is no consensus closely related to the lives of Koreans. In these days, where everyone cries out that life is difficult and people of all ages live with stress on their lips, a one-shot movie that will pierce the heart of Korea is more desperate than ever…
Chuseok, the real sword battle of Korean movies begins!
Director Kim Sang-jin, who has proven the fun of comedy by making huge hits in films such as <Gas Station Raid>, <Silla's Moonlit Night>, <Liberation Day Special>, and <Ghost Lives>, has set out for Chuseok. Introducing <Mrs. Kwon Soon-bun's kidnapping case>, "a life-style hero reborn as invincible, Mrs. Kwon Soon-bun, and the abduction law of a three-member humiliating group of incompetent quality spreads against the police, the media and family." <Kwon Soon-bun…>, which combines the acting skills of actors Na Moon-hee, Kang Seong-jin, Hae Hae-jin, and Yoo Geon, who have already been verified in movies, dramas and plays, and director Kim Sang-jin's hands-on directing skills, is superb. With an ambitious strategy of excluding violence and bringing laughter with only ingenious characters and reversals of the story, it is advocating "a great work of delight for the whole nation".
Kwon Soon-bun, who was considered the weakest person and was kidnapped, reveals her vitality and is reborn as an invincible hero. <The Kidnapping of Ms. Kwon Soon-bun> will take away the stress of everyone leaving the theater with a refreshing ending that says nothing is impossible at any time and under any circumstances. Even if you starve Songpyeon on Chuseok 2007, you can't miss <Mrs. Soon-bun Kwon's kidnapping case>?!
2007 Chuseok Officially Designated Comedy!
Just ask another movie about boredom!!
Comedy, play big!
50 billion, an extraordinary laughter buster that will turn the whole nation upside down!
Original
1. The taste of directing is art!
2007 Directed by Sang-Jin Kim
Director Kim Sang-jin, who gave the exhilarating fun of turning the world upside down in <Gas Station Attack>, the unwavering warmth of the world in <Silla's Moonlit Night>, and the laughter shown in the opposite situation of the previous film in <Liberation Day Special Envoy>. This time, we pour out all the synergies of those films.
If you've laughed at director Kim Sang-jin's films, prepare well. <Mrs. Soon-Bun Kwon's Kidnapping Case> is really, much stronger. He, who has always raised the quality and level of Korean comedy with new materials and fun, devoted more than double the time and devotion he had devoted to films so far. 2007 Chuseok, <Mrs. Soon-Bun Kwon's Kidnapping Case> is the surest choice!
Primium
2. Top-notch, fresh actors!
Best Comic Package, Na Moon-hee, Kang Sung-jin, Yoo Hae-jin, Yoo Gun, Park Sang-myeon
Who is the best Korean actress? Jeon Do-yeon comes to mind and Shim Eun-ha's memory is fuzzy, but even if they all combine their acting skills, will they be able to reach this actor's inner workings? An actor who fills everyone's heart with an unforgettable thrill, even without a tight youth. Actress Na Moon-hee makes her mother's sea-like love overflow on the screen with just a sigh. She finally has a ceremony to become a box office queen. You who complained about why all Korean actors are in their 20s and 30s, and you who were annoyed by the artificialized actresses with botox and knife. I waited long. Finally, the power of a Korean actress explodes.
Kang Seong-jin, Hae Hae-jin, Yoo Geon, Park Sang-myeon, Yoo Hae-jin who added flavor to the movie with his passionate performances that give wings to the lead actors in every hit movie such as <The King's Man>, <Public Enemy>, and <Tazza>. Actor Kang Seong-jin, who has shown an extraordinary compatibility with director Kim Sang-jin, such as <Gas Station Assault> and <Liberation Day Special>, and Yoo Geon, a rookie of the <Sister Goes>, joined in. Kwon Soon-bun and the trio of kidnappers who will fill the screen's east, west, north and south, with impeccable acting skills. The loophole of audience immersion is impossible!
High Quality
3. Invite Korea to Unlimited Refreshment Mode –
Unlimited variety of fun that will send all your stress to Andromeda!
'Until the audience is OK -' I threw myself!
It rolls mountains, runs down roads, and hangs on trains. It's not a blockbuster action movie. This is the story of the actors in the comedy <Mrs. Soon-Bun Kwon's Kidnapping Case>. Not only does he perform large-scale actions that actors in <Mission Impossible>, <Cliff Hanger>, and <The Matrix> would do, as well as putting miso on his face, armed with a mask and a wig in the sweltering heat, and transforming into a character opposite to the character he has ever played. challenge endless fun with Not a single cut went easily. A film that the actors themselves remember with pride, its fame, its smile, will soon be met.
Until the audience KOs – the scale explodes!
Helicopters fly, trains run, and cars fight in hordes. Thousands of extras are the basics, 25 car chases are aegyo, helicopter aerial shots are a bonus, and self-esteem doesn't allow for easy comedy. The laughter that seems to have been seen is unacceptable for a film career. In every cut, a new and gigantic bombardment of laughter is poured out. The history of the super-luxurious spectacle variety comedy that you absolutely must check in the theater starts now~!
Related Videos