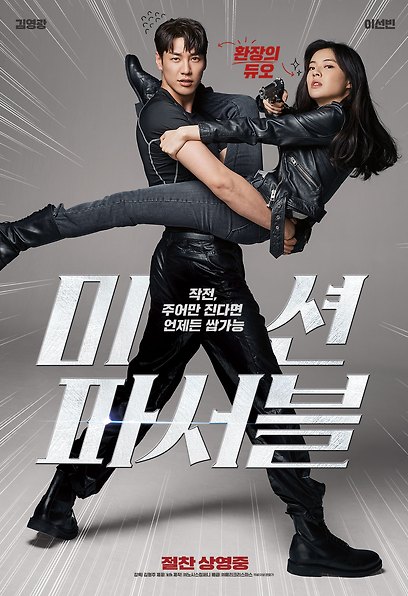 MISSION: POSSIBLE, 2020
release

2021.02.17
genre

Comedy/Action
country

Korea
ranking

Audience over 15
running time

105 minutes
grade

6.8
cumulative audience

447111 people
cookie video

One
Synopsis
"Because it makes money" VS "For the country"
We do it if we do!
In front of 'Superior', the president of Heungshinso, who can do anything just by depositing it.
One day, a passionate secret agent 'Dahee Yoo' comes to visit with 10 million won in cash.
He has been openly requesting cooperation to solve the arms trafficking case!
Tackle every stinging word,
Every thing you do is an incident!
Two people stand out more when they are together than when they are alone.
As the operation goes on, the case gets bigger and bigger.
Detectives leak misleading clues and go on the wanted list.
Excellent X Yoo Da-hee,
We can't stop this dizzying collaboration!
[ ABOUT MOVIE ]
Let's laugh for the first time in 2021!
Pleasant X refreshing X exhilarating Positive energy!
A dizzying and dangerous limited express air conditioning begins!
<Extreme Job>, which rewrites the box office myth of a Korean movie by showing the essence of a comedy movie, <Cooperation>, a delightful depiction of the first inter-Korean cooperation investigation in history, and the joy of laughter bursting out in the extreme situation of an airplane hijacking. Following <Okay Madame>, in 2021, <Mission Possible> made the first meeting of comedy and action. The movie <Mission Impossible> is a dizzying comic action in which 'Excellent', the president of Heungshinso, and a passionate secret agent 'Yoo Dahee' work together strategically to solve a weapon trafficking case. Heungshinso, the president of Heungshinso, who says that if it is a job that makes money, he will even find a dog who has left the house, and an elite trainee who boasts a perfect job without rumors. Two people, who have no overlap in lifestyle, values, or even taste in clothes, take charge of an unprecedented national crime investigation.
Even though they are different from one to ten, the process of two very different people solving a case towards the same goal provides both the joy of bursting with unexpected scenes and the exhilaration of clearing the clogged up at the same time. According to the production company of <Mission Impossible>, "A mission that was simply 'impossible' at first turns into 'Impossible' as 'excellent' intervenes. I wanted to draw a cooperative investigation that strangely shows synergy and solves the case in a situation that is getting worse." Above all, the charm of the comics in <Mission Possible> lies in the pleasant laughter that will not change. It is because they are united with the comic energy of charming characters with distinct personalities, laughter points from hitting situations, and extraordinary action like never before. As such, <Mission Impossible> will present its first comic action in 2021 and present 200% of positive energy to those who are exhausted from daily life through the challenging spirit of 'make it impossible'.
Kim Young-kwang, the reversal of a man who manipulated memories of his first love, from handsome beauty to sassy beauty
Lee Seon-bin, an energizer of Chungmuro who can do everything without fail in Comic X Action
The greatest acting synergy between President Heungshinso and elite trainees!
'First Love Memory Manipulator' Kim Young-kwang and Lee Seon-bin, a trending actor with a unique presence, met as cooperative partners of Woodangtang. First, Kim Young-kwang, who has proven his skills by freely melting into various characters, from the movie <Your Wedding>, which drew attention as a pure straight man 'Hwang Woo-yeon' to the drama [Nine Boys] [Pinocchio] [The Watchman]. Through <Mission Impossible>, he will return as the most 'Kim Young-kwang' character ever, taking on the role of 'excellent', which can't be hated because reality and playfulness that can't tolerate even the slightest seriousness coexist with worrying about the monthly rent and getting weak in front of the down payment. The action challenge using Kim Young-kwang's extraordinary physical ability, which has never been shown here, is also one of the reasons why <Mission Impossible> should not be missed. Lee Seon-bin, who worked together, said, "Since we have a lot of fun with each other, we joked and chatted on the set, and a natural sibling chemistry came out", raising expectations for a cooperative comic action by Kim Young-kwang, the master of chemistry.
Actor Lee Seon-bin, who made a mark as 'Deok-hee' in the movie <Chang>, which defeats swarms of demons with excellent bow skills, has since appeared in films such as <Okay Madame> and <Time Lost>, dramas [38 Squadron] [Criminal Mind] [Extra Investigation]. Regardless of the screen or CRT, he has established himself as a popular actor receiving casting calls. For Lee Seon-bin, who is good at both comics and action, 'Yoo Da-hee' in <Mission Possible> is a perfectly customized character like a suit that fits her body. Elite agent 'Dahee Yoo', who has perfect skills and passionate passion for the success of the operation, collaborates informally with the 'excellent' who started with a very minor misunderstanding. . ˝ Actor Lee Seon-bin is very broad-minded. He was ready to accept everything and was very considerate, thanks to which he was able to express an 'excellent' character in a fun way. As such, the chemistry and synergy between Chungmuro representatives Young-Kwang Kim of 'Tall and Handsome' and Seon-Bin Lee of 'Cool and Sweet' will bring laughter and fun to the audience.
200% laughter accuracy lineup, Oh Dae-hwan X Kim Tae-hoon X Choi Byung-mo X Seo Hyun-cheol!
Comic tiki taka of luxury actors who 'nick price'!
Explode with laughter mines hidden throughout the movie!
In addition to Kim Young-kwang and Lee Seon-bin, <Mission Possible> is full of unexpected fun created by luxury actors with personality and acting skills, including Chungmuro representative scene stealers Oh Dae-hwan, Kim Tae-hoon, Choi Byeong-mo, and Seo Hyun-cheol.
Actor Oh Dae-hwan, who keeps his place in the blockbuster films such as <Veteran>, 'Detective King', <The King>, 'Baekho Song', <Save me from evil> and 'Jongsu Han', is joining <Mission Possible>. Contrary to the appearance of a solid businessman on the outside, it is planned to add weight to the disassembled movie as 'Jeon Hoon', the villain behind the arms trafficking case that 'Excellent' and 'Yoo Da-hee' pursue together. Icon actor Kim Tae-hoon, who steadily crosses genres and media such as Netflix series [Kingdom Season 2], drama [(I don't know much), and the movie [Malmoy] and <69 Years Old>, is a veiled agent 'Mirage'. joined in reverse. 'Mirage', who provides a decisive clue to the start of the unofficial collaboration between 'Excellent' and 'Yoo Da-hee', delivers unexpected laughter in the middle of the film. In addition, following the drama [Money Game] [Method] [Flower of Evil] [Cinematic Drama SF8 – Nursing], actor Choi Byung-mo, who showed a delicate acting spectrum by appearing in five works last year alone, including the movie <Save Me from Evil>, He took on the role of 'Chao Team Leader' of MSS, the direct supervisor of 'Dahee', and created an attractive character with added eccentricity in the seriousness. Here, versatile actor Seo Hyun-cheol, who has received plays, movies, and dramas as well as entertainment shows with his witty wit, creates bursting laughter by digesting the detective's chief detective who is chasing a case with his own delicious comic acting.
<Mission Impossible>, where the popular actors who radiate various charms gather in one place, will perfectly capture the hearts of the audience with a fantastic ensemble and comic tiki-taka.
[ PRODUCTION NOTE ]
The 'comic action' instinct like an action like a comic is awakened!
The essence of Comic X Action X Intelligence presented by God's 'God Zical'!
There is a witty action that stands out in the synergy between the goal hitting situation and crazy comic, while there is a sudden burst of laughter in the rushing action. The actors and producers of <Mission Possible> tried to find an appropriateness that contained both comedy and action, but did not focus on either side, and as a result, a well-made comic action movie was born. Martial arts director Jung Chang-hyeon, master of Korean action films such as <The Chaser>, <Memories of Murder> and <The Pair>, appropriately utilizes Kali Arnis, a traditional Filipino martial art, and Krav Maga, a modern Israeli martial art. did. He said that he focused on 'real action', saying, "It is a real martial art that requires the body to react before thinking, rather than moving the body as it thinks."
Kim Young-kwang, who challenged action acting for the first time since his debut through <Mission Possible>, wanted to challenge the intense and pleasant action that can only be seen in the comic action genre. He said that it is a movie where both enjoyable and suspenseful action are alive." In fact, the cool action that makes full use of the unique stature that has made the hearts of many people flutter since their debut arouses cheers from the audience, and the unique sensible expression induces pleasant laughter. Even for natural action, he refused to double up and performed all the high-level actions himself. As martial arts director Jung Chang-hyeon said, "It must have been a bit uncomfortable for close-up action due to his large height, but he acquired speed and reaction ability through constant repetitive practice and did not get tired even in the field." It will shine in this movie.
Meanwhile, Lee Seon-bin, who once again challenged to act in action following the drama [Sketch] and the movie <Chang> and <Okay Madame>, also revealed a unique action aspiration that is different from her previous work. He ˝ Before filming and during filming, whenever he had free time, he practiced action. The point to watch is the action with enormous weapons and tools that have not been seen in other movies." In fact, the action in <Mission Possible> is vivid as if you are seeing it in front of your eyes, but it is full of new ideas that have not been seen in other action movies. Actions that follow in various spaces such as outdoor alleys, restaurant kitchens, and underground plumbing rooms are not only bare-handed actions that clearly show the amount of practice, but also kitchen knives, insecticides, and even pigs feet. It also created action scenes. Director Kim Hyung-joo said, "I thought that sticking to bare-handed action in extreme situations would not be realistic. I tried to use everything that could be a weapon, and as a result, an action scene unique to <Mission Possible> was born."
As such, <Mission Impossible> was born with the extraordinary passion and ideas of actors and producers who did not know such a thing as 'impossible', and is expected to open a new horizon of comic action that has never been experienced before.
Related Videos