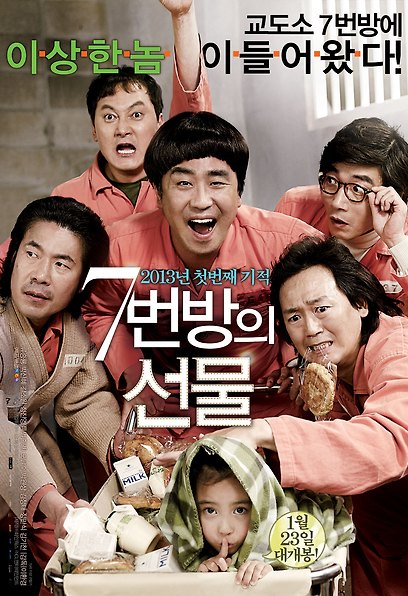 Miracle in Cell No.7, 2012
release

2013.01.23
genre

drama
country

Korea
ranking

Audience over 15
running time

127 minutes
grade

8.7
cumulative audience

12812144 people
Synopsis
Boxing King Ryu Seung-ryong! The world's most adorable 'Daughter Fool' is back!
A strange person has entered Prison Room 7, where the worst criminals gather!
He is the 6-year-old intelligent daughter 'Yonggu'!
The mission that fell on the family in Room 7, who has lived their entire life in sin, is the daughter of 'Yonggu' and 'Ye Seung'.
Entering the prison where outsiders are absolutely forbidden!
January 24, 2013 New Year,
An unprecedented joint operation full of laughter and emotion begins!
[ HOT ISSUE ]
<The Ultimate Weapon> <All About My Wife> <Gwanghae, The Man Who Became King>
20 million box office king Ryu Seung-ryong's radical transformation!
The 6-year-old's intelligent daughter returns as 'Yonggu'!
Ryu Seung-ryong, who shook the theater scene in 2012 with <The Last Weapon Bow>, <Everything About My Wife> and <Gwanghae, the Man Who Became King>, threw off his intense charisma and became the world's most lovable idiot, Yonggu. ' returned to "Lee Yong-gu was born on January 18, 1961. cesarean section. Mom was sick. my head is big. Ryoo Seung-ryong's shocking transformation, which sparked explosive interest by ravaging the online world with the self-introduction of 'Yong-gu', which was briefly revealed through the trailer, is the first factor that raises expectations for <The Gift of Room 7>. Ryu Seung-ryong said, "I tried to have a child-like feeling rather than an external transformation. I talked all day with Kal So-won, who appeared in the role of my daughter 'Ye-seung', and kept the tension throughout the filming to return to my childhood." said. Also, he said that his top goal was not to act as a typical caricatured character just because he was a six-year-old intelligent character. Ryu Seung-ryong, who is known for enthusiastically analyzing the scenario for each work, has read and rewritten the script in his own language so many times that the script for this work <The Gift of Room 7> is also tattered. He said, "Scenario analysis is a habit, a habit, and a courtesy to a work from the time I play. I tend to organize graphs of emotions by scene, place, and time at a glance. I seem to think of the character as a character. And I take notes of things that come to mind." Also, while meeting several times with a friend with an intellectual disability who served as a reference model for the character, he drew a sketch of the 'tool'. "Actually, if you look around, there are many friends whose intelligence has stopped growing. The friend I met this time stood out from the beginning, and he was very bright and always smiling. Also, he repeated the story or remembered a certain number well. I want to remember it for a long time. I put a lot of the image of that friend who confidently expresses things and words that he can say well over and over on the character of 'Yonggu'." Director Lee Hyeong-jun, who worked with him for the first time in <The Gift of Room 7>, said, "If I had not met the actor Ryu Seung-ryong, 'Yong-gu' in my head would not have been born and would have been buried only with my heart. Behind the outward face, another unimaginable face He's a really scary and great actor who hides."
From Tom Hanks of <Forrest Gump>, Sean Penn of <I Am Sam>, Seung-woo Cho of <Marathon>, and Won Bin of <Mother>, Ryu Seung-ryong transformed into a special character that only top stars with box office and popularity can challenge. He is planning to prove perfectly through <Gift in Room 7> that 'A fool's acting is different if Ryu Seung-ryong does it'.
Oh Dal-su, Park Won-sang, Kim Jeong-tae, Jung Man-sik, Kim Ki-cheon, and Jung Jin-young!
Chungmuro box office winners enter prison as the worst criminals! Unite as 'Room 7 Family'!
Chungmuro's representative box office winners, including Oh Dal-su, Park Won-sang, Kim Jeong-tae, Jeong Man-sik, and Kim Ki-cheon, were admitted to Prison Room 7 as the worst criminals (?). Their different personalities and outrageous sense of humor emanating from their appearance foreshadow the powerful comic synergy as 'Room 7 Family'. First of all, Oh Dal-soo, who became a 10 million actor in the movie <The Thieves>, has transformed into 'So Yang-ho', the manager of Room 7 and a smuggler with a secret 'a sickle and a scythe' who has unruly power in the prison. Park Won-sang, an intelligent actor in <Broken Arrow> and <Namyeong-dong 1985>, played the role of Choi Chun-ho, the best brain in Room 7 and a fraudulent convict armed with extensive legal knowledge. It is planned to take off the existing just and upright image and transform into a fraudster armed with splendid speech skills to provide a different kind of laughter. In addition, Jung-tae Kim, the luxurious supporting actor loved by Chungmuro, plays the role of 'Kang Man-beom', a handsome adulterous criminal in Room 7's 'appearance', showing off the strongest visual (?) in Room 7. Expectations are pouring in for his upgraded comic acting, recognized as a master of ad-lib at the filming site. Jeong Man-sik, who showed an impressive performance as a villain in the SBS drama [Lord of Dramas], took on the role of 'Shin Bong-sik', a hot-tempered model man. He, who entered the 7th room as a married couple pickpocket, is eagerly waiting for the day he will go out as a special envoy ahead of his wife's birth, but he spends anxious days with 'Yesung' bringing him into the 7th room (?). He plans to steal the hearts of the audience with his lighter comic acting by taking off his villain image. Kim Ki-cheon, who has been playing the role of licorice in <26 Years> and <The Neighbor>, is the oldest person who entered the 7th room as a self-harm killer. will be presented In addition, Jinyoung Jung, who is synonymous with charisma, plays the role of 'Jang Min-hwan', the security officer of the prison, who doesn't seem to come out even a drop of blood even if he is stabbed in <The Gift of Room 7>.
Including Ryu Seung-ryong, Oh Dal-soo, Park Won-sang, Kim Jeong-tae, Jung Man-sik, Kim Ki-cheon, and Jeong Jin-young, all of the best performing actors from Chungmuro gathered in one place, <The Gift of Room 7> is their fantastic acting ensemble, as well as their best acting skills to focus on their filmography. In the new year of 2013, we will present a joint operation full of laughter and emotion.
'Story' unanimously chosen by Korean acting masters!
New Year's Eve 2013, the first miracle is being accepted at the theater for the Lunar New Year!
The background of <The Gift of Room 7> is Kyo. Do. So! Here, it attracts attention with a unique setting that has not been seen in existing Korean films. An unprecedented joint operation is being held to bring a 7-year-old boy named Ye-seung into the 7th room of the prison, where outsiders are absolutely forbidden. Above all, it is said that the unusual cooperation of the actors in Chungmuro, which is full of personality, was decided by only one solid scenario of <The Gift of Room 7>. Director Lee Hyeong-hwan, who completed the screenplay through about three years of work, said, "The original actors were delivered to each and every one of them, and the casting was completed without even a single rejection. did," he said. Ryu Seung-ryong, who read the script and fell in love at first sight, said, "I received this script while filming the movie <Gwanghae>, and I fell in love with it to the point that I hardly noticed the other scenarios. I really enjoyed the idea of wanting to see 'Yesung' and getting the help of the family in Room 7 to bring it to prison." "It took me quite a while to do it. Even if there were only 1,000 people, I really wanted to do this movie. I chose it without any hesitation." Jung Jin-young, who made a special appearance in the role of 'Jang Min-hwan', the head of the prison department, also said, "The story was very beautiful. There are a lot of very stimulating stories these days, and it was like a fairy tale. said
With such a unique setting, pleasant laughter, and heartwarming emotions that will disarm the viewers, the screenplay of <Gift in Room 7> is a famous actor who raises expectations just by name alone, including Ryu Seung-ryong, Oh Dal-su, Park Won-sang, Kim Jeong-tae, Jeong Man-sik, Kim Ki-cheon, and Jung Jin-young. It will be reborn as an unprecedented joint operation and take over the theater district for the New Year's Eve in 2013.
The youngest actress who showed off the best acting chemistry with Ryu Seung-ryong from 'King of Success'!
Korea's 'Dakota Fanning' So-Won Kal, Korean uncles and aunts to be devastated!
Ryu Seung-ryong, who has continued acting with Korea's leading actresses, including Hyo-joo Han, Su-jeong Im, and Chae-won Moon, met the youngest actress this time. Kal So-won, who plays the role of 'Ye-seung', was chosen unanimously by the production team. In the movie <The Gift of Room 7>, Kal So-won, who plays the role of Ye-seung, the happiest smiling angel in the world with only her father 'Yong-gu' and a Sailor Moon bag, has a cute expression that draws admiration from the viewers, a sharp dialogue ability, and a They show amazing emotional performances that are as good as actors. Director Lee Hyeong-hwan, who recognized the potential of a rookie like a jewel, said, "Among all the child actors who auditioned, I was attracted to them even though they were not ranked first in terms of their acting. We met and played together without missing a day. Then, something like a miracle happened. A really pure and emotional performance came out." Ryu Seung-ryong also said, "I have the natural innocence of a child my age. I usually call myself dad, and I hugged him or slept with him all day on set. So-won's acting is like a white drawing paper, so to speak. "he said. Following 2012, when child actors such as Kim Yoo-jung, Kim Sae-ron, and Kim Hyang-gi were exceptionally active, the new year 2013, the appearance of Korean 'Dakota Fanning' Kal So-won, is expected to captivate theaters by announcing the birth of a new child star.
[ SPECIAL ]
Another main character in the movie!
Defend the invincible 7th room against typhoon 'Bolaven'!
Prison room 7 production saved after hard work!
The most eye-catching thing in the movie <The Gift of Room 7> is prison room 7, the habitat of the family in room 7 (?). Prison room 7, where all of the heinous criminals who have committed only crimes throughout their lives, including smugglers, fraudsters, adulterers, pickpockets, and self-harm criminals, are all gathered, pleasantly reverses everyone's expectations that it will be dark and gloomy. The cozy scenery of Room 7, which is equipped with pastel-tone wallpaper, cute accessories, and all the convenience items, adds to the uniqueness of <Gift in Room 7>. Director Lee Hyeong-jun said in an interview, "Sometimes, I feel that the reality I live in now can be more difficult, lonely and isolated than the prison where I am confined, and I think that people who have committed similar crimes and gathered in Room 7 will feel warmer here than outside. did," he said. From this idea, Prison Room 7 began to be created with the concept of a space that could warmly envelop 'Yonggu' and 'Yoseung'. If the blue color gave a cold feeling, on the contrary, I used a lot of warm colors. The structure of the room was also freely created with the existing non-standard space." On the other hand, the outside of the prison was held on a set in Iksan, Jeollabuk-do, and it is said that <Gift from Room 7> was in the middle of the scene where the super-strong typhoon 'Bolaven' blew last summer. At the site in Iksan, where the 20th episode, which is about half of the total, was damaged due to 'Bolaven', a part of the set was blown off or broken, and it took more than a week to repair it. We had to go through the arduous and arduous process of rebuilding the outer set. However, through the careful touch of the staff, it was restored to almost the same appearance as the previous set and was able to finish filming safely. Due to the sweat of the staff to defend Room 7 of the prison against the typhoon, <The Gift of Room 7> was able to be safely presented in front of the audience.
The most adorable character of 2013!
The charm of 'Yonggu', a daughter of fatal charm
@. The 100% addictive 'self-introduction' that disarms the best vicious criminals
"Lee Yong-gu was born on January 18, 1961! Caesarean section, mom hurts! My head is big!"
The self-introduction scene of 'Yonggu', which was revealed through the trailer, became a hot topic as soon as it was released, ravaging the internet. The highly addictive self-introduction that only the pure soul 'Yonggu' can do, regardless of the harsh atmosphere in Room 7, already has a premonition of the best buzzword in the theater this year.
@. Completion of the tool style 'Rip-headed'
Director Lee Hyeong-Ryong, who saw Ryu Seung-Ryong who visited the hairdresser to get the character of 'Yonggu', joked, "Should I try a gourmet haircut?" Ryoo Seung-ryong also said that he was satisfied, saying, "The image when I had my hair ripped off and when I wasn't was very different."
@. 'Yonggupyo Fashion' ahead of the trend (?)
Until the birth of 'Yonggu' fashion, Kim Na-yeon, the head of the costume department, had a different problem. Despite his slightly shabby outfit, as if he had just picked it up from the local old clothes collection box, he avoided being distracted just because he had low intelligence. Instead, the neat fashion of 'Yonggu' was completed, which was always meticulously buttoned on the jacket and pulled the pants up to the stomach. Room 7's prison uniform was also reborn as a prison uniform made of orange fabric by applying a bright concept.
@. Yonggu's 'Love Story'
In the scenario initially conceived, there was a past history of 'Yonggu'. Assuming that because he is a six-year-old intelligent, he assumed that there would not be many things he could realistically do. Then, he meets a dancer who works together in a nightclub, and the two live together, feeling affection and compassion for each other. The daughter she gave birth to was Ye-seung, the most adorable daughter in the world.
@. Longgu's 'economic power'
"Happy Happy Happy Mart Parked here!"
'Yong-gu' is a capable father who works as a parking attendant at Happy Mart and lives with his only daughter, 'Ye-seung' and Oh Soon-do-soon. To him, the monthly salary of '36,800,000' he receives while working at Happy Mart is very precious, and with this precious salary, he saves 170,000 won every month, 70,000 won in monthly rent, 30,000 won for 'tools', and 5,500 won for medical insurance. pay little by little Currently, 'Yonggu''s biggest dream is to buy a Sailor Moon bag that is marked as a gift for 'Ye-Seung' as her entrance to school!
Related Videos