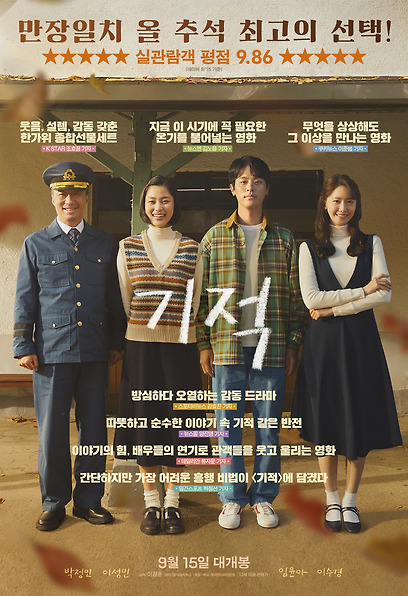 Miracle, 2020
release

2021.09.15
genre

drama
country

Korea
ranking

Audience over 12 years old
running time

117 minutes
grade

9.0
cumulative audience

716002 people
Synopsis
The only way to get there is by train.
A town without a train station.
As of today, 'Jun-kyung' (Park Jung-min), who sent just the 54th letter to the Blue House, has only one goal!
There will be a train station in town.
Despite the objection of 'Tae-yoon' (Lee Seong-min), the father of a principled engineer who said that the train station is inexhaustible
Jun-kyung, who insists on staying in the village with her older sister Bo-kyung (Lee Soo-kyung), goes to school for 5 hours round trip.
Together with Rahee (Lim Yoona), a self-proclaimed muse who recognized the extraordinary in his wackiness at once.
Spelling lessons for persuasive letter writing,
Scholarship quiz test to gain fame,
Until the Presidential Cup Math Contest!
'Junkyung''s efforts to build the train station continue…!
no giving up
Until the day the train stops!
[ About Movie ]
The greatest miracle that started with a small shovel
The world's smallest train station in 1988
Chuseok in 2021, the greatest laughter and moving <miracle> is ringing
<Miracle> is a movie depicting the story of 'Jun-kyung' and the people of the neighborhood, whose only goal in life is to create a simple station in a village where there is no train station, although the only way to get there is by train. <Miracle>, which stimulates curiosity with the fresh setting of a village with a train track but no train station, adds cinematic imagination to the motif of 'Yangwon Station,' Korea's first privately owned station, created by the villagers from the name of the station to the waiting room and platform in 1988. A newly created story. Jun-kyung's only goal is to build a train station to protect the villagers who have no choice but to travel by rail despite the dangerous situation of not knowing when the train will arrive. Jun-kyung, the owner of a four-dimensional idea and passion, who sends a letter with the story written down to the Blue House and challenges the president's math contest to meet and ask the president in person. The relationship between Rahee, a friend who leads her actively and actively leads to unspoiled innocence and outrageous absurdity. Meanwhile, the story of each character is revealed one by one, from the father 'Tae-Yoon', whose son is preoccupied only with building the train station, and the older sister 'Bo-Kyung', who understands his father's heart and becomes his brother's strong support. to impress <Miracle>, which captures the story of 'Jun-kyung', who never gave up on his dream of earnest wish, and the people who stood by his side, and those who were connected to the world through the world's smallest train station with warm laughter and emotion, is , it will be a special comfort and strength that makes audiences of all generations feel good.
Park Jung-min X Lee Seong-min X Lim Yoon-ah X Lee Soo-kyung
A brilliant ensemble complete with a fresh combination
A casting miracle sounds
<Miracle> is expected as a fresh meeting of actors who have both personality and charm, as well as acting skills, from Park Jung-min, who has continued to transform in every work, Lee Seong-min, an actor who believes and sees, Im Yoon-ah, who has established herself as a popular Chungmuro, and Lee Soo-kyung, who boasts a solid filmography. elevate
Park Jung-min, a piano genius with Servant Syndrome in <Only My World>, a clumsy rebel who recklessly left home in <Startup>, and a sexual minority in <Save Me from Evil>, who shows off a unique character regardless of genre in <Miracle> is erratic and extraordinary He plans to make a special transformation into the role of 'Jun-kyung', a four-dimensional math genius who has all the Park Jung-min, who plays the role of 'Jun-kyung', whose only goal is to have a train station in the village, has completed 'Jun-kyung', a four-dimensional math genius in a rural village who does not give up on his dreams even in the midst of failure, with a realistic and three-dimensional character. The role of Taeyoon, a blunt father and principled engineer, is played by Lee Seong-min, who has built trust with his solid acting skills in <The Duke>, <The Witness>, and <The Managers of Namsan>, adding weight to the drama. Lee Seong-min, who plays the role of 'Tae-yoon', a father who worries about 'Jun-kyung' more than anyone, although he rarely reveals his heart, with deep eyes and realistic acting, reminds of everyone's father and evokes sympathy. From <Cooperation> to <Exit>, Yoona Lim, who has shown her unique and lively charm, is expected to captivate the screen once again with the role of 'Rahee', a self-proclaimed muse and a relentless activist. For the role of 'Rahee', who recognized the extraordinary of 'Junkyung' at once and volunteered as a muse, Yoona Lim perfectly digested everything from dialect acting to retro styling in the late 80s, and completed the character of Im Yoona, who is confident and lovely, more abundantly. In particular, Park Jung-min and Lim Yoon-a, who worked together for the first time through <Miracle>, lead the play lively with a young chemistry that makes you smile just by looking at them. Lee Soo-kyung, who was recognized for her solid acting ability by winning the Youngest Supporting Actress Award at the 54th Baeksang Arts Awards through <Silence>, showed a more mature acting ability as 'Bo-kyung', the older sister of tsundere, and added a sense of immersion. The delightful acting ensemble and perfect synergy that Korea's representative actors will bring together will captivate the audience by multiplying the fun and empathy of <Miracle>.
A 4D math genius whose only goal is a train station
Driver's father, activist muse, and Tsundere's older sister
Meet the characters full of personality and humanity in 4 people
<Miracle> can be missed due to the performances of characters who are full of emotion but still have their personalities, from the real fool Jun-kyung, a 4-dimensional math genius, to the principled engineer Tae-yoon, the self-proclaimed muse Ra-hee and the friend-like sister Bo-kyung. It provides unparalleled fun.
Jun-kyung's only life goal is to build a train station in the village. Although he is persistent enough to send letter 54 to the Blue House, his spelling is bad, and he does not know the capital of the United States but is faster than anyone in mental arithmetic. Some say it's impossible, some say it's useless, but he doesn't give up on the challenge, and 'Junkyung''s efforts shown in the process of taking one step towards a new dream give heartfelt emotions and elicit support and support. Taeyoon, a principled engineer who takes his stamp every morning at work, conveys sympathy with the image of a father who has lived his life faithfully and who is not good at expressing his heart. Taeyoon, who always seems strict and strong, but has the most pain and cares about his children. The moment he finally reveals his true feelings and shows his father's bright smile is more impressive than ever. 'Rahee', who claims to be 'Junkyung''s muse, creates a bouncing chemistry with a charm that is 180 degrees opposite to 'Junkyung'. From reckless execution skills to the imposing charm of grabbing 'Junkyung', 'Rahee', a truly action-oriented character, delivers fun with unpredictable performances that do not know where to go, while playing the role of a muse who discovers and guides 'Junkyung''s talent. Lastly, 'Bo-kyung', the older sister who is always by the side of 'Jun-kyung', adds warmth to the play as a person who always supports 'Jun-kyung''s dream even though she shows the chemistry between the brothers and sisters who quarrel with 'Jun-kyung'. The unique characters and their special chemistry that cannot be missed one by one will become a major viewing point unique to <Miracle>.
Back to 1980`s
A warm spectacle that captures the emotions of that time
Realize a delicate production without missing details
In 1988, Buncheon-ri, Socheon-myeon, Bonghwa-gun, Gyeongsangbuk-do, Korea's first private railway station 'Yangwon Station' was newly created as a motif, and the new movie <Miracle> captures the nostalgic sensibility of the 80's, while at the same time conveying the atmosphere of a rural village without a train station. We focused on capturing beautiful scenery and colors. In order to capture the vivid scenery in harmony with nature, such as the fresh greenery under the blue sky and the railroad passing through the wide mountainside, the production team filmed on location in Jeongseon and Samcheok, Gangwon-do, and Sangju and Yeongju, Gyeongbuk. Birds and winds were captured in the video without missing a beat. On the other hand, Junkyung's room, which appears as the main space, was set up as a high space where you can observe the sky closely, that is, an attic with a window, reflecting the character's longing for the stars, and it grew to the extent that his head hit the ceiling. Delicate efforts were made so that the story of 'Jun-kyung', who still insists on an attic with childhood memories, can be expressed through space. In addition, 'Junkyung' and 'Yangwon Station', which contains the longing wishes of the villagers, found a place similar to the space when it was built in 1988 and produced it as an open set, and the waiting room, platform, and handwriting on the station nameplate were reproduced in detail.
On the other hand, 80s props and episodes that summon memories just by looking at them double the warm sensibility of the film. Red payphones and mailboxes, which the producers directly obtained from all over the country, including cassette tapes, VHS, entertainment machines, Polaroids, and atlases, stimulate pleasant nostalgia. Here, the colorful costumes that reflect the era of liberalization of school uniforms in the 80s while adding bold colors and patterns arouse sympathy by stimulating fresh curiosity to young audiences and memories to audiences in the 1980s. <Miracle>, completed with the special efforts of the production team, will present a page of unforgettable memories to the current audience.
Related Videos