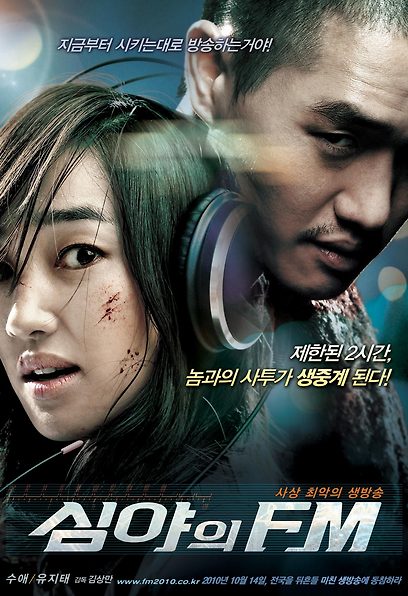 Midnight F.M., 2010
release

2010.10.14
genre

thriller
country

Korea
ranking

Youth not allowed
running time

106 minutes
grade

7.3
cumulative audience

1208310 people
Synopsis
Limited time is only 2 hours
If I can't stop him, my family is in danger!
"Today is the last precious time I share with you all.
I hope these two hours will be forever remembered by you and me."
Late-night film music room DJ Seon-yeong (Soo-ae) has been broadcasting live for 5 years.
She had a high career with a perfectionist personality.
Due to the sudden deterioration of her daughter's health, she decides to put the microphone down.
"From now on, I will broadcast as I tell you!"
She prepares the broadcast meticulously from song to comment…
But because it's the last time, nothing goes the way he wants
A threat that starts from an unknown listener, Dong-soo (Yoo Ji-tae), who comes to her!
If you don't handle the mission he's talking about while running a live broadcast, your family will die.
Of course, no one should know this!
"It's my show! I will go all the way!"
Without knowing what he wants or why he chose him
Seon-young has to fight the criminal alone to save her family!
like that… Her last two hours broadcast, which I thought would end beautifully
It turns into a nightmare and starts to tighten her up,
Seon-yeong to save the lives of her family.
An unidentified listener, Dong-soo, begins a bloody struggle.