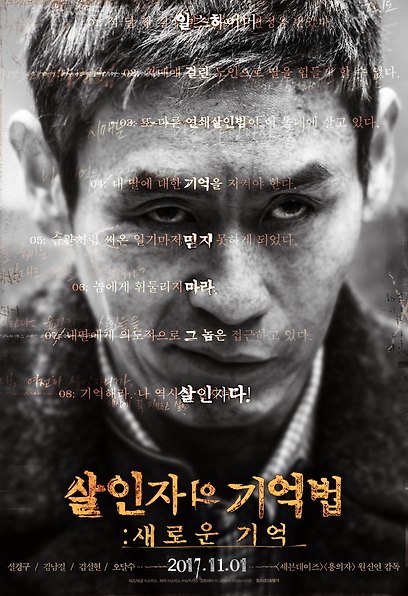 MEMOIR OF A MURDERER, 2016
release

2017.09.06
genre

Crime/Thriller
country

Korea
ranking

Audience over 15
running time

118 minutes
grade

6.9
cumulative audience

2658589
Synopsis
He used to be a serial killer, but now he has Alzheimer's. He discovers the same eyes as Tae-ju, a man he meets by accident, and has a gut feeling that he is also a murderer.
Byung-su reports him to the police as a serial killer, but Tae-joo is the police officer, and no one believes him. Tae-joo lingers around Eun-hee and does not leave Byeong-soo's surroundings. Byeong-su desperately records and pursues Tae-joo alone to catch Tae-joo, but his memories keep disappearing.
The serial murder case that started again, is it right?
Don't trust your memories!
He's a killer!
[ MEMO ]
Writer Kim Young-ha's best-selling blitz film adaptation!
"It would have been rather strange if it wasn't made into a movie."
Kim Young-ha's bestselling novel 『Memoirs of a Murderer』 is finally available in theaters. The novel 『Memoirs of a Murderer』 is a representative work of writer Young-Ha Kim, who is loved for her various literary sensibility on tvN [Sorcerer]. am. It completely captivated readers by announcing the birth of a thriller novel that has never been seen before, from the unconventional subject of a serial killer with Alzheimer's, to the breathtaking development after the emergence of a new serial killer, and the reversal ending. In particular, the concise yet powerful style of writer Kim Young-ha and the highly immersive story from the first-person perspective of the protagonist were praised and fascinated by critics.
Director Won Shin-yeon, a genius of genre films, read the novel in 40 minutes and decided to make it into a movie right away. While he was preparing for his next work, he discovered 『Memoir of a Murderer』 while looking for a story with strong psychological description or dramatic elements. I was completely engrossed in the complete novel. "It's a fun comprehensive gift set that doesn't miss anything. If it isn't made into a movie, it's a weirder work." He gave a thumbs up, adding a cinematic creation to the original fun of the original to create a crime thriller movie with a unique color.
Unconventional subject of a serial killer with Alzheimer's!
on the border between memory and reality
Provides extreme suspense and thrills!
The Murderer's Memoir> is unconventional in its setting compared to many domestic and foreign genre films that dealt with serial killers. This is because the protagonist is a fresh character, a retired serial killer who struggles with the memories that are disappearing due to Alzheimer's disease. Byeong-su, who has committed murder for many years under the pretext of cleaning up unnecessary garbage in the world, quit serial murder 17 years ago and became a veterinarian. After living an ordinary life, he was diagnosed with Alzheimer's. In order to catch up with the fading memories, he records his every move and records his daily routine in a diary. Meanwhile, a serial murder case occurs in the village, and he reads the murderer's eyes from the man he meets by chance, 'Tae-ju'.
<Memoirs of a Murderer>, which started with an unconventional setting, presents the fun of putting together a puzzle with a fast paced development, and presents a new suspense that has not been seen in Korean films until now. Fading memories, accumulating records, and delusions The story of 'Byung-soo', who draws on and off reality, rapidly flows back and forth between suspense and thrill after the appearance of 'Tae-ju'. The development, which runs towards the end without giving a moment to be vigilant, amplifies the curiosity of the audience, as Seol Kyung-gu said, confident that it is "a movie that makes you more curious about the story as you follow the story that is piled up one after another." The movie <Memoirs of a Murderer>, armed with such fresh material and unsustainable development, is expected to establish itself as an intense crime thriller that will blow away even the late heat of the audience this fall.
Seol Kyung-gu X Kim Nam-gil X Kim Seol-hyun X Oh Dal-su
Remember the protagonists of unlimited transformation!
Seol Kyung-gu, Kim Nam-gil, Kim Seol-hyeon, and Oh Dal-su herald an unprecedented transformation with a new face that has never been seen in <Memoir of a Murderer>. First of all, Seol Kyung-gu, who created an all-time great character every time he transforms violently such as <Oasis> and <Silmido>, once again takes on a challenge without limits. 'Byung-soo', which he played, was the role that Director Won Shin-yeon struggled the most about who could play because there was a lot to prepare physically and mentally due to the character's setting. Seol Kyung-gu, who said, "I chose this difficult role because I thought it would be difficult to play," first lost weight to the extreme and completed an appearance that is 10 years older than him without special makeup, leading to 'control' his age. He also perfectly expressed the chaos he had to go through between reality and delusion due to Alzheimer's with only a momentary change in his eyes. The audience will be amazed at the unpredictable and ever-changing eyes of Seol Kyung-gu.
Kim Nam-gil, who has built up a wide acting spectrum in [Queen Seon-deok], [Bad Man], [Crude], and [Pandora], met the character of his life once again through [Memoir of a Murderer]. 'Tae-Joo' looks like an ordinary policeman, but he doesn't know what he's doing. Kim Nam-gil, who thought that it was a face that doubled in horror when he gained weight, made a transformation of 14 kg, the opposite of Seol Kyung-gu, at the request of director Won Shin-yeon. 'Tae-joo' is the most difficult role to express. It is necessary to make them confused by walking a fine tightrope, but Kim Nam-gil perfectly digested this. Like Seol Kyung-gu's testimony, "I wonder what the next scene will be when he appears," he skillfully revives the expression of 'Tae-joo', which changes subtly in a moment in a creepy impression, and maximizes the tension. He said that he was trying to escape from the drama, and he will make the audience keep their eyes on him with his skillful acting that freely crosses between good and evil.
Seol-hyeon Kim and Dal-soo Oh join the tense emotional performance showdown between Seol Kyung-gu and Kim Nam-gil, adding to the richness of the play. Kim Seol-hyun took on the role of 'Eun-hee', the only existence that 'Byung-su' should remember. Director Won Shin-yeon praised Kim Seol-hyun as "an actress who can instinctively express emotions." She is a daughter who faces a complicated situation of her daughter who has to watch her father, who is losing her memory, and a suspicious situation that her father may be a serial killer. richly portrayed the complex inner side of In order to immerse herself in the character, she constantly talked with director Won Shin-yeon, and while making and forging a warrior for a character that was not included in the scenario, she added flesh to the character and added her own color to complete the 'Eun-hee' character. The audience will all applaud her challenge of laying down herself completely while rolling on the dirt floor, running barefoot in the mountains, and even putting blood on her face.
Oh Dal-soo is the director of a police box chasing a serial killer and an old friend of 'Byung-soo'. He humorously expresses the appearance of 'Byung-man' who appears whenever 'Byung-soo' loses his memory and takes care of it. Increases the dramatic tension in the moment. Director Won Shin-yeon's words, "Oh Dal-su is an actor who is optimized not only for comedy but also for thriller genres," raises expectations for his unique acting that will bring laughter and tension at the same time.
Seol Kyung-gu, Kim Nam-gil, Kim Seol-hyun, and Oh Dal-su, who will show new faces through <Memoirs of a Murderer>, will be deeply engraved in the minds of the audience with their unprecedented transformation and explosive performances.
Director Won Shin-yeon of 'The Master of Thrillers', if he makes it, it's different!
The birth of an intense crime thriller!
Director Won Shin-yeon, a genius of genre films, returned to the screen after 4 years with <Memoir of a Murderer>. Director Won Shin-yeon, who has shown outstanding sensibility in the thriller and action genres, from the movie <Seven Days>, which opened a new chapter in the Korean crime thriller genre, to <The Suspect>, a movie that gave Korean-style action pleasure. He has captured the hearts of audiences with his sensuous directing ability that breaks the typical frame of genre films, and is expected to write a new history of crime thriller films with <Memoir of a Murderer>.
Director Won Shin-yeon, confident that "it will be the closest and farthest film from the novel," kept the original title of 'A Serial Killer with Alzheimer's', but boldly tried to change the genre to fit the medium of film. First, the character settings of 'Byung-soo' were different. As the murderer 'Byung-su' has to lead the audience for nearly two hours in the first-person view, in order to immerse the audience more in the situation and emotions of the protagonist, 'Byung-su' in the movie kills to clean up the garbage in the world that deserves to die. A convincing reason was given. In addition, in order to give various variations to the character composition, the character 'Byung-man', an old friend of 'Byung-soo', who does not appear in the novel, was added to provide unexpected tension and laughter. Director Won Shin-yeon's film adaptation will not only provide a different kind of fun from the original, but will also make you experience suspense beyond your imagination.
Director Won Shin-yeon did not neglect to build reality to amplify the character's emotions. Since <Memoir of a Murderer> is a film about memory, he thought that focusing on Byung-soo's chaotic emotions between the past and present, reality and delusion was the only way to bring out the unique charm of this film. To this end, in the scenario stage, with the help of a neurologist, the detail and accuracy of the symptoms of Alzheimer's described in the film were reinforced. In addition, as he was not a fan of CG, the murder montage in Byung-soo's memory, an important scene in the film All are implemented close to reality. The scene of a car rollover accident in the past, which is the decisive factor in 'Byung-su' getting Alzheimer's, was also created with a 360-degree rotating camera and shot in one-scene, one-cut, realistically without CG. In this scene, 'Byung-soo', who is confused between reality and delusion, appears in every flashback scene to trace the memories of a murder in the past, providing fun and tension as if playing a brain game with the audience.
Director Won Shin-yeon, a genius of genre films, has kept thriller-like fun without missing a single scene. The film <Memoirs of a Murderer>, which was born from his fingertips, will be remembered for a long time by the audience as his new masterpiece.
[ PRODUCTION NOTE ]
Intense visuals that you can't take your eyes off of!
Space, action, and makeup that the staff remembers!
first record. killer's space
Locations all over the country! Create a murderer's city and home with an eerie vibe!
Director Won Shin-yeon wanted the image of a bleak city where the serial killer 'Byung-su' lives. As the city's infrastructure industry declines and becomes devastated, I pictured in my mind a place where the past murder of 'Byung-soo' was buried deep in the ground without anyone knowing. After reading a novel and writing a screenplay, I gave this imaginary city an imaginary name, 'Aewol-eup, Ganghwa-si,' and drew the main spaces on the map. The house of 'Byung-su' was located in a small town a little far from the city, and 'Bamboo Forest', where 'Byung-soo''s haven and traces of past murders are buried, is designed as a dark and quiet unknown space that looks comfortable and cool fear coexists. . The space where the new murder takes place is even more eerie because it seems like there will be an old farmhouse nestled deep in the hillside and an abandoned sushi restaurant where only the reeds of rotten reclaimed land remain. I wandered around the country in search of the city of images. About 10 cities including Pyeongtaek, Paju, Ganghwa, Daejeon, Gwangju, Jangheung, Suncheon, Gimje, Gunsan, Jeonju, and Gimhae are melted into the main spaces of the film.
The art team focused on delicately capturing the character's personality in the space. During the pre-production period of more than 6 months, the space that paid the most attention is the house of 'Byung-soo'. Art director Lee Jong-geon, who said, "The house of 'Byung-su' is 'Byeong-su' itself," art director Lee Jong-geon remodeled a traditional house with a master bedroom, a cross-room, and a Daecheongmaru in a modern way, adding the old feeling of being on the outskirts of a small town. It expresses the time of 'Byung-soo' after 17 years have passed. The interior of the house is set in dark wood tones to project his personality with a cool instinct. In order to express the shadow cast on 'Byung-soo' after the will to kill ceased, the light passing through the window did not reach 'Byung-soo', and grass was laid in the yard to create a feeling as if all the truth of 'Byung-su' was covered. . The space of <Memoirs of a Murderer>, which was born in this way, provides a cool tension by itself and adds to the attraction of the movie.
second record. killer action
The emotions that are evident in the action, the acting passion of the actors who refused to double!
Director Won Shin-yeon emphasized the emotions of the characters rather than the flashy skills in the action scenes. Rather than hand-held shooting, one scene and one take strengthened the static feeling, so that the depth of the emotions expressed by the actors was better revealed. The action scenes of 'Byung-soo' and 'Tae-ju' are representative scenes. Rather than simply fighting each other, we wanted to capture the entangled emotions that are stained with suspicion and boundaries for each other. The appearance of 'Byung-su', who struggles with his own memories in order not to forget why he is fighting during an intense physical fight with 'Tae-ju', raises the tension of the play to the climax. In addition, while serial killer 'Byung-su' shows bare-handed action without tools as in the past killing methods, 'Tae-ju' makes a difference in the way the two confront each other by making them use various tools such as scarves and belts. The acting enthusiasm of the actors is also noteworthy. Seol Kyung-gu, who sympathized with director Won Shin-yeon's wish that the action would also be emotional, performed the high-intensity action of hitting a glass shelf during the fight with 'Tae-ju' himself, even though there was a double, and he drew the admiration of the staff saying, "As expected, Seol Kyung-gu." It is said that he did it to me.
third record. murderer's disguise
It is the actor's responsibility to complete the makeup! Seol Kyung-gu, who controlled her weight and age at will!
Director Won Shin-yeon thought about changing the appearance of losing weight or gaining weight in order to make a stronger impression on the character of the serial killer 'Byung-su'. However, since the sudden weight change is a health-related problem, it was not easy to talk to Seol Kyung-gu. In response, Seol Kyung-gu left the saying, "The completion of the makeup is what an actor does," and after a while, he appeared as a skinny 'Byung-soo'. He stayed away from carbohydrates during filming, and tried to maintain his weight by jumping 10,000 ropes for two hours each day just before filming began. Kim Nam-gil said, "Seol Kyung-gu is famous for having thick hands, but even those hands were dry. I was really surprised." From the preparation period to the end of all filming, Seol Kyung-gu, who endured for 'Byung-su' for a total of 6 months, gave birth to a serial killer character that will remain in the history of film. His transformation did not stop at extreme weight loss. As he had to show various age groups, from his youth committing serial murders to his late 50s with Alzheimer's 17 years later, he could not avoid makeup to differentiate between the past and the present. Because Seol Kyung-gu lost a lot of weight, he was able to naturally create wrinkled wrinkles on his face, neck, and back of his hands. Seeing him working hard, Oh Dal-su said, "I thought it was a mummified. You seem to be mistaken for a rubber band. I want to stop because I am worried, but I think that is one of Seol Kyung-gu's acting philosophies." Seol Kyung-gu, who finished the character by throwing everything away with his passion for work and acting. His transformation in <Memoir of a Murderer>, which is said to be within five fingers in terms of intensity among his works so far, will surprise the audience once again.
Related Videos