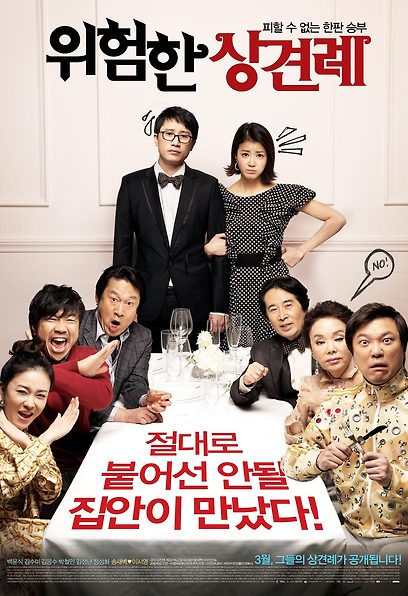 Meet the In-Laws, 2011
release

2011.03.31
genre

comedy
country

Korea
ranking

Audience over 12 years old
running time

118 minutes
grade

7.6
cumulative audience

2595625 people
Synopsis
Mr. Dahong, we are inexperienced in life~
Oh I don't know, Hyunjun
Hyeon-jun, a pure young man from Jeolla-do, who works under the pseudonym 'Local'. He grew up in love with Da-hong, a woman from Gyeongsang-do, whom he met at a pen pal, and decided to marry her when Da-hong said that he had to see the line under his father's coercion. However, because of Da-hong's father, who is a man from Gyeongsang Province to the bone, a situation arises where Hyeon-jun has to hide that he is a Jeolla-do man…I thought if I loved you, I would get married…
A man's risky matchmaking to win love begins!
Hyun-jun transformed into Apgujeong-nam after undergoing special tutoring in late Seoul. Finally, he heads to Da-hong's house in Busan to receive approval from the marriage, and meets the Da-hong family. Starting with Unbong, Da-hong's rather gloomy brother, Yeong-ja, an old virgin who is trying to find the scars of Hyeon-jun, the mother of an elegant Seoul woman who has never been outside the Gyeongbu Line, and Yeong-gwang, a super-powerful opponent who throws a baseball instead of shaking hands at the first meeting. Hyeon-jun's father followed him, even his older brother Dae-sik, who was sent as a spy.
Will Hyun-joon be able to overcome all these difficulties and achieve love with Da-hong?
Related Videos