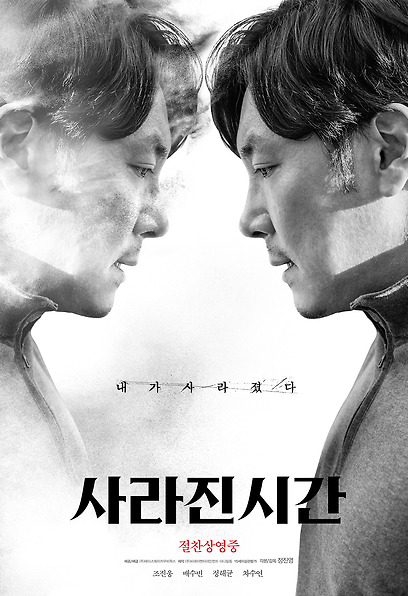 Me and Me, 2019
release

2020.06.18
genre

Mystery/Drama
nation

Korea
rank

Audience over 15
running time

105 minutes
grade

5.8
cumulative audience

185802 people
Synopsis
In a rural village in a quiet small town, an unexpected misfortune strikes a teacher couple who volunteered to work in the countryside with a secret they wanted to hide from others.
Hyeong-goo, confident in solving the case, falls into a shocking situation in which his life is turned upside down in one morning during the investigation process.
My house, my family, my job, everything I knew was gone.
Will he be able to get his life back?
[ ABOUT MOVIE ]
Cho Jin-woong's choice!
Cho Jin-woong, the representative actor of Chungmuro,
A strange and bizarre story that decided to appear in just one day!
Cho Jin-woong, a 'trusted and seen actor' representing Chungmuro, returns with the mystery drama <Time gone by> with Jung Jin-young, who has transformed into a director.
Actor Jo Jin-woong, who showed off his powerful presence in numerous works such as <Myeongryang> <Assassination> <Going to the End> <Solo Battle> <Duke> <Perfect Stranger> and <Black Money>, has met 100 million viewers so far. Actor Jo Jin-woong, who has captivated audiences of all generations with his heavy charisma and trustworthy acting skills, moving back and forth between various genres and characters such as action, drama, comedy, and thriller, in 2020, <Time Gone> is the directorial debut of veteran actor Jung Jin-young. It tells the story of a detective who is investigating a case as he sets out to find his life while facing a shocking situation where everything he believed in disappears.
Jo Jin-woong was the 0th-ranked actor who was optimized for the character 'Hyung-gu' in <Time Disappeared> to the extent that Director Jung Jin-young started writing the script as the main character in his head. Director Jung Jin-woong conceived the character by recalling the actions and tone of Jo Jin-woong, which he had seen through his works, and handed the work to Jo Jin-woong as soon as he wrote the first draft. Jo Jin-woong, who received a proposal for <Time that Disappeared>, decided to appear as soon as he read the scenario in just one day, and claimed himself as a strong supporter of director Jung Jin-young. Jo Jin-woong revealed the reason for appearing because he felt "I want to check it out as a movie that completes a different and bizarre story that I have never seen before." Regarding this, director Jung Jin-young said, "His words, 'Let's have fun!' One story has laid the groundwork for me to progress into a movie," he said, expressing his gratitude.
Jo Jin-woong, who took on the role of 'Hyeong-gu' in <Time that Disappeared>, is once again the representative actor of Chungmuro, densely depicting the mind of a confused person who desperately pursues to recover his life that disappeared in one morning with his unique animalistic sense of acting. It will prove its power.
Jinyoung Jung's Challenge!
From an actor with 33 years of acting career to a shining new director,
Jinyoung's dream come true!
Jinyoung Jung, an actor who has been active in various fields, from plays, movies, and dramas to the current affairs program [I Want to Know It], since debuting in the play [Daejeon] in 1988. He has been loved by audiences as a persona by director Lee Jun-ik in <Hwangsan Bee> <The King's Man> <A Joyful Life> <You Are Far Away> and <Pyongyang Fortress>. ><Taxi Driver> to <Another Promise> <Claire's Camera> <Gunsan Sings a Goose>, etc. He is also an accomplished actor with 33 years of acting career, performing all-round activities in films with artistic and social messages. .
He is about to meet with the audience as the director of <Time gone by>, challenging himself to direct the movie he has been dreaming of for a long time. "When I was young, I had a vague admiration for film directing. For a long time, I thought that it was beyond my ability, but as I turned 50, I had the courage to create a story I wanted to tell." "Director Jung Jin-young, not an actor, seemed innocent and happy like a child. Actor Jo Jin-woong, who took on the role of 'Hyung-gu', said, "It was great to see him passionately leading the filming set." I was able to act comfortably and in a fun way because I knew the breathing that only an actor has and completely trusted me."
Director Jung Jin-young, who said, "I hope that the sincerity of a man who deals with life in a crude story and the vivid energy of the characters can be conveyed to the audience," said director Jung Jin-young. Expectations are high by depicting the process of tracing life in an exciting way. Director Jeong Jin-young's first film <Time gone by>, who confessed the excitement of a new director, saying, "Writing the story I wanted to tell, actually filming it, and opening it again and meeting the audience is like a dream in itself," will be released in theaters in June. can meet
I'm gone!
Fresh setting and unpredictable development of events,
Time is ticking! The birth of a mystery drama like you've never seen before!
Detective Hyung-goo comes to a quiet rural village to investigate a fire case. At first, I thought it was an ordinary fire incident, but there are one or two things that are suspicious of the villagers who have a strange feeling. One morning while conducting an investigation, he wakes up at the house of a foreigner couple where a fire has occurred. The villagers suddenly call 'Hyung-gu' a teacher. When I went home, there was another person living there, the wife didn't recognize her at all, and the children came, but their existence evaporated out of nowhere. In a desperate situation where everything he knew, including his house, family, and job, disappeared, 'Hyung-gu' sets out on a quest to regain the life he remembers.
A fresh setting that deals with an unprecedented case where everything about me disappeared overnight, and a bizarre story that can't predict whether 'Hyung-gu' will ever be able to regain his former life or not, gives the audience a new genre of pleasure and a different kind of fun. tell the Director Jung Jin-young, who conveyed the intention of the director, said, "I wanted to approach the audience in an easy and fun way by borrowing the form of a mystery drama with a rather heavy theme of identity of life." Actor Jo Jin-woong, who took on the role of 'Hyung-gu', said, "The psychological dynamic that 'Hyung-gu' felt in the process of finding his own life was considerable. The audience will also be able to witness and experience it together," he said, adding to the anticipation for the film. In addition, Bae Soo-bin and Cha Su-yeon, who lead the mysterious atmosphere of the play as a couple of foreign teachers with secrets, Jung Hae-gyun and Jang Won-young, who are both neighbors who are likely to be around us and also a villager who engages in suspicious behavior, appear as a woman with a connection to 'Hyeong-gu'. Shin Dong-mi and Lee Seon-bin, who aggravate the confusion, are added to the performances of actors who have solid skills, adding to the tension of the play.
As Jo Jin-woong said, "A film with a very mysterious and subtle taste that is nowhere else in the world," the movie <Time Gone>, which foretells the birth of a mystery drama that has never been seen before, is an exciting and unpredictable process of tracing one's life. It will deliver cinematic fun while delivering a lasting impression on the audience as they leave the theater through a deep thematic awareness that makes them look back on what life is like.
Related Videos