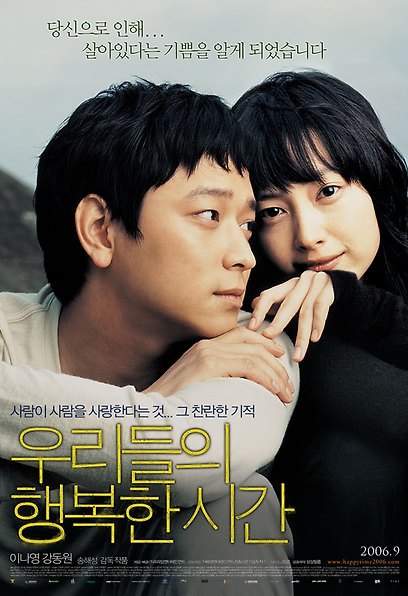 Maundy Thursday, 2006
release

2006.09.14
genre

drama
country

Korea
ranking

Audience over 15
running time

117 minutes
grade

9.2
cumulative audience

2472160 people
Synopsis
you are…
Why do you want to die so much?
Yoo-jeong, a troublesome suicide attempter, meets Yoon-soo.
That winter, when his third suicide was also unsuccessful, he was taken to prison by his aunt Monica. I didn't like it, but it would be better than recuperating in a psychiatric hospital. A death row inmate with a pale face that looked poisonous. It's the same with that guy who behaves harshly and unpleasantly all the time, and the aunt who's bewildered without doing anything wrong. If it had been any other time, I would have immediately said, "It's a spectacle, it's over!", but somehow my heart breaks. Ah, this man…!
Yun-su, an ill-fated death row inmate, meets Yoo-jeong.
One of the winter days that will be the last of my life, I was called to the meeting room. I rudely told the nun not to touch me. By the way, that woman standing by the window is Moon Yoo-jeong, the singer who sang the national anthem that her deceased brother loved! She just looked at me coldly, with no sign of sympathy or awkwardness like everyone else. the second day we met. I can't take my eyes off this woman, who says she's been forced to come and gets nervous, as if she's looking at me somehow.
3 hours a week. Thursday 10am to 1pm…
The prison meeting room. The two sit face to face. A rich and glamorous woman and a poor and disadvantaged man. They were so different, but they couldn't stand the fact that they were still alive. At first, they push each other away with their twisted and cold words, but they soon realize that they look alike. Little by little, the two begin to loosen their boundaries and look into each other. A heart that is as warm as the warmth of the sunlight coming through the small window. They finally bring out the 'real story' that no one has ever told them about.
Our happy time created by a real story
Yoon-soo's heartfelt tears after hearing Yoo-jeong's confession heal Yoo-jeong's wounds, and Yoon-soo's unhappy past and twisted fate resonate with Yoo-jeong's heart. As they comfort and exhort their wounds with their wounds, their despair is miraculously transformed into a radiant sense of happiness. Now, a woman cannot decide to die by herself, and a man wants to live for the first time in his life. Each other, who let us know that there is love in the world and the joy of being alive, is so precious.
However, our meeting is always the last…
As their minds are filled with the absurd wish that it should be every Thursday, they realize that their time is running out…
[Prologue]
Now, I want to share it with you.
I'm about to start a story.
That is our story.
Seasons, sunlight, things… It's like saying hello to everyone in the world for the first time every day…
A death row inmate who must be parted soon.
Life is so boring that some people want to live so much…
An attempted suicide who tried to end his life in haste three times.
I was in pain, adding to the wounds that didn't heal on my own,
Everyone in the world is happy, but I felt lonely because I was the only one unhappy,
That's why death was more desperate than life.
we sat face to face
3 hours a week, Thursday 10am to 1pm…
At first, we pushed each other away
Sooner or later, you realize that we are very similar people.
I started a 'real story' that I couldn't tell anyone.
One by one, like a miracle, everything began to change.
I feel it for the first time in my life.
that I also have 'love' to share with someone,
I wish I had my share of love in the world…
being alive,
Living and loving people…
My heart is full of that splendor.
The happy times we had…
I want to share it with you too.
【 about movie 】
The fact that people love people… that splendid miracle!
A film that conveys the precious value of human love
The love in this movie is different from the 'love' conveyed in other Mellor films. However, the miraculous feeling that changed the hearts of a man and a woman who stood on the 'road to death' and made them accept the world and life in a completely new way is difficult to express in any other words other than 'love'. Their feelings for each other may seem more ordinary than love between the opposite sexes. Listening attentively, building intimacy, sincere understanding and comfort, reassurance that such a person exists, and the feeling of happiness in meeting. However, these small, ordinary emotions exert the power to save the two men and women who stood at the end of despair. Through <Our Happy Hour>, which depicts such a brilliant process, we want to share the precious value and deep meaning of loving people and living with love.
A wide, deep impression, and a long lingering aftertaste!
Two happy hours filled with real stories
Two men and women with very different circumstances and positions. It was while sharing the 'real story' that the relationship between the two people, who had been pushed back by hostility, had a dramatic change. True communication, comfort, understanding and love begin the moment you bring out the terrible wounds within yourself, the loneliness that you couldn't tell anyone, and the despair caused by it, which even you have been trying to ignore. The fact that only those who have been hurt can know the pain and offer true comfort to others, conveys a paradoxical hope to those of us who are exhausted from large and small wounds in life and the world. During the two hours spent with the movie <Our Happy Hour>, I will take a step closer to the precious happiness of my life by listening to the 'real story' of the two men and women, sympathizing with their wounds and pain, and sharing the most beautiful and splendid happiness of their lives. will be able
【 view point 】
novel vs movie
A film reborn with a unique scent
Director Song Hae-seong, who has delivered humanity based on his love for humans and life. He was planning a new movie with the concept of "a story of two men and women with wounds saving each other" when he came across the novel [Our Happy Hour] and chose it as his next work. Because it was a novel with the same message that I wanted to draw. Writer Gong Ji-young also wanted it to be made into a movie through 'Director Song Hae-seong', so she readily agreed.
Usually, a movie based on a novel often gets the reader's preconceived notions as a bonus by bringing in the story and characters. To the audience who first read the book, looking at my main character who was replaced by a specific actor, making my heart flutter and unfamiliar, and regretting scenes that were different from my imagination or missing settings.
Director Song Hae-seong, who has had the experience of making the original novel into a movie in <Payran>, explains, "The movie is my interpretation of the novel and also the frame that contains the story I wanted to tell." It is not a simple work of visualizing a novel, but a new work that captures the thoughts and emotions of creator Song Hae-seong. Both actors have the same idea. "I didn't think it had to fit the character in the novel. The novel helped me understand the characters, but I believed that I was Yoo-jeong (or Yoon-su)." This is the real reason we are looking forward to <Our Happy Hour>, a movie that is similar to the novel but definitely different.
The strongest staff and actors, the strongest breathing!
With all your strength, simple and sincere…!
On the set of <Our Happy Hour>, the words 'sincere' and 'happiness' came and went naturally. "If your heart is sincere, that's enough. It's okay not to worry about your face." "I think crying here is different from my sincerity. I'll go without tears", "The whole process of becoming Yoon-soo was happy", "I don't think I've ever felt happiness so naturally while filming a movie", etc.
It is a story of a death row inmate and an attempted suicide, and it must have been exhausting and difficult for everyone because there were exceptionally difficult emotional scenes, but they all recall that they were "happy" with bright faces. It comes from the belief that they have the same heart. Instead of emphasizing or exaggerating superficial emotions, the intention of directing and acting was clear, expressing the sincerity and hoping that the wave would vibrate in the minds of the audience, and the staff fully agreed with and cooperated.
The time when beautiful male and female actors and the best staff in Chungmuro gathered to share the pride and reward of making a good movie with a good message with sincerity, and that happy time is fragrantly permeated with the virtue of simple sincerity in the movie <Our Happy Hour>. you will find that there is
【 Production Issue 】
The most anticipated work of the second half! The most impressive feeling of 2006!
From the beginning of filming until recently, <Our Happy Hour> was a hot topic with great support and anticipation. 1st place in the most anticipated movie in the second half (Interpark 8/8~14, Cineseoul 8/14~20), the most anticipated movie in the second half, the most anticipated couple, and the most anticipated male and female actors (Nate.com 8/14~27) September, It has risen to the top every time in surveys or surveys such as the most anticipated Korean movie (Movist 8/14~21). This would have meant the sincere passionate performances of Na-young Lee and Dong-won Kang, the humanistic direction of director Song Hae-seong of <Pyran>, and encouragement and support for the collaboration of talented staff and actors. It will also be a reflection of the wait for well-made moving films, which has recently taken a vacancy in Korean films.
Dong-Won Kang* Na-Young Na-Young, the eternal emotion conveyed by the Young couple!
Director Song Hae-seong said, "If you look closely at the two actors, there is a strange sadness. Just as Yoojung and Yunsu have similar wounds, they also resemble each other," he said, expressing expectations that it will be an interesting project. The two actors stayed together for three nights and four days to discuss the scenario before filming, and at the end of filming, they claimed to be assistant directors on the first day and shared their struggles. The emotion of the movie <Our Happy Hour>, presented by the two beautiful actors 'Eternal Couple' who emptied themselves and captured Yoo-Jung and Yoon-Soo, showed passionate passion and perfect breathing, will also leave a long lasting impression.
Companions of dignified dignity who added to the emotion – a passionate performance by a middle-aged actor!
In the movie <Our Happy Hour>, there were many actors who gave credibility just by their name. Yoon Yeo-jeong plays Sister Monica, who is like a mother to Yoo-jeong and Yun-su, Kim Ji-young plays the mother of a policeman killed by Yoon-su and grandmother Park, who shows true forgiveness, and Jeong Young-suk plays the mother who hurt Yoo-jeong uncontrollably. In addition, Kim Bu-seon is Hong woman who changes Yun-su's fate as a death row convict, Oh Gwang-rok is a death row inmate 2896 who showed passionate camaraderie to Yun-su, and Kang Shin-il is Lee Joo-im who protects and encourages the two people to meet in the 'Meeting Room'. Jang Hyun-seong plays the role of an older brother who stands by Yoo-jeong's side and tries to understand her. Their heartbreaking acting, which melted their age and magnificence, added depth to the movie's emotion.
It became strength. your support!
The meeting between Kang Dong-won and Lee Na-young, who have been called 'icons of a new generation', and Song Hae-seong, who is famous for 'Pasamo', has attracted special attention from fans from the beginning. The three fans voluntarily created a 'Woohaeng City Cafe' and sent unwavering support. At the start of filming, they sent dried rice cakes, a hand warmer in the cold winter, and chocolates on Valentine's Day and White Day, and always gave encouragement and affection. In return for their love and encouragement, the production team prepared a 'thank you preview'. <Our Happy Hour> contains another precious communion shared between the fans and the production team.
[Epilogue]
Thank you.
Because of you, I have learned the joy of being alive.
Someday when you hand me a cross necklace
I remembered a time when Yoon-soo's hand was brief, but stayed on mine.
His hands were hot then. Then why couldn't I smile and hold his hand…
Why couldn't I say I love you…
– oil well
Because of you, we had a truly precious, warm and happy time.
I wanted to comfort your wounded soul with my life.
And, I was born into this world, and I have never done it with my mouth.
I really wanted to say that… that I love you…
– Yunsu
– From the novel [Our Happy Hour]
Yoojung: You take the secret to death, right? I need someone to listen to…
I do not know. You're probably here to talk, me.
A really cliché and childish thing… my way…
Yoojung: Yesterday, I slept well after a very long time.
thank you. Mr. Yoon Soo. For listening to my story…
Yoonsu: I thought it was natural to die, but living was like hell… I want to live.
Yoonsu: Yoojung, I just like it when I think about the coming Thursday.
Good things don't go away. So, I'm going to die soon…
Still, I'm not completely screwed, am I?
Yoonsu: Yoojung, you mustn't forget my face. Love it!
Yoojung: I love you… I love you.
– From the movie "Our Happy Hour"
Related Videos