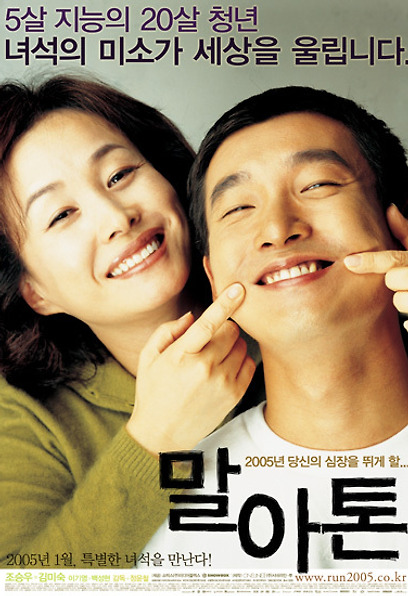 Marathon, 2005
release

2005.01.27
genre

Family/Drama
country

Korea
ranking

all spectators
running time

117 minutes
grade

8.8
cumulative audience

4196859 people
Synopsis
A cute and lovable meadow that looks nothing like the children of her age who like zebras and chocolate pie. One day, Chowon is diagnosed with autism, and her mother Kyungsook is frustrated by the reality she can't handle. However, Kyung-sook discovers that Chowon-i has a superior ability to run than a normal person, and trains steadily with hope that his son is no different from others when running.
As time passed, she became a 20-year-old young man. However, intelligence is still at the level of a five-year-old. He farts casually in front of strangers, treats his younger brother with respect as if he were a teacher, and when music comes out, he often performs his unique mak-dance. Even though she is a 5-year-old child with impeccable behavior and tone, she still has the best running skills she has been doing since childhood. Kyung-sook sets her goal to 'achieve the sub-three in the Chowon marathon' and concentrates only on her son's training.
One day, ex-famous marathon runner Jung-wook, who had a history of winning first place in a world championship, is ordered to serve as a community service worker while driving drunk and comes to a school in the grassland. Kyung-sook almost begs, and takes over the role of her son's coach to Geor Yi Jeong-wook. Jung-wook thought only of annoying the unknown grassland. However, the more time he spends with Chowon, the more he assimilates into the innocent and honest Jungwon like a child, and Chowon also begins to open his heart to Jung-wook. Although he collapses from exhaustion because he fails to control his speed every time, he discovers the possibility of a marathon sub-three in the grassland, which has exceptional endurance, and begins training in earnest.
Meanwhile, Jung-wook, who looks only insincere, and Kyung-sook, who is not trustworthy, gets into an argument with Jeong-wook one day. Kyung-sook can't respond to Jung-wook's words, "'Don't mistake your child's love and obsession'. Kyung-sook can't shake the thought that she's abusing a child who has never been able to express 'good' or 'dislike' because of his greed, just as Jung-wook said. Kyung-sook feels as if everything she has built up has collapsed. Now, she decides to give up both the marathon and the serve three…
Related Videos