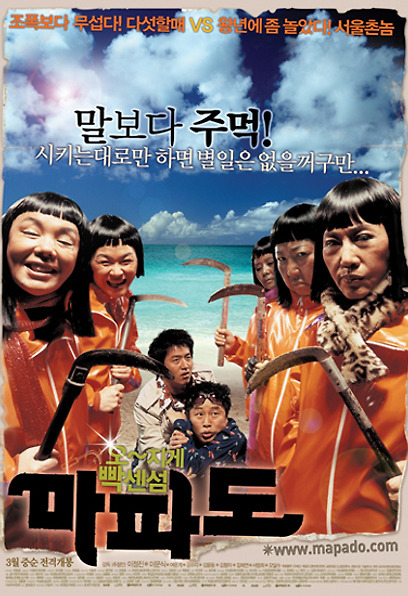 Mapado: Island of Fortunes, 2005
release

2005.03.10
genre

comedy
country

Korea
ranking

Audience over 15
running time

107 minutes
grade

6.9
cumulative audience

2636857 people
Synopsis
Jae-cheol (Lee Jung-jin), a model gangster (Lee Jung-jin), and Chung-su (Lee Moon-sik), a corrupt detective, go undercover as fishermen on a mysterious island 'Mapado' that is not even on the map in search of a woman who has stolen 16 billion won. Mapo, a mysterious island where the total population of the island is 5 people, the composition ratio is 100% female, co-production, co-distribution, co-work, co-ownership. There, I met an unexpected formidable enemy, five bizarre grandmothers who haven't seen men in 20 years! Will Jae-cheol and Chung-soo be able to complete their mission safely against the formidable inner strength (?) of the five grandmothers who secretly force labor with innocent expressions!
Well-made comedy with unprecedented characters and episodes
Recently, Korean movies are in a rush for heavy movies based on true stories, but comedy that delivers laughter to the audience is still a popular genre. The movie <Mapado> quenches the thirst of the audience for comedy with unprecedented vivid characters and realistic stories in this market situation. It will bring a unique breath to the setting of a confrontation between grandmothers and two men in an isolated island village, and will give the audience a taste of the movie with an unexpected twist in an obvious situation, approaching the audience as a different well-made comedy.
The story of two gangsters working hard without pay by the bizarre grandmothers!
<Mapado> is a somewhat absurd and bizarre movie about two gangsters who enter an island called 'Mapado' in pursuit of the whereabouts of the lost money, but rather being ministered to by five grandmothers who live on that island. The friendly and warm being of a grandmother is portrayed as a bizarre and evil spirit, providing an upsetting taste that breaks the popular nature of the film. The process of assimilation of two men and five grandmothers as they collide with each other in cultural, generational, and gender differences will give viewers a sense of déjà vu and draw a familiar sympathy.
Lee Jeong-jin + Lee Moon-sik VS Yeo Woon-gye + Kim Su-mi + Kim Eul-dong + Kim Hyeong-ja
The best combination of characters in Korean film history!!
Lee Jung-jin, a young star who captured the hearts of women with his new charisma in <The Story of Cruelty>, met Lee Moon-sik, who was recognized for his comical acting in <Dharma, Let's Go to Seoul> and <Reconstruction of Crime>. Lee Jung-jin plays Jae-cheol, a gangster like a schoolboy, and Lee Moon-sik takes on the role of a detective for the first time to play Chung-su. Here, the five grandmothers, which form another axis of the film, are the godmothers of the cathode ray tube, Yeo Woon-gye, Kim Su-mi, Kim Eul-dong, and Kim Hyeong-ja, and present bizarre group characters that have not been seen in Korean movies. The meeting between two young actors who are full of acting and five older actresses creates the best characters that have never been seen in Korean movies.
A wasteland-like land is born as Fantastic Island Mapado!!
As the art director said, 'A Mapo set is only completed when the sun goes down,' the 'Mapado' set built on the edge of Dongbaek Village, Yeonggwang-gun, Jeollanam-do is truly fantastic. Under the concept of 'reproduction of the most beautiful everyday life', the mapo set production, which took about a month and a half and an investment of 500 million won to produce, was a huge task by making a whole village, including five houses of five grandmothers. They plowed fields and built a house on the bare land that could not produce a single shade, and the average person could not tell whether it was a set or a real village. The art team, who went around the village to find hand-stained props, and created a perfect fishing village with sweat and devotion, was of course Mapado's first hidden contribution.
Related Videos