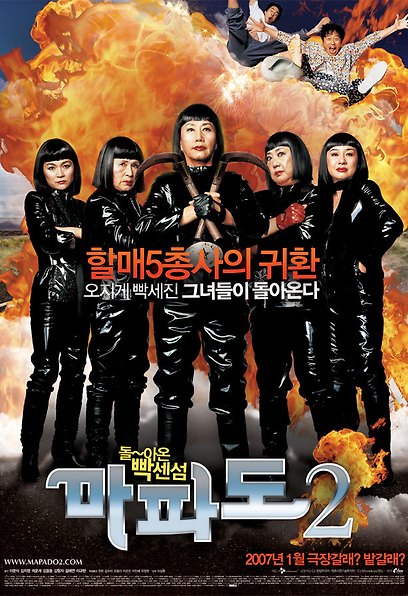 Mapado 2: Back to the Island, 2007
release

2007.01.18
genre

Comedy/Drama
country

Korea
ranking

Audience over 12 years old
running time

111 minutes
grade

6.5
cumulative audience

1407141 people
Synopsis
The more vicious, more crafty, and stronger the girls are back!
Scythe in one hand and GoStop in the other!
The return of the 6 musketeers of the scary Grandma Mapo!!
The man who rolled up a cigarette with a 16 billion lottery ticket and smoked it deliciously, Chungsu!
With the power of sickle and hoe, Mapo-do's Grandma 6 Musketeers devoured Seoul villagers!
they met again
Another opportunity has come to Chung-soo, who can't throw away the hot pot drink!?
Find the first love flower of the chaebol chairman Park Dal-gu when he was young! They board a boat to find 'Dongbaekseom', which is said to be alive, as a wretched old man, but a strawberry-nosed drunk driving captain and Gil Dong-moo Ki-young, who is vomiting all day, are in distress, and Chung-su and Ki-young wake up on a remote island. … there again! Mapado!!!
'Dongbaekseom' was the geographical name of Mapado, an island that is not even on the map! 'Mission Impossible', in which you have to find an innocent and pretty girl, 'Flower-nim,' among these goddamn grandmothers, is overwhelming… In the past, the grandmothers who used to treat two men who just rolled into the island one day, thinking that it was a blessing, this time they are going to win about six years' worth of field work in a one-hour 'hit' battle with a cooperative operation that is reminiscent of a professional hitter. It has become a master of some degree.
'Chairman's House', who was the only intellectual who knew Mapado's writing, was ignorant of dementia without measures, and 'Yeosu-daek', a powerful female lead, even joined the newly prepared cattle, and revived as an invincible general! 'Masandaek', who volunteered to be Mapado's sexy grandmother, is very good at taking care of her body, and every day in the yard, she is immersed in weird gymnastics. Even 'Jeju House', who always smiled even if he couldn't speak a word, became a legendary tazza and showed off his dazzling hand movements. In addition, the cousin of Jinandek's cousin, 'Younggwangdaek', who has always lived with swearing, boasts a wild, witty talk that makes Chungsu and Kiyoung's life difficult in Mapo…
Will Chungsu be able to safely find 'Flower'?
Pickaxe starts today… …
[Prologue]
"Why is this guy's bastard so entangled with the island?"
Chung-soo, who was swept away by the current, entered Mapo Island again!
"I've never seen such an unfair top in my life… "
My mind is on the go due to dementia, at the Chairman's House of Argarak!
"Are you the one who said that Neum ate our field raw?"
Younggwangdaek, a new face with strong speech!
"Oh, you bastard! What are you doing here again?"
A bad impression upgrade Yeosu's house!
"Omma, it's nice to see you here, even if it's ugly enough… "
Masan-daek stroking the buttocks!
"… … … (Eyes twitching~ Lightning-like hand movements~)… … "
Jeju-dak, where you can be honed by actions without saying a word!
"Aren't we going to go out when we come?"
Ki-young, a town villager who became a mapo at the same time!
"Hey, you motherfucker! What else did you eat here?"
Jinan-daek, where the outstanding wit is the same!
Their tight relationship (?) is not over!!!
【 About Movie 】
Their return, stronger than ever!
<Mapado>, which was released in 2005 and mobilized 3.1 million viewers across the country, achieved a box office myth with the originality of the material rather than the ticket power of a big star, the performances of delicious mid-level actors, and the highlight of the differentiated comic elements, returns with a sequel. While the Korean film industry is in its heyday for sequel films, various types of sequels are pouring in, from borrowing only the concept of the first part to a prequel that delves into the past of the first part. but with a stronger story, a character that changes over time, and a new face. What if 'Chung-soo', who was brutally beaten in the first part, goes to Mapo again? How and how many years have passed since <Mapo>, how and how have the bizarre grandmothers changed? This was the starting point of the sequel to <Mapado>. 'Mission' is more difficult than 'Finding the Last Order' in the previous part, and 'Grandmothers' has become more powerful. You are mistaken if you think that they are the grandmothers of the first part, who only crave for work because they will feed you and put you to sleep! They meet the women who have joined forces more cleverly, more viciously, and much more powerfully.
Outstanding synergy of good actors!
The grandmothers of <Mapado>, who were loved by the whole nation under the name of 'Mystic Grandma' – Yeo Woon-gye, Kim Eul-dong, Kim Hyeong-ja, Gil Hae-yeon, Kim Su-mi, and Lee Moon-sik, who had suffered from dung water bath to roasted chicken, are united again. And here 'Miss Bong' ([Rosy Life]) Kim Ji-young and 'Sam-soon's Boyfriend' ([My Name is Kim Sam-soon]), 'Pom-saeng-po-msa Jeong-pyo' ([Love Needs a Miracle]) Lee Kyu-han joined, <Mapado 2>'s casting power is truly limitless. The harmony of the various characters they create is an essential attraction of <Mapo 2>.
More than 70% of the movie was filmed in Dongbaek Village in Yeonggwang, Jeollanam-do, where more than 70% of the movie was set, and the actors who lived and worked there are also a perfect match. From the perfect breathing that reads the reaction of the opponent just by looking at their eyes, the ad-lib that creates unpredictable laughter, they control the belly button and make you laugh, but at some point, their acting, which makes your heart stiff, exceeds the expectations of <Mapado 2-Camellia Girl>. pull up at once
Very special cast members who visited Mapado!
In <Mapado 2>, various special appearances will appear, delivering unexpected laughter in the middle of the movie. Joo-hyeon appears in the role of 'Park Dal-gu', the chairman of the conglomerate, who provided an excuse for the incident that caused Chung-su to go back to Mapa-do, raising the drama's immersion with his desperate search for the 'flower-nim' that he wants to see madly. The face that appears as 'Madoros Park', the lawless captain of drunk driving, is Cho Hyung-ki. The laughter is suppressed by the drunken strawberry nose makeup, but in the movie, he fails to suppress the steam, and his boat is swept away by a storm, and 'Chung-su' and 'Ki-young' are stranded on the map. The appearance of him surviving with his tenacious vitality and doing his best to not hate Mapo's grandmothers is going to give a delicious laugh. In the various virgin days of the Mapo grandmothers, actress Lee In-hye, who is building solid acting skills through various TV drama activities, transforms into the role of Il-da, and each 'Living Iba-gu' comically recreates all of the past of the grandmothers, who are the masters of novels. In addition, announcer Yoo Jeong-hyeon appears in the role of a news reporter who delivers the news of Mapado vividly, and the extraordinary cast of <Mapado 2> challenges the comical that goes beyond the common imagination.
Mapo Island + @!
The moment we enter 'Mapado', we realize that it is a place full of unusual and strange things. The Mapo Set, built in Dongbaek Village, Yeonggwang, Jeollanam-do, right next to the sea, to revive the island feel 200%, includes 5 grandmothers' houses, a field where sickles and hoes are constantly shoveling, various seafood spread in the yard, goats and chickens raised dearly, And even the two new cows were perfectly made as an island village. The costume team colorizes the splendid fishing village landscape that the art team completed for deliberation, with the 'body fashion' of the colorful grandmothers. In real life, they are the most stylish 'stars', but the moment you set foot on Mapado, regardless of age or gender, there is only one outfit! It's just a floral pattern.
In addition, in <Mapado 2>, the camera goes back about 40 years and goes back to the virgin days of the grandmothers. The various pasts are revealed through the efforts of 'Chungsu', who digs into the youth of the grandmothers to find the 'flower-nim', and the various appearances that will unfold from the hanok village to the back street during the flowering period depending on the age of the grandmothers are a new viewing point unique to <Mapado 2>. will be
Related Videos