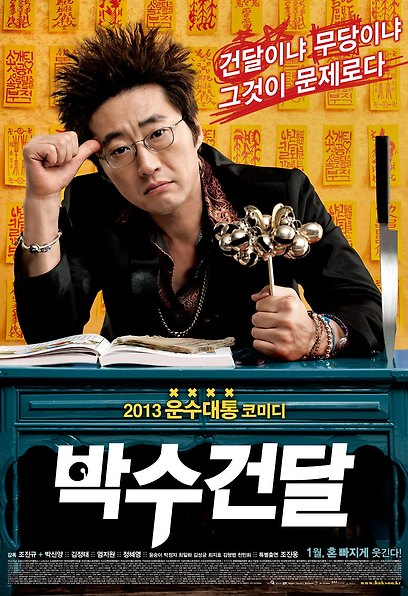 Man on the Edge, 2012
release

2013.01.09
genre

comedy
country

Korea
ranking

Audience over 15
running time

128 minutes
grade

7.5
cumulative audience

3897969 people
cookie video

One
Synopsis
Do you live as a gangster or as a shaman?
That's the problem!
Gwang-ho (Park Shin-yang) is an elite gangster who is trusted by the boss and loved by his younger brothers.
'That person' tackled his gangster life, who had been winning without envying others?!
Because of the fate line that changed in an instant after being struck by Tae-ju (Kim Jeong-tae), who was only looking for a chance to step on Gwang-ho.
Gwang-ho became a shaman by day and a gangster two-job man by night!
But the boss I respected said, if you sell it, you're not a thug, Ankana!
From a gangster who takes over Busan in one morning
Became a shaman with the best 'shinsak' in the eight provinces of Joseon!
applause:
[noun] [folk] male shaman
[Synonyms] Pansu, Bow shaman, Park Soo shaman
scamp:
[Noun] 1. A person who wanders around with nothing.
2. Playing idle or being lazy without doing anything. or someone like that.
[Synonym] thug, rogue, bastard
applause:
[Noun] A compound word of applause and gangster, it refers to a person who lives a double life as a well-known gangster, but turns his or her fate overnight and leads a double life as a shaman during the day and as a gangster at night.
[ About Movie ]
Exquisite and magical encounter! A fantastic compatibility occupied by God!
An unimaginable 'applause + thug' is coming!
Elite gangsters grabbing the floor of Busan! A 'him' tackle came out of nowhere in the life of a gangster who hates being sold more than dying?! The fortune-telling comedy <Applause Gangbang>, which will occupy the big laughs in 2013, pleasantly solves the dilemma of a man standing between a gangster and a shaman. Gwang-ho (Park Shin-yang), who is trusted by the boss and respected by his subordinates, is running on a solid road in life. However, after a dizzying accident in a power struggle within the organization, strange changes appear. In the end, Gwang-ho's daily life, who became a two-job man, a rookie shaman who flirts during the day and an elite gangster who flirts with a suit at night to survive, gradually twists and turns.
<Applause Gangbang> is set to open the new year with a big smile in the theaters in 2013, with an extraordinary character who goes back and forth between applause and knave, which has never been attempted anywhere before. As an elite gangster as the main character, the action is exhilarating, as well as a dizzying double life between two jobs that cannot be mixed, from being a shaman who worships the grandmother god during the day and becoming a gangster who takes control of Busan by commanding his subordinates with charisma and fists at night. provides fresh and refreshing fun to the audience. In addition, the drama in which a gangster who used to take control of an organization with a threatening fist and becomes a shaman who helps people by borrowing the power of 'He' will deliver a warm feeling. 'Applause' will be the most interesting character in Korean film history. With a character that has never been seen before, it is expected to make the audience laugh out loud in January.
Syndrome when it comes out!
Actor Park Shin-yang's full-fledged comedy challenge with acting skills + star qualities!
From sweet romantics shouting 'Baby, let's go!' to 'Move away! go away! Even the genius forensic scientist who created the 3-piece set. Actor Park Shin-yang, who causes a syndrome when it appears on the screen or on the CRT, is back. Actor Park Shin-yang bursts out with invitations for every work he chooses, including dramas [Signs], [War of Money], [Lovers in Paris], and films such as <Reconstruction of Crime>, <Let's Play Dharmaya>, <Promise>, and <Letter>. The work he chose as his first comeback to the screen in six years is <Applause. In addition, the fact that it is a comedy that is challenging in 12 years since <Let's Play Dalmaya>, which was released in 2001 and brought a storm of laughter across the country, is already attracting a lot of attention. This time, the role he took on is 'Gwang-ho', a two-job man who lives as a clown by day and a gangster by night. While continuing his life as a thug, Kwang-ho meets the person (?) in an unexpected accident. There is even more anticipation as to how Park Shin-yang will express the desperate crisis that came to the life of a gangster Gao who said he would die if he sold the side. Director Jo Jin-gyu, who directed <Applause Gangbang>, said about Park Shin-yang, "I imagined who the most creepy and suitable actor would be when he became a shaman among the male actors who fit the role of a gangster. At that time, the first actor that came to mind was Park Shin-yang." As if to respond to this, Park Shin-yang showed a natural acting that seemed to be possessed, and was praised by the staff as a god of acting. In addition, she is expected to bring a storm of laughter and image reversal by wearing her first woman's outfit such as colorful eye shadows, dark eyeliner, and bright red lips. From suit to makeup, actress Park Shin-yang came back with a big smile. Park Shin Yang-pyo, who gives infinite trust and trust, is full of laughter and anticipation is being raised whether <Applause Khandal> will once again evoke his syndrome on the screen.
Casting approved by the sky! All trends are here!
A total of actors with great energy to meet some acting scenes in Chungmuro are dispatched!
Actors with a crazy presence who completely take over the screen just by appearing were gathered in <Applause. Kim Jung-tae, who is active in various works with clever acting, plans to show the ultimate comic performance by acting as a rival 'Tae-ju', who has his eyes on for 24 hours to catch Kwang-ho's weakness. Uhm Ji-won takes on the role of 'Myeongbosal', a shaman who claims to be the mother of Joseon, Empress Myeongseong. As she usually has an arrogant and chic image, expectations are rising for her comical appearance in <Applause. Actress Jeong Hye-young, who is called a 'good angel' for her elegant and good image, chose <Applause> as her first movie. Jung Hye-young, who plays the role of 'Im-sook', a female doctor who not only has a pretty face, but also has an expression without changing a single expression and sews a gangster's hand, will form a strange love line with Kwang-ho, adding to the laughter and emotion. Kim Seong-gyun, who swept the Rookie of the Year award at the 2012 Film Festival, took on the role of Chun-bong, his right-hand man who guards Gwang-ho as passionately as he is ignorant. After showing a clear presence in <War Against Crime>, Kim Seong-gyun, who is currently one of the most attention-grabbing scene stealers in Chungmuro by taking the lead in <Neighbor>, is preparing a laughter bomb with his heart. In addition to this, all of the popular actors who are loved by the public for their unique performances such as Jo Jin-woong, Kim Hyeong-beom, and Choi Il-hwa will be dispatched to change the Korean comedy scene in 2013.
If you laugh, you will be blessed = If you watch <Applause, you will be blessed!
In January 2013, the only lucky comedy that will dominate the jackpot is coming!
A theater district in January 2013 with domestic and foreign works of various genres. <Applause> is the only comedy film that will open the new year cheerfully, and will reveal its presence. Park Shin-yang's comeback work, which depicts a double life as a shaman by day and a gangster by night, is a comeback work by Park Shin-yang, who is highly trusted by the public for his charismatic acting. Park Shin-yang, who goes back and forth between poles and poles, is expected to give a fresh smile with colorful costumes and makeup along with the comic instincts she has saved. Park Shin-yang's unique serious acting in the absurd case of experiencing a double life harmonizes with a comical situation to create even greater laughter. In addition to the savory performances of the strong supporting actors such as masters of comic acting, Kim Jeong-tae, Jo Jin-woong, Kim Hyeong-beom, and Choi Il-hwa, the talented comedy newcomer of director Cho Jin-gyu, who led the comedy syndrome in the Korean film industry in the early 2000s with <gangster's wife>, is making <Applause>. is holding up firmly. Director Jo Jin-gyu will once again become the king of comedy by melting his main specialty, brilliant action, and a laugh code that everyone can relate to in <Applause. From the material to the cast and directing, <Applause Brigade>, which has all the three elements of a hit comedy movie, is expected to become the first comedy movie of the year by occupying the audience with a burst of laughter in January 2013.
Related Videos