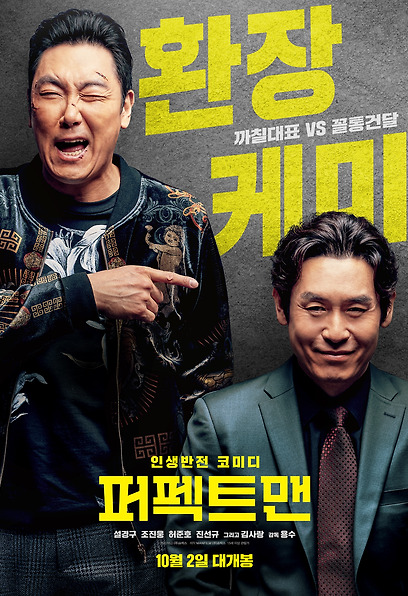 Man of Men, 2019
release

2019.10.02
genre

Comedy/Drama
nation

Korea
ranking

Audience over 15
running time

116 minutes
grade

7.0
cumulative audience

1240022 people
Synopsis
"If you live and die like this, 1.2 billion won, and if you die in an accident, 2.7 billion won.
If you help me with my work, I will pay the death benefit to you."
Young-gi, a gangster who dreams of a hot pot for a perfect life (Jin-Woong Cho)
He steals 700 million won from the boss of the organization and invests it in stocks, but he is deceived by a scammer and the stock becomes a piece of paper.
In front of Younggi, who has to save 700 million won somehow to save his life.
Jang-soo (Sol Kyung-gu), the representative of a tough law firm, appears.
'Longevity' with a two-month deadline is a condition of helping one's work.
Proposing a big deal to Young-gi with his death insurance…
The CEO of a law firm with a lot of money and a nerdy thug with a bit of form
The biggest twist in the lives of two perfectly different men begins.
[ HOT ISSUE ]
The most perfect meeting of 2019
Any genre! Acting Master Seol Kyung-gu X Trust Bobae! Character acting master Jo Jin-woong
Life-changing comedy is born with irreplaceable acting skills and perfect synergy
This is the most perfect meeting of 2019. Korea's best actors Seol Kyung-gu and Cho Jin-woong finally met through the life-changing comedy <Perfect Man>. Regardless of the genre, the fact that the two actors, who are considered to be the representative actors of Korean movies by showing their perfect acting skills, will show their first acting breath through <Perfect Man> is one of the top concerns.
Seol Kyung-gu, who boasts an amazing fandom enough to create a new modifier of 'Idol of Thousands' and an acting spectrum that is so wide that there is no character he has never played before, has mastered pupil acting through <Perfect Man>. In <Perfect Man>, he perfectly digested the 'longevity' character of two months' life, and he had to express all his emotions with facial expressions instead of barely moving his body. With his cynical expression and delicately expressed pupil acting without missing even a single glance, he realistically portrayed the strict and sensitive law firm representative 'longevity'. In addition, you will be able to confirm Seol Kyung-gu's reversal charm from the playful and erratic appearance that is presented as he meets 'Young-gi' and has a new experience in the harsh loner character.
Jin-woong Cho, an actor who believes and sees a lot of love from action, drama, and comedy to action, drama, and comedy, is foretelling the birth of a life-style character of all time. Jo Jin-woong, a master of customized acting perfectly integrated with the character, played an active part like a 'fish in water' through 'Perfect Man'. Jo Jin-woong, who took on the role of 'Young-gi', a nerdy gangster who catches a little bit of form, shows off his unique charm by perfectly digesting the character of the pompomsaeng-pomsa, who is full of excitement in everything. In particular, Jo Jin-woong, who said he was excited all the time playing the character of 'Younggi', will sublimate the comical and outspoken personality of a character full of courage who dreams of a life's bitterness with excellent acting skills and his own charm, proving his irreplaceable presence.
Seol Kyung-gu and Jo Jin-woong, who are raising expectations with such a perfect casting, showed fantastic synergy to the extent that their first acting breath was unbelievable. Jo Jin-woong said, "Sol Kyung-gu is my role model. <Perfect Man> is a work that made my dream come true because I met a senior I admire." Meanwhile, Seol Kyung-gu said, "Jo Jin-woong is a flexible actor. An actor who has a lot of things that I don't have," he said, praising his energy and agility. As such, the life-changing comedy <Perfect Man>, in which Seol Kyung-gu and Jo Jin-woong met and performed flawlessly, the best actors representing the Korean film industry, will come to theaters in October with a different kind of laughter where you can feel the pleasant energy of the two actors.
There is chemistry like this in the world!
A perfect man with a lot of money X A perfect man with a bit of form
Laughter and life's greatest reversal that started with fantastic chemistry
The big deal that bets the death insurance of 'Young-gi', a gangster who needs money to start his life, and 'Long-soo,' a law firm who needs time for a last life without regrets pay A 'longevity', who is so picky that he doesn't wear anything other than a suit and tie, proposes a big deal that puts death insurance on 'Young-gi', and a new chemistry that has never been seen before begins.
'Young-gi', a poor thug who only aims for one shot in life without having anything, receives an order of 150 hours of community service with one punch and goes to a nursing home. There, he meets a law firm president, Jangsu, who has a lot of money but lacks the time remaining after two months of life. 'Longevity' with a rough personality kicks out 'Younggi' with a colorful floral pattern style and pomade hair, which is a bit far from volunteer work. Two people who are proud of themselves, but meet every day to complete community service. On the other hand, 'Young-gi' throws away all 700 million of the company's funds invested in stocks without the boss's knowledge, and 'Longevity' thinks, 'Isn't that lump going to help me clean up the remaining 2 months?' do If you help me with my work, I will give you a huge death benefit. 'Young-gi', who had to make up for the money lost with stock, readily accepts the proposal and is as easy as it is simple, but thanks to 'longevity' who does the wrong thing every time, the two exude an unexpectedly pleasant chemistry. While sitting at the Lotte Giants team's Busan home stadium, cheering for the Nexen Heroes, and eating banana milk at the hotel pool, 'Young-gi' is puzzled by the unexpected behavior of 'longevity', but the appearance of the two as they become more and more assimilated is a surprising reversal of chemistry. shows The thrilling chemistry of the two, which will be presented by the sensitive boss 'Longevity' who bursts with arrogance and 'Young-gi' full of bravado, will provide an unforgettable pleasant laugh and a different kind of fun even after leaving the theater.
Chungmuro's representative actor with a perfect presence
From veteran actor Heo Jun-ho to box office fairy Jin Seon-gyu,
Actor Ji Seung-hyun, shining presence, Kim Sa-rang
Fill the screen with a reversal charm that cannot be seen anywhere else
<Perfect Man> attracts attention with not only Seol Kyung-gu and Jo Jin-woong, but also the representative actors of Chungmuro, who are known as the best in Korea. From Jun-ho Heo, who has been loved for his overwhelming acting skills, to Seon-gyu Jin, a popular actor, Seung-hyun Ji, who will master the screen after the CRT, and Sa-rang Kim, who has a different presence in the class, the best actors who have been recognized in different genres show perfect synergy that cannot be seen anywhere else. This doubles the fun of the movie.
Actor Heo Jun-ho, who has been taking unrivaled steps with his strong acting skills, adds to the tension of the decomposition play as the powerful organization boss 'Beom-do'. Director Yong-su, who wanted to create a charismatic character that overpowers opponents at once with atmosphere alone, came up with Heo Jun-ho as the 0th priority for casting. As if living up to these expectations, he played the role of a double-headed boss who wants to earn fame while working as a businessman with heavy acting skills, holding the center of the play. On top of that, Jin Seon-gyu, who has a thousand-faced face who can digest each character in a variety of genres regardless of genre, took on the role of 'Dae-guk', a pure-hearted gangster. Jin Seon-gyu, who has solidified his position as an actor through various works such as <Crime City> and <Extreme Job>, is foretelling a close chemistry with Jo Jin-woong, who plays the role of 'Young-gi' in this movie. In particular, the delightful scenes stemming from the close relationship between 'Young-gi' and 'Great Country', friends of 20 years, create unpredictable laughter through the perfect breathing of Jo Jin-woong and Jin Seon-gyu. In addition, Ji Seung-hyun, who received a lot of love for his passionate performance in the recently ended drama [Enter Search WWW], plays the role of 'Choi Ki-tae', the right-hander of 'Beom-do' and 'Young-gi''s junior. He made a strong impression on the audience with his thick acting in movies <Wind>, <Friends 2>, and the drama [Descendants of the Sun]. In addition, actress Kim Sa-rang, who boasts a radiant presence that is called 'a gift-like actress who joined like a miracle', will return to the screen after a long time to revitalize the movie. Loved for her unique intellectual image, she successfully led the play by taking on the role of 'Eun-ha', a well-to-do lawyer with strong convictions and imposing charms.
In this way, the lively characters, completed with the solid acting skills of the top actors representing Korea, enrich the play and heighten the anticipation for <Perfect Man>.
A romantic city for two men who want to become perfect men
From Haeundae to Busan Port Bridge to Hwangnyeongsan, everything in Busan location
The perfect meeting between 'Young-gi', a poor thug who has a lot of form, and 'Long-soo', the representative of a law firm with a lot of money, was completed more abundantly with the deep emotion of Busan, a city where the romance of the blue sea lives. The production team looked all over Busan and melted the extreme and dramatic chemistry of 'Younggi' and 'Longevity' into a beautiful landscape. From the night view of Haeundae where 'Younggi' and 'longevity' sip a drink, to Hwangnyeongsan Observatory where you can make special memories, Songdo cloud trail and cable car that compares the dangerous situation of 'Younggi', Suyeong Bay Yacht Stadium, Seomyeon Street, etc. The colorful Busan location captures the situation and emotions of the two men. In particular, Jo Jin-woong, a famous actor from Busan, admires it as "a newly discovered movie about Busan" and adds to the expectations for the Busan location, which contains the romance of 'Younggi' and 'Longevity' who want to become a perfect man.
In particular, the scene with the colorful Busan Harbor Bridge in the background was chosen by both the lead actors and the director as the most impressive shooting scenes. The beautiful night view of Busan Harbor Bridge effectively expressed the climax of the movie, creating perfect synergy with the fresh chemistry of 'Younggi' and 'Longevity'. Seol Kyung-gu, who plays the role of 'Jangsu', said that the filming of the Busan Harbor Bridge was "a feeling of being blown away" as one of his favorite scenes, and director Yong-su said, "I definitely wanted to include the rainbow-colored Busan Harbor Bridge in the movie, and I am satisfied." add anticipation Jo Jin-woong, who played the role of 'Young-gi', who was physically exhausted while filming the scene, also said, "It was a difficult filming to the point where I was sweating and my legs relaxed even in the cold winter weather, but I enjoyed it because of the coolness of the scene." As such, <Perfect Man> is a location in Busan that captures 120% of the film's unique atmosphere and emotion, providing a richer sense of joy to the audience.
Related Videos