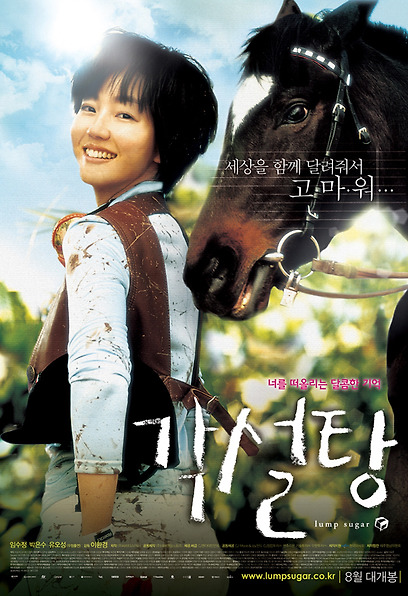 Lump of Sugar, 2006
release

2006.08.10
genre

drama
country

Korea
ranking

all spectators
running time

124 minutes
grade

9.0
cumulative audience

1265508 people
Synopsis
"Running with him, the world was mine"
Born and raised on a green ranch in Jeju Island, Si-eun (Lim Su-jeong) has been particularly fond of horses since childhood and is friendly with horses. In particular, their love for the horse 'Chundungi', who lost her mother as soon as she was born, is more special than anyone else. Because she also grew up alone without a mother, the thunder is like an alter ego to her.
Then one day, Cheon Doong-i is sold to another place, and the two end up having an unwanted breakup. Two years have passed, and Si-eun has been living in Gwacheon and dreaming of becoming a female jockey. In an accidental place, they fatefully meet 'Thunder', and the two recognize each other and meet again emotionally. With Si-eun's special guidance, Cheondungi gradually regains her skills as a racehorse, and the two participate in the 'horse race' together.
Si-eun was able to run to the end of the world with Thunder. Thunder who wants to make her dream come true together. Will they be able to create yet another miracle in the final race, watched by tens of thousands of spectators?
Based on the affectionate friendship between humans and animals for the first time in Korea
A sweet touching drama that will deliver sympathy and happiness to all generations.
<Sugar Sugar> is a moving drama about a girl who wants to become the best rider and a horse who wants to run for her together to challenge their dreams. The happiest memories and dreams of 'Si-eun' and 'Thunder' are drawn at the same time through the medium of 'Sweet Sugar', a snack that horses love.
For the first time in Korea, this work is receiving more and more attention as the subject of friendship between humans and animals. Rather than artificially drawing animal expressions or emphasizing the heroic aspect of the story through computer graphic work, he draws a greater sense of emotion through natural interaction between people and animals. This is because sometimes animals fill in the voids of people and they are beings with whom we can share greater friendships as a person. Thunder appears in front of young Si-eun, who was wandering after losing her mother when she was young, and shares a friendship deeper than blood. Through a series of processes in which they meet again fatefully after being separated for a long time and run for their dreams together, it will give you a heartwarming impression that has not been experienced in any other movie.
As in the case of <Marathon> and <Welcome to Dongmakgol>, which drew sympathy with a pure and moving story in 2005 and showed surprising box office power, it is a story about friendship between people and animals that all generations can relate to, with deep emotions and tears. , and <Sugar Sugar> that will give you a pleasant laugh. <Sugar Sugar> will be a sweet moving gift in today's harsh world, where friends to run the world together are rare.
'Lim Soo-jung', a promising screen prospect who will show a new leap forward in 2006
Showing off her bright and pure charm, challenge the role of 'woman rider'!
Next-generation screen prospect Im Soo-jung returns as a 'female jockey' who challenges her dreams by sharing friendships with horses.
The movie <Janghwa, Hongryeon>, which showed delicate but complex emotional acting in the form of a young girl, the drama <Sorry, I love you>, which created many 'missing people' with sweet and lovely images, outstanding emotional acting with a mature image Up to <Sad Movie>, where Lim was released, Su-jeong Im is an actress who is attracting attention by showing her own charm that cannot be found in any actress of her age. In particular, the role of 'Si-eun', a female rider in the new challenge <Sugar Sugar>, is a work that is enough to show her charm to the fullest with a customized casting that was worked with 'Im Soo-jung' in mind from the scenario stage.
Im Soo-jung, who changed into a short haircut and immersed herself in the role of 'Si-eun', began to learn various techniques, from horseback riding to learn basic postures to shooting a race scene for three months before filming. She also received special training from real female jockeys Lee Ae-ri, Lee Shin-young, and Lee Geum-joo. Also, acting and breathing with the horse 'Thunder', the actor who appears in the most scenes together, is also good. It is said that as much love was poured out while filming in Jeju Island, Gwacheon, etc. for 7 months, now it is said that the condition of Cheondungi can be known just by looking at it.
Im Soo-jung is taking a new step as an actress by showing her own charm in each work. In the summer of 2006, I think it would be good to look forward to her new look, which will show a fresh and energetic leap with <Sugar Sugar>.
<Sugar Sugar>, the first movie in Korea based on a horse
From the casting of 1000:1 to the unique staff on the set, the production process is a hot topic!
The production team paid attention from the casting stage to the acting of 'horse', which appears as the opposite of Im Soo-jung. This is because 'Thunder' had to play an important role, from shooting a powerful racing scene to expressing pure emotions, enough to achieve a 'two-top actor' with Im Soo-jung in <Sugar Sugar>. He went back and forth between Gwacheon, Busan, and Jeju to focus on casting for six months, and the current protagonist was selected in consideration of his physical condition, facial expression, and personality. The main character, who succeeded in the role of 'Thunder' through a competition ratio of 1000:1, is a Thorough-bred species with light movements and high speed.
From the racing scene to the emotional acting, it was also very noticeable that there were four more horses that looked just like thunder, as all the filming had to be done with animals as the main characters. In many cases, actors performed 'multi-player roles' in the works, but <Sugar Sugar> shows the performance of '5 characters, 1 role' as the main character is an animal. After the casting, Thunder's acting coach, KRA's head coach Hwang Kyung-do, was put in. As for the racing scene, the famous jockey Kim Hyo-seop participated as the racing director. At the site, a veterinarian and a person in charge of makeup for horses are always on standby, creating a unique scenery unique to the filming site of <Sugar Sugar>.
Beautiful scenery of Jeju Island with a green pasture in the background
Full of various things to see, including a spectacular racing scene that is attempted for the first time in Korea
Filmed all over the country from Jeju to Gwacheon, <Gak Sugar> is a variety of attractions with romantic scenery and magnificent and spectacular highlight scenes, from a panoramic view of Jeju Island, a ranch set in a green meadow, and a breathtaking racing scene attempted for the first time in Korea. full in here.
Located 650m above sea level in Mt. Hallasan, Cheonaoreum, Bukjeju-gun, the 60,000-pyeong ranch set was newly created with full support from Jeju Island. A cozy set that looks like a real-style house and stable has been created on the village communal ranch. The set, made in an environmentally friendly way, draws more emotionally the memories of a horse and a girl running freely in the meadow.
In addition, the first racing scene in Korea will be produced with the active support of the Korean equestrian society. All professionals were mobilized to present a high-quality racing scene against the backdrop of a 350,000 pyeong horse racing park located in Gwacheon. In addition to racing director Hyo-seop Kim, 22 real jockeys and 34 racehorses under special management appear. The heart-wrenching scene of Si-eun and Cheon-dung, which will be born with the enthusiasm and effort of the actors, production crew, and special staff, will mark the end of <Sugar Sugar> as an unprecedented scene that marks a mark in the Korean film industry.
Im Soo-jung, who became a horse expert during filming
learn to communicate with animals by heart
Lim Su-jeong, who had to show delicate emotional acting with animals that cannot speak words, became a horse expert to the extent that in early October of last year, she received a foal to play the child actor of her opponent 'Thunder' during filming. After spending ten days with 80 staff members to capture the moment when a wonderful life was born, she gave milk to the horse as soon as it was born and gave it the name 'Exceeding Millions', showing off her friendship.
By the time the shooting was over, he had completely mastered the 'relief', the language of riders and horses, and surprised the real riders in charge. For jockeys who compete on the racetrack by becoming one with horses, 'assistance' is a communication tool for perfect teamwork. As a jockey, Sujeong Lim naturally learned how to chant a slogan, and how to move the reins and foot movements so that the horse behaves accordingly. In this way, I learned how to speak and communicate by myself, and I was able to not only direct various scenes, but also show more profound emotional acting.
"When I filmed a scene where he was holding Thunder and crying, he accepted my feelings as if he knew my heart and comforted me like a mother. As long as I stood still and looked at me with those deep eyes, I could hold the thunder and cry with peace of mind. I will never forget the emotion of that time." – Lead actress Im Soo-jung
Im Soo-jung said that she realized how much emotion animals can give to people through this work. The affectionate friendship and sweet touching story between her and Thunder, who learned how to communicate with animals by heart, will give deep resonance to everyone, regardless of age or gender.
Instructing acting at an action school dedicated to horseman
100% real acting, not computer graphics!
The most difficult thing about making a movie was finding words to play the role opposite Im Soo-jung. An animal that can be more friendly than a person, a horse with enough acting ability to express the affectionate friendship with that animal was needed. A total of 34 horses were mobilized for the filming of the film, including those that can be used for filming at any time. Thanks to his outstanding appearance and gentle personality, 'Thunder', who was selected through a competition ratio of 1000:1, was a foal that was about 2 years and 6 months old, and had no racing experience. Accordingly, the production team invited the best expert 'Chief Hwang Gyeong-do', who has been cultivating racehorses for many years, and began to strengthen the basics. Through swimming and walking machines, he strengthened his basic stamina, such as cardiopulmonary function and physical strength, and received adaptive training in order not to be afraid of the camera. In the racing scene, 'Jockey Kim Hyo-seop' participated and gave direct guidance, and he was able to produce various scenes by rehearsing several times as if action actors were working together. Thunder's appealing gaze acting, which received the highest score at the time of casting, shone even more as filming began. Thunder showed delicate facial expressions without CG, and with the help of four horses of similar appearance, he perfectly digested the spectacular race scene as well as the horseback scene.
Find the best filming location in Korea!
The 7-month long journey from Jeju Island to Gwacheon
The filming of <Sugar Sugar> took place mainly on Jeju Island and at Seoul Racecourse Park. Among them, Hannam Ranch in Jeju Island, where Si-eun, the main character, spends her childhood, built a set on a village communal ranch near Cheona Oreum, Bukjeju-gun. The two-story wooden house of 50 pyeong and the magic room of 70 pyeong built on a communal pasture area of nearly 60,000 pyeong (the size of Mt. Baengnokdam in Hallasan) was born with a fantastically beautiful visual in harmony with the natural scenery of Jeju. In addition, for the first time in Korea to shoot a scene of a horse running through the city, we got permission from the city of Jeju and started filming while blocking the 8-lane road in front of Jeju City Hall. This scene is a scene where Thunder recognizes Si-eun (Im Su-jeong) and runs away, and it was born as a moving reunion scene in the movie that conveys the sad feelings of the main characters who are crossed between hundreds of cars.
Meanwhile, the space in which Si-eun develops her dream of being a jockey in earnest was filmed at the Seoul Horse Racing Park. With the active help of the KRA (Korea Horse Racing Association), various spaces of the horse racing park of 350,000 pyeong, such as Gyeongju-ro, Yes Market, Massachusetts, Horseman's Waiting Room, and Maju Grandstand, were used, and all filming was carried out without making a separate set, adding a sense of realism.
New attempts and challenges are endless!
The passion and effort of the producers who made the impossible possible
The famous scene that the production team of <Sugar Sugar> is proud of is the running scene. In particular, the night race scene at the end and the horse horse scene during the game are meaningful in that it is the first attempt in the history of a domestic film, but it is even more meaningful in that it was completed as a great scene by showing new techniques and challenges.
The production team constantly challenged the limits under the question, 'How many meters can Jimmy's house come when the horse sprints?' For this work, he trained horses and cameras to adapt, while also inviting experts who were in charge of stunts for the movie <Hero> to ask for advice. We commissioned a shipbuilding company to manufacture special equipment for filming, and the trailer was equipped with Jimmy's zip and a camera, and 4 to 50 staff ran together to film. Sand was evenly spread on the floor of the trailer to maintain the weight of the trailer, so that it would never shake even when running at a speed of 60 km/h. After several rehearsals, he finally succeeded in running as close as 1m, and was able to capture the feeling of the scene more vividly. This technical effort was a preparation process to further emphasize the drama, and for the ending night race scene, the storyline was revised 350 times over 6 months and meticulous preparation was carried out. The production team of <Sugar Sugar> focused on capturing the emotions of words and poetry rather than using special techniques.
On the other hand, the scene where Si-eun's colleague, which is considered another famous scene, was shot while an actual racehorse was running, and it was a dangerous filming that could lead to death if done incorrectly. All were able to finish filming safely without any accidents.
In addition, 10,000 extras who participated as spectators in the stadium and 60,000 spectators who took part in the shooting on the day of the actual horse race were added, so you can feel the shouts of the scene intact in the movie.
jockeys specially made for the movie
A total of 30 sets were produced through a complete historical examination.
The costume that the production team paid the most attention to is the jockey suit worn by Im Soo-jung, who challenges female jockeys. It is characterized by a cinematic expression of colors and patterns within the limits that do not deviate significantly from the world's clothing regulations, while maintaining function and safety by thoroughly examining the costumes worn by actual riders. It was specially made with the finest fabrics airlifted from Italy to run against the resistance of the wind. In the case of a safety vest (protector) to be worn in case of a safety accident, it was designed to be half slimmer than it actually is for shooting, but to maintain its function. In this way, a total of 30 jockey suits were completed, including the costumes of fellow riders.
In addition, it is noteworthy that the main character Si-eun's costume is based on yellow. Director Lee Hyeong-hwan said that as <Sugar Sugar> deals with the relationship between a girl and a horse, he wanted to convey the soft feeling of a chick that everyone enjoyed buying and touching when they were young. Therefore, when Si-eun was a child, she conveyed warmth by wearing a yellow sweater outfit, and when she grew up as a rider, she mixed yellow and blue colors to convey an enterprising feeling with a pattern that burns like a flame.
Tip – About 'horses'
look
1.5 to 1.7 m tall and 400 to 500 kg in weight.
It has large, round eyes and long straight legs. It has excellent eyesight and hearing, and the color of its fur varies depending on the breed, from white to brown to black. The tail is short, but the hair on the tail is long and has a gracefully hanging shape. It also has a mane with long hair from head to neck and back.
food
As herbivores, they mainly graze on grass and eat hay or grains when raising them. When grazing, they walk slowly and graze a handful of grass every few steps. Favorite snacks include sugar cubes and carrots.
Personality
Although he follows humans well and has a gentle personality, he has a strong sense of competition and is often stubborn in Gyeongju. In the case of a racehorse, it runs at a speed of 77 km/h, which varies depending on training. In the case of males, when several animals gather in one place, they immediately fight for rank, and the strength is divided into ranks.
Tip – Terms related to 'race'
horseman
Athletes who ride a race horse and participate in the race are called 'flower of horse racing'.
After entering a jockey training center with certain qualifications and completing a jockey training course for a certain period of time (2 years), he acquires a jockey license and makes his debut as a jockey.
jockey
A silk or nylon jacket worn by jockeys when riding in a race.
In the case of foreign countries, it is called Maju double color because it is for identification of Maju, and the original double color is registered with the Majuga horse racing enforcement body.
the horse owner
In horse racing, the owner of a racehorse running in a race.
In foreign countries, people who have high social status and value honor often meet with each other, and it is considered 'the glory of the family' to win a competition with a good horse. Therefore, in the case of foreign countries, Maju requires strict social, social and moral high dignity.
trainer
He is the general manager of horses, jockeys, and horseman in the same position as the supervisor of general athletics.
The winning strategy is devised through analysis and research of Gyeongju by directing the riding operation, establishing an assistant plan, and directing and supervising the breeding management.
horse manager
He forms a team with the instructor and is in charge of breeding and managing the racehorse as a hidden worker in the race.
Thorough-bred
Usually referred to as a fully purebred racehorse. It is a breed of horse that was improved for racing in England, and it is very fast and has very strong stamina. In order to be recognized as a thoroughbred, it must be proven that it has been produced by crossbreeding of thoroughbreds for eight generations.
general race
A regular race held on a racetrack every week.
target race
A large-scale festival-type race in which races are organized with high-level racehorses.
Yes Market
A place installed around the viewing platform so that the horses can show their line before the race starts, in order to observe the horse's health and gait to refer to the selection of expected horses.
Monquita method
Riding posture on a racehorse. A method of riding in a posture with the upper body leaning forward with a short step on the stirrups, the hips and the seat slightly off the saddle. It has low air resistance and is advantageous for speed.
Julie Krone
Julie Kron, the world's best female jockey. So far, she has been the envy of all female jockeys with a record of 3,666 wins, unprecedented among female jockeys.
violet
when i first met you
You were a little girl and violets in your hair
you smiled and told me
I want to fly far away like a bird
when i meet you again
You were very skinny and sweat drops on your forehead
you smiled and told me
Even the smallest things bring tears to my eyes
when i last saw you
You are so peaceful and the distant gaze beyond the window
you smiled and told me
I want to stay awake even in the middle of the night
Dongjin Cho
Related Videos