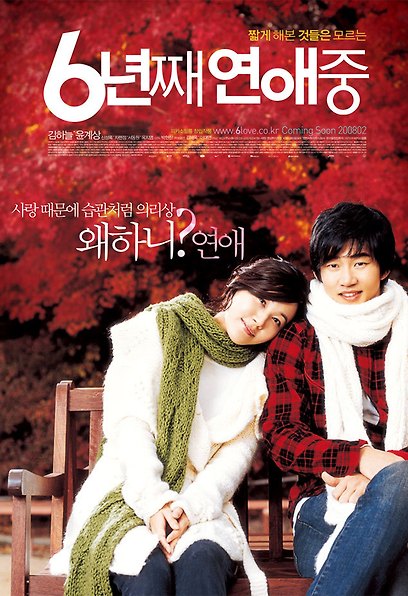 Lovers of Six Years, 2007
release

2008.02.05
genre

Romance/Melodrama
country

Korea
ranking

Audience over 15
running time

112 minutes
grade

7.5
cumulative audience

1112238 people
Synopsis
All about Dajin and Jaeyoung's sometimes hot and sometimes intense love affair!
6 years of dating! I love you, don't you have money? Substantial Neighbors!
There is a clever couple who have the know-how of one stone and three sets of excellent economy, privacy, and public enjoyment (?). Just by hearing footsteps or looking at your eyes, pretending is fine! Two people, 'Jaeyoung' and 'Dajin', who are in a position they like each other, start dating for 6 years with a wall in between. Enjoy the beautiful night view from the veranda, two beds that are more cozy than a motel, and even sanitary napkin errands right away!
6 years of dating! All conditions were met. Now all that's left is Happy Ever After?
Dajin, the best-selling planner who made a love guide based on his long-term dating know-how, is trying to catch both work and love with his 30-year-old team leader in front of his nose. There is nothing to envy of home shopping PD Jae-young, who is also an expert on love counseling for friends who are trembling. Their shining life is only running on the road to victory!!
But… Will the chemistry between the fantastic couple continue to be hot next year and in the years to come?
Everything about love that I knew but didn't realize,
The hot and intense love affair between him and her will be revealed this winter.
[ Prologue ]
How is your relationship in 2008?
Everything about love that is sometimes in love and often vomits <Dating for 6 years>
Between reality and the ideal, or a dream of a dream, and a love affair with life…
Everyone falls in love and experiences love, but
In <6 Years of Dating>, there is a romance in life that even hundreds of dating guides did not tell.
In the early days of dating, it was good to just look at them because they had bean pods in their eyes, and it was not enough to say 'I love you' too many times.
We get used to each other little by little and we secretly sell our eyes,
It is a time when love is ripening in the midst of giving and receiving wounds, but turning back and saying 'I'm sorry' in front of the other person's tears.
And, after spending a lot of time together and being so comfortable with each other, the stage where they become like air.
'Am I invisible?' "Don't breathe through your mouth, breathe through your nose"
Even if you spit it out without thinking about the other person's feelings at all
The 6th year of dating, where the belief that it will not significantly infringe on the stable relationship between the two is like insurance.
In <6 Years of Dating>, I loved passionately at times, believed in me without any measures, and gave and received hurt until I went.
It is a story of a couple whose love affair is still common in their daily life.
This is the story of you and me living in the 21st century.
Korean standard men's and women's life-closed real love is now open!
[ About Movie ]
Love, another name for love that has become life
Everything about real love in the ever-changing life that you don't know about the things you did briefly
<Dating for 6 Years> is a love story. It's not a pretty and lovable relationship, but it's our love that smells like a human being, sometimes quarreling and getting hurt, even if it's just a single word. This is the love story told by <Dating for 6 Years>, the deep love story of us living in the present, which countless love theory books and romance movies did not tell us. This is what makes this movie so special from other movies. This movie truly and honestly shows the reality of real-life love stories that live and breathe in a life that is never unusual or special, and that anyone can truly sympathize with and view the common occurrences of everyday love.
The film captures in detail the insensitivity, indifference, and sometimes even the physiological phenomenon of love, which has become a daily routine that fits the concept of a deep yet comfortable expression of affection and life-adhesive type that can never be understood. In addition, they do not miss the moments of unavoidable fights, temptations, and conflicts during the long dating period. Rather than fictitious fantasy and embarrassing laughter, <Dating for 6 Years> tries to communicate more closely with the audience, reflecting our intimate and intimate love like a mirror.
Korean standard couple, you and I start dating
Kim Ha-neul + Yoon Kye-sang, fall in love with a tough and tough love!!
Two young stars, who are currently receiving the most attention in the Korean film industry, were born as a standard Korean couple through <Dating for 6 Years>.
Like Dajin and Jaeyoung in the movie, the chemistry created by the two actors, who are 29 years old, made the characters in the movie vivid and tangible. Kim Ha-neul, who played a character with realistic worries and sensibility of her age for the first time since her debut, completely throws away the exaggerated image in romantic comedies that she has shown in previous works, and is a woman who walks a tightrope between work and love at the age of 30. show realistically.
Yoon Kye-sang, who is solidifying his position as a full-fledged actor from an idol star, also volunteered to be a standard man in Korea, and played the role of Jae-young in the play to fit his body. Yoon Kye-sang, who exhilaratingly portrays a man in his 20s who is moderately snobbish, moderately pure, and honest without malicious intent, will no longer be an idol of girl fans, but will become a new dark horse the Korean film industry has been waiting for.
The two actors, who casually spit out naked lines to each other like real life, and expressed their affection without hesitation, realistically show the troubles that both men and women in Korea have experienced and evoke sympathy. It will be one of the great pleasures of this movie to check the more mature acting transformations of the two actors, who showed a natural appearance with the perfect breathing.
Well-made romance with truth and sincerity
Shows everything about mature romance with a sincere love story
<Dating for 6 Years> is coming, which will give deep sympathy to the audience who are tired of exaggerated and pretentious romantic happenings. <Dating for 6 Years> depicts the romance of our generation, but shows a sincere love story that is not light at all. In the video that captures the subtle emotional flow of a woman and a man who are engaged in love, the delicate sensibility of a contemporary female director is well melted. It contains everything about standard love that has matured through sincere emotions and realistic situations.
The two actors and directors, who were both 29 years old at the time of filming, discussed and shared vivid experiences of their romance for a long time and melted them into the film.
I want to be promoted on time and achieve success in my work, but I am now settling for a comfortable life and the realistic appearance of a 29-year-old woman who suffers from pressure from juniors from below, and struggles between a desire to settle for a stable relationship and a relationship that is creaky and regretful. <Dating for 6 Years> is different from the shallow romance of the past because the reality of dating a man who wants to work is portrayed truthfully.
[ Production Note ]
A report on the quality of love in Heaven + Gye-sang that meets first with numbers
3 The average weight of all staff members increased by 3kg thanks to the actors who said that they air every day!
The filming site of "Dating for 6 Years" was rumored to have a lot of food to eat, so the filming team next door also went on an expedition. It is also true that Kim Ha-neul, Yoon Kye-sang, family and fan club joined together to help the staff gain weight by airlifting a variety of foods from ice cream to pizza and even handmade jean every day!
At the beginning of filming, Kim Ha-neul gifted all the staff with a vitamin supplement with the words "Love the staff ♡ Love the staff" as a gift. The family of Yoon Kye-sang, who airlifted pizza and chicken to the set, and Kim Ha-neul, who was responsible for the staff's ice cream every day, and the fans who waited for 5 hours at the filming site to deliver late-night snacks to the site! It is said that the staff had to go on a diet after filming was over thanks to the two actors who made the staff's stomachs full as if competing with various menus.
29 Kim Ha-neul, Yoon Kye-sang, and Park Hyeon-jin are 29-year-old 'Official Couple for 6 Years'
On the set of <Dating for 6 Years>, the biggest mood makers are Kim Ha-neul, Yoon Kye-sang, and Park Hyun-jin! As soon as they met, the 29-year-old became close as soon as they met an old friend again, and for this reason, the three of them on set were even called 'official couples for 6 years'.
Throughout filming, Kim Ha-neul said that 'Dajin' was too pitiful, Yoon Kye-sang, who advocated for 'Jae-young', and director Park Hyeon-jin, who had to mediate between the two, continued their passionate friendship throughout the filming. Even on days when there is no shooting schedule, Kim Ha-neul visits the scene and monitors Yoon Kye-sang, who is the second to appear in the movie, showing the skill of acting seniors, while Yoon Kye-sang guards the filming site all morning and encourages Kim Ha-neul. . Thanks to this, it became easier for the directing department staff to manage the schedule. I didn't have any worries about the lead actor's schedule…
18 vs 15 18 for filming, 15 for editing?
<Dating for 6 years> has everything about the romance of those who have been dating for 6 years. Therefore, their natural skinship is a must-have course! Da-jin and Jae-young's daily skinship of 6-year-old lovers on the sofa was the scene the director was most worried about. Da-Jin and Jae-Young, who knew the current state of their relationship, had to show a love scene that was neither hot nor intense. As a result, Yoon Kye-sang and Kim Ha-neul talked for a long time with the director and captured the feelings and atmosphere of Da-jin and Jae-young, as well as the feelings of long-time lovers. As a result, the atmosphere of the filming set when filming began was hotter and more passionate than any other 18-karat gold film. It is said that there were jokes that 'You were 18 years old to shoot and 15 years old to edit' at the scene.
2 Kim Ha-neul + Yoon Kye-sang living in two houses full of charming charms
Did Kim Ha-neul and Yoon Kye-sang start living in two houses? Da-jin and Jae-young, who are brazenly and confidently managing two houses in <Six Years of Dating>, go back and forth from time to time and are cousins with a wall in between. The set, built to suit its neighbor, provides another attraction with a pretty interior that will arouse the resilience of the staff.
The pink-toned house full of neat and cute props and the blue-toned Jae-young house that shows Jae-young's sports-loving taste well served as a haven for the staff throughout the filming, and was praised as a 'house I really want to live in'.
In particular, when the set was demolished, it is said that there was a line of visits by female staff to comfort them with a commemorative photo…
Which house was more popular?
896 Kim Ha-neul + Yoon Kye-sang's past is revealed in 896 photos!
Photos are the living witness of long-term love! Dajin + Jaeyoung's six-year time in one piece, so a photo that will hang somewhere in their house. A whopping 896 original photos were taken to make that photo. Photos from the early days of dating when they were young, their first trip, birthday parties, and their numerous anniversaries were enough to show Kim Ha-neul + Yoon Kye-sang like a real lover. One of the photos synthesized in this way was exposed online, and an unexpected incident occurred when Kim Ha-neul and Yoon Kye-sang were dating. Without a doubt, they were the best couple that got along so well.
∞ Counter impossible! A cable car shooting incident where you stayed up all night while floating in the air!
The production team moved to Namsan Cable Car for the cable car scene, which is mainly treated as a place of memories of Dajin + Jaeyoung. However, the filming permission suggested by the city of Seoul was only three hours, so the production team, which prioritized filming, moved the filming location to Sangam Observatory without any consideration. And although the filming proceeded quickly, the number of times the cable car operated at the Sangam Observatory on that day exceeded the usual number of times a month, and in the end, the counter reached the point of being impossible. The reason was that the two cable cars were stopped in the middle of the cable and filmed. Although the cable car was hard, thanks to it, we were able to capture good scenes, so the director and actors had a good time riding the cable car without a circle.
2:3 Kim Ha-neul-sik's special soju ratio between ice and soju! The side dish is chicken soup!
For <6 Years of Love>, Kim Ha-neul drew out her cooking and drinking skills that she had never seen in her previous works. For a private dinner with her boyfriend Jae-young, Da-jin prepares a chicken soup, but Jae-young, who is having dinner with her, does not answer the phone. A life know-how that 6 years of dating taught me that I can have a good time alone if I don't have a boyfriend. On the Rock Soju, filled with ice in a glass and filled with soju. After filming this scene, on the rock soju became fashionable among the staff who watched Kim Ha-neul drinking soju in a delicious way.
[ Behind Six Years ]
The love secrets of heaven and heaven, explored with three keywords
one! friend
It is indispensable when talking about love, in which a man and a woman meet and form a close relationship with each other.
That part is 'friends'. Even in <6 Years Dating>, the friends who share Da-jin and Jae-young's love story every once in a while are Mi-young (Ok Ji-young) and Min-jae (Seo Dong-won). The two have been friends since college, and since they were once lovers, they serve as dating counselors for Da-jin and Jae-young and provide a different kind of fun while stimulating them. The Mi-young + Min-jae couple, who shared Da-jin and Jae-young's ever-changing love story, is the number one contributor to Da-jin + Jae-young's six-year relationship.
two! family
Dajin + Jaeyoung's six-year love affair was possible thanks to the full support of their families.
For Da-jin's mother (Kim Hae-ok), who lives alone and runs a table tennis court, Jae-young secretly cleans the table tennis court and repairs water pipes, and is loved by her mother-in-law. In addition, Jae-young's mother provides material support including gift certificates to Da-jin, her prospective daughter-in-law. This is a passage that shows that in order to continue dating for up to six years, close interaction with family members is necessary.
three! obstacle
There are bound to be obstacles, more or less, in a six-year love affair, which includes prenatal battles and aerial battles. Among them, the appearance of an attractive reason to threaten the opponent is a risky factor that is insignificant for six years. Jin-seong (Shin Seong-rok), a charming man who is kind and thoughtful, and Ji-eun (Cha Hyun-jung), a bright and attractive woman, are the main characters. Ji-eun, who has a witty and honest heart without malice, makes Da-jin's heart flutter with a youthful and lively charm different from Da-jin, and Jin-seong, who is caring and considerate, moves Da-jin's heart with a different depth than Jae-young. Watching whether Dajin+Jaeyoung's love affair with Dajin + Jaeyoung will become stronger with the appearance of those who threaten their six-year relationship is also a factor that makes <6 Years of Love> more exciting.
Related Videos