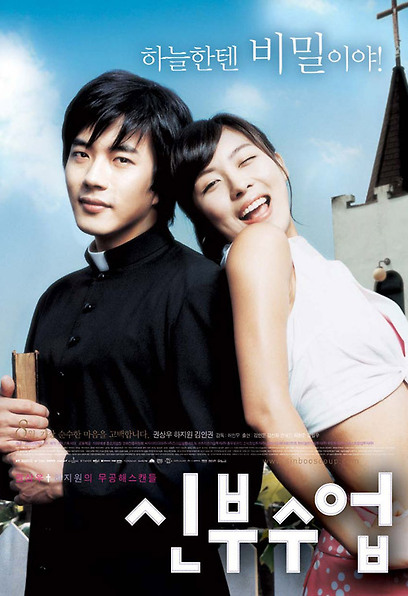 Love, So Divine, 2004
release

2004.08.05
genre

Comedy/Romance/Melodrama
country

Korea
ranking

Audience over 12 years old
running time

110 minutes
grade

6.9
cumulative audience

675521 people
Synopsis
After summer, the bridal class is complete!… But!!
A first-class seminary student Kyu-sik's bridal class is progressing like a sail in the wind. After a month, it is the long-awaited ordination of the bride. "Our Lady, it's only a few days left…" Even for a brief moment, Kyu-sik, who had a major accident breaking the precious chalice consecrated by the Pope, becomes the protagonist of a disgraceful 'Spiritual Reinforcement Training' along with Seon-dal, a seminary student!
To lose your first kiss to her like a time bomb!
The place where he received the 'Spiritual Reinforcement Training' was a small church on the outskirts. However, the strange male priest who has a tool closer than a bible, a mischievous Sister Kim, and the troublemakers in the neighborhood are not feeling well… The next morning, an unexpected event occurs in front of Kyu-sik, who was praying in the morning with a reverent heart. Stop chasing after a drunken sleeping woman… Losing her first lip!
Mission Impossible, which fell to Gyu-sik!
To make matters worse! After all, 'she' is the nephew of the church priest. After Kyu-sik's bewildered clarification, it was her (Bong-hee)'s fist that flew away! The big-headed woman who crossed the Pacific after running away from home in search of a lover, sits down in the church and lights up her twin wicks to Kyu-sik in every event. Not only does he test Kyu-sik's patience as an ignorant, he does not hesitate to do sexy things, such as tanning in a bikini at the cathedral. I'd rather pay the price proudly. The task given to Gyu-sik, who asked for punishment, is, oh my god! She is too afraid to get close to her, asking Bong-hee to be baptized. Lord, how can you give me such an ordeal!
An unpredictable encounter between 'the man the sky loved' and 'the woman who gave up even the sky' begins!
If not successful, the ordination of the bride is over. With the help of Seon-dal, a seminary student, Kyu-sik begins a step-by-step operation, but Bong-hee's protruding behavior like a time bomb leads Kyu-sik to a thorny road. An unpredictable meeting between Kyu-sik, 'The Man Loved by Heaven' and Bong-hee, the 'Woman who gave up even the heavens'! Can a model seminary student Kyu-sik break through Bong-hee's indiscriminate tackles and become a priest safely?
The bride-to-be vs the bride-to-be
A model seminary student who has decided to become a priest early with a strong belief in God, and a cheerful and dignified girl who has never been near a cathedral. What will happen if two people who do not need to meet and do not need to meet meet in a space called a cathedral? <Bride Lessons> is a film that started from such a simple curiosity.
For Kyu-sik, who dreams of being a good bride of God, and Bong-hee, who dreams of marrying the man he loves, the other is an unexpected obstacle that hinders his goal. The meeting of the two, mismatched from the beginning, transforms a quiet cathedral into a hot battlefield.
The movie <Bride Lessons> is a work that tells the story of two people who discover completely different sides of each other in such a clash with pleasant laughter and heartbreaking emotions.
The main character, Gyu-sik, who finds the truth of the world only in the Bible and keeps the rules of the seminary like his life, accepts the truth that lives and breathes in the world of Bong-hee with his heart, not his head.
An unpredictable meeting between a man whom Heaven loves and a woman who has also given up on Heaven.
Gyu-sik, who thinks that the only word he has ever said to a woman is Jinro, and who knows that there is only one kind of soju, and Bong-hee, who cannot distinguish between holy water and water, enjoys chewing communion with wine, and thinks the rosary is a necklace.
The pleasant episodes and pleasant humor created by the two protagonists, like water and oil, will present a bright smile on the faces of the audience who are tired of the heat.
A huge scandal that will brighten up 2004
Rendezvous with the best young stars Kwon Sang-woo and Ha Ji-won!
<Bride Lesson> is a film that became a hot topic even before filming just because it was the first work that Kwon Sang-woo and Ha Ji-won, who have emerged as icons of the times across dramas and movies, met. The two best stars chose Lee Gu Dong-seong's solid screenplay and attractive characters as the reason for choosing the movie <Bride Lesson>.
Kwon Sang-woo, who boasts a youthful and fresh masculine charm on the screen, accepts the Bible as law and truth, and tries another acting transformation by breaking down into a model seminary student Kyu-sik who can't get rid of bad thoughts for 5 seconds without accounting that day. Female audiences will once again be fascinated by Kwon Sang-woo's pure charm hidden behind his strong and cute appearance.
In addition to this, the best actress Ha Ji-won boasts the strongest casting. Ha Ji-won, who is ranked 0 in the cast due to her excellent acting skills and various appearances such as eight colors, is immersed in the character as if she was wearing a custom-made dress for the role of 'Bong-hee' in the movie <Bride Lesson>.
Bong-hee, who recklessly escapes from the United States at night to marry the man she loves, and sits down at her uncle's church, overpowers Kyu-sik with her bubbly charm and outstanding wit.
Bong-hee's two appearances, weak in love and strong in front of Kyu-sik, will captivate audiences with a movie like a comprehensive gift set where you can see Ha Ji-won's wide range of performances in both comedy and romance.
Forget the troubled bride! A fun and lighthearted, seminary student's first love!
The love of the priests who appeared in dramas and novels has been portrayed as difficult and painful to break taboos. However, the movie <Bride Lesson> throws away the heaviness of the subject matter and comes out in front of the audience with a cheerful and lively feeling.
The reason why the movie <Bride Lessons> was able to portray the unconventional subject matter more brightly
This is because, away from the clichéd and superficial view that the love of a priest is a painful thing to break the 'taboo', he fixed his gaze on the real freedom and exhilarating joy that anyone in the world can feel only when he 'loves'.
A model seminary student, Gyu-sik, who unintentionally lost his first kiss to Bong-hee, burns with the feelings of anger he felt for the first time in his life because of Bong-hee's reckless personality, but little by little he discovers her charms.
The breathtaking first love of a seminary student who doesn't know what he likes and can't tell if it's jealousy or hate.
The sight of Gyu-sik, a seminary student who has never loved only God, and Bong-hee, who is more lovable than God, gives a refreshing laugh and leaves a deep impression at the same time. Kyu-sik's triangular relationship between God and Bong-hee will stimulate the curiosity of the audience and make them look forward to the release date.
Catholicism's unique splendid space and unique sights
A dazzling wedding ceremony held in a cathedral where sunlight permeates through multicolored stained glass, a sacred ordination ceremony to offer chastity to God as a priest, and an exhilarating choir performance that shakes the shoulders. In the movie <Bride Lessons>, Catholic ceremonies that have never been seen before are splendidly unfolded with the beauty of the mysterious cathedral.
Sacred spaces such as the liturgy room, priest hall, and confession room that were normally seen by Catholics are used as places where Gyu-sik and Bong-hee meet, providing unexpected fun.
Daegu Catholic Theological Seminary, where the old-fashioned cathedral is located, Gyeongbuk Waegwan Naksan Cathedral, which gives warmth with nature-friendly design, and the magnificent Gothic-style Suwon Gwonseon-dong Cathedral are treasure-like places that the production crew traveled around the country and built near Naksan Cathedral for the main shooting. The 'Priest House' set will also infuse pleasant vitality to the audience who are tired of the hustle and bustle of the city.
Another fun not to be missed!
A choral performance scene where you can check the dancing and singing skills of Kwon Sang-woo, Ha Ji-won, and Kim In-kwon. For this one scene, the three actors showed enthusiasm to practice singing and dancing a month before filming. In addition, the music and sophisticated choreography made with great care will provide a variety of pleasure to the audience.
Related Videos