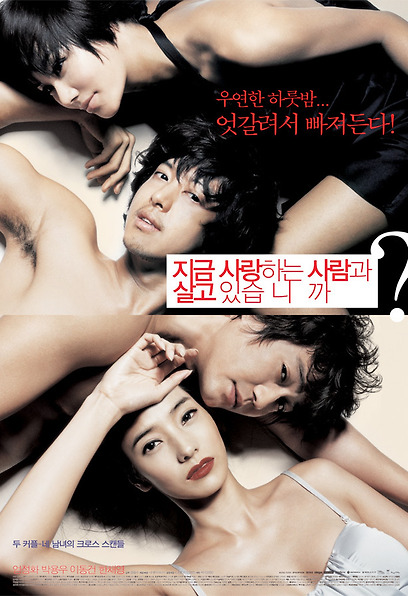 Love Now, 2007
release

2007.08.15
genre

drama
country

Korea
ranking

Youth not allowed
running time

116 minutes
grade

7.2
cumulative audience

1042955 people
Synopsis
Do you believe in unchanging love?
Young-Jun (Lee Dong-Gun), who works as a director of a successful construction company, and So-Yeo (Han Chae-Young), who runs a lighting shop, are a young and handsome couple! Well, I am a couple without a thrill, living only as husband and wife. A confident fashion consultant Yuna (Uhm Jung-hwa) and a friendly hotelier Min-jae (Park Yong-woo) are a pretty couple like friends! However, after 4 years of dating and 3 years of marriage, the love that was very hot is gradually withering away.
After 3 years of marriage, I found the love I want!
Saw-Yeo meets Min-Jae like fate in an unfamiliar Hong Kong! Yeong-jun has a provocative quarrel with Yuna, who came to work as a fashion consultant! So-yeo is shaken by Min-jae, a man who sees her inner self that neither her husband nor her know, and Yeon-na, a woman who always smiles but has a hard life, is trampled on by her. That night, two hotly staggered couples – four men and women spend a dangerous night…
The cross scandal of the two couples that burns hot even after they know as much as they know and do as much as they can.
There is no fair play in love!
Want! this love…
[ Prologue ]
know love,
making love,
And ask those who dream of love!
you now,
Are you living with someone you love?
If you want to live with the person you love, don't get married. But if you happen to get married, be prepared that the romantic feelings will soon disappear. One day, a new fluttering heart may come to your empty heart without passion. The movie <Love Now> tells the story of two couples, four men and women, who became a problem because a chance meeting developed into love rather than just a wish. If it's just an affair, two situations come to mind. One is 'dilemma' and the other is 'unpair'. The director wanted to maximize the dilemma and minimize the unpair in this film. So, the card I chose is cross love! These four men and women are unintentionally but dangerously entangled, and are both perpetrators and victims at the same time. They don't know… they know everything. This is the climax of the dilemma. Betrayed and beaten by betrayal at the same time. In the end, either everyone is alone, or no one is left alone. It is the minimum of unpair.
So the more precise question of Are you living with the one you love now?
"Are you still dating the person you are living with?" am.
– director. Jung Yoon-soo –
[ About Movie ]
1/ Uhm Jung-hwa, Han Chae-young, Park Yong-woo, Lee Dong-gun: Four Top
The scandaler's unconventional charm showdown <Love Now>
"Glamorous or sexy, wild or provocative, dangerous or attractive…"
The movie <Love Now> is an unconventional casting of four top brands – Uhm Jung-hwa, Han Chae-young, Park Yong-woo, and Lee Dong-gun
It is the first movie where you can enjoy and enjoy their charms on one screen.
<Love Now> is a glamorous but fragile atmosphere that makes you feel easily hurt; Han Chae-young, who exudes a strange charm due to the clash of refined images and deviant energy hidden in it; Park Yong-woo, who shows delicate and romantic eyes; Lee Dong-gun's fantastic chemical reaction, which radiates the charm of
The group gathered under the name of 'love', like fate that came after marriage, will present a special ecstasy of <Love Now> that is thrilling, hot, and heartbreaking to lovers who visited the theater in the summer of 2007.
2/ A fantasy-like romance film of those who dream of love <Love Now>
"Will love come to me too?"
A husband like a friend, a charming wife. Beautiful space, rich life. And even sweet affair! The movie <Now Love> is a movie that contains everything that everyone dreams of.
Their exciting love unfolds against the backdrop of colorful and sophisticated Seoul and Hong Kong! Even you, who have been waiting for an unexpected romance in the desolate city, will be filled with premonitions for love this summer the moment you watch <Love Now>.
3/ Romantic and erotic, love and affair, fate and choice…
<Love Now>, a film that will become a hot topic in 2007 due to controversy and topic
"It's not a mistake, how can you say it's a mistake?"
Two couples – four men and women – from an accidental one-night love that turned into a dangerous cross scandal.
What is the meaning of love for them? What happened to them?
What kind of dates do they enjoy, and what choices will they make? Is their way of love right? The full-fledged high-quality adult movie <Love Now>, which will be the hot topic of 2007, ambitiously unfolds a special love that will thrill the Republic of Korea.
4/ 2007, Fashion Trend NO1 <Love Now>
"You are everything at this moment, I love only you at this moment,
I love this moment madly."
Seoul and Hong Kong, fashion and interior, music and travel… The movie <Love Now> is about the lives of four couples,
It is a movie that is like the best gift to stimulate the interest and desire of the audience through a job or a date. The trendy costumes, sets, and locations in the movie's big cities in Seoul and Hong Kong vividly capture the moment when the four main characters fall in love late, and amplify their love energy. Just looking at <Love Now>, which provides a sophisticated spectacle that reveals the passionate love and fate of those who are just starting out in real love, will make the audience's heart pound.
Related Videos