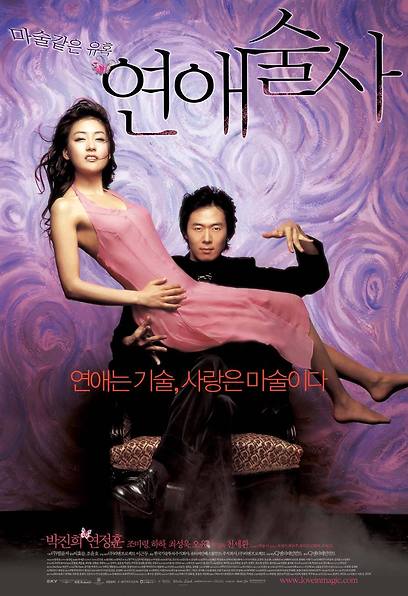 Love in magic, 2005
release

2005.05.20
genre

Comedy/Romance/Melodrama
country

Korea
ranking

Audience over 15
running time

106 minutes
grade

6.8
cumulative audience

1014372 people
Synopsis
My life is perfect for work and love! By the way, your ex is visiting, why are you here?
Hee-Won (Park Jin-Hee), a 21st-century virtuous woman who is a tough art teacher by day and a sexy ballroom by night. She was satisfied with the active proposal of Jun-seok, who has a very good title of being a good plastic surgeon, with a good appearance, and took care of her facial expressions! However, he hears shocking news from his ex-boyfriend Ji-hoon, a flirt who wants to forget, that a video of his love play at the motel at that time was on the market. Hee-won, unable to forgive them for stealing their private life, strengthens her determination and proposes to catch the criminal.
There is no job failure in my dictionary! But, one mistake and now he's retired?
Ji-hoon (Yeon Jeong-hoon), a male magician with a coveted appearance and special work know-how that makes full use of the profession of a magician, throws a sweet stone into a woman's chest every time and disappears coolly. While meeting Hyun-joo and having a hot night as usual, he receives a startling phone call from manager Dong-seon. That is, part of the night he was wallowing around magically floats on the Internet. Ji-hoon goes to tell the circumstances of the incident to his ex-lover Hee-won, who cannot help but trace the old memories while even the woman's name is vague. Despite Heewon's marriage threats, he reluctantly went to find the origin of the video, but the motel pilgrimage with a different meaning (?) starts to make unexpected events one after another.
Related Videos