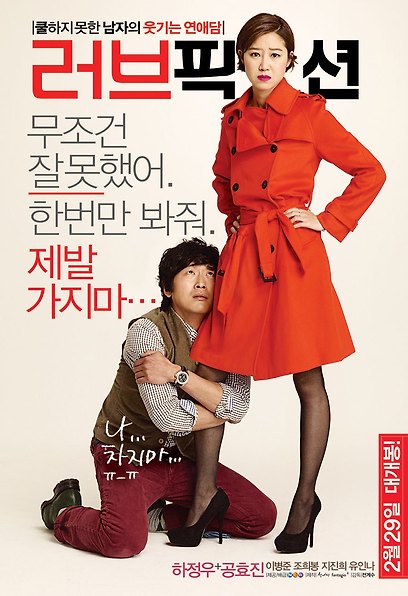 Love Fiction, 2011
release

2012.02.29
genre

Romance/Melo/Comedy
country

Korea
ranking

Audience over 15
running time

121 minutes
grade

6.8
cumulative audience

1726227 people
Synopsis
Even though all my past love ended in failure, love is still valid
Gu Joo-wol (Ha Jung-woo), a 31-year-old novelist who has never been in a proper relationship in her entire life, has been searching for the perfect woman. Hee-jin (Gong Hyo-jin), a beautiful woman who is blinded by his eyes, appears in front of him while he is searching for a muse with a powerful image (?) who will be the source of creation and the light of life.
My love, if it's for you, I think I could jump into an exploding volcano
The love affair with her has finally begun! Joo-wol seems to be willing to sacrifice his life for her. I am just happy with the boiling love and overflowing creativity. However, as time goes on, her bizarre hobbies, tastes different from mine, and the past that she hates to admit, Heejin's flaws that she thought would only be perfect, start to bother Joo Wol one by one…
"However… Let me ask you one thing. How old am I?"
This man who is not cool from one to ten,
Will I be able to overcome all obstacles and succeed in the love life I've been dreaming of for the rest of my life…?!
[ Prologue ]
The sharp memories of the first kiss
I have completely turned the direction of my destiny
I am deaf to the sound of your fragrant words
Blinded by the flower-like face
you were an exclamation mark for me
I was the end for you
The weather is nice! did
I rented a car
You're kind of sad today! did
I immediately blew up a 3 piece set of low quality dances.
You are sometimes a question mark
What is love? did
I replied that it was the fear that accompanies your absence.
What are your countermeasures against global warming? did
I replied that the whole human race lives in the nude.
– Captivated by the perfect muse, Hee-jin (Gong Hyo-jin),
Leaving her prisoner 'Joo-wol' (Ha Jung-woo)
[ About Movie ]
Love, whoever has done it knows! 100% real empathy love story!
A 'real' love story that applauds and empathizes is coming!
<Love Fiction> is a story of an uncool love story in which Joo-wol, a novelist who has never been in a proper relationship at the age of 31, who has been searching for the perfect love, meets Hee-jin, the perfect woman of his dreams. ' This is not a fantasy romance or fantasy, but a film that contains realistic love and love that 'everyone has experienced and worried about at least once'. While most romantic comedies depict the process of two men and women meeting and falling in love, <Love Fiction> is the climax of a love affair that no one but him or her can see, and that love gradually fades away. It depicts the entire process of love, which can never be cool, even the slightest misunderstandings and quarrels of the moment. The appearance of a man who goes all-in, sometimes cutely, sometimes like a fool, to meet the woman of his ideal type who has been drawing her whole life and win her heart represents all of us who are in love and gives a sympathy full of laughter. And in the second half of a relationship, when love starts to cool down and hurts each other with thorny words as if they have become a different person from the beginning of the relationship, it stimulates a stronger sympathy that anyone who has ever experienced a relationship nods their heads. .
In addition to that, the comic romance <Love Fiction> adds to the edgy laughter that comes from the appearance of the characters that represent the most individualistic and romantic tendencies of men and women in Korean romance history, and the feast of vivid, rustic lines that they pour out. <Love Fiction>, which makes you laugh and shed tears with a realistic love story that stabs the lungs while maintaining a pleasant feeling, is a heartfelt love story and at the same time a 'very funny romance movie' that you have never seen before. It will deliver fresh fun and empathy to the audience. .
Birth of 'Men Bridget Jones'! A full story of romance and love that unfolds from a man's point of view
Women are curious about his inner feelings, and men are sympathetic to my love affair!
Until now, the narrator and protagonist in the romantic comedy genre has been dominated by women. There are many different ways to unravel a romance, such as finding a fateful love or struggling at the crossroads between friends and lovers, but most of them have a female protagonist at the center, and the drama unfolds after her emotions and gaze is the standard of romantic comedy. has been lost For this reason, the realistic love story of 'Bridget Jones, a man' who dreams of love, love, and perfect love from the first-person point of view of the male protagonist taken in <Love Fiction>, but is frustrated in the face of the uncool reality, comes as fresh as ever.
The feeling that your heart will explode when you meet your own perfect muse, the struggle to not miss her, and the upheaval of emotions that cool down rapidly compared to her slowly warming up! <Love Fiction> realistically depicts the whole process of love through the perspective and gaze of a man. From the timidity that ends with an awkward laugh alone in response to the response, "Men think these things are interesting," returning to the story of circumcision that she couldn't overcome due to the awkwardness of the first date, she pretended to be resolute about her past and shortcomings, but in the end, she reveals her inner feelings at the decisive moment. The realistic psychological depiction of a man with a burning back is added to the playful narration of the novelist 'Joo-wol' in the play, adding to the fun and immersion.
<Love Fiction>, which captures the real misunderstandings and prejudices men have when they love from the point of view of an ordinary man living in Korea, rather than the prince on a white horse in the existing romantic comedy, is an exquisite matchup and sympathy for male audiences and sympathy for female audiences. It will provide a golden opportunity to give a cool answer to the question, 'Why do men do this when they're dating?'
Ha Jung-woo and Gong Hyo-jin, from advertisements to the national long journey '577 Project',
And the special relationship that led to <Love Fiction>
Fantastic lover breathing between representative acting and box office actor Ha Jung-woo and 'Gongbli' Gong Hyo-jin!
Lotto winning casting! Their new acting transformation that has never been seen before!
Ha Jung-woo and Gong Hyo-jin, who work together as men and women with different temperatures in love. It is the best casting that can never be seen again, and it is expected to catch the audience's attention with a perfect acting ensemble that stems from the extraordinary relationship that led from the advertisement for beer [Max] to the movie <Love Fiction> and the documentary on the long journey to the country [577 Project]. Ha Jung-woo and Gong Hyo-jin, who naturally exchanged unscheduled ad-libs while filming the advertisement, met again with the movie <Love Fiction>, leading a friendly atmosphere throughout the filming and showing a more perfect acting chemistry. Above all, the meeting of Ha Jung-woo and Gong Hyo-jin, who first worked together in a movie through this work, has already gathered hot topics and expectations from the casting stage, and their ensemble of lovers in <Love Fiction> will be a special viewing point for the audience.
From <The Chaser> to <National Representative> <The Yellow Sea> and <The Client>, Ha Jung-woo has established himself as Korea's best performing actor with his perfect acting skills as well as successive box office successes in every work. Ha Jung-woo, who has played mainly masculine and charismatic characters on the screen until <War on Crime: The Golden Age of Bad Guys>, which is running on the box-office path amid hot acclaim, challenges her first comic romance film through <Love Fiction>. He is trying to transform his acting into a lovely yet extremely realistic 'love man'. Ha Jung-woo, who has digested the image of a man who is inexperienced and not cool in dating, and the realistic psychology of a man in love with excellent acting skills, creates the illusion of watching a man in love, and even has a lovely charm through comical acting. In addition, he completed a unique character that only Ha Jung-woo can digest.
And after the drama [Pasta], Gong Hyo-jin, who became the queen of romantic comedies with the nickname 'Gongbli' through [The Greatest Love], appeared as a charming woman of fate to fall in love at first sight in <Love Fiction>. and captures even the heart. Gong Hyo-jin, who returned to the screen with a chic and urban charm that is different from her youthful and bubbly appearance in her previous work, is a cute and candid character in love through <Love Fiction>. It shows a deeper charm with the aspect of a mature woman. In addition, it will show a high synchronization rate with the characters with a distinct personality and presence, and present a perfect ensemble with Ha Jung-woo, further enhancing the fun of the movie.
A No Cool man who dreams of perfect love but is not cool from one to ten
A realistic so cool girl who knows the sweetness of love and the bitter taste of love
A vivid character complete with lines of rustic murder! Birth of a candid comical romance!
"Let me ask you one thing. How old am I?", "You, thirty-one."
The most decisive role in enjoying the differentiated fun and empathy of the movie <Love Fiction> is the vivid and realistic two male and female characters who show different attitudes to love. In particular, the lines of murder that they pour out complete the character's personality and at the same time provide the audience with an unforgettable and unique fun.
In the early stages of a relationship, 'Joo-wol' is a man who starts a love affair like an active volcano that is about to explode after being enveloped in uncontrollable feelings of love, but the illusion is broken with the passage of time and eventually hits the wall of reality. He easily profess that his love will never change, but all of a sudden, he counts everything from the market cap of gifts to the number of sleeps, fights and tears. He is a man who is not cool from one to ten. The lines and narration used in written language like a novelist such as "Even though all of my past love ended in failure, but love is still valid" and "For you, I can even jump into an exploding volcano" In addition, it makes the character of Ha Jung-woo, who is selfish in love, more interesting and immersed in his own misunderstandings and prejudices.
On the other hand, 'Hee-jin', a woman who knows about a man who is passionately courting her, but pretends not to know, and struggles with a reaction that she doesn't know, is a cool woman who maintains her own dating temperature, unlike Joo-wol, who fluctuates several times a day. am. Knowing well that the reason for love is not an immortal feeling, he said, 'Why do you like me?' Hee-jin, a woman who doesn't flirt with questions. In addition, her lines that pierce the chest of male audiences, such as "Men do seem like such a fun thing" and "You seem to be very comfortable in love," emphasize the charm of the cool character, and at the same time, play with a realistic side that contrasts with Joo-wol. add fun to <Love Fiction>, which contains realistically the different appearances and honest psychology of two men and women who deal with love and romance, and delicious lines that represent them, will give you a special experience with a cool laugh and a lingering aftertaste that makes you think about 'My Love'. .
There is a 'novel' in the movie!
A new type of frame composition completed with unique directing and mise-en-scène!
Actors' special one-person, two-role character challenge!
In the movie <Love Fiction>, along with the real love story of Joo-wol (Ha Jung-woo) and Hee-jin (Gong Hyo-jin), another special love story unfolds with them as the main characters. That is, <Love Fiction> is taking a new form of frame-type composition in which another story in the film appears, which is unusual. The framed story unfolds in the actors' passionate performances of one person and two roles, increasing the concentration with a unique editing that exquisitely matches the way and point of view of the transition from film to novel and from novel to film. In particular, Joo-wol's novel scenes are like images and mise-en-scène reminiscent of past black-and-white movies or classic noir films, showing individuality and original charm that cannot be seen in recent films. And acting adds a different kind of fun.
On the other hand, the framed composition in <Love Fiction> doubles the freshness in that it is nothing other than a 'movie' in the movie, but a 'novel' created by the main character, Ha Jung-woo, through his current love psychology and worries. The novel 'Madame' in the movie begins with Joo-wol, who suffered from the pain of creation, after meeting Hee-jin, the ideal type of her life, and she gets a motif from her, who has a unique taste to grow armpit hair unlike other women. A detective who falls in love with a criminal who lost his memory in an accidental car accident develops interest and compassion for her hidden story. Also, unlike other framed works, in <Love Fiction>, the actors took on even the characters in the novel and played two roles. First, Ha Jung-woo took on the role of 'Detective Ma' in the novel, Gong Hyo-jin played 'Kim Hye-young', the criminal he fell in love with, and Joo-wol's ex-girlfriend Yoo In-na's novel 'Lady Mother's current girlfriend, Gyeong-suk'. appearing as Focusing on the fact that the situation itself is in a novel rather than reality, 'Mrs. Madame', where you can meet the unique transformation of the actors in the exaggerated yet unique visual beauty, provides a different laughter with an atmosphere that is contrary to the overall reality-filled movie.
<Love Fiction> is a unique frame composition that combines a film and a novel, and a different editing method, which adds to the fun of watching, and at the same time, you can meet the various characters and performances of the actors in two roles. The fresh challenge of <Love Fiction>, which has never been seen before, will allow the audience to taste another essence of a lively comic romance.
Chungmuro's 'trends' gathered in one place!
Charming Ji Jin-hee, [The Greatest Love] Yoo In-na, <War on Crime> Evil prosecutor Kwak Do-won
<Blind> Jo Hee-bong, [Secret Garden] Lee Byung-jun!
<Love Fiction> provides more fun with the appearance of top stars such as Ji Jin-hee and Yoo In-na, as well as talented supporting actors such as Kwak Do-won, Jo Hee-bong, and Lee Byung-jun, who have strong acting skills and strong personalities.
First, Ji Jin-hee and Yoo In-na, who supported <Love Fiction> as a friendship appearance, provide fun that cannot be missed with their strong presence. Ji Jin-hee, who made herself a loyal appearance in this work due to her close friendship with Ha Jung-woo, appeared as 'Joo-ro', the older brother of 'Joo-wol' and preparing for a Catholic investigation, causing laughter at every decisive moment and energizing the film. Ji Jin-hee, who takes off her serious appearance and appears as a timid character as the main character 'Joo-wol', delivers a pleasant laugh with an unexpected charm that can only be seen in <Love Fiction>. In addition, Yoo In-na appears in this work as an ex-girlfriend who is tired of Joo-wol's unique dating style and announces the breakup. Yoo In-na, who appeared as a rival with Gong Hyo-jin in the drama [The Greatest Love], provides a different kind of fun with her strange relationship, appearing as Ha Jung-woo's girlfriend with Gong Hyo-jin in <Love Fiction>.
On top of that, actor Kwak Do-won, who recently emerged as the best scene stealer in Chungmuro by showing his crazy presence as a bad detective in the recent <War Against Crime: Age of Bad Men>, is close to Gong Hyo-jin in the drama, <Director Hwang>, who directed <The Crossroads Theater Murder Case>. ' and captures the eye once again by digesting the scene of a strange nerve battle with Ha Jung-woo with the natural force emanating from the deep smoke inside. In addition, Jo Hee-bong, who received attention for his characterful acting through the drama [Deep Rooted Tree] following the role of a detective full of humanity in the movie <Blind>, took on the role of the life senior of 'Joo-wol' and the president of the publishing house. It leaves a deep impression. And not only movies, but also the musical [Beauty is Suffering], as well as the artistic director of the recent drama [Dream High], and the impressive 'Park Sang-moo' in [Secret Garden], a masterpiece that plays an active role in various fields, from CRTs, screens, and even the musical stage. Actor Lee Byung-jun. In <Love Fiction>, he appeared as a love coach reflecting Joo-wol's ego, and took on the role of a multi-man, multi-man, who appears when Joo-wol, who is falling into a love fever, needs to worry. The performances of the supporting actors in <Love Fiction>, which shine even more with the addition of friendship appearances to the unique and delicious luxury acting, will add to the charm of the movie and give it a lot of fun.
[ Production Note ]
Ha Jung-woo "It was so much fun that I fell backwards while laughing"
Gong Hyo-jin "It was a really amazing scenario, as I've heard about it"
The protagonist of the scenario that fascinated the actors! It begins with the real love story of director Jeon Gye-soo!
In <Love Fiction>, director Jeon Gye-soo completed the script based on his actual dating experience, and he wrote the script by reflecting on his dating experience as a real model for 'Joo-wol' in the movie. Through this, <Love Fiction> was able to be completed as a story that anyone who has ever been in a relationship can relate to and a work that conveys a fresh sympathy as if witnessing the love stories around us. Director Jeon Gye-soo, who received favorable reviews from audiences and critics for his imaginative ideas and unique style through his previous works, wrote a screenplay for a long time to tell a real love story that touches reality, different from the obvious romantic comedies full of fantasy A new comedy romance was born. As such, <Love Fiction>, which was born through a total of five years of work and hard work from planning to production, has received high expectations from the film industry from the screenplay stage to high perfection and witty fun. In addition, as soon as Ha Jung-woo and Gong Hyo-jin read the scenario, they said, "It was fun enough to laugh and fall backwards" and "It was a really amazing scenario as I heard it", adding reality with natural and realistic acting and characters. <Love Fiction>, which concentrates on director Jeon Gye-soo's realistic story from trivial episodes to lines and situations one by one, will captivate the audience by multiplying empathy with the vividness of hearing the love story of me or those around me.
Korea's first location in Finland
Exotic landscape of 'Alaska' reproduced in Finland
In order to maximize the appearance of Gong Hyo-jin, a native of Alaska, and above all, the exotic scenery of the scene that decorates the movie's ending, the production team chose 'Kusamo', located in Finland, as the optimal location after much deliberation. 'Lapland' refers to the northernmost point of Europe including Finland, northern Scandinavia, and Russia's Kola Peninsula. Among them, 'Kusamo' is located not far from the Russian border and is famous for trekking courses. Filming on location in Finland was chosen because it was able to create the most suitable climate and atmosphere to express the actual Alaska, and it was the first time in Korean film history, and it was unusual even in Kusamo, where filming outside is not frequent. For this reason, news about the location shooting of the <Love Fiction> production team was reported in local newspapers. However, the staff of <Love Fiction>, who had a hard time filming because it did not snow during the filming of <Love Fiction>, despite being in an area where there is usually a lot of snow, requested help from the only special team in Finland, and went from Estonia to Finland. The filming was possible thanks to the support of the local special effect team who had been running for 8 hours. Like this, <Love Fiction>, which pursued something special even to one overseas location, will provide a wealth of fun with a realistic and realistic love story plus exotic attractions.
Korea No1. Guitarist 'Park Joo-won' & Hongdae goddess 'Taru'!
A feast of gems from the best artists!
Even the topical song 'Alaska', written by director Jeon Gye-soo, is a special pleasure to listen to!
Director Jeon Gye-soo, who showed a unique musical aesthetic in the musical fantasy <Samgeori Theater>, captivates the ears of the audience with colorful and high-quality songs in <Love Fiction> with the best music staff and top musicians. Above all, Park Joo-won, who is famous as a gypsy guitarist and has a new record of sold out solo concerts as a guitarist, participates in the <Love Fiction> OST and draws attention. In the title opening, the main theme song 'Love Fiction' with a fresh melody flowing over the image of Ha Jung-woo running out of the house due to the pain of creation and wandering the streets, followed by 'Hipa Woman', 'Sweet amore', and 'Contrast'. Joo-Won Park composed and performed the song himself. His dazzling yet cheerful, sometimes deep and heavy guitar melodies leave a deep impression as they change from moment to moment to match the love psychology of Ha Jung-woo and Gong Hyo-jin. And the song 'Inside of me', featuring the emotional voice of singer-songwriter Taru, famous for the Hongdae goddess, appears in the second half of the movie, and will stimulate the consensus of the audience by capturing the changed emotions of the two main characters.
On the other hand, 'Alaska', which is a song in the music video that Ha Jung-woo created for Gong Hyo-jin, is impressive with witty lyrics and a unique melody. This song, which had already provided special fun with lyrics written by Jeon Gye-soo from the screenplay stage, was created with the sensuous composition of music director Kim Dong-gi, who has been working with him since <Samgeori Theater>, to create the most impressive and comical scene in the movie. As such, <Love Fiction> will add to the audience's suction power with a feast of various gems, from light performances to romantic melodies, and grand classics to witty songs, following Ha Jung-woo's fluctuating love psychology toward Gong Hyo-jin. .
Related Videos