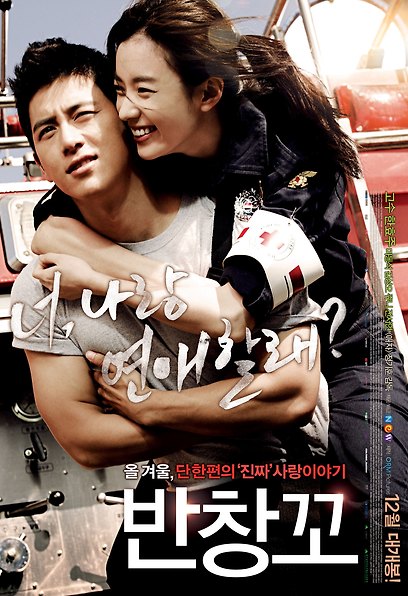 Love 911, 2012
release

2012.12.19
genre

Drama/Romance/Melodrama
country

Korea
ranking

Audience over 15
running time

120 minutes
grade

8.2
cumulative audience

2475797
Synopsis
'Go-su', a tough man, 'Han Hyo-joo', a woman who hits him
A good day to save people, we met!
Firefighter Kang Il (Ko Soo), a firefighter who sacrifices his life every day to jump into the scene of the incident, but keeps the scars of not being able to save his wife.
Mi-su (Han Hyo-joo), a doctor who speaks and behaves freely every time, pretending to have no wounds or love, but is in danger due to one mistake.
By chance, 'Misu' works as a '119 Rescue Team Volunteer', and for the first time opens her heart and actively approaches Kang Il, who is in the same rescue team. 'Misu' uses all means to attack 'Kangil' with affection. And Kang Il, who has been consistent with her harshness, begins to open his heart little by little.
Firefighters save lives, end the day in a pleasant way, and prepare for another tomorrow in the dizzying scene of a gas explosion as well as a car crash. In a fierce battle between life and death, 'Kang Il' and 'Try' who live while saving the lives of others but cannot take care of their own wounds.
Will they be able to put bandages on each other's wounds?
In December, a story more 'hot' than love begins!
[ Prologue ]
"Oh God,
When I am called, no matter how strong the flames,
Give me the strength to save a life."
– Firefighter's Prayer
The man who risked his life and jumped,
But the man who couldn't save his wife,
She approached the man who closed his heart with a wound!
"I will practice medicine with my conscience and dignity.
I will put the health and life of my patients first."
– The Oath of Hippocrates
That girl who jumps anywhere she wants,
The woman who didn't mind hearing the poisonous sound,
The woman, who pretended to be loveless with her wounds, began to beat his heart!
This winter, a shining emotion that will comfort you
<Banchangko>
[ About Movie ]
A good day to save people, we met!
A meeting of those who can save lives or sometimes miss!
One 'real' love story this winter
Those who sacrifice themselves to save the lives of countless people or, conversely, have to watch someone die even if they throw their lives away. The movie <Banchangko> depicts the meeting of two men and women, a firefighter and a doctor, who had a job directly related to life but could not take care of their own wounds.
Firefighter Kang Il (Ko Soo), a firefighter who sacrificed his life to the scene of each incident, but closed his heart due to a wound that could not save his wife, and a doctor Misu (Han Hyo Joo), who was in danger of being cut due to a fatal mistake, heal each other's pain. The film <Banchangko>, which contains the process of comforting and comforting people, begins the story of what real love is beyond a simple relationship between a man and a woman. A woman who lashes out at her without hesitation and a man who ignores her. Two men and women who have busy jobs that spend every minute of every second and struggle with life, begin to bring out old wounds that no one, not even themselves, could take care of. And the change between the two men and women, as only each other warmly cares for the wounds and opens their hearts, gradually becoming the beings that need to be protected more than anyone else, evokes a deep lingering impression.
In addition, in <Banchangko>, not only the love between two men and women, but also the ordinary but shining daily life of firefighters that we have never seen before, knocks on a corner of the hearts of those who see it. Because mistakes can lead to life, the people who have spent a day without letting go of the tension are able to finish their work safely and happily prepare for another tomorrow, bringing a warm smile. With this, <Banchangko> will not only give a deep impression with the various stories of those who do not easily pass the pain of a single person, but also give a pleasant laugh with the story full of energy created by the characters full of personality.
The film <Banchangko> depicts a structured story that melts the lives of various people in crisis and the special setting of a meeting between a 'firefighter' and a 'doctor', who save the lives of others. The movie <Banchangko>, which tells the story of their hotter than love, will breathe warmth into the hearts of Korean audiences with the only true love story this winter.
Sensitivity and scale meet!
An emotional masterpiece with fun + emotion + scale
A variety of attractions from the large-scale rescue site!
The movie <Banchangko>, which depicts the process of two people who save the lives of others, healing each other's pain and comforting each other. . First of all, <Banchangko> is a story full of urgency in the background of dangerous accidents, from gas explosions to car crashes, as life-saving people are the main characters. In particular, various accidents that occur in unexpected places such as the railway roadside, refrigerated warehouses, and buildings under construction add tension by fully capturing the risk of accidents that can occur around us. Another major viewing point of <Banchangko> amidst such a dizzying accident scene is the story of 'people' who save people. From the dizzying performances at the scene of a dangerous accident, the pain and anxieties at the scene where life comes and goes, to the ordinary and easy-going daily routine, the human side of these people we were not aware of conveys a deep lingering impression on our hearts. In addition, at the crossroads of life and death, the warm appearance of people who recall the people around them and bring out the most precious memories for them, and the dizzying accident scene, which is in contrast to this, creates regret and doubles the immersion.
As such, <Banchangko> is an emotional masterpiece with a more differentiated story and scale, from the small and limited story and scale that focused only on the existing relationship between men and women, to the unique setting of a meeting between firefighters and doctors, and the activities of firefighters at the scene of a dangerous accident. shows <Banchangko> adds a sense of urgency and a sense of scale to the story full of warmth created by those who save lives. <Banchangko>, which depicts the story of two men and women who caress each other's wounds in the middle of a scene of instantaneous action, will captivate the audience with a special work that adds sensibility, scale, and laughter.
Hyo-joo Han, an indifferent and rude firefighter, Go Soo & a reckless unstoppable doctor
The best performance of an actor's life! Unprecedented transformation & radiant sensibility!
Actor Go Soo, who has captivated Korean women through works of various genres that cross screens and screens, such as the 2010 movie <Gojijeon>, <Super Powers> and <Baek Nights>, returns as the hard-headed and blunt firefighter 'Kangil'. In this work, Go Soo is a firefighter who recklessly throws himself at the scene of an accident without taking care of himself, taking off his soft image and showing a rough and indifferent figure, while showing his acting skills deeper than ever before. Kang Il, who is consistent with indifference in order to push the heart of 'missu' Han Hyo-joo who is actively approaching him, but gradually opens the door of his heart as time goes by and shows thoughtful charm, was completed through Go Soo's delicate emotional performance. Also, Go Soo, who doesn't show it outwardly, but expresses Kang Il's heart full of hurt and longing for his wife deep in his heart with sorrow and deep emotions, will show a more mature image.
In addition, Han Hyo-joo, who became a 10 million actress for the role of Jung-jeon in <Gwanghae, the Man Who Became King>, and has established herself as a pronoun of elegance and innocence through works such as [Brilliant Inheritance] and [Dong-i] ' Attempts a radical transformation in reverse. Han Hyo-joo, who rushes towards the heart of the master with her unpredictable and reckless behavior, and spreads a variety of affectionate attacks, leads the play with a lively charm that is the opposite of what she has shown in previous works. Han Hyo-joo, who shows not only the easy-going charm that does not hesitate, but also does not hesitate to say rude words, at some point, shows serious and bold emotional acting, and completed a character with a more lively and rich charm through stable acting skills. Go Soo and Han Hyo-joo tried a fresh and unconventional transformation that overturned their existing image through <Banchangko>. The heart-warming story that will be created by the people who will show fantastic breathing that is unbelievable for their first acting breath will warm the hearts of the audience.
Ma Dong-seok, Kim Seong-oh, and Juni! 119 Fire and Rescue Team 3 people!
Shining masterpiece performances by individual actors who believe and see!
<Banchangko> offers more variety of fun with the appearance of talented supporting actors such as Ma Dong-seok, Kim Seong-oh, and Juni, who have strong acting skills and strong personalities. Ma Dong-seok, who has established himself as the best scene stealer in Chungmuro through various works such as the movie <Neighbor> and <War Against Crime>, is a firefighter with warmth and loyalty behind his rough and manly appearance in <Banchangko>. Transforms into 'Chief'. In particular, Ma Dong-seok gives a smile that cannot be missed with his reversal charm, which shows the opposite side of being weak in front of a pretty woman, swearing at small wounds that do not match his appearance.
Kim Seong-oh, who captivated viewers with his comical and delightful charm in the drama [Secret Garden] after showing an impressive performance as a villain in the movie <The Mister> conveys a unique presence. Kim Seong-oh, who plays Yong-su, who is busy selling his eyes without accepting the unrequited love of the same firefighter Hyun-kyung, brings laughter to the play at every decisive moment.
Actor Juni, who left a deep impression on viewers with his lively acting in the drama [Ullala Couple], shows off his boyish charm as the only one of the firefighters, 'Hyunkyung'. Although he suffers from heartache due to Yongsu who does not accept his heart, he plans to play a fantastic ensemble with Kim Seong-oh as a person who hides the S-line in his tough appearance and loose uniform. <Banchangko>, which shines even more with the excellent performances of the powerful actors full of personality, will add to the charm of the movie and visit the audience with energetic laughter.
From <Wild Card> duo 'Jung Jin-young + Yang Dong-geun' to Jo Min-ki and Lee Dong-gyu!
The hottest friendship appearance of the strongest stars!
A surprise appearance of the storm presence! Double the fun!
Go Soo and Han Hyo-joo, as well as supporting actors Ma Dong-seok and Kim Seong-oh, full of personality. <Banchangko>, which shows a fantastic acting ensemble with even Juni, adds a different kind of fun with the unexpected friendship appearance of special actors. Actor Jung Jin-young, who showed a strong performance in the recent drama [Brain], including the movie <The King's Man>, and actor Yang Dong-geun, who has captivated the audience with his unique acting across screens and CRTs, appeared as a detective duo in the movie, It provides unexpected and unexpected laughter. Jung Jin-young and Yang Dong-geun willingly accepted the role of Friendship in "Banchangko" due to their friendship and friendship with director Jung Ki-hoon, who was an assistant director at the time of the filming of the movie "Wild Card". In particular, in this work, Yang Dong-geun, who appears with the same name as Detective 'Water of the Wild' in <Wild Card>, adds a sense of laughter to the play with his unique and clever acting.
In addition, actor Jo Min-ki, who has recently been showing a charismatic performance in the SBS drama [Dae Feng Shui], left a deep impression by appearing as a surgeon with a sharp appearance in the movie. Here, Lee Dong-gyu, who appeared as the fiancee of actress Song Seon-mi in [Golden Time], and who made an impression on viewers with his warm and romantic side, also appeared as a doctor, drawing attention. The performance of the strongest actors in <Banchangko>, which shines even more with the addition of friendship appearances to the unique and tasteful luxury acting, will add to the charm of the movie and provide a wealth of fun.
Until the hot sensibility of <Banchangko> is completed!
Emotional visual beauty & heartbreaking ending theme song!
Cinematographer Park Yong-soo of <Aeja> & <Mother> <Superhuman> <Only You> Lighting Director Choi Cheol-soo
Complete the delicate and emotional video of <Banchangko>!
Befitting a single emotional masterpiece this winter, <Banchangko> catches the eye with its delicate and beautiful visual beauty completed through the participation of talented production crew. Director Park Yong-soo, who made his debut in 2009 with director Jung Ki-hoon's Aeja, and won the Best New Cinematography Award at the 32nd Golden Cinematography Awards, is the director of photography. Of course, it adds to the immersion by realistically capturing the scene of an accident with a sense of scale. In addition, director Choi Cheol-soo, who has won the Blue Dragon Film Award for Lighting through the movie <Mother>, has also won the Korea Film Awards and the Buil Film Awards at leading film festivals. <Mother> Lighting director Choi Cheol-soo, who perfectly expresses the sensibility between a man and a woman, sometimes with intense contrast, and sometimes with emotional colors and light, crossing over works of various genres such as <Super Power> and <Only You>. His excellent sense is expected to breathe life into the characters by delicately crafting the psychology and change process of the characters with scars in the movie. In addition to the directing power of director Jung Ki-hoon, who has an innate ability to capture the emotions of the audience, <Banchangko> will captivate the audience with its various attractions and emotional visual beauty.
Composer Song Yang-ha, who shines at No. 1 on the Oricon chart, meets emotional vocal group Noeul!
The emotional theme song 'Banchangko' that decorates the heartbreaking ending of the movie!
The ending song that flows in the final highlight scene of the movie <Banchangko> is a song by popular composer and producer Song Yang-ha, who has set a record for first place on the Oricon chart, exceptionally as a domestic composer, and the emotional vocal group Noeul's voice is added to the audience's eyes and ears. But it captures the heart deeply. The ending song 'Banchangko', sung by the emotional group 'Noeul', which is loved by the public for its deep tone, excellent singing ability, and fantastic harmony, is a lyric that perfectly blends with the story of a couple, Go Soo and Han Hyo-joo, who cover each other's wounds. add immersion. Here, the light and romantic melody created by composer Song Yang-ha, who composed the song of Japan's best R&B singer 'Kuraki Mai', rose to No. It further doubles the overwhelming emotions of the last moment. The theme song 'Banchangko' gives an unforgettable impression at the end of the movie. The ending song of <Banchangko>, with its addictive melody, deep lyrics that touches one's heart, and Noeul's superb vocals, will leave you with a lasting impression and lingering aftertaste even after leaving the theater.

Related Videos