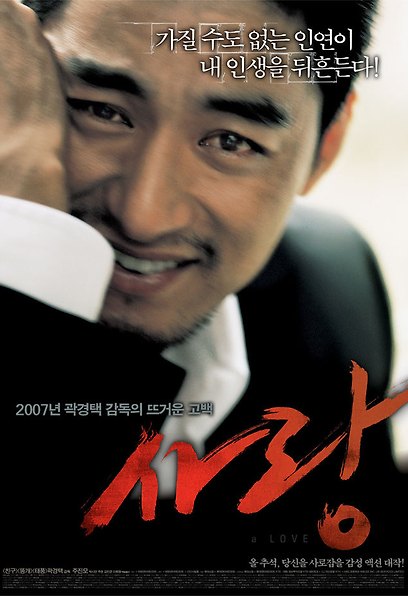 Love, 2007
release

2007.09.19
genre

Action/Drama
country

Korea
ranking

Audience over 15
running time

104 minutes
grade

7.4
cumulative audience

2023174 people
Awards
Synopsis
Against a damn fate, this man's hot life begins!
* This man's once-in-a-lifetime fate!
: Seventeen, to a woman resembling a watercolor,
"I swore, I will keep…"
At school, no one dares to touch, but
I had a simple dream of going to college and filial to my mother.
To shyly confess to a girl who fell in love at first sight
Chae In-ho, a rough but naive man who took 7 years.
* This man's toxic feud that tightens his happiness!
: For her sake, I put a knife in the neck of a ferocious thug.
"I'm a peek-a-boo, you bastard!!"
I wanted to live just like everyone else
I want to protect her left alone in the world
To keep the oath of seventeen,
He put a knife in the neck of Chi Kwon, a reputed evildoer on the Busan floor.
* This man's second chance in life!
: I decided to bury her in my chest and dedicate my youth to Chairman Yoo, who has power.
"Use your youth on me… I'll give you strength…"
I bury her who has disappeared in my chest
Another opportunity that came to me in my rough life of working last time at the pier.
He promised to dedicate his youth to Chairman Yoo, who reached out his hand first.
* This man's twisted and twisted bond!
: The woman who could not be abandoned appeared as a love that could not be had.
"Don't go… A woman is a moment… "
The woman whom I had never forgotten for a moment appeared before my eyes.
Standing next to Chairman Yoo, who gave me the strength to live, became a relationship I couldn't have…
However, the moment you decide that you want to be happy at least once in a rough life,
A ferocious fate shakes the entire life…
[ About movie ]
#One. Another intense drama from director Kwak Kyung-taek of <Friend>, <Doog> and <Typhoon>!
A storyteller with a crude but warm gaze,
The life and love of a rough but pure man are captured in a powerful video!
Director Kwak Kyung-taek of <Friend>, <Doog> and <Typhoon>, who has been honest with people all the time, has returned with the theme of 'love' in the seventh film. However, the love he talks about does not deviate too much from the story of the person he has been talking about.
If <Friend>, chosen by 8.2 million people, showed the friendship and loyalty of men, <Love> is a film about the passionate but pure man's passionate life and love. It contains director Kwak Kyung-taek's unique intense drama about a man who tries to keep his oath of 'I will protect' his 17th first love, but his life is twisted, but he does not lose his passion for love even in the midst of a difficult life.
What is expected in particular is the harsh dialogues that show the years of heavy life. Director Kwak Kyung-taek's ambassadors, who elevate deep emotions, have always been a hot topic. In this movie <Love>, he said, "It's crazy… Human relationship..," "Can I protect you?" Lines that leave a strong lingering impression, such as "A woman is a moment," are already being talked about among the audience.
Also, this time, it is expected that the video in which director Kwak Kyung-taek's unique power is felt will support the intense drama of a man. Director Kwak Kyung-taek's unique powerful video captured in Busan's harbor and pier, where the hot life of a tough man unfolds, with sophisticated lighting and powerful camera work, will shake your heart!
#2. The best performances by outstanding actors and the best directors!
Joo Jin-mo, Park Si-yeon, Joo-hyeon, Kim Min-jun, their best acting begins!
Director Kwak Kyung-taek has always been there for top stars such as Jang Dong-gun, Jung Woo-sung, and Lee Jung-jae to establish themselves as the best actors. A reputed actor trainer, he chose Joo Jin-mo as the 7th man! Joo Jin-mo, who was loved by 6.6 million viewers for <Beauty is Painful>, takes on the role of Chae In-ho, a tough but pure man whose life gets twisted while trying to protect his once-in-a-lifetime love. Joo Jin-mo, who said 'I met a movie that felt like fate for the first time in my 10-year acting career,' surprised even director Kwak Kyung-taek by throwing himself generously from passionate emotional scenes to dangerous action scenes.
Park Si-yeon's acting transformation, who played the first female lead in Kwak Kyung-taek's film, is also noteworthy. Park Si-yeon takes on the role of Jeong Mi-joo, who is loved by a man recklessly and passionately, and shows deep emotional acting. Director Kwak Kyung-taek is confident that Park Si-yeon is a 'new discovery'. Joo-hyeon, who expressed great satisfaction by saying that 'I took on the most wonderful role in my acting career for decades', also met with director Kwak Kyung-taek and performed a bold charismatic performance that surpassed Marlon Brando. Kim Min-jun, who has usually played the leading role of a handsome image, is also expected to leave a strong impression by taking on an unconventional villain for the first time in his acting career.
<Love> is a film that will show you what the best directors can do from outstanding actors. You will see how the best actor trainer, director Kwak Kyeong-taek changed Joo Jin-mo, Park Si-yeon, Joo-hyeon, and Kim Min-jun, their best performances on the screen!
#3. The only emotional action masterpiece this Chuseok <Love>!
The passionate life of a man who goes all-in on a love that he can neither give up nor have.
Put your emotions into action!
This Chuseok, which is full of comedy, <Love> cast a ticket as the only emotional action masterpiece! <Love> is expected to find the audience by capturing the action of director Kwak Kyung-taek's unique emotion alive and breathing in an action-packed video.
In <Friend>, director Kwak Kyung-taek, who put the realism of the pure emotion of friendship in the rough and realistic action, puts a man's hot feelings in the action that seems to be raw in <Love>. In particular, this time, director Kwak Kyung-taek expressed his wish early on, 'I want to approach the audience freshly with an action that breathes emotion, focusing on the breathing and sympathy of the characters rather than the scale of the action'.
In the beginning of the movie, there is no terrifying feeling in the scene where high school students In-ho and Sang-woo fight each other with fists in an alley along the Busan dockside, or In-ho fights life-long gangsters at the bus terminal kiosk to save Mi-joo. In the fight scene in which In-ho takes revenge by seducing Chi-gwon who put Mi-joo in danger and turning him into a 'cricket', only a man's desperate feeling is felt. The action that contains these vividly alive emotions shakes the hearts of the viewers more than any other splendid sum.
<Love>, a masterpiece of emotional action in which the hot emotions of a man who goes all-in on a love that he cannot give up or have are alive. This Chuseok, it will make the hearts of the audience bitten by the obvious comedy beat!
#4. A man's <Love> that will satisfy a man's romance and a woman's fantasy!
This fall, this man's <Love> makes your heart race!
There is nothing more selfish than love. If so, did the saying 'Romance if I do it, affair if it's someone else's' came up? There is nothing more boring than love. Love is a common thing in the world, and the love that other people do seems to be there too. Nevertheless, various forms of love are processed in the movies, TV, and books we watch, and we constantly see it. That's how much love everyone wants, and they try it once, but no one can say 'love is complete', so they always crave it. Perhaps the only thing left to do with love is to collapse the moment you say 'love', or it may be something you can't achieve until you die.
In that sense, the movie <Love> brings up the story of the moment when everyone fell in love. Through Cha In-ho, a man who is rough but sincere, I want to talk about a once-in-a-lifetime love that everyone will bury in the corner of their heart. Through this man's 'a heart-warming life full of love that you can neither give up nor have', we try to awaken the 'fantasy about love' that both men and women have dreamed of and waited for at least once, perhaps experienced but now forgotten.
This Chuseok, through <Love>, a story in which a man confronts a twisted relationship in order to protect his once-in-a-lifetime love and gets caught up in an unwanted confrontation, it is a story that men can't help but have a 'roman' that men have forgotten. You will experience a 'fantasy'!
[ Production Note ]
#One. Fighting to be reborn as Joo Jin-mo's tough man
Joo Jin-mo, who visited director Kwak Kyung-taek after reading the script for the first time by chance at the house of his colleague Jang Dong-gun, shed tears after reading the script for the first time, showed that 'Chae In-ho is myself', and was eventually selected for the lead role. He fell in love with the character and even got the nickname 'Seoul Inho' from director Kwak Kyung-taek. Because of his love for Chae In-ho in this drama, it is said that Joo Jin-mo did his best to play In-ho, even though 10 years of acting career was not enough.
Since it is a movie featuring a unique action scene, it has digested all the actions from the judo match scene to the cold warehouse confrontation scene with the vicious gangster Chi-Kwon without a double. In particular, in order to play the high school Inho as an adult, he ate three ramen a day and lost 10 kg of fat in just 15 days, which surprised those around him. In order to lose weight in a short time, it is said that he ran and ran until he was even exhausted.
As soon as the role was decided in order to play the pure love story of a rough Busan man, he began training in the dialect, and even learned the dialect by listening to the tape recorded by director Kwak himself before filming. Even on the set, the crude lines such as 'It's crazy, human connection' and 'Can I protect you' are leaving a strong impression on the viewers, perhaps because of the effort of deliberately talking to the staff and the director in dialect.
In particular, in this movie, Joo Jin-mo vividly and breathlessly reproduced the struggle of a tough man to protect his love while performing most of the action scenes without a double.
#2. Mi-joo Park Si-yeon, who returned as a woman who cannot be abandoned or possessed
In order to express the sad love, Siyeon Park had to devote herself to researching the character throughout the filming. Since the emotional scene with In-ho is important, before filming begins, we always match each other's performances with Joo Jin-mo several times, commenting, 'If it were Mi-joo, I would have said this if it was In-ho,' so their opinions are reflected until the lines are modified. did. Thanks to director Kwak Kyung-taek, who always gives the actors trouble, Si-yeon Park had to do the task of analyzing the scenes and filling them up on A4 paper, so she had a busier day than when she was a student.
Most of all, since the movie is 'Love', it seems that most of the scenes are sweet, but in reality, I had to act bloody and gruesome. In particular, the scene where Chi-kwon kidnapped Mi-joo and threw her on the bed was re-filmed several times, so Park Si-yeon had to endure pain in her body all day to film.
Also, since her hometown is Busan, there was no difficulty with her dialect, but she stayed in her hometown of Busan before filming, rehearsing every scene with sincerity, and did her best to become a perfect Jeong Mi-joo, using only the dialect on set.
#3. Kim Min-joon's fervent effort to transform into a vicious gangster
The modifiers handsome and handsome made Kim Min-jun feel a thirst for a strong character, and his thirst turned him into a mean thug on the floor of Busan, 'Cheongwon'. As a leading actor, he chose a supporting role in <Love> without hesitation because he immediately felt that he was a villain, but that his very existence was a formidable and powerful character as soon as he read the script. Kim Min-joon's efforts to digest a relatively small film are beyond imagination. The scene in which Chi-kwon, who is trying to rape Mi-joo, is assaulting Mi-joo with a bloody madness, the brutality is so real that the staff slowly avoided Kim Min-joon after filming.
Kim Min-jun, who was born in Busan together with Park Si-yeon, showed his passion for film while almost staying in a camp in Busan before filming. He designed everything necessary for transformation, such as a haircut like a punk, which became a big topic when it was revealed to the press, a scar on the face that tells the hardship of life, and a tattoo engraved with a cataclysmic look. In particular, he had to arrive at the filming site earlier than others each time to transform after undergoing more than three hours of makeup, such as drawing a snake tattoo symbolizing an evil character on the back of his hand. In addition, before filming, he showed enthusiasm, such as meeting a gangster in person for an acting transformation. The creepy acting reminiscent of Gary Old in 'Leon' is also a hot topic. 'I love you, I love you… ' How can you say such a mean thing? Perhaps this year, 'Minjun evil' and 'Mining Minjun' will be popular this year. .
#4. Shining supporting actors that do not disappoint expectations
Jininsa Film CEO Yang Jung-kyung, who is an old friend of director Kwak Kyung-taek, who shines his face in <Friend> and <Dung-dog>, is outstanding again this time in his friendship appearance.
"You're a Zeum-like bastard in the back! I'm scolded for moving… !" CEO Yang Joong-kyung, who left a deep impression in <Friend> with a funny line called "Friends", foresaw the hit of a buzzword once again with the increased amount and upgraded acting in this movie, and the English teacher's acting in the Busan dialect is by far the unrivaled (?) position as a supporting actor. is situated as
Sang-woo, who plays the role of a medium to meet In-ho, who has become a high school student again, and Lee Hwi-hyang, who plays the mother of Mi-joo, whom In-ho loved, are also noteworthy.
In particular, in the scene where Sang-woo loses his temper and cheats on his mother, he plays a realistic Busan dialect and a hard life, proving that his acting life of over 20 years is never easy.
#5. Evolving light, powerful images expressed by living action
Even if the moment of love is intense, 'love' itself is the noblest and most beautiful. Director Kwak Kyung-taek said that he would pay special attention to lighting in the technical part in order to express each moment beautifully as it is a film about 'love'. Through the hands of lighting director Shin Kyung-man, who has worked with the director for every piece of work, the film captures the warm, deep, and crude light and color of Busan.
In particular, unlike the common use of gray or blue-toned lighting filters to create a cold feeling in the frozen warehouse scene, I tried the violet lighting filter for the first time by mixing the passionate feeling of love like a flame. As a result, the passionate action scene of In-ho, who tries to protect love, and Chi-gwon, who interferes with that love, is expressed in a cold and sad feeling, as if it was a twisted fate.
Director Kwak Kyung-taek's bold and bold action style, without exaggeration, also plays a role in expressing the story of people's lives in each film with affectionate and courageous images. The sum of the actions by martial arts director Park Jeong-ryul, who supervised and guided martial arts such as <Meanwhile Street> and <Determination of Life>, is muddy yet realistic. It evokes vivid empathy as if it were painful by fighting, hitting, and being beaten directly.
#6. Busan and its location that resembles a man's hot heart
If <Friend> captured the back alleys of Busan, <Love> melted the scenery of the pier in the film. Yeongdo Port, Gamcheon Port, Tongyeong 21st Century Shipyard, etc., as if showing the rough lives of men, are expressed through crude but heavy places, replacing In-ho's sensibility in the film. At the same time, the use of sets at the 'Old Busan Maritime High School' in Yeongdo, Busan is also noteworthy. In addition to building and filming almost all sets in the gymnasium of the school that has been closed, besides using the playground and classrooms, Jang Ji-yeon, art director, made an amazing transformation.
Related Videos