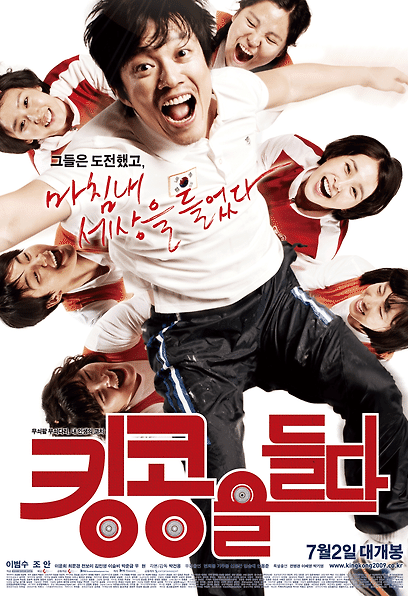 Lifting Kingkong, 2009
release

2009.07.01
genre

Drama/Comedy
country

Korea
ranking

all spectators
running time

120 minutes
grade

9.4
cumulative audience

1262858 people
Synopsis
With a weightlifting coach for a rural girls' middle school
All they have is power, but they are made by country girls who risk their lives in weightlifting.
Miracle myth!!
Lee Ji-bong (Lee Beom-soo) was a bronze medalist in weightlifting at the 1988 Olympics, but after quitting sports due to an injury, came down as a weightlifting coach at a rural girls' middle school. He said that the only thing left for the weightlifter was injuries and sloppy muscles.
Young-ja (Joan) is born with strong shoulders and a slim waist, Pang-soon-i Hyeon-jeong (Jeon Bo-mi), who has a crush on the best king car in school, Su-ok (Lee Seul-bi), a model student who wants to become the FBI by entering Harvard Law School, and her sick mother. Yeo-soon (Choi Moon-kyung), a filial piety girl who wants to succeed as a weightlifter, Bo-yeong (Kim Min-young), a hardworking woman, and Min-hee (Lee Yun-hoe), a four-dimensional flower beauty in the S-line who is obsessed with the charm of a sexy weightlifting suit.
Impressed by the passion of pure country girls, who have different personalities and appearances, but whose persistence and strength are the strongest in the world, Lee Ji-bong builds a dormitory for children who have nowhere to go and starts training in earnest. They started with bamboo sticks on the bare ground, but thanks to Lee Ji-bong's efforts, they grow into weightlifters who can easily lift at least one weight, and finally challenge the Olympic gold medal… .
[ Prologue ]
At the 81st National Sports Festival in 2000, an unprecedented event occurred.
In the women's weightlifting division, in a team of 5 athletes
After a whopping 4 people won 3 gold medals,
Out of a total of 15 gold medals, 14 gold medals and 1 silver medal were swept away.
He won the team MVP, which had never been seen before.
this case
It remains an unbroken myth.
fifteen pure country girls
I found out about the sport of weightlifting.
I dreamed of weightlifting.
I don't have a weight bar, so I practice with bamboo
Girls lifting weights on the dirt floor without a single mattress
Fulfilling the myth of the National Sports Festival
He became the national weightlifter representing Korea.
<Lifting King Kong>
Surprising the world and becoming a myth
It was dramatized with the motif of the 2000 National Sports Festival.
[ About Movie ]
A true impression based on a true story!
: The miraculous myth of the 2000 National Sports Festival is revived on the screen!
The movie <Lift King Kong> was dramatized with the motif of events in the history of rural high school girls who swept 14 gold medals and 1 silver medal out of a total of 15 gold medals in the 2000 National Sports Festival. Behind the girls who became myths by setting unprecedented records in competition history, there were three weightlifting coaches: the late In-young Jeong, Yong-cheol Kim, and Sang-yoon Yoon. Among them, Jeong In-young, who taught and fed like a father and raised rural girls into weightlifters despite the harsh environment, died at the age of 49 at the age of 49 due to cerebral hemorrhage due to overwork. He also discovered Byeong-gwan Jeon, a gold medalist in weightlifting at the Olympic Games in Barcelona, in Korea, which was once a wasteland of weightlifting. On the other hand, coach Kim Yong-cheol is taking the lead in promoting weightlifting by working as a coach for the Boseong-gun weightlifting team and executive director of the Korea Weightlifting Federation.
Using their story as a motif, the movie is a life mentor through the appearance of a weightlifting coach who teaches 'weightlifting' to rural girls in poor and disadvantaged environments who cannot even dream of a future and gives them hope for life through weightlifting. I wanted to show the aspect of a true teacher. Based on the story of a weightlifting coach who raised rural girls into a beautiful history, <Lifting King Kong>, which combines the various experiences of real weightlifters and the stories of weightlifting leaders into an honest and moving story, is more than just a moving sports movie. That part is an advantage.
The first movie about weightlifting in Korea!
: Raise the world beyond human limits!!
During the 2008 Beijing Olympics, one of the events that moved the Korean people the most was the weightlifting event. Jang Mi-ran, who gave Korea a gold medal by showing the power of a person who overcomes adversity and limitations, and Lee Bae-young, who moved the nation by showing 'the strong will of a human being who never gives up' He produced a more dramatic and beautiful scene and imprinted the two letters of 'weightlifting' on the people.
<Lifting King Kong> succeeded in melting the power and profound emotion of weightlifting into the film through the process of ignorant country girls breaking the 'weight of their lives' and growing into a 'beautiful history'. Weightlifting is a sport that is not even interested in the public except during the Olympics because it is pushed to popular sports such as soccer and basketball. However, just as <The Best Moment of Our Life> brought the unpopular sport of handball to the screen in 2007 and moved people across the country and focused their attention on handball, the power of 'weightlifting' through <Lift King Kong> and It will be an opportunity to once again confirm the emotion and arouse interest in 'weightlifting'.
Lee Beom-soo reborn as a deep-rooted teacher
Joan was born as a perfect rural female middle school weightlifting girl!
Weightlifting is not just lifting heavy weights, it is a sport where body balance and rhythm are important. In addition, since you have to lift a barbell that is much heavier than your own weight, a waist and a strong lower body that can hold the center are essential. Therefore, the 'physical condition' suitable for a weightlifter was also an important casting condition. With a solid body, balanced arms and legs, and regular weight training, Lee Beom-soo, who not only has the best acting skills, but also has star qualities, was naturally ranked first in casting.
In order to build a body like a real weightlifter, Lee Beom-su built up his muscles through three months of rigorous training and learned the basics of weightlifting from Boseong-gun Director Kim Yong-cheol and the 2004 Athens Olympic national weightlifting team coach Yeom Dong-cheol. did. Not only that, he gained weight for the appearance of a rural female middle school weightlifting coach who lost weight to weightlifting after an injury, and showed the best performance by showing the opposite figure with a bulging belly in a 2 to 8 part.
No actress was willing to become a female weightlifter in a rural girls' middle school. It was because she was a character who went against everything she had to do as an actress, such as diet and skin care. Joan, an actress who is not afraid of transformation, such as the fat woman in <Girls' High School Ghost Story> and the horror queen in <Mei>, was different. For the 'Youngja' character, I received diet and rigorous training, and as a result, I gained about 7 kg of muscle mass, which was close to zero, in a month. Here, Joan transformed into a perfect weightlifter who was surprised by coach Yeom Dong-cheol and Yun Jin-hee, not only by gaining weight, but also by having a solid body as an athlete. During the 90-day filming period, with bruises all over her body and calluses on her palms, she endured arduous filming and training reminiscent of real life, and was reborn as a national team player 'Youngja' who challenges the gold medalist. do.
[ Production Note ]
Two of the most historic Olympic Games of all time are recreated on the screen!
The emotion and enthusiasm of the 1988 Seoul Olympics and 2008 Beijing Olympics are captured on the screen.
The largest stadium scene in <Lift King Kong> is the scene of the 1988 Seoul Olympics and the 2008 Beijing Olympics weightlifting events. Since both arenas are one of the most moving scenes in the play and the most historic match scene in the history of the Korean Olympic Games, the production team paid more attention to the screen reproduction than any other scenes. However, it was not an easy process to reproduce the scene of the 1998 Seoul Olympics, which has already passed 20 years. The production design team had to revise the blueprints several times to perfectly reproduce the exact location of the spectator seats and electronic display boards, as well as the positions of athletes and waiters, as they were at the time of the actual Olympic Games by collecting material screens and photos from each broadcaster and foreign media.
In addition, the scene of the 2008 Beijing Olympic Games was required to be reproduced more accurately because it is a recent game that still remains vividly in the memory of the public. The production team worked hard to maximize the sense of realism by considering the color and feel of the lighting used in the actual scene for this scene. As a result of these efforts, in both game scenes, elaborate sets and art that looked like they were in the Olympic Stadium, large-scale extras were mobilized, and detailed computer graphics and live sound were added to it, making it feel as if you were at the historic Olympic Games site. And the emotion was revived on the screen.
It's not acting, it's action!
Weightlifting girls who were born after hard training as hard as a real weightlifter!!
The process of being reborn as history for the six actresses, led by Joan, was truly an ordeal filled with sweat and tears. Joan gave up her beauty as an actress and completely transformed into a never-ending country girl who weighed more than 7kg and was covered in soy sauce with special makeup. In addition, through the training process that started two months before filming began, he demonstrated the power of lifting weights that are difficult for even adult men to lift. In addition, five new actresses, including Lee Yun-hoe, Choi Moon-kyung, Jeon Bo-mi, Kim Min-young, and Lee Seul-bi, who were divided into five members of the weightlifting department of Boseong Girls' Middle School, not only trained with the main actors three months before filming, but also gained 16 kg of weight and actually went through the weightlifting training process throughout the filming. had to endure Hundreds of training to lift bamboo rods, pulling 6 chain tires on gravel fields where even the male staff had a hard time, running with a barbell to the top of the 1,400m peak, hundreds of sit-ups, washing clothes with bare hands in a frozen winter river, etc. The 'actual acting' of the actresses to save the reality of the movie made them laugh and cry, and their appearance is vividly captured in the movie, becoming a driving force for emotion and laughter.
Weightlifters appeared in Korea's first weightlifting movie!
With Jeon Byeong-kwan, Lee Bae-young, Kim Yong-cheol, Yeom Dong-cheol, and Yoon Jin-hee
Full support from Korean weightlifting organizations!
As <Lifting King Kong> was the first movie about weightlifting in Korea, there was full support from actual weightlifters and weightlifting organizations. Representative figures are Jeon Byung-kwan, a gold medalist at the 1992 Barcelona Olympics, and Lee Bae-young, who deeply moved Korea at the 2008 Beijing Olympics. Jeon Byung-kwan is a character that the coach worked hard enough to have a name in the actual scenario.
He is currently working as a coach for a business team, so it was not easy to make a schedule, but he willingly accepted the role as he fell in love with the moving and delightful story of the first movie about weightlifting in Korea. Bae-Young Lee also appeared as a judge in the weightlifting competition in the play, showing an impressive performance that is not like a cameo. In addition, coach Kim Yong-cheol, coach of the weightlifting department in Boseong-gun, and coach Yeom Dong-cheol, coach of the 2004 Athens Olympic national team, were in charge of weightlifting training for the main actors before filming. served as a training advisor.
In addition to this, he did not spare full support for the film, such as getting advice from and support from the Weightlifting Association for weightlifting-related props that appear in the film, and providing support to receive training at Taereung Athletes' Village and Seoul Chego High School before filming.
A total of mid-career actors have been dispatched!
A feast of deep acting from supporting roles to cameos such as Byun Hee-bong, Ki Joo-bong, Woo-hyun, and Park Jun-geum!!
In <Lift King Kong>, prominent middle-aged actors from supporting roles to cameos give laughter. Park Joon-geum and Woo-hyun, who acted as vice principals and vice principals of Boseong Girls' Middle School in the movie, played the role of strong supporters by the side of Lee Ji-bong (Lee Beom-soo), who trains rural girls into weightlifters, sometimes kindly and sometimes terrifyingly. Park Joon-geum, who has been on the screen for a long time, shows off his clever acting by showing off his fantastic breathing with actor Woo-hyun, who has left a deep impression with his licorice acting in various works. In fact, it is rumored that the two actors energized the filming site with fantastic ad-libs while acting. In addition, Byeon Hee-bong, a representative middle-class actress, made a cameo appearance as the superintendent of education and, despite her brief appearance, captivates the audience's attention with her deep performance that earned her praise as 'Byun Hee-bong' despite her brief appearance. Appearing as a weightlifting director, he added emotion and weight to the film.
It showed successful cases of cooperation between local governments and films.
A large-scale filming covering the entire Boseong-gun, Jeollanam-do !!
More than 90% of the filming was done in Boseong-gun, Jeollanam-do, with full support from Boseong-gun to production costs, location, and weightlifting equipment.
The production team used the Boseong Girls' Middle School and Boseong Middle School gymnasiums as the main set to shoot around the Boseong Bamboo Field, Boseong County Gymnasium, and Bonghwasan Mountain. As such, the outdoor location encompassing Boseong-gun is captured on the screen as it is, providing a sentimental Namdo landscape. Moreover, in the movie, the car parade scene, the scene where the most people were put in along with the Olympic stadium scene, is a scene where the people of Boseong-gun went out, so the meaning is even more special. In this scene, the Boseong Girls' Middle School weightlifting team, who won the national weightlifting championship for the first time, paraded in a car parade with enthusiastic celebrations from the citizens. In addition, Gojeokdae and Boseong-gun Nongakdae, airlifted from Yeosu, created a spectacular festival-like spectacle with Samulnori, adding to the enjoyment of watching the film as it is.
[ Weightlifting Basic Terms ]
There are raises and jerks in weightlifting, and each event is given a maximum of 3 trials (opportunities). Weightlifting is held in each weight class for men and women and is divided into junior (up to 20 years old) and senior (20 years old and older).
Snatch: Lifting a barbell from the floor to the top of your head at once while holding the barbell and spreading or bending your legs.
Clean and Jerk Grab a barbell and raise it from the floor to your shoulders while spreading or bending your legs, and then stand up while leaning on the bar on your collarbone or chest.
Performing three time competitions in one event. A series of movements from lifting the barbell placed under your feet over your head to the final position, and then lowering the barbell at the referee's signal.
Real-life episodes related to weightlifting
* Lee Ji-bong's elbow injury
Lee Ji-bong quits weightlifting after suffering a fatal injury to his elbow during Gyeonggi-do. This was inspired by an actual event that occurred during the 77kg weightlifting competition at Beijing Aeronautical and Hangchen University at the time of the 2008 Beijing Olympics. Hungarian national team player Janos Baranjai, who participated in the match, fell backward while vigorously lifting a 148 kg barbell, and suffered a terrible injury in which his elbow fell out. For weightlifters who have to lift a barbell that is several times their own body weight, injuries like this always follow and threaten the athlete's life.
* Breadsooni, weightlifting shit case
Hyeon-jeong, the captain of the weightlifting department, Bang-soon, makes a mistake of doing a big job (?) while holding a weight and giving strength in a weightlifting competition and is teased as a 'Dongsooni'. This, too, is based on an actual episode. The powerful force when holding and lifting a barbell that far exceeds one's own body weight makes the whole body tense, and the pressure at this time may lead to disrespect during the actual competition. To prevent this from happening, weightlifters say that they eat easily digestible food or empty their bowels before competing.
* The history of girls who were raised with crucian carp juice!
In the movie, Lee Ji-bong encourages weightlifting girls to train by making crucian carp from fishing and feeding them. As in the interview that soccer player Ji-Sung Park did not eat antlers and other healthy foods because he wanted to play soccer well when he was young, healthy food is essential for athletes whose physical strength is directly related to the game. Crucian carp juice is known as a high-protein nutritional supplement that boosts immune function and resistance and helps to strengthen physical strength. One of the three weightlifting coaches that became the motif of the movie, the late In-Young Jeong, often brewed crucian carp juice for rural female middle school athletes, and perhaps that is why girl historians were able to set good records. Based on the actual episode, the director completed the scene of crucian carp juice filled with the teacher's love and affection.
Related Videos