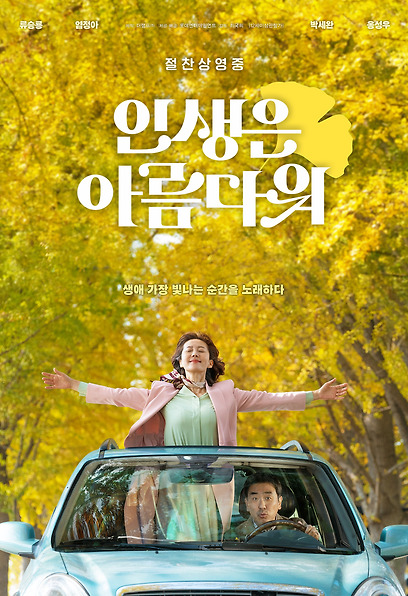 Life is Beautiful, 2020
release

2022.09.28
genre

musical
nation

korea
Rating

Ages 12+
running time

122 minutes
grade

8.9
cumulative audience

1171648 people
Awards
Synopsis
The brightest gift of my life
Every moment becomes a song!
Se-yeon, who has dedicated her life to her blunt husband, Jin-bong, and her indifferent sons and daughters,
One day you realize that you don't have much time left.
'Se-yeon', saddened by her unknown life, received her last birthday present.
He makes an absurd request to find his first love that suddenly came to mind.
'Jinbong' is forced to follow the journey at the insistence of his wife who insists on being stubborn.
Without any clue, with only three letters in his name, he wanders all over the country.
The two of them, who had been bickering endlessly, everywhere they went
They recall precious memories of their brilliant past…
Where is Seyeon's first love, and can they safely finish their trip?
[ PROLOGUE ]
"Life is ( ) to me!"
life is 'today'
– Ryu Seung-ryong –
Life is 'what is it?'
– Jungah Yeom –
Life is a 'walk'
– Sewan Park –
Life is 'distant but near'
– Ong Seongwu –
Life is a 'sad thing'
– Park Yeong-gyu –
Life is a 'one-sided play'
– Hyeok Kim –
Life is a 'back view'
– Yeom Hye-ran –
life is 'beautiful'
– Director Choi Kook-hee –
[ ABOUT MOVIE ]
Korea's first jukebox musical
The humming song is humming! My shoulders are shaking!
From the 1970s to the 2000s, including Shin Ji-hyeon, Choi Baek-ho, Lee Mun-se, and Lee Seung-cheol
Popular music repertoire that everyone knows and enjoys!
From the 1970s to the 2000s, a delightful musical film composed of popular music that penetrates life and sympathizes with generations was born.
In <Life is Beautiful>, wife Se-yeon (Yeom Jeong-ah), who made an absurd request to find her first love as a birthday present, and her husband, Jin-bong (Ryu Seung-ryong), reluctantly travel across the country with her to the past. The first jukebox musical film in Korea that sings our lives with this delightful rhythm and melody. Shin Jung-hyun's 'Beauty', Lee Moon-se's 'Jojo Discount', 'Unknown Life', 'Solo Praise', 'Sorrow', Lee Seung-chul's 'Sleepless Night', 'Don't Say Goodbye', Eco Bridge & <Life is Beautiful>, composed of popular songs that everyone in Korea knows and enjoys, such as Choi Baek-ho's 'When I Go to Busan', Lim Byung-soo's 'Ice Cream Love', and Yoo Yeol's 'Since Goodbye', heralds the birth of Korea's first jukebox musical film. Expectations were raised early. "I think of a musical as a fantasy that unfolds the moment the music starts. I meet myself in the past, and I also include the imaginary world. Director Choi Kook-hee, who conveyed the key point of directing, saying, "I took each concept and completed it for each song," brightly and beautifully portrayed the story of various aspects of life, from first love to friendship and family love. Like Park Eun-kyung, CEO of The Lamp Co., Ltd., the production company who said, "I thought it would be nice to make a musical film about life stories that anyone can relate to through famous songs that contain memories of many people." Through this, it stimulates universal emotions that anyone can feel and draws sympathy from the audience. Here, the choreography that actively reflects the emotions of the characters from the 1980s to the 1990s along the journey to the memories of 'Jinbong' and 'Seyeon' brings vitality to the play and at the same time provides exciting sights that make viewers shake their shoulders. . Through <Life is Beautiful>, audiences will fall in love with the charm of musical films that are pleasing to the eyes and ears.
variety casting
Representative Korean actors Ryu Seung-ryong & Yum Jung-ah
Rising Rookie Park Se-wan, Youth Star Ong Seong-wu
Park Yeong-gyu – Kim Hye-ok – Go Chang-seok – Yum Hye-ran A total of veteran actors
Character synchro rate 100% fantasy acting ensemble
South Korea's leading actors Ryu Seung-ryong and Yum Jeong-ah met for the first time through the musical film Life is Beautiful. Here, promising actors such as Park Se-wan, Ong Seong-wu, Shim Dal-ki, Ha Hyun-sang, and Kim Da-in, as well as veteran actors such as Park Young-gyu, Kim Hye-ok, Ko Chang-seok, and Yeom Hye-ran, take on characters with 100% synchro rate and present a fantastic acting ensemble.
From the 10 million films <Extreme Job> <Myeongryang> <Miracle in Cell No. 7> <Gwanghae, the Man Who Became King> to the Netflix series <Kingdom> that sparked the K-zombie craze all over the world, he captivated audiences of all generations with impressive performances. Ryu Seung-ryong, who has been captured, plays Jinbong, a husband who sets out to find his wife's first love, and is loved by the public by showing off his extraordinary presence with his ever-changing character digestion power, such as dramas and movies that caused a national syndrome. Yum Jeong-ah, who has a romantic relationship with his wife Se-yeon, who is looking for her first love of memories, shows off the real life acting of a 'real couple' in Tikitaka, who bumps into each other, and boasts a perfect acting chemistry.
On the other hand, the role of 'young Se-yeon', who started a thrilling first love, is Park Se-wan, who is active in movies, dramas, and OTT with his solid acting skills and strong charm. The voice actor takes on the role and conveys the sensibility of pure youth and exudes fresh chemistry. In addition, Shim Dal-ki, who has been prominent in various works such as <Our Blues> and <Juvenile Judgment>, plays 'Hyeon-jeong', the best friend of 'Little Se-yeon', and Ha Hyun-sang, the vocalist of 'Hoppipolla', the winning team of the music variety show [Super Band]. Dain Kim, a new face who challenged her first feature film, draws attention by appearing as the son and daughter of 'Jinbong' and 'Seyeon'. Lastly, irreplaceable actor Park Yeong-kyu, whose existence itself is a character, and senior actor Kim Hye-ok, appearing as the parents of 'Jinbong', show off their chemistry, and Chungmuro's best scene-stealer, Koh Chang-seok, and acting actor Yeom Hye-ran, Add to it and fill the play richly.
our life story
It contains all the joys and sorrows of life!
The birth of a 'life movie' where people laugh, cry and sing together!
As director Choi Kook-hee said, "It is a movie that contains all the joys and sorrows of life," the musical film <Life is Beautiful> exquisitely melts popular music familiar to anyone into 'our story' that anyone can relate to.
'Jinbong' (Ryu Seung-ryong), who has lived as the head of an ordinary family with one son and one daughter, and 'Se-yeon' (Yeom Jeong-ah), who has dedicated her life as a mother and wife. One day, 'Se-yeon' realizes that she has little time left and is sad about the past years when she was unable to take care of herself while taking care of her family. Deciding to meet the person she loves, she makes an absurd request to 'Jinbong' as her last birthday present. It is to ask him to meet his first love from his school days. Excited to meet their first love in 30 years, 'Seyeon' and 'Jinbong' reluctantly follow along, wandering all over the country with only their first name and age. do.
Director Choi Kook-hee said she wanted to convey the message, "Life is finite, but you can be beautiful enough and happy enough." <Life is Beautiful>, a road movie and musical film that depicts the unusual and pleasant journey of a couple on a journey to find their wife's first love, with familiar popular music, encompasses the excitement and pain of first love, friendship with friends from school days, and warm family love. It depicts a universal and popular story that people of all ages can relate to. "A movie that makes you look back on your life and reminds you of your precious family" (Ryu Seung-ryong), "Sometimes funny and sometimes sad, it contains all of one person's life" (Yeom Jeong-ah), "Recalling the vague memories of first love that everyone has. You will be able to sympathize" (Park Se-wan), "Beautiful songs, beautiful stories, and a movie that harmonizes beautiful relationships" (Ong Seong-wu). We will present a precious time of laughing, crying and singing together to the audience who have forgotten the shining moments of the past due to reality.
Korea's representative production team dispatched
Director of <National Bankruptcy Day>, production company of <Taxi Driver>, script of <Perfect Others>,
<Sunny> music, <Parasite> editing & costumes & lighting, <1987> makeup, etc.
The best staff in Chungmuro, united by 'excitement' and 'sweat'
Director Choi Kook-hee, who drew attention for his seasoned directing skills that is uncharacteristic of a rookie, through <Split>, a film with a fresh setting that combines sports films and caper movies. Since then, he has returned to musical films with <National Bankruptcy Day>, the first Korean film based on the IMF financial crisis, which was a success in both cinematic and box office success. Director Choi Gook-hee, whose actors are unanimous as "a director who smells like a person above all else" (CEO Park Eun-kyung) and "a great director who leads me to perform with an open mind", is a story in which someone's life is melted. Happily, sometimes warmly, sometimes heartbreakingly, it honestly captures the joys and sorrows of life.
Park Eun-kyung, CEO of The Lamp Co., Ltd., a production company that brought laughter and emotion to the audience with <Taxi Driver>, <Malmoi> and <Samjin Group English Class>, said, "I wanted to tell the story of an individual, a family, and the people closest to me. Above all, he spent a long time trying to create a sympathetic story. Here, writer Bae Se-young, who created a comedy craze in theaters with chubby characters, delicious lines, and lively developments through <Extreme Job> and <Perfect Others>, joins and raises expectations.
For the first jukebox musical in Korea, music director Kim Joon-seok, who showed off his outstanding skills in the dramas <Secret Forest>, <Misaeng> and music films <Swing Kids> and <Sunny>, joined in and fully demonstrated the know-how shown in numerous movies and dramas. Costume director Choi Se-yeon, producer of the musical <Laundry> and who participated in <Parasite>, <Believer> and <The Thieves>, enhanced the quality of the film with his skill in changing details such as material, shape, and color of the fabric in consideration of the musical sequence. Director Choi Kook-hee's debut <Split>, <Intruders>, <Jurors>, <Perfect Place>, etc. Cinematographer Yun-seok Baek and lighting director Chang-ho Kim, who participated in numerous popular films such as <Parasite>, <Burning> and <The Wailing>, work together. The road movie's charm was doubled by capturing the beautiful scenery of the whole country. In addition, art director Sohn Min-jeong of <Startup>, <Girl Cops> and <Money> and makeup director Hwang Hyeon-gyu of <Burning> <1987> <Okja> and <The Man from Nowhere> express the changes in each space and character from the 1980s to the present in a three-dimensional sense. Including <Parasite>, which was nominated for an Academy Award for Best Editing, Yang Jin-mo, the editorial director of <Peninsula>, <Believer>, <1987> and <Train to Busan>, gave strength to a variety of films that go back and forth between past and present, dramas and musicals. Lastly, new choreographer Lee Byeong-yoon, who won awards at the Mise-en-scène Short Film Festival and the Busan International Short Film Festival, was added to the freshness of the short film <June> based on 'dance'. <Life is Beautiful>, in which Chungmuro's best staff participated, is expected to captivate theatergoers this fall with a solid storyline and abundant attractions.
[PRODUTION NOTE]
My shoulders lifted. My shoulders lifted.
Sweet voice Ryu Seung-ryong, musical dreamer Yum Jung-ah
Musical challenges of veteran actors!
The staff's struggle for the first jukebox musical in Korea!
"Life is Beautiful," the first jukebox musical film in Korean cinema history, as the production crew said in unison: "The first Korean film project" (choreography director Lee Byung-yoon) and "The musical genre itself is a new challenge" (music director Kim Jun-seok). , After that, there was a struggle of excitement, sweat, and tears by the actors and staff.
Music director Kim Jun-seok began work with the goal of "music that anyone can comfortably listen to and sing along to," but the process of incorporating popular music into the story was never easy. It was not easy to adjust the pitch key for each song in the concept of multiple people exchanging song lyrics like lines. From the vocal lessons that lasted for over half a year to the repeated recordings of each song more than 5-6 times, the best harmony was created through the delicate directing of music director Kim Joon-seok, who has repeated his passion and worries. Ryu Seung-ryong, who had to sing various songs in the play, worked on the music by making the most of his unique voice tone with an attractive low-pitched voice, and Yeom Jung-ah, who showed off his singing skills to the extent that music director Kim Joon-seok said, "Let's debut right away." It is rumored that everyone was worried that they would become hoarse due to constant practice. In addition, Ong Seong-wu, who is also active as a singer, Park Young-gyu, the original all-round entertainer, Ko Chang-seok, who is also active on the musical stage, and Ha Hyun-sang, the vocalist of the band 'Hoppipolla', are gathered to create a soundtrack that can be enjoyed by anyone with outstanding skills and unique voices. this has been completed
On the other hand, in the musical genre, an indispensable element along with music is choreography. Choreographer Lee Byung-yoon, who constantly struggled during the pre-production period to choreograph the stories of 'Jinbong' and 'Seyeon' and the emotions of the film, even after the filming began, detailed the small movements and movements of numerous actors according to the on-set situation. did it Choreographer Lee Byung-yoon said, "They move well and use their bodies well. Thanks to Ryu Seung-ryong, who expressed his gratitude, saying, "The natural proportions and movements are like a professional dancer," Yum Jung-ah, who praised him, as well as Park Se-wan, who appeared in the drama "Dancepogirls" based on dance sports, and Ong, a former idol, Actors who literally 'dance together', including voice actors, were able to perfectly digest the choreography that the choreography team put their heart and soul into.
<Life is Beautiful> is a domestic musical film that combines the synergy of the actors who danced and sang with passion and effort, the ensemble that filled the screen with performances that felt the joys and sorrows of life, and the numerous staff members who improved the quality of the film. Opening a new chapter in the movie, it will provide special pleasure to the audience who visited the theater.
Nationwide Bang.Bang.Gong.Gong.
A memory trip to the past!
From locations such as Seoul-Mokpo-Busan-Cheongju-Ttangkkeut Village and Bogildo Island
Even a 2D set that connects fantasy and reality!
<Life is Beautiful> is both a musical film and a road movie about a couple who travels across the country in search of their wife's first love and encounter past memories. From Seoul-Mokpo-Busan-Cheongju-Ttangkkeut Village to Bogildo Island, colorful landscapes across the country are spread out on the screen, providing a wealth of sights.
From Mokpo, Seyeon's hometown, to Jeongdong-gil in Jongno, where Seyeon and Jeongwoo sang and danced together, to Cheongju's broadcasting station in search of 'Jungwoo', to Bogildo, a village at the end of the land that 'Jungwoo' wanted to visit during his school days, to 'Jinbong'. ' and Seyeon's honeymoon destination, Haeundae Beach in Busan, as well as all over the country, from the Cheonggyecheon secondhand bookstore street where the two met for the first time, the Deoksugung Palace stone wall path they walked together, the Seoul theater where they went to see Jojo's movie on their first date, and the friendly alleys of Seochon, Gyeongbokgung Palace. The scenes of the happy days of 'Jinbong' and 'Seyeon', which were filmed in various places in Seoul, convey memories and empathy to the viewers while raising the level of immersion in the play.
Park Eun-kyung, CEO of The Lamp Co., Ltd., who conveyed the atmosphere of the filming set, said, "After filming in various places for several months, the actors and staff felt like they were going on a trip, as if they had come to the MT together." It was a trend among friends during school days to go back and forth to Bogildo Island. So I asked writer Bae Se-young to include it in the scenario in particular."
<Life is Beautiful>, which was able to capture the beautiful scenery of the country through the efforts of the production team who spent five months scouring the country for location hunting, added a different charm to the play with a special set shooting that connects fantasy and reality in addition to locations. In the case of the rest stop scene in the 'Solo Praise' sequence, it was created as a 2D format set excluding three-dimensional effect. In a picture-like set in pastel tones, 'Jinbong' and 'Seyeon' dance and sing with an ensemble dressed in colorful clothes, announcing the start of a full-fledged road movie, while exquisitely expressing the moment of fantasy that escapes everyday life. The combination of everyday life and cinematic fantasy doubles the unique charm of <Life is Beautiful>.
[ SPECIAL KEWORDS ]
Memories drop, drop, drop, drop.
Seoul Theater
Established in 1964, Hapdong Film Co., Ltd., which produced 247 Korean films and imported/distributed about 100 foreign films, acquired Segi Theater in Jongno in 1978 and changed its name to Seoul Theater the following year. Along with Danseongsa in Jongno and Daehan Theater in Chungmuro, Seoul Theater, which led the revival of domestic theater districts in the 1970s and 1990s, was recognized for its value as a place that represents the history of Korean films, such as establishing Korea's first multiplex theater in 1989. It has also been listed as a future heritage site. On August 31, 2021, the last screening ended after 42 years.
on a starry night
Starting from March 17, 1969, MBC's longest-running radio program has been broadcasting for 54 years. The 14th DJ Lee Moon-se, who was loved by teenagers at the beginning and was in charge of hosting from 1985 to 1996, boasted explosive popularity and great influence to the point of being called "the minister of education (Education) at night." In addition to producing numerous singers through the 'Starry Night Show off' corner, the public broadcasts held every Sunday received enthusiastic responses from fans with the appearance of the most popular singers in a time when it was not easy to see live performances.
Kahlil Gibran (1883-1931)
Lebanese representative writer active in Europe and America as a philosopher, painter, novelist, and poet. His prose poetry collection <The Prophet>, completed after 20 years of contemplation in 1923, was called the modern Bible and was widely loved after being translated into various languages around the world. In addition, many other works have been introduced in Korea, including the novel <Broken Wings>, a collection of proverbs <Sand and Foam>, and a collection of fables <The Wanderer> <Be still, my heart> <Time> <The love I can show is very small>.
Movie "Love and Soul"
Youngje Ghost. American romantic fantasy film released in 1990. Patrick Swayze, who rose to stardom with <Dirty Dancing> (1987), and actor Demi Moore, who was noticed as a promising actor at the time, played the lead roles, recording a global box office craze and winning Best Screenplay and Best Supporting Actress (Woopi Goldberg) at the Academy Awards. It has been recognized for its workmanship. While the theme song 'Unchained Melody' is playing, the scene where the male and female protagonists spin the wheel while holding each other is still talked about as a famous scene and has spawned many parodies.
(Source: Homepage of Hapdong Film Co., Ltd./Wikipedia/Doosan Encyclopedia)
Related Videos