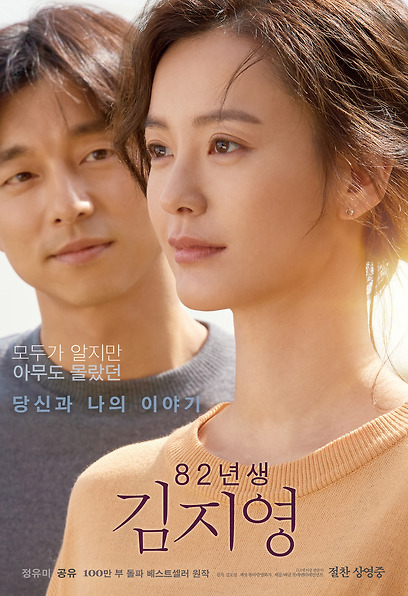 KIM JI-YOUNG, BORN 1982, 2019
release

2019.10.23
genre

drama
country

Korea
ranking

Audience over 12 years old
running time

118 minutes
grade

6.7
cumulative audience

3679162 people
Synopsis
Born in the spring of 1982
Someone's daughter, wife, colleague, mother
'Ji-young' (Jung Yu-mi) living today in 2019.
Sometimes it feels like I'm stuck somewhere, but it's frustrating
Husband 'Daehyun' (Gong Yoo) and lovely daughter,
And even though we don't see each other often, his strong family is a big strength to Jiyoung.
But 'Ji-Young' speaks as if one day it became a different person.
'Daehyun' is afraid that his wife will get hurt, so he can't tell the truth.
'Jiyoung' always smiles to 'Daehyun' like this, saying "It's okay"…
Everyone knows but nobody knows
you and me story
[ About Movie ]
Everyone knows but nobody knows
you and me story
This fall, <Kim Ji-young, Born 1982> will be on the screen.
Jo Nam-joo's novel 'Kim Ji-young, Born 1982', which has sold over 1 million copies in two years since its publication in 2016, is reborn on the screen. The newly completed movie, "Kim Ji-young, Born 1982," is a story that no one knew about Kim Ji-young, who was born in 1982 and lives today in 2019 by adding drama and story to 'Kim Ji-young' in the novel and surrounding characters. After a dreamy childhood and a job full of confidence in everything, 'Ji-young' is now the mother of a child and someone's wife. However, starting with the figure of 'Ji-young', who feels an unknown feeling of suffocation as if her heart is pounding and sinking in her repetitive daily life, <Kim Ji-young in 1982> goes back to the hidden stories and pains she was not aware of. And from time to time her husband, Dae-hyun, who is worried and heartbroken as she watches the change of his wife, who seems to have become a different person, to Ji-young's mother, family, and colleagues. <Ji-Young Kim, Born 1982>, which delicately portrays the story of 'Ji-Young', who builds up emotions in her relationship with close people, will tell a common but special story.
Jung Yumi & Gong Yoo
Third meeting, first couple breathing
Delicate emotional acting that raises empathy
Jung Yu-mi and Gong Yoo, who acted together in the 2011 film <The Crucible> based on the bestseller of the same name, and the 2016 disaster blockbuster <Train to Busan>, which mobilized 11.56 million viewers, are the third and first married couple in <Kim Ji-young, Born 1982>. matched Jung Yu-mi, who has played a character of vitality that is in contact with reality through honest and realistic love stories [Discovery of Love], [God of the Workplace], a delightful portrayal of the joys and sorrows of members of society, and [Live], which vividly captures the life of youth in Korea, In <Kim Ji-young, Born 1982>, she took on the role of 'Kim Ji-young', someone's daughter, wife, colleague, and mother. Jung Yu-mi, who plays Ji-young, an ordinary person who is courageous but sometimes hurts, smiles brightly but has pain in it, from the calm appearance of quietly living everyday life to the feeling of discovering herself and getting hotter, delicate acting focused solely on the character. lead to the center of the play. And Gong Yoo, who has been interested in his next work after showing three works in a row, including the movies <Train to Busan>, <Spoilers>, and the drama [Goblin] in 2016, is returning to the screen after three years. Gong Yoo, who takes on the role of 'Daehyun', a husband who watches over 'Jiyoung' worriedly, is different from his previous work, with his extremely ordinary daily human appearance, as well as more detailed emotional acting as a thoughtful husband with deep thoughts and worries for his wife. increase immersion. The special chemistry between Jung Yu-mi and Gong Yoo, who met for the third time as a married couple, will be the highlight of <Kim Ji-young, Born 1982>.
Born in the spring of 1982
'Jiyoung' living today in 2019
A character that touches reality in universal daily life
<Kim Ji-young, Born 1982> depicts the process of 'Ji-young', who is living today in 2019 as someone's daughter, wife, colleague, and mother, getting to know a side that she did not even know herself. Through characters and episodes that touch reality, it captures in detail the universal daily life of ordinary people who are likely to be around us. After a childhood dreaming of traveling around the world with her older sister, Ji-young is a newcomer who is full of admiration and confidence for a career woman, and a newlywed 'Ji-young' who is excited about marrying the person she loves. And 'Ji-young', who lives today as a wife and mother, sometimes feels happy, but feels some kind of anxiety and confusion in the reality that tomorrow, which is no different from today, repeats. Nevertheless, the calm 'Ji-young', who always smiled saying it was okay, became someone else while he didn't remember and left a deep impression with a story that everyone thought he knew, but no one knew. Here, the process of changing and caring for each other through 'Ji-young' and her husband Dae-hyeon, who thought the hardships and pains of reality were natural, will form another axis of the movie <Kim Ji-young, Born 1982> and increase the amplitude of emotions.
photography, art, music
The detailed effort that breathes life into the character
Delicate video, amplify emotions
The production team of <Kim Ji-Young Born in 1982> put great effort into depicting the detailed changes of the characters through video, from setting up a space where everyday life is alive. Cinematographer Lee Seong-jae, who delicately captured the emotions of the characters according to the passage of time through <Your Wedding>, densely captured the emotions of the actors that change depending on the point of time of the play between the past and the present. To this end, the characters are portrayed in various compositions, and the emotional lines that are gradually accumulating are captured in refined images to enhance the immersion of the play. Art director Lee Na-gyeom, who participated in <Wagon Car> and <The King> and instilled the tension of a sharp character into the everyday space of home in <Miss Bag> and <Door Lock>, went one step further from the simple implementation of everyday space. The interior space design that reflects the life and emotions of 'Ji-Young' has completed the unique emotion of <Ji-Young Kim, Born 1982>. In addition, music director Kim Tae-seong, who won the 2018 Korean Film Critics Association Award Music Award for <1987>, added a delicate melody to the emotions of a changing character to enhance the perfection. The music that flows along the amplitude of the emotional line, which is sometimes calm and sometimes heightened, will richly fill the emotions of <Kim Ji-Young Born in 1982>. In this way, <Kim Ji-young, Born 1982>, which made detailed efforts from filming, art, and music, will capture the hearts of the audience by delivering a deep lingering impression.
Related Videos