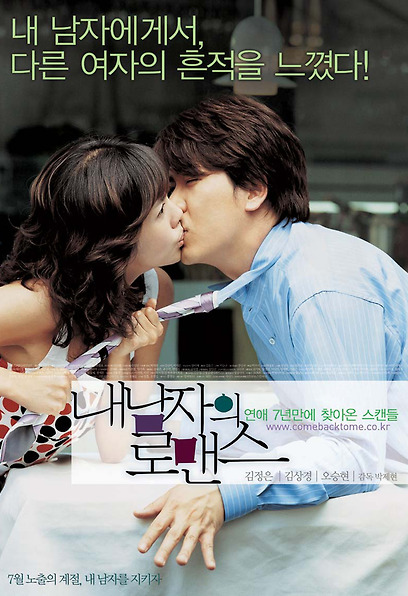 How To Keep My Love, 2004
release

2004.07.16
genre

Comedy/Romance/Melodrama
country

Korea
ranking

Audience over 12 years old
running time

112 minutes
grade

7.0
cumulative audience

765720
cookie video

One
Synopsis
My man's romance with a creepy fox! Miracle or tragedy?
Who did my man meet???
Hyeon-joo (Kim Jeong-eun), a twenty-nine-year-old subway station attendant, lives an ordinary life. She has a long-time boyfriend So-Hoon (Kim Sang-Kyung). So-hoon, a researcher at Sesco, a pest control company from the Department of Biology, is a supporter of Hyeon-joo, who is a bit blunt but has a friendly heart.
One day, while So-hoon is going to buy a gift for Hyun-joo, he and Eun Da-yeong (Oh Seung-hyun), the best actress in Korea, are trapped in a broken elevator. Unlike Dayoung, who is anxious, Sohoon is obsessed with a rare cockroach he found in the elevator. Da-young, who was attracted to So-hoon's candid and easygoing appearance, who does not treat herself like a celebrity, can't forget her strange feelings for So-hoon even after being rescued from the elevator.
Don't just change your mind, I'll take care of the rest!
Dayoung intentionally approaches Sohoon by signing a CF for Sesco, which he rejected, as well as quarantine at her house. Hyeon-joo is shocked when So-hoon and Da-yeong's meeting is featured in a scandalous article. But the only person who can't fully understand this situation is Sohoon. So-hoon, who denies Da-young's feelings, saying that a popular star has no way to approach him, and Hyeon-joo, who accidentally finds out Da-yeong's true love for So-hoon, run into each other. Hyeon-joo, who is in danger of being left alone, tries to get her boyfriend back, but the situation is already in reverse mode. Hyeon-joo is late to rectify the situation…
Related Videos