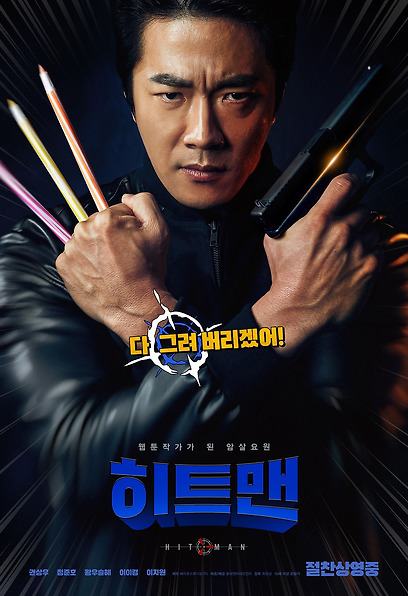 HITMAN: AGENT JUN, 2019
release

2020.01.22
genre

Comedy/Action
nation

Korea
ranking

Audience over 15
running time

110 minutes
grade

6.3
cumulative audience

2406232 people
Synopsis
He escaped from the National Intelligence Service to become a webtoon writer.
'Jun', a legendary assassin agent from the secret project Shield Yeon.
However, the reality is that every serialized work receives only the highest level of malicious comments.
Draw a first-class secret that should not be drawn while drunk
Unexpectedly, webtoons get an invitation overnight, but
As a result, 'Jun' becomes a double target of the NIS and terrorists…
A legendary assassin who became a webtoon writer, his hit instinct awakens!
The salty explosion that will hit 2020 is the birth of a comic action!
[ ABOUT MOVIE ]
Guaranteed belly-robbing laughter! Guaranteed eye-catching action!
The best hit shot for the Lunar New Year 2020! The birth of a comic action movie!
<Hitman>, a comic action movie that heralds the biggest hit for the Lunar New Year holiday in 2020, is an interesting story that takes place as a double target of the NIS and terrorists while 'Jun', a former assassin who became a webtoon writer, draws a top secret that should not be drawn while drunk. It is a comedy action with a serious story.
Director Choi Won-seop, who has consistently challenged the comedy genre, said, "I wanted to make the funniest movie, how can I make it more funny, and I wanted to show the action realistically but in a comical and lighthearted way" and revealed his directing intentions, as he played the role of 'Jun', an assassination agent who became a webtoon writer. Actor Kwon Sang-woo, who took on the role of , expressed his affection, saying, "It is a film that cannot make the audience laugh." As if to prove the confidence of the director and actors, <Hitman> is armed with laughter and explosive charms from the character setting. 'Jun', a legendary assassin who was a former assassin, but now suffers from malicious comments, 'Jun', a charismatic but tenderhearted NIS demon instructor with reversal charm, 'Cheol', the youngest assassination agent 'Cheol' and a devastating webtoon writer The reversal charm of the characters, from the reliable wife 'Mina' to 'Gayoung', the daughter of 'Jun', who dreams of becoming a successful rapper, will give the audience a pleasant laugh.
As the hidden past of webtoon writer 'Jun' is unintentionally revealed, the action-packed action that takes place as a double target of the NIS and terrorists also gives the audience intense pleasure and adds to the rich fun of the play. Martial arts director Kim Chul-joon, who directed the film, said, "I tried to produce a non-heavy, action-packed action that the whole family could enjoy during the Lunar New Year holidays." Actor Jung Jun-ho said, "The action or action that comes naturally in a very urgent moment creates a situation where you can't help but laugh." In addition, <Hitman>'s unique laughter trigger is born as a feast of variety of actions, from the mouth-watering action to the supreme action that will take place in a tense situation, and the intoxicating action of the unexpected reversal, delivering laughter and colorful fun. <Hitman>, armed with a light comedy without likes and dislikes, and a delightful yet exciting action, heralds the birth of the best hit-shot comic action movie that the whole family can enjoy together regardless of age or gender during the 2020 Lunar New Year holiday.
Kwon Sang-woo X Jung Jun-ho X Lee Yi-kyung from NIS Ace Line 'Shield Yeon'
& Hwang Woo-seul-hye X Lee Ji-won's real mother and daughter sortie!
Check out the great comic synergy & salty explosion reality chemistry!
In the movie <Hitman>, the characters that look like they are wearing custom clothes and the actors boasting a high synchronization rate are expected to give a refreshing laugh with the synergy of characters full of different personalities. As with the casting behind the scenes of the director who said, "I wrote it with actor Kwon Sang-woo in mind from the beginning," actor Kwon Sang-woo, who captured the hearts of the audience by going back and forth between comedy and action genres in the <Detective> series and <God's Move> In 'Jun', he transformed from a legendary assassin agent and a salty explosion webtoon writer that he could not handle without him to 'Jun', completing a customized character that fully showed his unique skills. 'Deok-gyu', a demon instructor of the National Intelligence Service, where charisma and laughter coexist, is played by Jung Jun-ho, who made a mark in a comedy action movie, and vividly depicts Kwon Sang-woo as 'Jun' and a comic tiki taka, heralding a splendid comeback as if wearing a tailored suit. do. Kwon Sang-woo said, "As soon as I saw the scenario, I thought that Jung Jun-ho should unconditionally play this role." The youngest assassination agent 'Cheol', who is a fan of 'Jun', is played by Lee Yi-kyung, an actor who radiates an overflowing talent between dramas and entertainment shows. Jung Jun-ho praised Lee Yi-kyung, saying, "In a comical scene, he hit an ad-lib with excellent audacity and agility and burst out on set." The movie <Hitman>, which captures the explosive comic action synergy of the trio of ace agents who carry out first-class secret operations, will reveal its presence as a comedy restaurant for the Lunar New Year in 2020.
In addition, actress Hwang Woo-Seul-Hye, who has been recognized for her comical character acting through various works, and actress Lee Ji-Won, who shows proven skills and stable acting skills, transforms into real mother and daughter, raising interest. The two actors, together with Kwon Sang-woo, a master of life-related acting, who plays the character of the incompetent, will show a family chemistry that reflects 200% of reality, full of stormy smell and love, and will arouse laughter and sympathy from the audience. In addition, through this work, Hwang Woo-Seul-Hye will show wire action and Lee Ji-Won will reveal his rap skills, raising expectations for the movie to the utmost as he will show various appearances with a reversal charm as well as a comical appearance.
The cartoon imagination unfolds on the screen as it is!
A different visual that goes back and forth between live action, webtoon, and animation!
The movie <Hitman> draws the attention of the audience with its interesting setting and cartoon imagination that a former assassin becomes a webtoon writer. A webtoon drawn by 'Jun', a legendary assassin agent, transforms into a webtoon writer for his longtime dream of a cartoon, unfolds on the screen. 'Jun', who is suffering from malicious comments with the last number of views in 10,000 years, is drunk and drunk and draws a top secret from his past assassination agent as a webtoon. It will be implemented and will catch the attention of the audience.
The movie <Hitman> is expected to satisfy expectations by expressing this comical imagination and interesting setting through dynamic and diverse actions. The actors embodied as characters in the webtoon as well as animations intersect with live action and fill the screen with unique visuals. From the screenplay stage, the production team set up separate webtoon and animation teams to establish thorough collaboration and division of labor to improve the degree of perfection and quality. Director Choi Won-seop said, "We tried to make webtoons and animations appear dynamically on the screen." Writer Kim Ye-shin, who worked on the webtoon in the work, said, "As for what parts should be drawn in the webtoon to show the core story while being suitable for the movie, the director detailed the intense style and action settings in the process of working with webtoons and animations of real actors. We worked in consultation with him," he said, raising expectations by guessing the efforts of the production team who put a lot of effort into it.
The unique visuals of <Hitman>, which will unfold between live-action, webtoon and animation, will make the audience enjoy the movie more abundantly. Regarding the comical imagination unique to <Hitman>, which presents the specialized fast-paced and fast-paced actions of assassin agents as live-action films as well as animations and webtoons, actor Jung Jun-ho said, "The advantage of webtoons and animations crossing reality is that they further maximize the dramatic content of characters and actions. It is an attractive and very unique film," drawing attention to its colorful charm.
[ PRODUCTION NOTE ]
Comedy hit! Action is also a hit!
From the great performances of the comedy aces that made even the scene a sea of laughter
A feast of spectacular action unfolded by the assassination agents of the National Intelligence Service!
A delightful camera that you can't take your eyes off of for even a moment!
The movie <Hitman>, which foreshadows a burst of laughter as well as unrivaled action, captivated all the actors with its unique charm from the scenario stage. "It was a scenario that I fell in love with the more I read it. No matter how many times I read it, it kept coming up to me, and every time I saw it, it exploded."
Based on these scenarios, director Choi Won-seop created a comfortable atmosphere for actors to fully demonstrate their comedy skills on set. As he said, "On the set, we wanted to make a minimal version based on the scenario so that the actors could act freely." In addition, even on days when there was no filming, they often met and became close, and it is said that their hearts were connected just by looking at their eyes. Lee Yi-kyung said, "The ad-lib created on the spot was well received by the seasoned seniors," adding to expectations by conveying the perfect chemistry with the senior actors. Kwon Sang-woo said to Lee Yi-kyung, "The oral action is really strong. It is the second Seongdongil," and conveyed the warm and pleasant atmosphere of the scene. As such, <Hitman> foretells that the fantastic acting ensemble of Korea's representative comedy actors and perfect synergy will come together to provide more upgraded fun than the scenario.
Also, in <Hitman>, you can see not only comedy but also spectacular action scenes. Director Kim Cheol-jun, who was in charge of the martial arts, said, "The action was well expressed according to the charm of each character. Actor Kwon Sang-woo has a restrained yet powerful technique, actor Jung Jun-ho digested the action with sophistication and skill, and actor Lee Yi-kyung showed a strong image like an incumbent agent." In addition, actress Hwang Woo Seul-hye, who challenged not only high-strength wire action, but also action full of hitting, also draws attention. Her wire action shows her potential as an action actress, and at the same time, presents a different charm from the powerful power of the three people. The movie <Hitman>, which was created by actors perfect for both comedy and action, will captivate theaters with its fresh and unique charm that has not been seen in Korean movies.
Opening a new chapter in comic action movie visuals!
An exciting story that unfolds not only in live action, but also in webtoons and animations!
The webtoon production process that expands the cinematic fun and scale infinitely!
In <Hitman>, webtoons and animations that caught the eye as much as the performances of the three members of Shield-yeon and Jun's family appeared. Webtoons and animations, which open a new chapter in the visuals of comic action movies, maximize cinematic fun by expressing exciting and diverse characters with action-packed action and colorful charm.
In order to properly implement a webtoon and animation containing the sophisticated and fast action of the former assassin 'Jun' in a more delicate and splendid way, from the initial planning stage, the production team formed a webtoon writer Kim Ye-shin and an animation team and prepared for a long time. Director Choi Won-seop collaborated with writer Kim Ye-shin, who can digest the charisma and action of an assassin-like character dealing with terrorists while carrying out the National Intelligence Service's top-secret Shield-Keon project. Writer Kim Ye-shin said, "The director wanted to express a character design with a noir style and a lot of action, so I joined together." The animation also dynamically captures the urgency of the action as the webtoon on the screen transitions naturally. For this, writer Kim Ye-shin said, "There is a lot of process in which the screen that moved from the live-action film to the webtoon drawn by 'Jun' is converted back to animation, so I am also involved in post-production. For example, when you see a webtoon on a mobile phone screen or a computer screen in a movie, we are continuously making detailed adjustments such as not only making the lines and characters more visible, but also whether the colors match the live-action scene well." It will provide high-quality visuals that freely cross between webtoons and animations.
Director Choi Won-seop has been constantly discussing the direction of the late webtoon [Sorimsa Laughing] and the hit [Assassination Agent Jun] with writer Kim Ye-shin. Writer Kim Ye-shin said, "I was discussing with the director and tried to express the work that didn't go well in a comical way, and I tried to draw the action scenes of the hit [Assassination Agent Jun] in a cool way, so it will be fun to see the contrasting elements." Through the webtoon and animation of <Hitman> implemented in
Related Videos