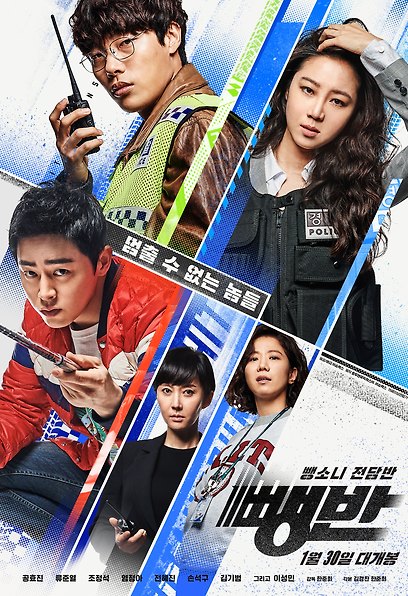 Hit-and-Run Squad, 2018
release

2019.01.30
genre

crime/action
nation

Korea
ranking

Audience over 15
running time

133 minutes
grade

6.3
cumulative audience

1827020 people
Synopsis
Hit and Run situations occur,
Sunma is coming!
Inspector Eun Si-yeon (Gong Hyo-jin) belongs to the internal affairs department, the most elite organization in the police.
Siyeon, who is tightening the investigation network to catch the F1 racer former businessman 'Jeong Jae-cheol' (Jo Jung-suk) with 'Chief Yoon' (Jeong-ah Yeom), the only person in the organization who trusts and follows, is relegated to the hit and run task force under the stigma of conducting an unreasonable coercion investigation. .
It turns out that the senior police officer, 'Gyejang Woo' (Jeon Hye-jin), a full-time leader, and 'Seo Min-jae' (Ryu Jun-yeol), an ace cop with a natural sense of car. There are only two team members, and there is no manual, manpower, or time, but the best hit and run is 'Band-Band'. Si-yeon, who continues to keep a close eye on Jae-cheol, learns that Jae-cheol is the leading suspect in the unresolved hit-and-run case under investigation.
The hit-and-run guy is the hit-and-run ace Min-jae, who pursues to the end, and the demon who stakes everything to catch Jae-cheol, who commits all kinds of corruption. As their team play begins to work together towards a single goal, Jae-cheol, a speedy out of control who tries to get out of the investigation without choosing any way, is also getting more and more daring… !
Hit-and-run team vs. speed freak out of control
'Pep-and-Ban' is coming to open the New Year's Eve in 2019!
[ About Movie ]
Freshness is BIG!
In January 2019, the hit and run team is coming!
A world of 'Pep-and-Pop' that chases events with precision and persistence
The movie <Band-and-Band> is a crime, entertainment and action movie depicting the struggle of a hit-and-run team chasing a speedy businessman out of control. The term 'hit and hit', which is the first material to be dealt with in earnest in Korean films, is an abbreviation for the hit and hit squad, a special organization within the police that deals only with hit and run cases. According to the '2018 Traffic Accident Statistics' of the National Police Agency, there were 7,880 hit and run accidents in 2017, with 150 deaths and 11,429 injuries. Like this, the movie <BandBand>, which tells the story of a hit and run squad, which is called the worst crime on the road, guarantees differentiated fun that has not been seen in existing police movies by adding team play of characters with strong personalities based on fresh materials. The world of 'Pep-and-Pop', drawn by the activities of various experts who pursue cases with precision and tenacity that does not miss a single piece of evidence such as skid marks, bumper fragments, and CCTV footage, is enough to catch the attention of the audience. Director Han Jun-hee, who directed the movie, said, "I wanted to draw interestingly the subject matter of 'Pep-and-Pop' in the police, which is not yet familiar to the audience, within the framework of the familiar crime action genre." <BandBand> depicts the thrilling pursuit of a special organization hit and run task force that continues to struggle with the determination to catch the bad guy. While stimulating anger and sympathy for the unconscionable crime hit and run case that crosses the speed and line, it will overwhelm the theater district in the New Year of 2019 with an exhilarating movie that combines the charm of a strong character, unpredictable development, and exhilarating car action.
Transformation BIG!
Gong Hyo-jin, a tough elite police officer
A hit-and-run ace police officer Ryu Jun-yeol with a reverse charm
Jo Jung-suk, a speedy businessman who will leave a strong impression
<Pep-Ban> is a film that highlights the transformation of the leading actors, who are divided into characters with strong personalities. In addition to works that showed the charms of 'Gongbli' such as [It's Okay, That's Love] and [Incarnation of Jealousy], as well as <Miss Blush>, <Missing: The Missing Woman>, and recently <Door Lock>, she has a unique presence with a wide spectrum of acting skills. Actress Gong Hyo-jin, who has been radiating, took on the role of elite police officer 'Si-yeon' in <Pop and Ban>. Gong Hyo-jin played the role of Si-yeon, who was relegated to the hit and run task force in an instant in an internal apology, where the best intelligent people gathered, but never gave up until the end with a strong and tough charm. Gong Hyo-jin, who showed a charismatic figure that was not worth the modifier of 'Gong Crush', is expected to show a different level of police character through <Pep-and-Band>.
Actor Ryu Jun-yeol, who has captivated audiences with his own characters, such as an ordinary college student in <Taxi Driver> and an abandoned gang member in <Self-defeat>, completed another original character as 'Minjae', a police officer with a natural sense of car. . Police officer Min-jae, who is the only member of the hit-and-run task force and the ace, looks weak and clumsy, but has a natural sense of car. Ryu Jun-yeol, who follows his instincts rather than the manual and has a unique personality of a character with a reversal charm with a sharp sense unlike the appearance, will lead the play with a vivid charm that seems to live and breathe next to the audience.
Jo Jung-suk, who has recently tried a new transformation in every work until <Drug King>, will show the first intense transformation of a villain in his acting life as 'Jae-cheol', a businessman who was the first F1 racer in Korea and out of control speed mania in <Peppan>. Jo Jung-suk is expected to show a new villain that could not be imagined with his original appearance by acting as a madman who cools the air with just his tone, eyes, and gestures. Jae-cheol will create a strong impression that will not be easily forgotten by consistently creating tension with the unpredictable unexpectedness of enjoying the race as the hit-and-run investigation network narrows.
The chemistry is BIG!
From the representative actors of Chungmuro to the rising stars in the spotlight
Yeom Jeong-ah, Jeon Hye-jin, Son Seok-gu, Kim Ki-beom
A perfect combination of strong acting skills and fresh synergy!
Yeom Jeong-ah and Jeon Hye-jin, who captivated the audience with their new charms in each work, and Jeon Hye-jin, who are attracting attention for their unique acting skills, Sohn Seok-gu and Kim Ki-beom, the actors who expect a fresh chemistry just by their names are united in <Peppan>.
'Chief Yoon', who is Siyeon's internal apology officer, and 'Chief Woo', who leads the hit and run team, will be played by actresses Yeom Jeong-ah and Jeon Hye-jin, who represent Chungmuro, and will radiate their presence as female characters with their own distinct personalities. Yeom Jung-ah, who is loved for her realistic yet sympathetic performances in <Perfect Others> and [SKY Castle], takes on the role of 'Ji-hyun Yoon', a charismatic police officer with her own firm convictions, and shows off a different transformation. Jeon Hye-jin, who left a deep impression as the strong police character 'Team Leader Cheon' in <The Bully: The World of Bad Guys>, took on the role of 'Woo Seon-young', a full-term hit-and-run leader who is usually full of humanity and easygoing, but shows charisma at the decisive moment in <Peppan>. Decomposition shows a different charm. On the other hand, actor Son Seok-gu, who is active at home and abroad such as [Mother], [Best Divorce], and [Sense 8], plays the role of prosecutor Ki Tae-ho, and Kim Ki-beom, who showed his bouncy charm through [Honju Man and Woman], is a rookie car knight. He joined the role of 'Han Dong-soo' and added energy to the casting line.
The team play of the characters, which joins forces towards one goal of catching the uncontrollable speed maniac businessman 'Jae-cheol', and even unofficial experts, exudes unexpected chemistry throughout the film and doubles the dramatic fun. <Pop and Ban>, which raises expectations just by casting even the leading actors of Chungmuro and notable newcomers, will tell a rich story with a colorful combination of actors and an acting ensemble.
The BIG of Pleasure!
The crew of <Along with the Gods>, <Train to Busan>, <Solo>, <Witch>, and <Asura>
To complete the action full of pleasure
A new challenge from the best veterans of Chungmuro!
With cinematographer Tae-kyung Kim, art director Jang Geun-young, martial arts director Myeong-haeng Huh, special effects team Demolition, and CG team Wysiwick Studio with the best production crew in the action genre, <Pep-and-Band> embodies a large-scale car action that has never been attempted in a Korean movie so far, and is dynamic yet dynamic. The film's perfection has been enhanced with a spectacle where reality is alive and breathing.
Cinematographer Tae-Kyung Kim, who received favorable reviews for her sensuous visuals through <Solo Battle> and <Tazza – Hand of God>, completed the energetic visual beauty of <Peppan> without missing out on everything from the thrill of the fast-paced car action to the delicacy of chasing the emotions of the characters. In particular, the speed and reality of the car action were increased with a long breath of long takes, breaking away from the general car chase shooting method where tight and short cuts were mainly used. It captures the facial expressions and emotions of the actors. Art director Jang Geun-young, who designed a space where a unique cinematic atmosphere and unique reality live in <Asura>, the achromatic urban officetel of 'Siyeon', the crude but sentimental car center of 'Minjae', and the splendid yet heterogeneous space of 'Jae-cheol' From the party hall to the secret room in the F1 stadium, the space was designed to reflect the character's characteristics, adding to the richness of the cinematic sights. In addition, in order to realize differentiated car action on the screen, martial arts director Huh Myung-haeng of <Along with the Gods>, <Master>, and <Asura> vividly directs the car action on the road of violent collisions and overturns while sprinting at a dangerous speed. to provide pleasure. In particular, the car racing scene added a sense of speed and reality with the participation of real F1 racers, and the special effects team Demolition, which has participated in numerous works such as <Train to Busan> and <The Peacock>, and the CG team that created the original attraction of <Witch> With the addition of WYSIWYG Studio's technology, it was possible to capture a more complete action sequence. Like this, the movie <Pep-and-Ban>, in which the best producers in each field worked hard, will captivate the audience with its powerful yet exhilarating action and flawless build.
[ Production Note ]
Completion of unique action that vividly contains emotion, speed and reality!
The exhilarating pleasure of an action sequence that overwhelms your eyes!
In order to realize an action scene with the characters' hot emotions, the sense of urgency of chasing that conveys the sense of speed and movement of the car as it is, and the beauty of a race that pushes forward instead of virtuosity, the production team of <Pep-and-Band> worked on everything from location to car design to car stunts. took on a new challenge.
Above all, it was an urgent task to find a place where a sense of scale and dramatic car action could be unfolded. Accordingly, the production team conducted numerous preliminary investigations and location hunting to the extent that there were no roads not visited in Korea for 4 months. Based on cooperation with local governments, a vast amount of car action was captured on camera over a total of 40 times. In addition, with active cooperation from the Jeonnam Development Corporation KIC Sales Office (Yeongam International Automobile Racecourse), which is an actual F1 stadium located in Yeongam as the main space of 'Jae-cheol', a former F1 racer, we filmed action sequences full of excitement for one month to add reality.
The car design that brings personality to the film was reborn in the hands of art director Jang Geun-young. In particular, all racing cars are designed to transform existing cars, and among them, 'Buster', Jaecheol's favorite horse, imported a high-performance muscle car-style car for a masculine and powerful feeling and was completed by adding a new design. . The vehicle 'Minjae' drives at the end of the movie is a variation on 'Toyota 86', the signature car of [Initial D], which is famous for car cartoons and games. With more than 200 vehicles mobilized during the production process, including racing cars with unique designs, as well as patrol cars, fishermen trucks, and truckers, the car itself constitutes another unique attraction.
The car stunts created by the martial arts team, such as intense chase scenes, breathtaking acrobatic driving and dangerous accident scenes, and the F3 machine driving scenes shot with real racers are the highlights of <Pump and Half>. To this end, Ryu Jun-yeol volunteered to practice driving even on days when there was no filming with a vehicle used for actual filming, and Jo Jung-suk also practiced driving an F3 machine and a tuned racing car under the guidance of the racing team. It is said that he mastered the F3 machine in a short period of time and the racing team officials were also impressed by his driving skills. As a result of these long hours of painstaking practice by the main actors, the main car action scenes were directly digested. The action of <Pop and Ban>, completed with the endless efforts of the best production crew and actors, will provide you with chewy fun that will make you sweat with a realistic spectacle that goes beyond the limits.
Related Videos