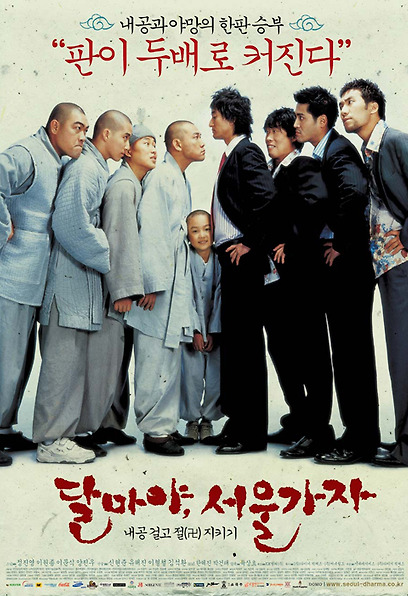 Hi, Dharma 2 : Showdown in Seoul, 2004
release

2004.07.09
genre

comedy
country

Korea
ranking

Audience over 15
running time

101 minutes
grade

5.4
cumulative audience

703507
Synopsis
3 years after the sad breakup with the gangsters…
When Monk Cheongmyeong (Jung Jin-young) leaves Eunhasa Temple to deliver the remains of the great monk to Musim in Seoul, Monk Hyeon-gak (Lee Won-jong) and monk Daebong (Lee Moon-sik), who is practicing silent speech, follow the purpose of protecting monk Cheongmyeong as an excuse. The monks arrived without difficulty in Seoul. The governor has already left the temple with a debt of 500 million won, and only Nobosal Monk, who seems to be changing his mind, and handsome Monk Mujin and Dongjaseung remain. The foreclosure tickets from the courts attached to the temples terrify the monks, and the monks Cheongmyeong, Hyeongak, and Daebong, who run into the gang of Beomsik (Shin Hyeonjun), are left to rescue the monks.
Somehow, I have to live without judgement!
After making flyers to promote the Sinchon nightlife district, swimming pools, and even singing classes, the members of the Shinchon entertainment district, who have not been able to hold a banquet for a year, come to visit and become lively and prosperous. However, legally, it has already passed over to continental development without examination. During Monk Cheongmyeong's sermon, Beom-shik and his servants threatened to leave immediately, claiming that they were planning to build a 'Dream City', a complex on the ground at the site of the temple, and took away the Buddhist temple. In the meantime, the lottery ticket purchased by Monk Daebong, who is silently practicing, wins 30 billion won, but he is stunned once again when he realizes that the receipt for the lottery ticket is in an unwholesome place that the Beomsik gang took away.
Monks bet against the gangsters!
The monks trying to recover the sanctuary and the gangsters who never dreamed that there would be a lottery ticket worth 30 billion won in the sanctuary. The monks trying to protect the temple and the gangsters who have to destroy the temple and build the Dream City. The monks suggest a game to the gangsters… They play a variety of games with their bets, but when the fire and the whereabouts of Chairman Park become unclear, the monk and Beomshik go into a state of panic…
Related Videos