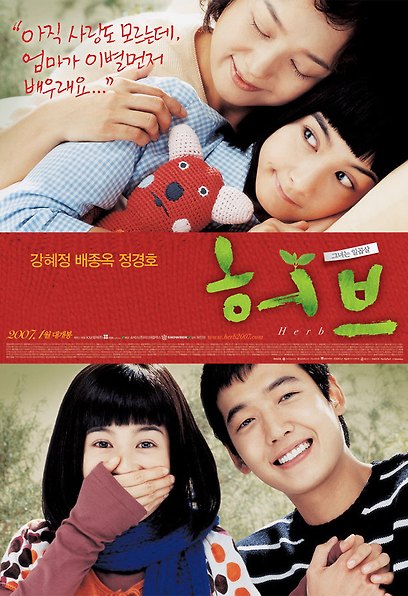 Herb, 2006
release

2007.01.11
genre

drama
country

Korea
ranking

Audience over 12 years old
running time

113 minutes
grade

9.0
cumulative audience

1304662 people
Synopsis
pounding! Bean thump!
Curious about the whole world, she is seven years old forever
Happiness… grow up!
life is a joke
He gave a seven-year-old heart to 20-year-old Sang-eun!
Twenty-year-old Cha Sang. She is pretty, kind, and has an extraordinary talent for origami. Besides, I have loving family and friends. But she had a secret…that is, the intelligence of a seven-year-old forever. Sang-eun, who is learning the world as a 'later' called '3rd grade mentally retarded'. She enjoys getting her national ID card, but there is still so much she doesn't know!
love is naughty
The moment I met the prince, my mother's eyes became sad…
Sang-eun, who is a fan of fairy tales, wishes to meet a prince. One day, after seeing the traffic police officer who appeared with a bright smile in the clothes of a doll with a huge head, he is convinced that he is the prince whose magic has been solved in 'The Beast'… The accessory does not dislike her. Sang-eun is happy because she can't sleep at the first palpitation she feels. But why is the mother who went to the hospital crying?
[MOVIE]
There is still a lot of love in the world
that you have someone precious by your side
I came to whisper
With a green scent…
1. Not in the movie <Herb>
those that made you tired
A film that makes you forget life and a film that makes you see life anew. If the film is divided into these two, <Herb> is of course the latter. <Herb> opens up a new perspective by guiding us into life as it is. It lacks those that you often encounter in movies these days.
exaggeration
The main characters of the movie <Herb> are not special. Hyeon-sook, a strong aunt who runs a flower shop and raises her daughter by herself, Mi-ja, a chattering friend who gives her strength, an obnoxious traffic police officer, and young-ran and Seung-won, elementary school students who are deeper than adults… These are seven eternally loved by everyone. Sang-eun. They are the people by our side that we may have met at least once. The events they show are also stories that we have or will experience. A mother and daughter who love each other, couples full of trial and error who wake up in love for the first time, their unprepared parting… The movie <Herb> does not go far. Because it's closer, it's fresher and tells a story like essential oxygen.
Stimulation
Not a single drop of blood, which appears one drum at a time in horror, drama, action, or even melodrama, does not appear in <Herb>. The loudest noise in the movie is the sound of a passing car. The gangster head of kkakdugi, which appeared in abundance like seasoning at street food stalls, does not appear. Do you think you will be bored? Thousands of words. Was <Love Actually> boring? Was <Cinema Heaven> bubbling? It's a non-irritating, non-polluting, good movie, so it's not boring. Movies that don't know how to talk funny are boring, whether good or bad. The movie <Herb> has no stimulation. But no boredom.
hate
Jealousy, betrayal, anger… these are aspects of conflict often seen in movies. However, this novel and interesting film without exaggeration and excitement, <Herb>, captures the audience's eyes without envy, jealousy or anger. Loving is hotter than anger, comforting is more exciting than betrayal, and seeing a weak protagonist growing up and standing alone is more intense than anger. Just as the sun simply peels off a coat that a typhoon could not take off, the fun and emotion of <Herb> opens the door to the closed audience's hearts.
2. It is in the movie <Herb>
things that will make you happy
pure
Sang-eun with the heart of eternal seven years. She is young and fragile, but she fills her surroundings with innocence like the scent of herbs that spreads softly. In the movie <Herb>, we see the world as the heart of an eternal seven-year-old Sang-eun. With a pure heart of seven years old, Sang-eun grows up dreaming, fluttering… The age of seven is an age of intense curiosity. It is also a special age to open your eyes to the world from a young child and enter a society called school. Sang-eun, who remains forever at that age, brings back the innocence we lost and the fragrant days we have forgotten.
love
The movie <Herb> contains a lot of various kinds of love. The love of a mother and daughter, friendship between friends, love between men and women, human and human faith, the consideration of the strong protecting and enveloping the weak… Amid the various warmth, the movie <Herb> is a world that is said to be harsh and harsh. It tells you how warm it is and how valuable it is. We promise that happiness that spreads like the scent of herbs will come closer to us after the movie ends.
moved
A child with a disability will have an unhappy life in the world. A mother of such a child would be sad and tormented every day. It is impossible for a normal person to love a mentally retarded child, and a mentally retarded child will not be able to stand completely alone in the world… Perhaps this is the prejudice the world has. But <Herb> says. 'Delay' just means a little late, 'disability' just means a little more effort. As it is late, you can see the world slowly, and because you are tired, you can share deeper feelings with those around you… In a world like a fragile herb leaf, as if to be trampled on at any moment, Sang-eun, who seems weak and lacking, falls in love. learn to say goodbye And stand alone! In the process, the audience will meet the emotion that all the sorrows and wounds of the world will be healed, and all the impossible hopes will come true.
[ISSUE]
Voila!
Revealing the secret of <Herb>
1. The clash of actresses, Kang Hye-jung vs Bae Jong-ok
Korea's best acting actresses 'Kang Hye-jeong' and 'Bae Jong-ok' met in the movie <Herb>. In the meantime, the two actresses, who have performed more impressively than anyone else through the screen or TV Braun, performed passionately as 'Sang-eun', a seven-year-old pure daughter of intelligence, and 'Hyun-sook', a mother who is her eternal friend and reliable companion. Actress Kang Hye-jung, who performs an intense and impressive performance that will not be forgotten in each movie she appears in, and a veteran personality actor, Bae Jong-ok, who freely manipulates her character, sometimes stylishly and sometimes charismatic. It tells a warm and heartbreaking story of two actors who are never behind when it comes to acting, meeting and portraying the strong bond between a mother and daughter.
During the filming period, the two actors really shared a special relationship like a mother and daughter. Bae Jong-ok, a mother who kindly feeds her with snacks saying 'ah', and Kang Hye-jeong, who fell asleep like a daughter in her arms during a break. The eyes looking at each other and every word they say to each other meet a miraculous ensemble that fell in love like a real mother and daughter.
2. We invite you to a seven-year-old fairy tale full of imagination show!
In the movie <Herb>, the special and extraordinary spiritual world of the main character 'Sang-eun' unfolds. In the play, Sang-eun puts a picture of a castle that appears in a fairy tale book in her room, and is also friends with characters from fairy tales such as Cinderella, Snow White, The Little Mermaid, Janghwa Hong-ryeon, and Sleeping Beauty. When Sang-eun is bored or in trouble, they always appear and chat with each other and give sincere advice.
What is particularly noteworthy is that Kang Hye-jeong plays all the characters in this fairy tale in a single multiplayer role. For a perfect transformation, she puts great effort, such as carefully taking care of costumes, hair, makeup, and props suitable for each character, and also performed voice acting for each character by demonstrating her dubbing skills, which was shown in the animation 'The Truth of Red Hat'. . One special hint from the production team is the extraordinary lines of the characters in the fairy tale. It is a scene where the ambitious wit of the screenwriters of <Herb> blossoms.
3. Hyejeong Kang, her extraordinary passion and effort
1) Visit the 'Welfare Center of Love'!
Kang Hye-jeong, who plays the role of 'Sang-eun', a mentally retarded child in the play, visited the 'Love Welfare Center' several times before filming and volunteered. Kang Hye-jung spent a meaningful time with the handicapped, such as participating in a cooking class class and arguing with them. She went beyond simple volunteer activities to observe and experience the disabled up close, and through them, she tried to discover the appearance of 'Sang-eun' in the film. In addition, Kang Hye-jeong, Bae Jong-ok, Jeong Kyung-ho, and the staff had an unforgettable time having dinner with the disabled at the 'Love Welfare Center' and singing songs at the karaoke room. Through these various prior experiences, the actors not only felt closer to 'Sang-eun' in the movie, but also got a lot of help in acting.
2) Register for origami academy!
Even before the filming of <Herb> started, Hye-jeong Kang enrolled in a packaging academy and an origami academy to learn packaging techniques and origami diligently while trying to transform herself into the main character, Sang-eun, who has excellent dexterity. While taking classes at the packaging academy, she received admiring praise from the instructors of the institute, saying, 'Teach one, you know the heat!' with a unique aesthetic sense and quick application ability. It covered all the important parts that were directly needed in the
4. Staff who can't be more reliable than this
The screenplay of <Herb> was further enhanced by director In-moo Heo, who was in charge of directing, directly participating in the screenplay. In addition, production designer Cho Geun-hyun, who captivated the audience with his novel and captivating artistic sensibility in <Spoilers of Obscenity>, <Detective Deulist>, and <Janghwa, Hongryeon>, participated in the creation of an art set with a warm and cute feeling like the atmosphere of the movie <Herb>. made In addition, cinematographer Yoon Hong-sik, who showed an outstanding filming sensibility through various genres of films such as <Home>, <Bingwoo>, and <Cheongyeon>, captures the warm story of two mothers and daughters on a pretty screen. In addition, music director Jo Sung-woo, who stimulated the audience's emotions with unique music for each film such as <Christmas in August>, <Spring Day is Coming>, and <Detective Duelist>, will deliver a simple yet beautiful melody. As such, <Herb> will be the best well-made movie with a high-quality work created by the participation of the best staff in various fields.
Related Videos