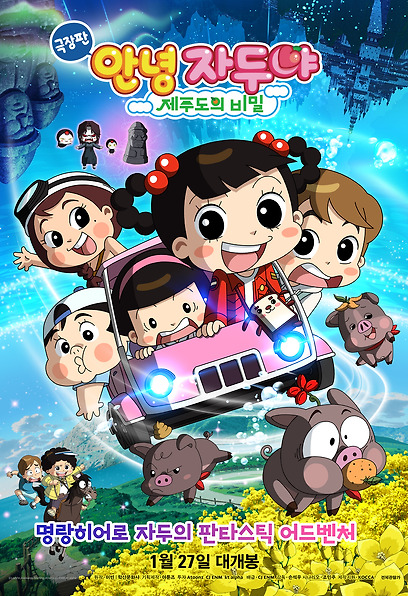 Hello Jadoo : The Secret of Jeju Island, 2021
release

2022.01.27
genre

animation
country

korea
Rating

all spectators
running time

90 minutes
grade

9.0
cumulative audience

121249 people
Synopsis
'Plum' met on a family trip to Jeju Island.
My mother's daughter Jeju girl 'abalone' is dissatisfied.
Besides, what's with those heart eyes looking at 'Yun-seok'?
Let Jeon Bok take over his best friend Yoon Seok.
Angry, Jadu accidentally knocks over Dol Hareubang.
'Barley', which was sealed with a curse long ago, awakens.
Those who were hit by the dolhareubang beam shot by the barley turned to stone and hardened.
Jadu and her friends set out to find a way to undo everyone…
Let's go to Jeju Island! Let's go!
A fantastic adventure of the cheerful hero Plum!
What is the super secret that the fate of Jeju Island is at stake?
Related Videos