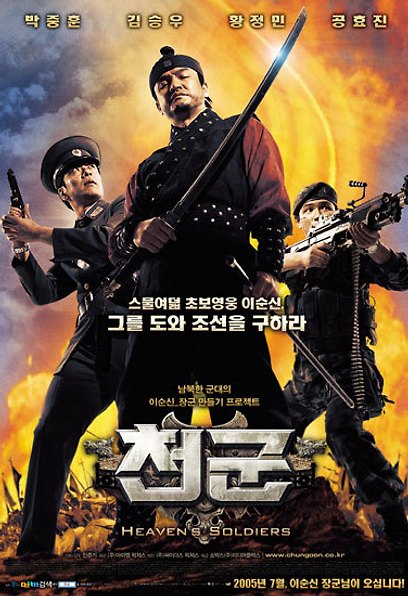 Heaven's Soldiers, 天軍, 2005
release

2005.07.15
genre

Action/Sci-Fi/Period
country

Korea
ranking

Audience over 15
running time

106 minutes
grade

7.7
cumulative audience

933147 people
Synopsis
Soon-shin Lee, a 28-year-old crooked young man, someone who will change his life is coming!
North and South Korean soldiers disappear without a trace with nuclear warheads
It is decided to hand over the nuclear weapon, the Jigikjincheonroe, which was developed in close secret jointly by the two Koreas to the United States.
Dissatisfied with this, North Korean officer Kang Min-gil kidnaps nuclear physicist Kim Su-yeon, and tries to escape by pulling the stingray from the laboratory. Then, for the first time in 433 years, a huge comet passing through the earth passes over the Korean Peninsula… Kang Min-gil's party and the South Korean officer Park Jeong-woo, who were pursuing him, face off in the Yalu River and disappear without a trace along with a sudden tornado.
To become a hero in the future, he meets a young man, Yi Sun-sin, who is too profane.
What unfolded in front of them when they came to their senses after the gust of wind disappeared
It is a scene of ruthless slaughter, where the ax and arrows of the Yeojin people cut through the air.
The group instinctively picks up guns. Surprised by the power of state-of-the-art modern weapons, the Yeojin tribe retreated.
The group hides in a cave. That night, there was a necromancer who infiltrated the cave and stole weapons…
His name is Lee.Soon.Shin. Soon-shin Yi, whom they met, was spending a lavish time in the same year, failing the exam. Meanwhile, rumors spread across the author's street that the heavenly army came down to save the civilians abandoned by the court. They arrived at a village on the outskirts of Joseon in 1572.
Will you return to the future? Will you save Yi Sun-sin?
North Korean soldiers who lost their nuclear weapon in the battle against the Yeojin tribe set out to find it.
Meanwhile, Park Jung-woo, who admired Yi Sun-sin, is disappointed with his closeness to Han-ryang. He tries to train Yi Sun-sin by saying that he will pass the exam in the non-gwa exam, but he resists by saying that he will not take the non-gwa exam again.
Meanwhile, a village girl whom Yi Sun-sin loved is killed by the Yeojin tribe, and the hidden heroic side of Yi Sun-sin is slowly revealed. When Kang Min-gil recaptures the nuclear weapons that were hidden in the home of the Yeojin people, the Yeojin people try to attack the village, and Yi Sun-sin says that he will fight them. Finally, Kim Soo-yeon finds a way back to the future, but now they have to make a life-threatening choice. Will you fight with Yi Sun-sin or will you return to the future?
Related Videos