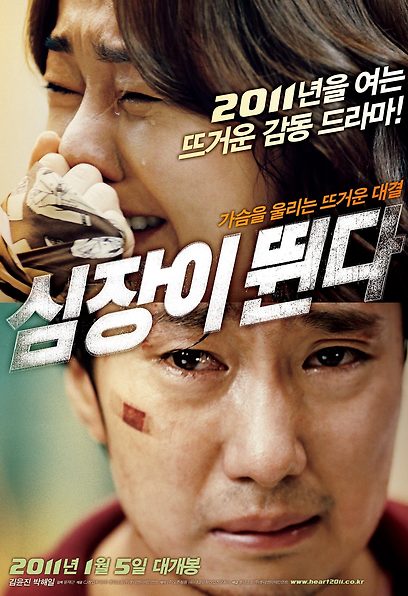 Heartbeat, 2010
release

2011.01.05
genre

drama
country

Korea
ranking

Audience over 15
running time

114 minutes
grade

7.2
cumulative audience

1025243 people
Synopsis
"All I can hope for is a miracle. This is your last chance."
Yeon-hee (Kim Yun-jin), the director of an English kindergarten who has lived a prosperous and stable life. The only wish she has left after losing her husband is for her young daughter Yeeun to be healthy after a successful heart transplant. Ye-eun's condition suddenly deteriorates, and Yeon-hee, who is frantically searching for a donor, accidentally witnesses a brain-dead patient with the same blood type as her daughter being rushed to the emergency room. Yeon-hee, who does not go back and forth, offers a large sum to the patient's guardian, asks for a heart transplant, and miraculously obtains consent.
"Those who go are going, and those who live are living… Why are you telling me that?"
Hwi-do (Park Hae-il)'s only source of money, living day by day, is her mother, who abandoned her when she was young and ran away, then remarried and sold it alone. A mother, fed up with such a son, declares isolation to her son, and the hat turns her back colder than others. As usual, Hwi-do, who had an accident and was in jail, heard unexpected news and unknowingly signed a heart transplant consent form because of his resentment towards his mother.
"My mother definitely moved. I saw it!"
"Your mother is hopeless… You know!"
After drinking alcohol, Hwi-Do visits her mother's room and witnesses the moment when her mother, who is said to be dead, moves slightly. With the realization that something is wrong and the real reason for her mother's collapse is revealed one by one, Hwi-Do seizes the ambulance that was transporting her and escapes. In a hurry, Yeon-hee goes to investigate Hwi-do, and in the end tries to attack Hwi-do by holding hands with dangerous people…
[ About Movie ]
'Crazy acting' showdown that will make the hearts of the audience jump!
Legend Actress Kim Yun-jin VS Acting Monster Hae-il Park
<Heart Beats> is a work that is attracting attention from inside and outside the film industry only with the news that world star Yunjin Kim and actor Park Haeil, the best actor in Chungmuro, will have an acting showdown on the same screen. Actress Kim Yun-jin, who became the first Korean actor to become a legend after being cast as the first Korean actor in an American drama aired in 215 countries around the world, and Park Hae-il, who is inexhaustible on the screen with a thousand faces and monster-like acting skills in every work. The fact that the male and female actors representing this Chungmuro are armed with explosive energy and detailed emotions and engage in a sparkly performance showdown seems to be able to satisfy the expectations of the audience for <Heart Beats>. Kim Yun-jin of <Harmony>, which broke the 3 million mark for the first time in 2010, and Park Hae-il, who entered the ranks of 10 million actors with <Monster>, heralds the birth of a powerful male-female duo whose acting skills as well as box office performance have been verified.
A speedy development that unfolds around the heart, an intense drama that will make your heart flutter!
Save the daughter VS protect the mother
<Heart Beats> is a powerful drama depicting the story of two men and women living in completely different worlds facing each other in a desperate situation where the life or death of their family is at stake. A confrontation between a mother who has to save her dying daughter over the 'heart' and a son who regrets his filial piety and struggles to protect his dying mother is unfolding in a speedy confrontation. In particular, it is expected that the realistic and desperate story of how far an ordinary human can go to protect his most precious thing, rather than a simple confrontation between good and evil, will elicit tension and consensus from viewers. The realistic acting of Kim Yun-jin and Park Hae-il, added to this, will make <Heart Beats> be remembered as a heartwarming, hot movie.
Delicate directing with a solid story and emotion alive, directed by Yoon Jae-geun
The birth of the next generation of talented directors in Chungmuro!
New director Yoon Jae-geun, who has been working on numerous screenplays over the years, announces the beginning of his directing life with <Heart Beats>. The lead actors Kim Yun-jin and Park Hae-il said together, 'I don't miss even the very details of the set so I can't believe it's a rookie director'. Unlike a new director, he showed off his directing power while taking into account all the situations from the actors' delicate emotional lines to their movement during the filming process. It is a debut work with a strong storyline and detailed directing power, and expectations are being gathered inside and outside Chungmuro for the birth of another talented director.
They are always behind the box office. The best performances by the best supporting actors in Chungmuro!
<Moss> Kim Sang-ho, <Jeon Woo-chi> Joo Jin-mo, < Kang Cheol-jung> Kang Shin-il
While the performances of supporting actors who reveal their presence just by appearing in a short moment are prominent recently, the best supporting actors in Chungmuro, representing Korea, appear in <Heart Beats> and it is expected to capture the attention of the audience every moment. Kim Sang-ho, Joo Jin-mo, and Kang Shin-il, who have been deeply seated in the minds of the audience as the most powerful scene stealers in the best box office films such as <Moss>, <Woochi Jeon>, and <Kang Cheol-jung>, appear in <Heart Beats>. They supported the film's perfection and received the audience's attention, without exception, they showed strong personalities and realistic life performances in <My Heart Beats>, giving the film full of energy and vitality. The passionate performances of Kim Sang-ho, Joo Jin-mo, and Kang Shin-il, who give a presence not inferior to the main actors behind the box office, will be another reason to look forward to <Heart Beats>.
[ Production Note ]
100% handheld shot
It contains realistically the psychology of desperate characters!
<Heart is beating> chose an unprecedented choice to shoot the entire work with 100% handheld technique. Handheld is a shooting technique used to express the dynamism of the screen, such as an action. However, <Heart Beats> uses a handheld technique to express the psychological aspects of the characters, not for a dynamic screen. It was chosen to express 100% of the anxious situation of Hwi-do and Yeon-hee, who are driven into a desperate situation, and their psychology. Director Yoon Jae-geun's idea of wanting to psychologically express even the air around them, made the audience more immersed in the urgency of the situation and the psychology of the main characters.
For a film that will touch the hearts of the audience
The best staff in charge of the Korean film industry have come together!
The best staff in charge of the Korean film industry gathered for <Heart Beats>. Choi Chan-min and Yoo Young-jong of Lighting, who played a decisive role in completing an emotional war movie with elegant images, joined <Heart Beats> with a new challenge of 100% handheld shooting. In addition to this, <Joint Security Area JSA)> <You Are My Destiny> <Radio Star> <Go Go 70>, the name that always appears in movies that gave a great impression, music director Bang Jun-seok showed a greater sensitivity to the actors' excellent performances. Kim Jin-cheol, a production designer who completes a different dimension of visuals such as <Scandal> and <Jin-i Hwang>, gathered strength to complete <Heart Beats>, which will resonate with the hearts of the audience by supporting the newly prepared director Jae-geun Yoon.
During the filming period, every day is a war
80% of the shooting in the crowded city of Seoul, backcountry professional actor Park Hae-il Seoul, Seoul!
Unlike the usual case where <Heart Beats> is mostly filmed in the countryside or on set, almost all of it was filmed in Seoul. In particular, 80% of the filming amount was digested in downtown Gangnam, which is famous for bustling such as Cheongdam-dong and Apgujeong-dong. Thanks to this, the staff said that every day was a war to control the people who flocked to the filming site. Among them, there was a person who was happy to be filming in Seoul, and it was Park Hae-il, the lead actor. It is said that Park Hae-il, a self-proclaimed 'backcountry actor' who almost filmed almost all of his works while trapped in the mountains and islands of Korea, said that he enjoyed rising to his status as a 'Seoul Sanggyeong Actor' thanks to <Heart Beats>.
Kim Yun-jin and Park Hae-il's characters and costumes experience polar opposites
Back alley Yangachi Park Hae-il 'Three-line sweating' VS English Kindergarten Director Kim Yun-jin 'Luxury Look'
'Yeon-hee' played by Kim Yun-jin and 'Hwi-do' played by Park Hae-il live in the same Seoul, but are polar opposites in every way. Yunjin Kim, the director of an English kindergarten, maintains a noble and dignified lifestyle and is active mainly during the day, while the so-called 'Athletes Village' and 'Hwido', who carry older sisters to work in Gangnam, wrinkle the night world with their harsh words and deeds. catch Kim Yun-jin, who is armed with a luxurious and elegant 'luxury lady look' by making full use of these characters, and Park Hae-il, who enjoys wearing a splendid 'three-line sweatshirt' following the trend, are in stark contrast. Styling, which expresses perfectly contrasting characters through thorough calculations, elaborately and firmly supports the confrontation between two people who seem to never meet in life in an extreme situation.
In the sweltering heat, the fierce shooting that swallowed up the whole summer!
Kim Yun-jin, Park Hae-il Filming and dieting at the same time, both in one move?
The filming of <My Heart Beating> took place in the sweltering heat this summer, which was exceptionally hot. In addition, the shooting was mostly done outdoors, so the actors and crew had to spend the summer battling the midday sun. Among them, Hae-il Park lost as much as 8 kg. The character 'Brightness' played by him was very hot-tempered, so he consumed a lot of emotions and there were many scenes of running around, so he lost weight rapidly during the filming period. Kim Yoon-jin, who confesses that it was more difficult than expected to play the character 'Yeon-hee', who has to keep feeling anxious and desperate, also lost about 7 kg. In particular, the tight clothes in the play, which had to be taken care of throughout the filming, also helped Kim Yoon-jin's unintentional body management. The team had a fierce and passionate summer to the extent that the staff members said that the filming of <Heart Beats> itself was a harsh diet program.
Kim Yoon-jin, hair style change after 6 years
The long hair of <Lost> was cut without any regrets for <My Heart Beats>!
Kim Yun-jin made an important decision after choosing Heart Beats as her next film. Kim Yoon-jin, who joined the filming right after the end of the popular American series <Lost>, which ended this year after broadcasting until season 6, cut her long hair, which she had adhered to for 6 years for the role of <Lost>. Kim Yoon-jin, who was struggling with a style that would fit the character of 'Yeon-hee', chose short hair for her transformation. Although a change in hairstyle was a very important decision for a female actress, she appeared on set after cutting her hair that had been grown for 6 years without any regrets in order to build a character, the first button to start a work. Kim Yun-jin's new hairstyle played a decisive role in more realistically expressing the character 'Yeon-hee', who throws everything in front of maternal love in the play, reaffirming her passion for acting.
Related Videos