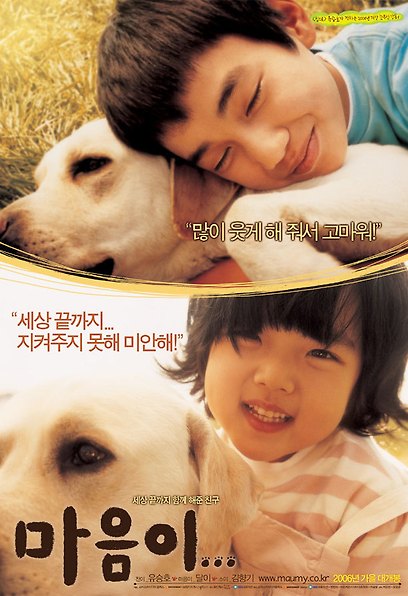 Heart Is, 2006
release

2006.10.25
genre

drama
country

Korea
ranking

all spectators
running time

97 minutes
grade

9.0
cumulative audience

817939 people
Synopsis
"I… I have something to confess, but the truth is, I stole you…"
Chani, a boy who is not as reliable as an 11-year-old, and Soi, Chani's 6-year-old chubby little sister…
In this way, the two brothers and sisters live while waiting for their mother to return from home.
One day, Chani steals a newborn puppy as a birthday present for Soi, who wants to have a puppy.
Soi says that her mother seems to have known her heart and sent her, so she names the dog 'Maeum'.
Chan-i, So-i, and Ma-eum, who became the three members of the family, spend a happier time than ever.
"I thought it was because of you that I lost Soi."
A year has passed and now, when Chani is not here, my heart is with Soi as a friend,
He becomes a dignified dog big enough to take care of like his brother.
That winter, unexpected misfortunes come to the three (?) brothers and sisters who had fun sledding on the frozen riverside, forgetting the cold and hunger. As the thin ice cracked, Soi fell into the water. Chan-i, who lost Soi, thinks that it is all because of her heart and closes the door of her heart.
Chan hates the house where her mother and Soi left…
Chani goes somewhere with Soi's memento, a pink backpack.
Left alone, Maum sets out to find Chani…
Will the heart be able to find Chani?
And will Chani know the truth of 'Heart'?
【 Heart… PROLOGUE]
Chan's story
[first meet]
I remember? The first day you came…
The fluffy white hair was so lovely.
[Gift]
I know that? I liked Soi who received you as a birthday present, so I jumped and jumped.
You are the best gift from heaven.
[family]
Are you happy? We are now a family of three
A family like no other… Soi also misses her mother and won't cry… Because I have a new family member…
[pain]
I believed I lost something precious because of you. I hated it to death and resented it.
At the time, I really didn't know… Your heart…
So I must have hurt you Sorry…
heart talk
[first meet]
When I first saw the world, I remember how Soi looked at me and jumped.
[Gift]
You, who have become my family, are the greatest gift from heaven to me.
[family]
do not worry. I'll be Soi's reliable older brother when you're not here…
[pain]
Sorry… Losing the most precious thing… I decided to be Soi's strong older brother.
I couldn't keep my promise to you. I know your heart that resented me..
[farewell]
I just wanted to keep my promise not to break up…
You, Soi, and me… how great would it be if we could go back to when we were three?
I'll run to the place we were together… So please wait…
【 About Heart movie 】
A unique plan from the beginning, the story of the birth of the heart!!
Korea's first dog starring movie <My Heart… > Meet!
<The Heart… > is an extraordinary masterpiece from the start after thorough pre-production and systematic filming preparations.
Starting from the idea of a producer who is known as a reputed dog dog two years ago, <Heart,,,> is an extraordinary work that contains the passion and affection of the production team who want to make a movie that connects hearts and minds enough to be called the 'Heart to Heart Project'. do. In addition, SBS, which produced <My Love Toram>, which was well-received for the moving story of the visually impaired and the guide dog Toram, took the co-production in 2005 and raised the level of perfection based on the know-how of that time.
Also, <My heart… > is more meaningful as it is planned as a heartwarming drama that suits our own emotions and sensibility, differentiated from the animal films that are in the spotlight worldwide. <My heart… > is a follow-up to Hollywood-style entertainment movies with animals as the main characters such as <Babe the Little Pig>, <Free Willy>, and <Beethovan>, which have already been successful in the United States, or is produced with <Hachi's Story> and <Quill>. It boldly broke away from the Japanese-style film that depicts pure love for its master. Through the process of a warm meeting between a boy and a dog, a painful parting, and a heartbreaking reunion, it captures the deep friendship between people and the sympathy of sincere love in a Korean sensibility.
The much-anticipated <My heart… > is waiting for a warm meeting with the audience after completing a six-month journey. As the first movie starring a dog in the history of Korean cinema, <The Heart… >'s warm sensibility will moisten the hearts of the audience this fall.
<Go home… > The best dazzling gift of 2006 from Yoo Seung-ho!
Another impression following <Marathon> and <Welcome to Dongmakgol>!
Movie <My heart… > is the national film <Home… >'s Yoo Seung-ho, the most dazzling and moving anticipation of 2006.
2002 "Home… > followed by <Family>, which contains the heartwarming love of a father and daughter in 2004.
Based on the true story of a 5-year-old intelligent 20-year-old autistic child in 2005, <Marathon>, which made the hearts of 5.1 million viewers jump,
If there was <Welcome to Dongmakgol>, a story of warm-hearted people who met in the middle of war…
In 2006, <My heart… > continues the genealogy of emotion.
This movie about the sincere friendship between a wounded boy who knew the world too early and a dog who follows him to the end of the world to protect him. This movie will warm the hearts of the audience this fall.
Dal-i (Labrador Retriever), Korea's first acting dog, who showed the most anticipated actor Yoo Seung-ho's mature acting in 2006 with his non-child performance and amazing acting that is as great as a human Mind… > will awaken the hidden sensibility of modern people who are dry in the harsh reality, as has been the case with previous masterpieces of emotion, and approach with a powerful emotion that all generations can sympathize with.
In 2006, <The Heart… > will remain in the hearts of all the people for a long time and will be another film that will never fade from memory.
The one and only 'heart' in the world was selected!
Unimaginable, amazing acting fighting spirit for everyone!
The production team had to put a lot of effort into finding the first acting dog, Maum Yi, in a Korean movie. 'Maeum' was not just a pet dog or object of friendship, it had to be something that expresses the real emotions of feeling, thinking, suffering, and enjoying with the heart. 2% was insufficient to fill.
Meanwhile, Dal-i's Trainer happened to be the first movie starring a dog in Korea, <My Heart… >, I thought, 'Isn't it possible when we're in the moonlight…?' Through an acquaintance I used to know, I connected with the production team of SBS <My Love Toram> and applied for an audition. The production team, who first saw Dal-i, fell in love with the career, rich expression, and pure eyes that they had accumulated through various competitions, and gave it the first priority in casting.
However, before casting, another moment of choice came for Dal-i. He moved to the United States to work as a professional rescue dog. The trainer drew a life plan from the moment he was born to the moment he closed his eyes, and a professional rescue dog was one of them. However, the movie <The Heart… After reading the scenario of >, the trainer boldly gave up the road to the United States and chose the path of Korea's first acting dog. After that, Dal-i entered Chungmuro as Korea's first acting dog through more intense acting training than rescue dog training.
The acting dog 'Dali' followed the filming schedule, which was difficult for even people to follow, and surprised those around him by showing a mournful performance that made the staff cry at the scene. In addition, he is emerging as the best screen star this fall with his passionate performance with Yoo Seung-ho, who plays the role of 'Chani' in the play.
1st place in the expectation of a leap forward as a national actor!
<My heart… The power of Yoo Seung-ho who moved >!
There is one story that the field staff all agree on. That is, if Chan-i wasn't Yoo Seung-ho, a big deal would have happened. That means that Yoo Seung-ho is more suitable for the role of 'Chani'. It is <home… > It is not only because of his mature acting skills, which he has solidified by going back and forth between the screen and the CRT, but also because of Yoo Seung-ho's deep heart. Yoo Seung-ho led the atmosphere of the scene by taking care of Dal-i, an animal actor who is new to acting, and Kim Hyang-gi, a novice actor who has no acting experience other than CF, like a real older brother.
Was it because Seungho's heart was conveyed?
Dal-i, who only listened to the trainer's words, exceptionally followed Seung-ho, and spread affection toward Seung-ho to the extent that he was jealous of those around him. Scent also liked Seungho more than his brother at home, even on days without filming, saying, "I miss Seungho oppa". As such, with Yoo Seung-ho's deep consideration, the acting and breathing of the three actors was perfect throughout the filming, and the atmosphere at the scene was always clear. In addition, despite the difficult filming schedule for adults, Yoo Seung-ho showed the side of a true professional actor even though he was young, as he did not hesitate to take difficult shots without showing any dislike.
Meanwhile, Yoo Seung-ho is called 'Little Cho Seung-woo' and 'Little So Ji-sub' because of his more mature appearance as he recently entered middle school, making the hearts of Korean older sisters flutter. His height, a fairly thick face line, and long legs are now quite masculine (?). In response, a netizen greeted Yoo Seung-ho's transformation by using witty expressions such as "preferably grown up" and "just grow up like this". In addition, appearing in a more mature form, <The Heart… > The sisters' affection towards the national younger brother Yoo Seung-ho continues.
<My heart… >, we look forward to how many more female audiences will be touched.
[Heart People & Dog]
"I'm sorry I didn't understand your feelings… Thank you for protecting me to the end of the world!"
Chan-i, a strong-willed and strong-willed boy – Yoo Seung-ho
Chan-i, an 11-year-old boy who lives with his younger sister without mother and father. He is a confident boy who knows the world too quickly for his age due to the wounds caused by his mother who does not return, leaving behind his younger brother and himself. However, he never tells his brother about his mother, but he misses him with his heart. The guy who thinks that his younger brother Soi is everything in the world, except for his pride, temper, and courage, is a corpse. A lonely boy who believes he can get through the world alone, but needs a friend on the other side of his heart. As he builds up the 'heart' and Miwoon-jeong, which he brought as a birthday present for his younger brother, he becomes the best friend in the world.
"I'm sorry I couldn't protect you until the end… I know how you feel about leaving!"
A friend who was with me until the end of the world, my heart – Moon
After becoming a family with Chan and Soi, my daily schedule is busier than anyone else. Should I have a fight with the stubborn Chani, or accept Soi's tantrums? Shall I play with you, as a bodyguard when I'm scared at night… When Chani is not there, 24 hours a day is just short as Soi oppa. With a loyal and consistent personality, the friend who gave her a heart once is a subtly naive person who protects her until the end. He's a deep-seated guy who just gives endlessly no matter how hard he tries to say he doesn't like Chan. A true friend who does not hesitate to run to find Chan-i who has left her behind, will he really understand the sincerity of this heart?
"Oppa, our dog's name… Let's do it with 'heart'~!"
Soi, a lovable young gangster – Kim Hyang-gi
Soi, a young man whose hobby is to trust only his brother and spend time with him. Without her brother who takes care of her like her mother, Soi becomes a strong friend to Soi. Since the arrival of Maum, Soi does not hesitate to say that she misses her mother, and takes care of her and becomes more confident. Soi, whose mother bought her a pink backpack, is the number one treasure, and she is the happiest six-year-old kid waiting for her brother at the bus stop after buying ice cream with Maum. One day, when Soi is not lonely because she has a heart anymore, she meets an unexpected farewell.
[Heart Production Notes Actress 'Heart''s Infinite Challenge field diary]
A prepared actress who entered Chungmuro!
Awesome acting battle!
<Heart>'s tough screen reporting ceremony! "The road to becoming an actor is very difficult~!"
one. Run until your feet sweat and run again, heart!
The toughest screen breaking ceremony in life started with a run!
It's about running for a heart that has won awards in all kinds of competitions… But…it ran too much no matter what. In the scene where Chani was chasing after the car, Maumie had to run in the middle of downtown Busan from early evening until dawn. For a total of 8 hours of filming, Maum-i ran the 1.2km distance over 20 times repeatedly, and for the scene where Chani ran along the train at the Busan train station, he ran and ran the 200m section of the train several times over and over again. The running of the mind does not end here. The road and train rails are the basics, and from the bus stop and the beach to the cherry blossom road, Chan is looking for it and runs it today!
two. challenge! Real action acting without stunts!
Running was still better. After fighting, getting hurt, and rolling, performing real action acting without any stunts or assistive devices, Maumie ran a dangerous road in the middle of the night and even struggled with Becky…with her whole body! So, throughout the filming, there was no day to be physically active. In the scene of running downtown Busan, I ran so much that my soles ran out, and in the action scene to save Chani on the subway rail, there was even a glorious wound on my nose. On the other hand, for the scene where he is lying on a pile of garbage, he is wearing ash makeup all over his body and smelling stinky.
I had to put all my energy on the garbage heap. I applaud Maum Yi, who showed a fighting spirit that does not spare her body even in unfavorable conditions.
three. No one can stop the gluttony that even ate makeup!
Except for eating, the harshest filming for Maum Yi, a corpse… was the scenes where she had to endure in front of something to eat. This was more of an asceticism than any high-level action acting rather than running to the heart. Scenes when he should not eat bread with his mouth or watching Chani eat are really hard moments for Maum. Maum's gluttony led to an unexpected situation that eventually ate up the makeup. On one occasion, filming was interrupted by licking the blood of the makeup on the specially made derby.
The funny thing that happened was that the heart, who fell in love with the sweet temptation of blood made from food coloring and starch syrup, licked the blood and had to reapply three times before putting on makeup.
Someone please dry my heart!
four. The tingling performance of Icy-chan's heart!
The underwater smoke that broke through the ice sheet in the middle of winter was the biggest turning point in my acting career. It is also ice water for underwater scenes that are difficult for even people to do. The weather is cold and the ice water is colder in adverse conditions
After soaking her body in the water for 2 hours and acting, she was exhausted, and for her, three staff members came together to melt her cold body with a full body massage. The 119 rescue team and water safety crews were deployed for the underwater filming, which was dangerous even though the diver was holding her down, and checked her safety in real time. The ice sheet filming, where the former staff couldn't contain their sad feelings, achieved satisfactory results thanks to the fighting spirit that threw Maum's whole body.
six. The actress' heart is crowned the queen of tears!
It is becoming a topic of discussion as Maum is able to digest tears that are difficult for even humans to do.
Unknown actresses have to be good at acting tears. So, my heart also took on the challenge of acting as tears as Jeon Do-yeon, Soo-ae, and Choi Ji-woo. In the second half of the movie, in the scene where he struggles with the boss and struggles to save Chani, Maum Yi showed tears in her eyes, making the staff cry. In addition to this scene, whenever Seungho performed a crying performance, tears welled up in his heart, demonstrating the extraordinary acting chemistry between the two actors.
Dahl's happy screen outing! "I'm happy because I'm an actress!"
one. A luxury (?) exclusive vehicle at the hotel level!
A dedicated vehicle is essential for actresses who have to go to and from the filming set! For Mam-i, an acting dog who has to go through a tight schedule, the production team produced a special vehicle for the first time in Korea. Instead of a hard floor, a soft mat was laid to secure a space where the heart could rest comfortably while moving.
The car window was decorated with pink curtains that suit Maum, and on the outside, the poster was wrapped by Maum to make it look good. The special consideration of the production team was to ensure that Maumie was in the best condition for the remoting vehicle, which cost a total of 5 million won. The envy inside the ten hotel is an example of the fact that Maum is already recognized as an elite acting dog in Korean movies.
two. A special treat just for the moon!
For a heart that likes to eat, snack time like honey to eat between filming sessions is really happy
It was a moment. In particular, Maum's snacks used during filming had a great impact on filming.
It was the power of a single chicken leg that the trainer rocked that finished the road run scene that was expected to be difficult to mow in just one hour. Also, the special prescription for the novice actor Maumie, who is not good at handling gaze, was the sausage the trainer was holding. During the filming period, my heart ate 3 boxes of sausages. As a result of training like that, after the sixth round, I was able to find Maum who was quite accustomed to eye processing. In order to induce smoke, Seung-ho's electric grilled squid and ice cream that he shares with each break are also his favorite snacks.
three. The moon that looked more like an actress than the scent!
When there are two actresses on set, there is always going to be a war of nerves. However, the heart overwhelms the scene without a nerve war with the scent. For the heart, who had a lot of filming and a lot of difficult acting
The attention and love of the former staff poured in. After shooting underwater in the icy water of the reservoir in midwinter, all the staff rushed in and wiped him with a towel and warmed him up, and the fan and hot air heater were always his own at the scene. For Maum, who always consumes a lot of stamina, a professional massage staff was permanently stationed to receive a massage during the arduous filming. In addition, the former staff members of the no-shim supervisor, such as stopping the filming if she is not in good condition, poured out the best service and love on the set than any other actress in Korea.
four. Stardom! The moon takes the lead on the screen!
Our main character, Maum, who rose to the lead role at once without going through extras or supporting roles! After all, a big star is different even if something is different! The lead actress, Maum, who took on a challenge on the screen overnight! A prepared actor who has excellent looks (?) and acting skills that are not like a rookie, after 6 months of harsh filming, he received a passing score as the best acting dog.
Even though it was her first time acting, she was able to handle a schedule that was difficult for people to follow, and showed off her natural acting skills to the fullest. After all, he was the best acting dog in Korea, which is self-proclaimed, and he had a special talent and talent as the lead role.
【 Heart… . EPILLOGUE]
The staff who have lived together for 6 months say <heart…>
The mind is a 'memory'
The moments I acted with my heart will probably never be forgotten for the rest of my life.
When the guy, who was shy at first, gradually recognized me and followed me, I was really thankful to tears.
It was lovely. Besides, this guy's acting was top-notch.
The best acting partner I've ever met is you! heart!
– Chani/ Yoo Seung-ho-
The heart is 'jealous'
My heart only likes Seungho oppa. Even if you don't look back when I call
When Seungho oppa calls, he runs… Chi~! Besides, I'm friendly with Seungho oppa.
disliked look I really hate it when the staff unnies are with Seungho oppa.
My heart is really jealous… Still, I like you like that, my heart!
– Soi/ Kim Hyang-gi-
My heart is 'I'm sorry'
Maum was an actor who understood my heart better than any other actor I knew…
At the moment when he wants a little bit of sadness, he bites Seungho's crotch and makes an ad-lib that droops.
He acted well… Every moment did not disappoint.
After the movie was over, I wanted to express my deepest gratitude to him… .
However… No matter how much I think about it, there's nothing I can do for him…
So I'm so sorry… ..I'm sorry, my heart!
-Director/ Oh Dalkyun-
My heart is…<thank you>.
Thank you for always acting well and following along well.
My heart is…<100m run>.
Running and running is impressive.
The heart is…<impression>.
I was moved by the amazing acting skills, and I was touched once again through my heart.
My heart is…<rice truck>.
A big guy who always shows an amazing appetite.
My heart is…<Lightning>.
In the field, the East Sea flashes and the West Sea shines.
The heart is…<friend>.
The guy who always made us happy like a friend…
The heart is…<vitamin>.
Thank you for always being a source of vitality to the tired staff on the field.
My heart is…<Yoo Seung-ho>.
I followed Seungho on the spot. So when I think of it, Seungho comes to mind.
The heart is…<bankbook>.
I think it will be a film where you can feel the emotions that build up in your heart one by one.
The mind is…<verb>.
He is a guy that moves people's hearts by constantly moving.
The heart is…<Rival>.
We, who like Seungho, are inescapable rivals.
My heart is…<bus stop>.
A guy who always seems to wait for me there and always seems to come if I wait.
My heart is…<Hot Dog>.
He seems to be a really warm-hearted dog. hot hearted guy.
The heart is…<actor>.
He is a real actor who was more passionate and wonderful than any actor I've ever met.
Related Videos