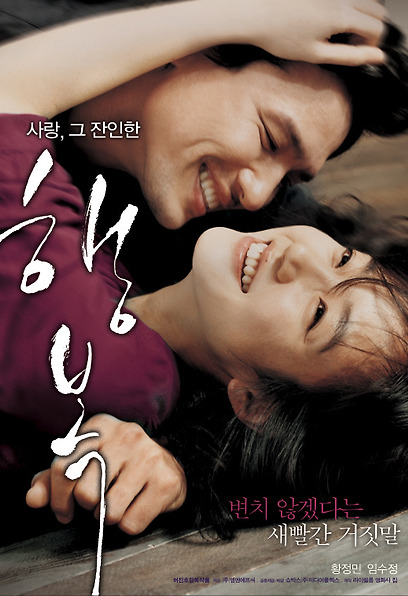 Happiness, 2007
release

2007.10.03
genre

Romance/Melodrama
country

Korea
ranking

Audience over 15
running time

121 minutes
grade

7.9
cumulative audience

1174495 people
Synopsis
"I have no money, nowhere to be, and I can't stop drinking… … side is sold"
Young-soo (Hwang Jung-min) has enjoyed a free-spirited life by running a club in Seoul. The shop she was running went bankrupt, and she broke up with her lover Soo-yeon (Gong Hyo-jin), and to make matters worse, Young-soo, who suffered from severe liver cirrhosis, goes down to the 'House of Hope' in a rural nursing home as if running away leaving a simple lie around studying abroad.
"I have about 40% of my lungs left, but it's still usable."
Eun-hee (Lim Soo-jung) has been working as a staff member in a nursing home 'House of Hope' for 8 years. Eun-hee is bright and optimistic, although she is a patient with severe lung disease that can lead to death if she runs out of breath. Eun-hee, who is active in dating regardless of her illness, approaches Young-soo, who has been worried about her since the first day.
"Would you like to live with us? I don't know what will happen later. Then we break up, okay?"
In a boring rural nursing home, in a miserable situation with no future in sight, Young-su also becomes dependent on Eun-hee, who is neither sick nor afraid, holding hands, kissing, and spending the night together, starting a happy love affair just like ordinary couples. And they start living in a nursing home with me.
"I thought I couldn't live without you, but now I'm going crazy because of you. You tell me first, let's break up… … "
1 year later. Unlike Eun-hee, who is just happy, Young-soo, who regains health with Eun-hee's help, becomes more and more bored with her life. Even the poor country life and the sickly Eun-hee who doesn't know when to die. In front of Yeong-su, who has become burdened, Soo-yeon arrives from Seoul just in time… …
[ About Movie ]
love, that cruel happiness
Romance of adults who know true love
The various versions of the love story that flood the screen are usually one of two things. A man and a woman who meet and are happily married at the end of twists and turns, or a man and woman who are in a breakup due to unavoidable circumstances, stimulate the tears of the audience with their mournful love. Whether it's a comedy or a tragedy, love is precious and beautiful. It is the epitome of melodrama. But where is love in real life? The hot feelings that seemed to last forever are only temporary, let alone unavoidable circumstances, in most cases, they change themselves, and the breakup process is by no means beautiful. Love is what makes us infinitely happy at the beginning, but makes us suffer excruciatingly with regret, hurt, and hatred in front of a breakup. The classic repertoire of popular songs that you and I sang with sympathy is as much love as the joy of love. The movie <Happiness> is the story of our love with such two sides. Sick men and women, heartbreaking farewells… Looking at the setting alone, it appears to be a typical example of a new school that wants to shed tears, but this clichéd formula only emphasizes the dual nature of love in <Happiness>. On the one hand, it talks about how sweet love makes people happy through the lively dating of sick people, and on the other hand, through the breakup that looks more cruel because of the disease, rather than being sad because of the disease, on the other hand, it reverses how bitter and realistic love is. show Like this, <Happiness> is not a fairy tale romance that only changes the romance of love, but it is a real romance that anyone who has been in a relationship at least once can laugh and cry and empathize by saying, "It's just my story!" It is a 'romance of adults who know true love' that blends all the bitterness and sweetness of love.
It is more romantic than <Christmas in August> and more realistic than <Spring Day is Gone>!
Heo Jin-ho's richer love story
Director Heo Jin-ho's fourth love story <Happiness> is a film that unravels the romance and reality of love with a delicate insight just like his previous works <Christmas in August> and <Spring Day Goes>. However, his speech was slightly different. <Happiness>'s love story is richer and more direct than his previous works, which are characterized by a restrained visual language. The lovers in <Christmas in August>, who had never been able to make a proper confession and grew love only in their hearts, became men and women who actively expressed love by holding hands, kissing, and spending the night together in <Happiness>. Lovers in <Happiness> do not hesitate to share exciting conversations such as "Do you like me that much?" and "I don't think I can live without you", and the woman boldly proposes to the man, "Would you like to live with us?", and the man offers flowers to a woman and confesses her love like a movie. Although they are sick and unable to make any promises, it is literally romantic to see the two enjoying a romantic relationship like ordinary lovers. On the other hand, <Happiness> is much more realistic than <Spring Day Is Gone>, which contains the bitter reality of love. "How does love change?" 라는 소심한 원망은 "개새끼, 니가 사람이니?" It became an intense abusive language, and the embarrassment muttered "It's changing… ' was turned into a cruel and frank request, "You leave." The words of love and parting that flow through the mouths of the two main characters are as vivid as the stories of me and my surroundings. As such, <Happiness>, a film that still shows off director Jin-ho Heo's delicate and rich love story, is expected to become a new textbook for Korean melodrama along with his previous works <Christmas in August> and <Spring Day Goes>, which are considered the best melodies. .
2005 <You Are My Destiny> 2006 <Happiness>, the anticipated well-made melodrama in the fall of 2007 <Happiness>
Hwang Jung-min, Im Soo-jung, and Heo Jin-ho, the happiest meeting of 2007!
Star actors Hwang Jung-min and Im Soo-jung, who have both acting and box office power, and Korea's representative melodrama director Huh Jin-ho. The movie <Happiness>, the gathering of these three people, is a hot topic that is called the happiest meeting in Chungmuro in 2007. In particular, all three are expected to undergo a different transformation than before through <Happiness>. Hwang Jung-min, who returned to melodrama after two years with <Happiness>, draws more attention by transforming into 'Young-soo', a bad man whose love is easily shaken, 180 degrees different from 'Seok-jung', a courageous and genuine man in 'You Are My Destiny'. Im Soo-jung, a 20-something star actress who is walking a differentiated path with the title of 'Acting Group', takes off her image of a young girl and is reborn as a mature attractive woman through <Happiness>, which showed a full-fledged adult acting. Director Heo Jin-ho, who has solved the topic of love with a delicate and restrained sensibility, is also planning to make the audience laugh and cry with the main characters in <Happiness> with a speech method with a large amplitude of emotion. The movie <Happiness>, which combines Hwang Jung-min's unusual transformation, Im Soo-jung's unripe charm, and director Huh Jin-ho's delicate directing skills, is another well-made hit melodrama following <You Are My Destiny> and <Our Happy Time>. foreshadows
Related Videos