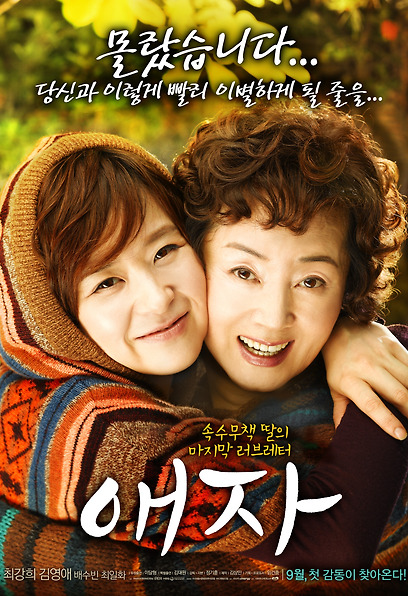 Goodbye Mom, 2009
release

2009.09.09
genre

drama
country

Korea
ranking

Audience over 15
running time

110 minutes
grade

8.9
cumulative audience

1901731 people
cookie video

One
Synopsis
Twenty-nine Park Ae-ja, the representative youth of Korea who has nothing to fear in the world!
The only person who catches her, who even the Marines can't catch, is the end of her life. Fifty-nine Choi Young-hee!
In high school, Ae-Ja Park made a name for herself as 'Tolstoy of Busan'. He went to Seoul with the dream of becoming a novelist, but he is living every day as a twenty-nine man with nothing but a career in winning local newspapers, a flirtatious boyfriend, and a mountain of debt. Even in the cramped situation, her only adversary who did not die is her mother Young-hee!
When she opens her eyes, Aeja, who is preparing for a blow to her mother's conversion, says, 'Have you ever written a novel and bought a pair of pants!' After her exhilarating revenge, she was humming and returning home to receive a call that Young-hee had passed away, and as she rushed to the hospital, more surprising news awaited her…
Unexpected breakup notice from mother
It was annoying when I was there, and I just missed it when I wasn't…
"Can I really live without her?"
[ Prologue ]
"I don't like getting a job. don't even get married What did he eat for a living?!"
"What did you do to me?"
"Thank you"
"Wow, I'm arrogant, but do it to the end! This is why I do not want to come home!"
"Then get out, bitch."
"If I go out, do you know if I can't go?"
… ..
"Take the kimchi, bitch!"
'Even though we've been fighting like that for decades,
Why… Haven't you heard that last word?'
The first impression this fall that will captivate the nation in 2009!
Last love letter from helpless daughter
insulator
[ About Movie ]
If you laugh and cry, it's a big deal!? They are going to make a big deal for the people of the country!
Fall 2009, the first moving movie <Aeja>
The movie <Aeja> is a real emotional movie depicting the conflict and reconciliation between a young man who had nothing in the world to be afraid of, a young man who was twenty-nine, and his mother, who was only jingling. Armed with realistic comic episodes and a rustic killing spree between two women who confront each other as human beings before a mother and daughter, <Aeja> is a fresh and realistic ' It is planned to present a sarcastic 'humour'. In addition, the movie <Aeja> delivers a stronger emotion than any other movie through the moment of reconciliation, when they realize that they are the ones they needed and loved the most after spending their lives together. In the fall of 2009, the film "Aeja", a film that makes people shed deeper tears with fresh and realistic humor, a story that anyone can relate to, and a pleasant laugh, is expected to stimulate the sensitivity of the nation with its first impression.
"If you make fun of my name, you lose!!"
A real twenty-nine 'Aeja', whose name is not even unusual, appears!!
The women who dominated the era have something in common. Outstanding beauty, unusual personality, and a rustic name! 'Young-ja' in <The Golden Age of Young-ja>, 'Geum-ja' in <Kindly Venus-san>, and Aeja! The twenty-nine lady with this rustic name, which even her grandmother's grandmother would not use, captivates the theater this fall. 'Aeja', a youth pole of youth who has only gang and pride until reaching the age of 30, is as realistically portrayed as the realistic name of the youth of Korea who are living today, while in the midst of a quaint situation, it is a life of its own with its unique courage and gang-da-guro. He is a person who delivers another message of hope while making a turning point.
The name 'Aeja', full of energy with 100% youth sympathy and 200% morale charge, will create a new Aeja syndrome in 2009 and make the whole country a melting pot of laughter and emotion.
Ms. Aeja, the youngest man, and Younghee, who is the end of life
The most powerful and jingling mother-daughter characters in Korean film history are born.
A twenty-nine-year-old young boy armed with the flair and wit he has built up by smashing student-owned cars since his high school days, a fifty-nine-year-old boy who has pacified Busan's youngsters with his so-called 'Mogaji New Gong', who snatches the backs of those who don't listen without mercy. The end of life, Younghee. The jingling battles and reconciliation modes of the two women who make the 30-year age gap discolored realistically reflect the cross-section of mothers and daughters of our age, who sometimes become friends and sometimes become friends, and bring out laughter and affection with 100% consensus. 'Aeja' and 'Younghui', two women with a perfect sense of reality that overturn the image of a daughter and mother, who have only been portrayed lovingly and lovingly in many movies, will give viewers this fall the most powerful and jingling mother-daughter in Korean film history. You will be remembered as a character.
'Choi Kang-hee is a player and Kim Young-ae is a ghost!!'
Skilled acting player VS 40-year-old acting ghost, two actors' explosive emotional acting clash!!
From a lonely ghost who has been attending school for 10 years, to a cute but bloody murderer, to an old virgin who is in a happy trouble between two men! Choi Kang-hee is recognized as one of the few 'actresses who are good at acting' in Korea with a rainbow-like acting spectrum as much as various filmography. She, who reigned as the strongest actor among actors of her age, met her in the movie <Aeja>. As a charismatic actress Kim Young-ae with 40 years of acting experience, she trained the best courtesan Hwang Jin-yi in Joseon, but this time she is going to tame her foolish daughter. In the movie, Choi Kang-hee and Kim Young-ae, who met as a daughter 'Aeja' and a mother 'Young-hee' like Wensu, fight for the title of an actress representing each generation in a sparkly acting showdown. In particular, the climax of the emotional performance of the two actors is another point to watch the movie <Aeja>, as it is a work that contains all the joys and sorrows, from comic acting to desperate tears. In addition, even outside the movie, the two actors called each other mother and daughter, and their faces resembled each other to the extent that real families felt jealous. The acting battle between the two actors in the movie, in which director Jeong Ki-hoon, who is in charge of directing, expressed, "Choi Kang-hee is a player and Kim Young-ae is a ghost," will provoke the best topic this fall.
[ Production Note ]
Characters created based on 4 years of work, 400 pairs of mother and daughter interviews, and real events
The actual director's ex-girlfriend episode is the motif of <Aeja>
This is the overall review mentioned by the judges when 'The character descriptions are powerful and the writing skills stand out', which was selected by the judges as the best film of the Busan Film Commission Scenario Competition. Director Jeong Ki-hoon, who has been immersed in the screenplay of Aeja for not a little while for four years, inquired about the people around him for a more realistic portrayal and met 400 pairs of mothers and daughters. Based on the episodes I heard from real mothers and daughters, such as 'What topics do you usually fight on?', 'How do you reconcile?', and 'How did you break up when your mother passed away?' It was completed with a story that parents can sympathize with, laugh and shed tears. In addition, Aeja and Younghee, the two main characters in the movie, were also born based on real models. 'Aeja' is a character that was completed with the motif of director Jung Ki-hoon's ex-girlfriend, especially the name 'Aeja' was named after the character 'Ae' was added to the ex-girlfriend's name and was given to give a meaningful reward to her. Meanwhile, 'Young-hee' is a character who borrows not only the personality of the director's own mother, but also the name. Choi Kang-hee and Kim Young-ae, both of the main actors, said, 'As soon as I read the script, I decided to do it.'
Of the total of 1,725 takes, only the fighting scenes were filmed 306 times!
Filming stopped for 6 hours due to the emotions that rose during the 103 tears performance!
Actor Choi Kang-hee's tough acting battle!!
The journey of 'Choi Kang-hee' to become a child after being beaten and crying throughout filming was difficult. Out of a total of 1,725 takes she filmed, only 306 shots of her hitting and hitting! There are days when I get beaten up by my teacher, fearlessly attack the neighborhood bastard, and get squashed with my mom all the time. Among them, Choi Kang-hee, who was hit the most by her mother, did not just imitate to add realism to the play, but actually hit her. In particular, Kim Young-ae, who played the role of Young-hee, who hit Choi Kang-hee the most, said 'I'm sorry I hit him too much back then' at the meeting again after filming was over. On the other hand, there are many scenes in which Choi Kang-hee cries as it is a work that has as many tears as laughter. Choi Kang-hee shed tears during filming 103 times! In particular, the highlight of the movie <Aeja> is the scene where two mothers and daughters, who used to be like nothing, make a tearful reconciliation. In this scene, where she has to cry over the regrets she has accumulated for 30 years, Choi Kang-hee could not control her intense emotions, and in the end, filming was stopped for 6 hours. Choi Kang-hee, who poured all his passion to complete the perfect character, through the movie <Aeja>, the audience will confirm her true nature.
"If it's Kang-hee's request, it's OK~!"
Comedian Kim Sook who became a Busan dialect teacher with a cup of coffee!
Kim C, the best friend singer who burned his comic acting soul!
Choi Kang-hee speaks the perfect Busan dialect in the movie. As a native of Seoul, acting in the Busan dialect was a big burden, but it was also the part that drew me the most in the movie. As soon as she decided to appear, Choi Kang-hee asked her close friend Kim Sook, a comedian from Busan, to give a special lecture on the Busan dialect, and Kim Sook ate a cup of coffee and happily taught her dialect, as well as giving phone consultations during filming. Thanks to that, Choi Kang-hee was able to speak a perfect dialect that even Kim Young-ae, who was actually from Busan, recognized. On the other hand, singer 'Kim C', who is raising the highest stock price with [1 Night 2 Days], will appear as a cameo in the movie <Aeja>. The reason why I decided to appear in the movie even though there is no guarantee is because of my long-time friendship with Choi Kang-hee. The scene in which Kim C, who played the role of Hyung-gu, who is humiliated by 'Aeja', appears, is a brief moment, but will be remembered as one of the most unforgettable scenes in the movie.
Where did you find this place?
The best location to complete the most realistic screen!
What adds to the realism of the movie <Aeja> is the location that smells of people. A representative place is Aeja's hometown in Busan. The old wooden floors and walls of this house, where the handprints of people who have lived for several decades are intact, are a space where you can feel the old-fashioned atmosphere that spatially shows the feelings of Aeja and Younghee for decades. As it is the most important place in the movie, the location was not easy, but it was surprisingly close. The house of the aunt of the production manager of <Aeja> was chosen. When I was having a difficult time hunting for a place, the production manager carefully introduced me to my aunt's house, and director Jeong Ki-hoon made a decision on the spot saying, 'This is the house I was thinking of!' Unfortunately, this house, located in Dapsim-ri, Dongdaemun-gu, is due to be demolished soon due to redevelopment. Meanwhile, Aeja's school days are set in Busan Computer Science High School in Busan. This is a legendary school where you can see the cool sea of Busan from all the classroom windows, but it has been cast for many movies and dramas, but it has been abandoned due to the steep terrain. However, the production team of <Aeja> pushed the filming with a single determination, and thanks to this, Aeja's school days in Busan shined even brighter.
[ Epilogue ]
Helpless, their last love letter!!
Choi Kang-hee
"The three reasons why I chose this film are because the work is so good.
to be able to change I want to convey my heart to my mother.
A lot of the audience can't tell their parents I'm sorry I love them
I think this movie can do it instead.
When I think of my mother, the three words "waiting" come to mind.
I want to show this movie to my mom."
Kim Young-ae
"'Aren't you talking about me?' It seems like this
As a parent or child, everyone seems to agree.
It is the best if you can move people while making a work, have fun, and have both.
It's not a serious movie, but it's easy, warm and fun…
When you leave the theater, your nose is chilly and you can laugh a lot…
I hope it will be a film that warms the heart and makes you feel better."
Related Videos