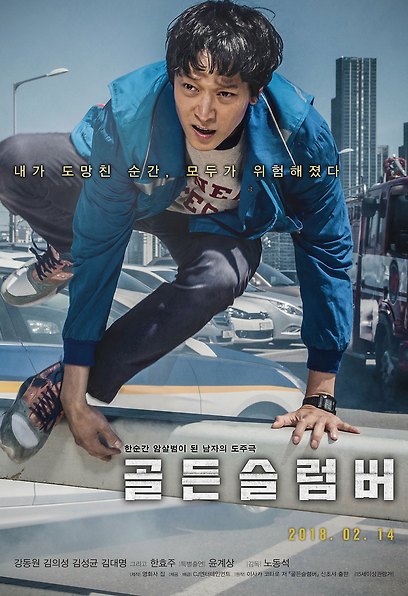 Golden Slumber, 2017
release

2018.02.14
genre

crime/drama
country

Korea
ranking

Audience over 15
running time

108 minutes
grade

5.2
cumulative audience

1387562 people
Synopsis
trust no one
and must survive
A kind and sincere delivery driver 'Geon-woo' (Kang Dong-won).
He has recently been selected as a model citizen and has become famous, but he gets a call from his high school friend Muyeol (Yoon Kye-sang). The joy of reuniting after a long time is short-lived, but in front of their eyes, a powerful presidential candidate is assassinated by a bomb attack. Mu-yeol tells Geon-woo, who is bewildered, that all of this was planned, and that the organization's plan is to make him an assassin and self-destruct on the spot.
Geon-woo barely escapes from the scene, but is quickly identified as an assassin and publicly wanted. The CCTV, fingerprints, and even witnesses were completely manipulated, the person in the business card left by Muyeol, and the former agent 'Min' (Kim Eui-seong), who found him, Gun-woo, gradually learns the truth of the incident through him.
Geon-woo fights desperately to survive and to get rid of his frame. However, the more he runs away, the more his old friends Dong-gyu (Kim Dae-myung), Geum-cheol (Kim Seong-gyun) and Seon-yeong (Han Hyo-joo) are in danger…
February 2018, the world is chasing him!
Related Videos